Spanish Cosmetic brands may not be the first thing that springs to mind for a Spanish shopping trip. Shoes and Handbags are probably the first things you think of. The Spanish Leather industry is one of the most important exports. Also followed by Spanish fashion and Bridalwear.
Spanish Cosmetic industry have interesting products to track down on your next trip to Spain. After living in Spain since 1998 I´m sharing some of the Spanish cosmetics that I use. Hopefully you might like them too.
Spanish Cosmetic Brands
Pharmamel
This company Pharmamel produces active cosmetics in Southern Spain. Their range of MEL13 skincare has been created by Scientists investigating into the medical applications of melatonin.
Melatonin is the main active ingredient in MEL13. As we age our Melatonin levels decrease. An important thing in the ageing process as melatonin helps the skin to regenerate damaged cells. It also has potent antioxidant and anti-inflammatory properties. Stress, artificial light and lack of sleep can affect our natural melatonin which can alter the skin.
Did you know that the body produces between 5 and 25 mcg of melatonin each night
Source: Book Melatonin by
MEL 13
After 25 years of scientific investigation in melatonin and skin cell ageing. These scientists have over 200 publications in this field. Germain Escames and Dario Acuña Castroviejo created MEL13. Combining these active ingredients into a product which was launched in 2014. Over the last years they have added new products to their range and are now stocking MEL13 in different countries too.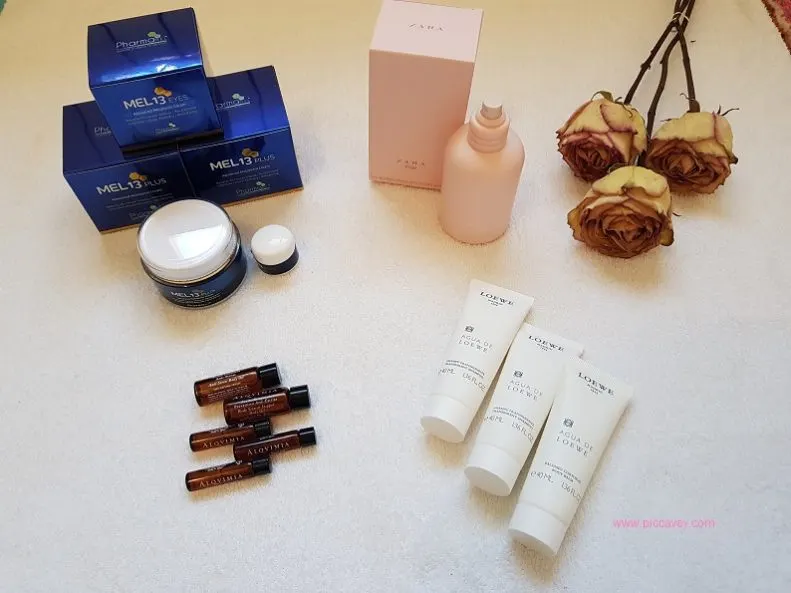 MEL13 Cosmetics
The range of cosmetics includes
The MEL13 Serum Increases radiance and luminosity in the skin. Boosts MEL13 treatment
For Eyes MEL13 Eyes Reduces fine lines around the eyes and hydrates.
MEL13 Plus Regeneration of damaged skin cells & mature skins.
MEL13 is for all skin types. Mixed and combination skin.
With a Worldwide patent this cream actually penetrates the skin, increasing oxygen, blood circulation and nutrients. In a clinical trial, it was tested on volunteers aged between 40 and 70 years old. Applied to one side of the face for 28 days. The results showed increased hydration, less wrinkles and some repair of damaged skin cells.
I have been using this for several months now, despite having sensitive skin I have had no problems at all. With all the scientific investigation into this product you may think that this is a premium item. Yet the cost isn´t as high as you would first think.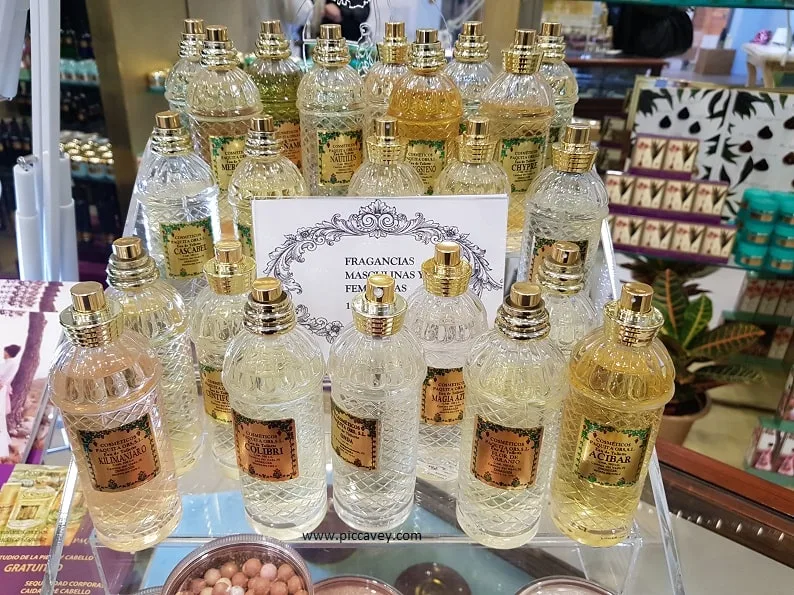 Paquita Ors
A Pharmacist called Paquita Ors, founded this company which now has over 700 products. Made in Spain since 1987. Paquita Ors has grown over the years and has shops in 8 locations:
Zaragoza
Madrid
Barcelona
Jerez de la Frontera
Fuengirola
Gran Canaria
Salou
Valencia.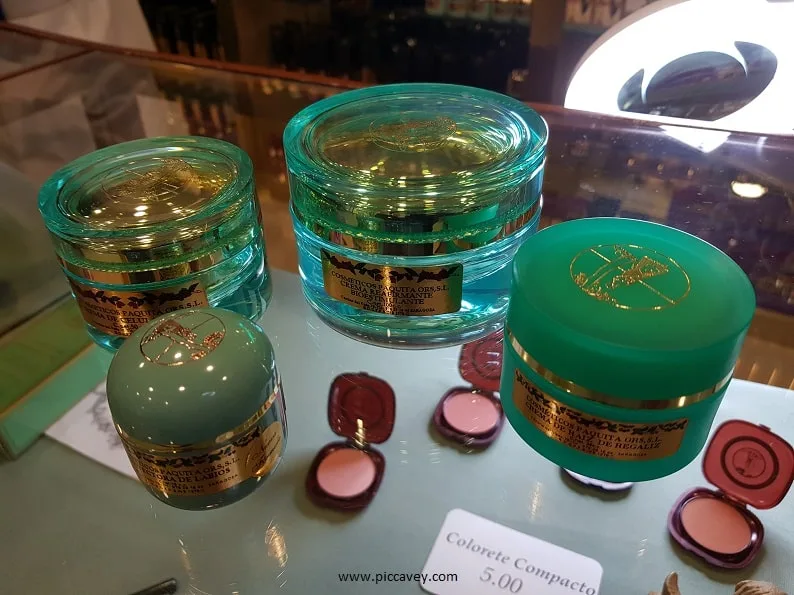 Beauty – Made in Spain
With cutesy vintage style packaging, the range of treatments and products is huge. From perfumes, to make-up, skincare and sun creams. Not only do they have a women´s range they also have a specific line for men and for children too.
This Spanish Cosmetic producer has its lab in Zaragoza. The person leading the operation is Paquitas son, Jerónimo Ors. Now over 80 years old, the female founder still insists that her products are only sold exclusively in her stores. Each customer gets a free skin consultation before buying the products. As a result they ensure that the correct cosmetics are used for each skin type. More details: Cosmeticos Ors
Natura Bissé
Probably the most well known cosmetic brand outside of Spain. Natura Bissé is Spanish company with an International following. Known for ´Spa Results at home´. These high end creams are Made in Barcelona. Used by many famous clients, you often see it in Luxury Spa´s or High End Beauty Salons.
I have used the Diamond collection at home and also enjoyed a Natura Bissé Spa Treatment in a few Spanish cities too. It can be found in many different countries to purchase or for Spa sessions. For example in London The Health Club at One Aldwych has Natura Bissé at their Spa. Favourite treatments are the Invigorating Vitamin C Body Scrub or the Radiance Booster facial with Natura Bissé products.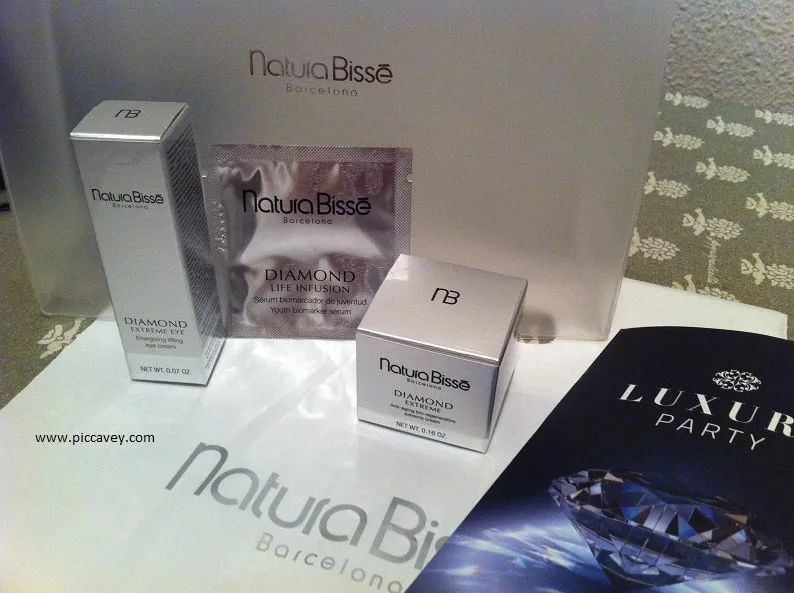 Natura Bissé Stockists
For home use the Stabilising Cleansing Mask and Rosa Mosqueta Oil are two bestsellers. Find Natura Bissé outside Spain in Neiman Marcus, Barneys in New York and at Bergdorf Goodman.
In the UK this Barcelona brand is sold at Harrods. Find their range in far flung locations such as Saks and Faces in Qatar. Harvey Nichols in Saudi Arabia or Lane Crawford in Hong Kong. Space NK also distributes their products.

Loewe
Travelling around Spain I am always looking out for brands in the Hotel Amenities. When I stayed at Melia Sky Barcelona I noticed their Loewe amenities. Loewe is one of the most well known Spanish fashion brands, especially for designer handbags. With a Madrid Headquarters this brand has been around since 1846 and continues to innovate in Spanish design.
Part of the LMVH group and currently headed up by British Creative Director Johnathan Anderson the range of Loewe´s products increases. Its fragrance range Agua de Loewe is a great way to have an easily affordable Loewe item in your travel kit. Fresh and crisp, since my stay at Melia, I have been using the Shower Gel, Body Cream and Fragrance in my a daily routine. It is Unisex and has Bergamot and Yuzu notes.
Perfect in Spring and Summer months or for warmer climates, this fragrance is clean and refreshing rather than heavy. Look out for in in any good perfume store, online at Amazon or duty free section across Spain.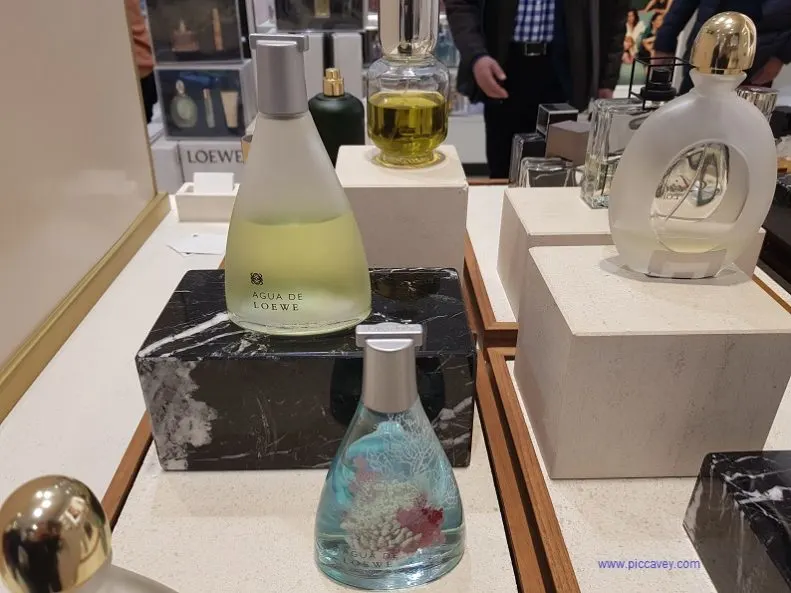 Alquimia
This Girona based company has a range of products that are free from Parabens, not tested on Animals and no synthetic fragrances. A luxury organic brand, this catalan company have been in business for since 1984. With a philosophy of uniting mind body and soul. Alqvima has an holistic approach to beauty.
They pride themselves on using recyclable packaging, supporting local economy and respecting organic processes to obtain their main natural ingredients. There are several popular products such as Body Sculptor Oil. Made with Thistle, Grapefruit and Lemongrass this is an authentic, natural and caffeine-free toning effect on the body. Mainly I use the Body Oils.
Natural Beauty
One of my favourite purchases is this Alqvimia Travel Kit. (it is limited edition) with Anti-Stress Body Oil, Gel & Elixir in 30ml bottles. Seems like anything travel size or mini gets me every time! They have a spa/store on Rambla Cataluña in Barcelona which I where I first came across Alqvima many years ago.
Another popular location is on Calle Lagasca, in Madrid. You can find Spa treatments in different locations in Spain which use Alqvimia products. You can also purchase online.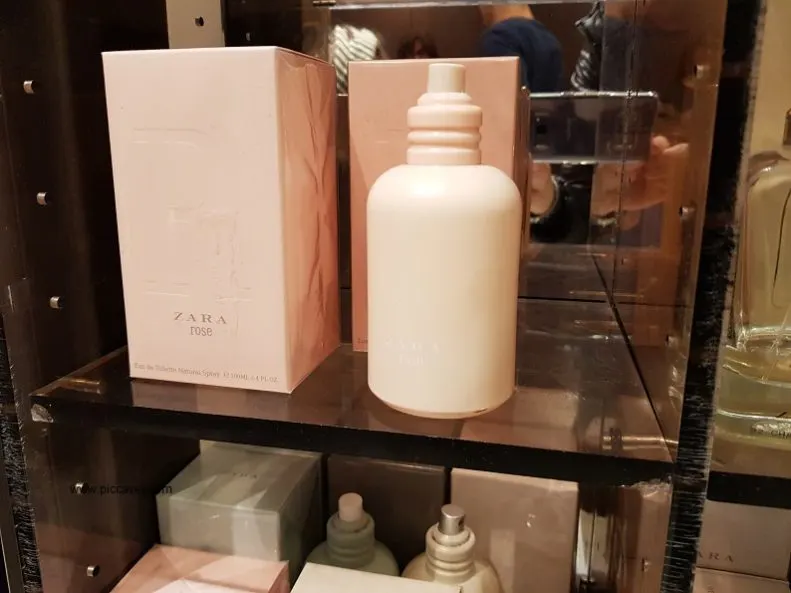 Zara perfume
You will all be familiar with High street giant Zara. But may not know about its Zara Rose perfume. A steal at 9.99 euros (8.75 gbp 12.40 usd) This everyday fragrance is difficult to find due to its popularity as it smells similar to J´adore by Christian Dior.
You can buy the bottle alone but it is also available in a double pack with White or Black perfumes. (this seems easier to find) They also have 30ml vial formats, perfect for handbag size or travel. Another dupe is Zara Women Gold priced at 12.95 euros for 100ml this has a fragrance. (similar to Paco Rabanne Lady Million)
Flor del Eden
Having sensitive skin finding products that actually work can be a minefield. I use this soap in winter for dry and irritated skin. However it´s in summertime when temperatures get too hot to bear, that I use it most. Prickly heat and sunburn make my skin suffer. This Donkey Milk soap calms down the irritation. It´s the only shower product I use on the hottest days of the year.
If Donkey Milk baths were good enough for Cleopatra in Eygpt… Made with Donkey Milk and 100% natural ingredients, its a basalm for all skin types. The Royal Jelly ingredient helps to repair the skin. Coconut oil has anti inflamatory properties and gives it a very light fragrance.
Spanish Beauty Products
The soap by Flor del Eden is made in the Sierra Nevada Mountains. The Andalusian donkey is under threat of extinction yet this donkey milk soap helps to maintain the donkeys in Andalusia. I buy this on street markets when I see it. Local pharmacies in Granada stock it too. It costs 7 euros but the soap bar lasts for a long time. In Spanish it´s called Jabon de Leche de Burra.
They do have an online store Flor del Eden where information about other Spanish cosmetic products.
Neusc Skin Repair Bar
Neusc-P-Rosa is an amazing product for extremely dry skin or broken skin. A lifesaver in cold weather to repair sore hands. Sold in pharmacies across Spain, it looks like a soap bar and smells like talcum powder or roses. It´s inexpensive and you can also get it in stick format too.
Because it is made with Lanolin as the main ingredient, you can use it to soften cuticles and apply as a lip balm too. This Barcelona based laboratory have 25 years experience in creating dermatological solutions.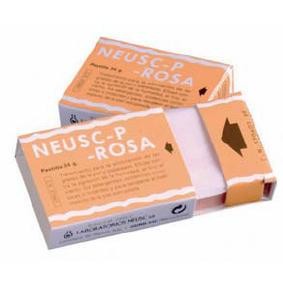 Perfumeria Gal
Talking about Lip balm, the most well known Spanish one is by Gal. A Madrid based company the packaging of this is stunning. Small vintage style tins with beautiful art nouveau designs. You will actually want to buy one of each. This is the best selling Spanish cosmetic of all time. The company began in 1899. Created by Salvador Echeandía Gal who also founded Heno de Pravia.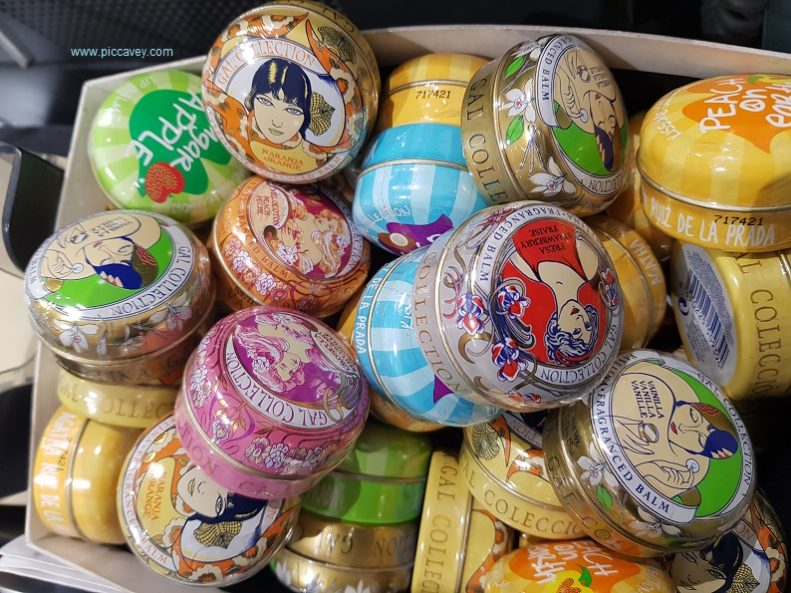 A true favourite in Spain. Gal primary use is for chapped lips but it is also used to condition eyelashes too. Although this company began in Calle Arenal in Madrid, the factory was moved to Alcala de Henares in 1960 Now owned by Puig the products are sold across Spain still today. Find them in different pharmacies, at this online store and also in El Corte Inglés. Priced from 2 euros they are perfect to pop in your handbag or travel kit.
Bonus: Sesderma Serum
This Spanish Serum product is super popular and sells every 30 seconds. Made by Sesderma, the Azelac Ru Liposomal Serum TRX is is clinically proven to brighten skin. Said to reduce hyper pigmentation caused by sun damage, its been described as magic for the face by some users.
It´s supposed to decrease redness and dark areas on your skin.
With many other Spanish Cosmetic products coming out the and all the latest innovations I am sure there are some I have probably missed. Do let me know which Spanish Cosmetic products you look out for?
Spanish Cosmetic Secrets & Made in Spain Beauty Products
Keep up with me on Bloglovin