Guide to Almeria City + Photos
After spending many Summer days in Almeria. So I am sorting through hundreds of photos of the City and its province. Earlier this summer I took lots of photos in Seville and shared them here in the most Instagrammable Spots in Sevilla.
Almeria is not the most popular tourist destination in Andalucia but I really enjoy visiting the city. After many visits I´m sharing all the different activities that this charming coast city has to offer.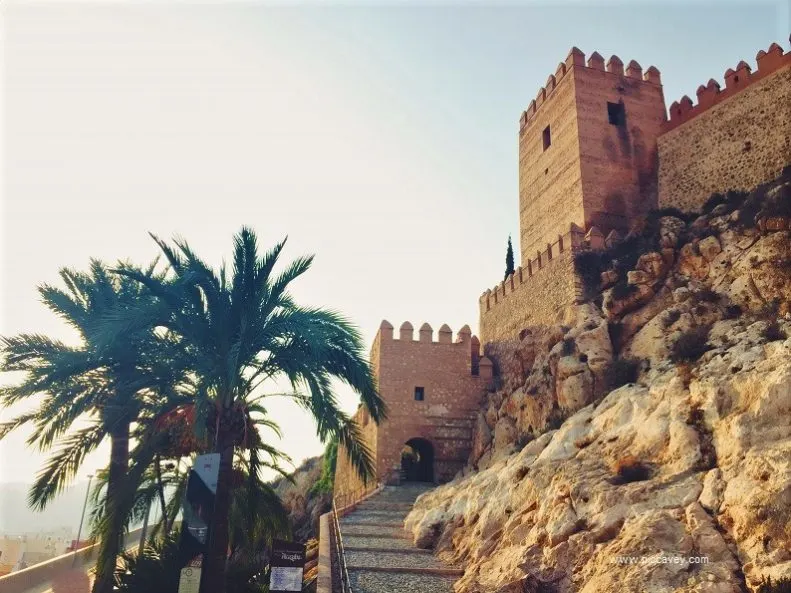 Fortress with Seaviews
This historic fortress is photogenic. Especially with its panoramic views of the coast. Founded in 955 the visit of this stunning monument is free of charge. (EU Citizens have free entrance) The Alcazaba is perched above the city of Almería. This imposing fortress offers spectacular views over the city and coastline.
Surprisingly this is the largest fortress built by the Moors in Spain.
Even taking into consideration that Malaga, Granada and Antequera all have their own Alcazabas still standing today.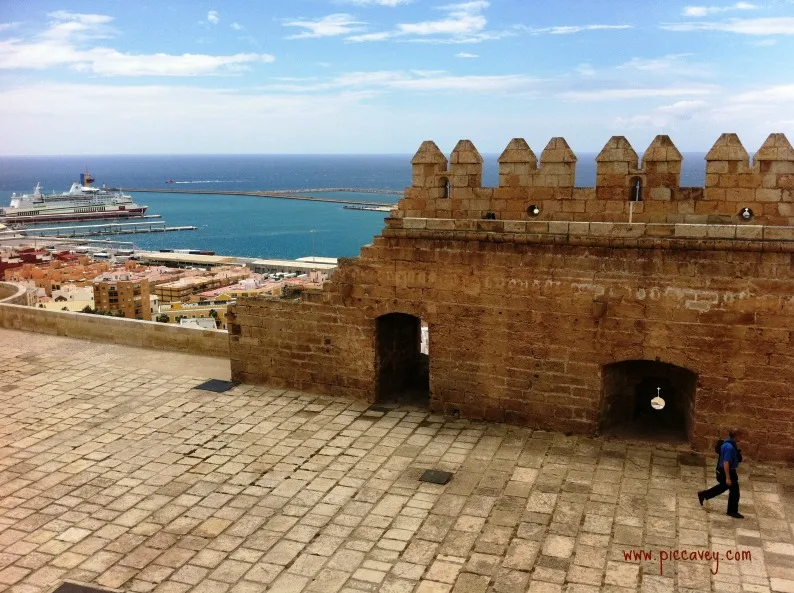 Alcazaba de Almeria
This was actually used as a location for Games of Thrones a few years ago. Filming at the Alcazaba in 2016 for Season 5. The set was the Capital of Dorne and the Kingdom of House of Martell.
To get there walk uphill along Calle Descanso. Then this street leads you straight to the main entrance. Another option is to take a taxi avoiding the climb.
Address: Calle Almanzor, Almeria
Opening Times: 9am to 9pm Tuesday to Sunday
Closed on Mondays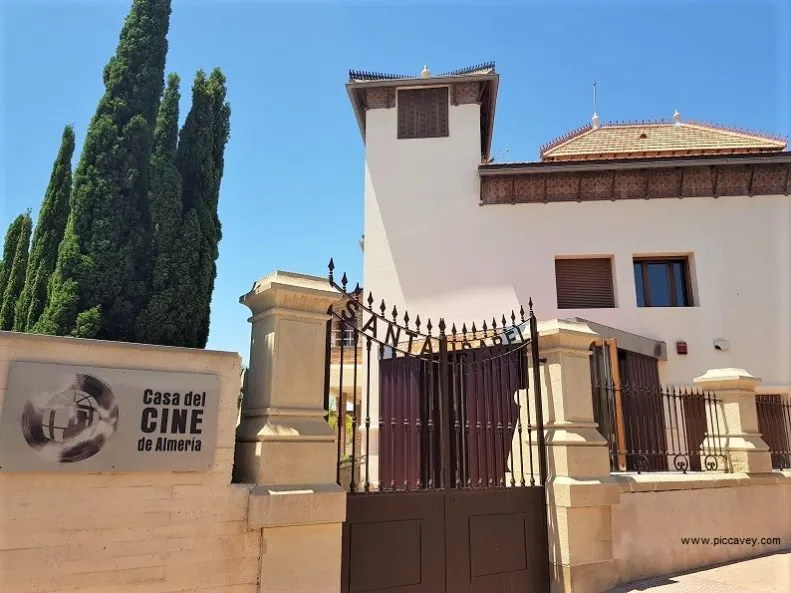 Almeria Museums
The City of Almeria has quite a few museums to visit. Archaelogy, Cinema, Photography or the Guitar Museum. They even have Spanish War Bunkers underneath the city centre. Built to protect local citizens from the air raids kilometers of tunnels are below city streets even today.
Los Refugios can be visited and the entrance is next to Puerta Purchena.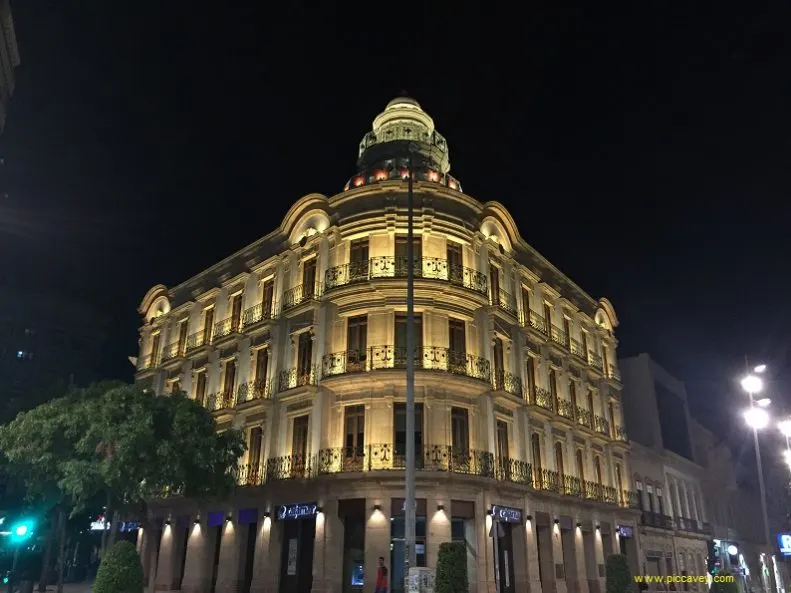 Casa del Cine de Almeria
At Plaza de las Flores you can see a statue of John Lennon. Sat there with his guitar close to the city centre. However the Cinema Museum is not in town. To get there you need a car (or taxi ride) It is about 3 kms outside Almeria.
Almería is where John Lennon composed the song Strawberry fields forever. He was in Almería for the filming of ´How I won the war´ in Autumn 1966.
Details of the Museo del Cine:
Address: Camino Romero, 1, 04009 Almería
Opening times: 10.30am – 1.30pm Tuesday – Sunday
Opens 5-8pm on Friday and Saturdays too.
Closed on Mondays
Almeria Museum Pass
You can book ahead with the Almeria Museum + Tour Pass this is a good option if you are staying for a few days.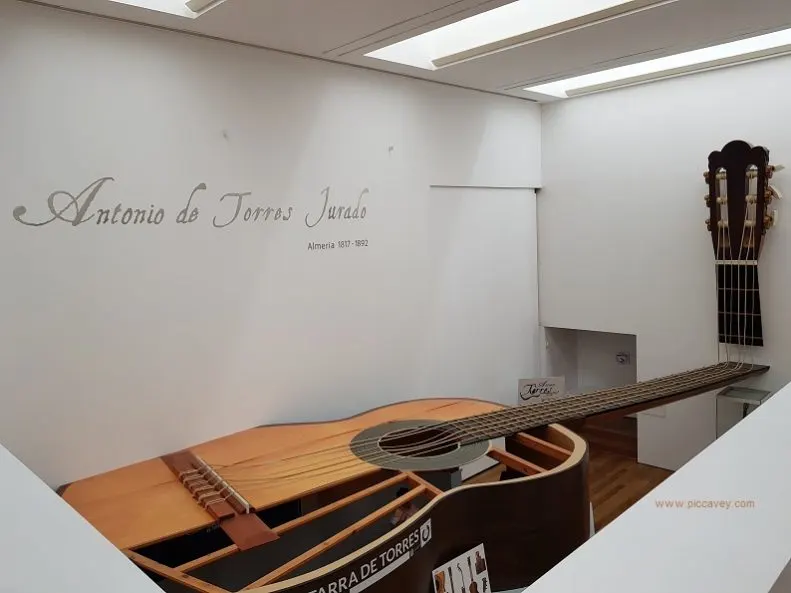 Almeria Guitar Museum
Opened in 2004 Almeria Guitar Museum is next to the Cathedral. Spanish Guitar Maker Antonio de Torres Jurado was born in Almeria. This museum reviews his contributions to the Spanish Guitar on the ground floor.
Known as the father of the Spanish Guitar Antonio de Torres. This museum shows the more technical aspects of the Spanish Guitar. It will be of interest to guitar enthusiasts and music lovers too.
Whne you visit dont miss the Interactive Room you can play an interactive guitar.
The entrance costs 3 euros.
Address: Ronda del Beato Diego Ventaja, Almería
Opening times: 10.30am – 1.30pm Tuesday – Sunday
Opens 5-8pm on Friday and Saturdays too. Closed on Monday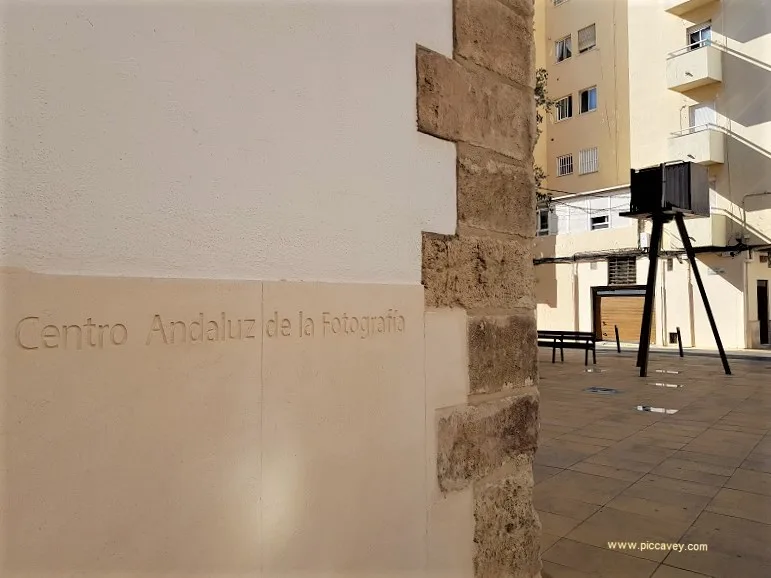 Andalucia Photography Centre
The Centro Andaluz de la Fotografía is
just
below Almería Cathedral.
The idea for this space originated the 1990´s when an International Photography Exhibition took place in the city
.
With 70 different collections, to commemorate the 5th Centenary of the Discovery of the Americas
. 456 photos taken in Almeria by International photographers. They are still on display inside this building.
With temporary exhibitions of Andalusian photographers, its an important location for Visual Arts. It is also free to visit.
Address: C/ Pintor Diaz Molina, Almeria
Opening times: Daily 11am- 2pm + 5.30pm to 9.30pm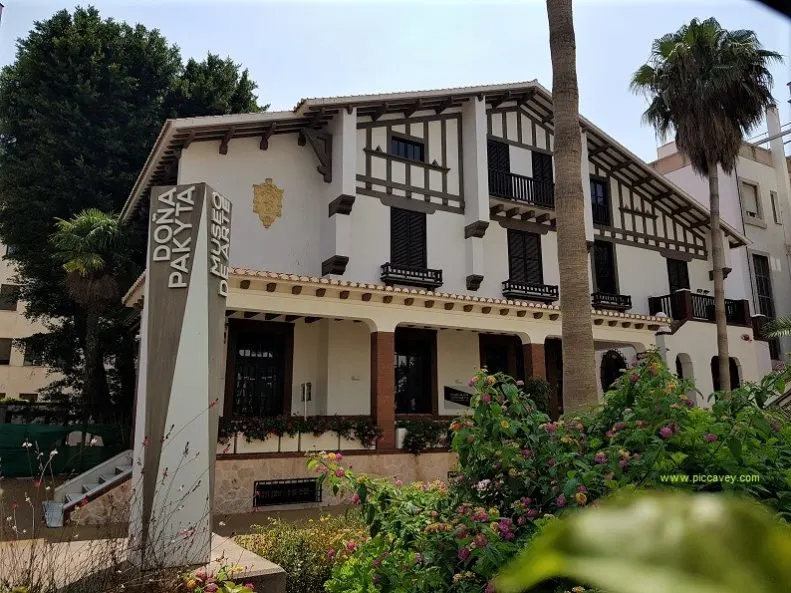 Doña Pakyta Art Museum
This stunning building is inspired by Basque arquitecture. This home belonged to an influential local lady. Doña Francisca Torres Diaz, known as Doña Pakyta) Her passion was conservation. We can thanks this businesswomen for the Cabo de Gata Natural Park and its current state of conservation. She was a defensor of this natural space during her lifetime and donated part of this land to the park.
Almeria Art Museum is on one side of the Avenida Federico García Lorca.
With seven different rooms inside, see collections of Almerian Art from the last century
. Opened in 2015 this cultural space has pieces by Jesus de Perceval and Miguel Martinez Gomez.
This building dated 1928 was by architect Guillermo Langle, the same architect of Almeria´s underground tunnels.
Address: Plaza Emilio Pérez, 2, Almeria
Daily 10am to 1pm – 5pm to 8pm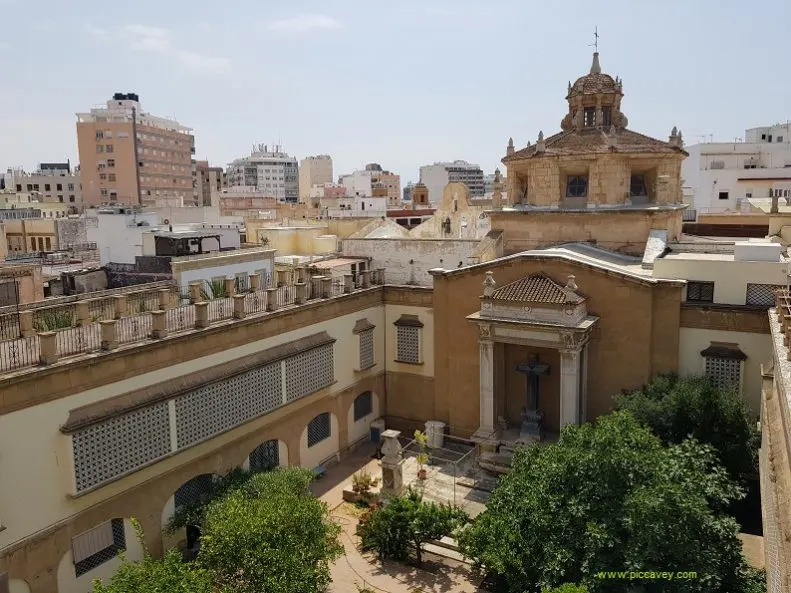 Centro de Interpretación
At Plaza Vieja this museum is probably one of the best places to get a panoramic view of the city (apart from the Fortress of course) The Centro de Interpretación de Patrimonio de Almeria is a modern building tucked into a corner of the square.
Particularly impressive is the rooftop viewpoint. This large terrace has 360º views of the city.
You can even see the old city wall from here. This museum shows the historic timeline of the city. As you begin on the ground floor and move up the different floors you see the importance of the port and the different industries of the region. (Agriculture, fishing, mining etc)
Address: Plaza Vieja, Almeria
10.30am to 1.30pm Tuesdays, Wednesdays, Thursdays, Sundays
5pm to 8pm Fridays & Saturdays
Closed on Mondays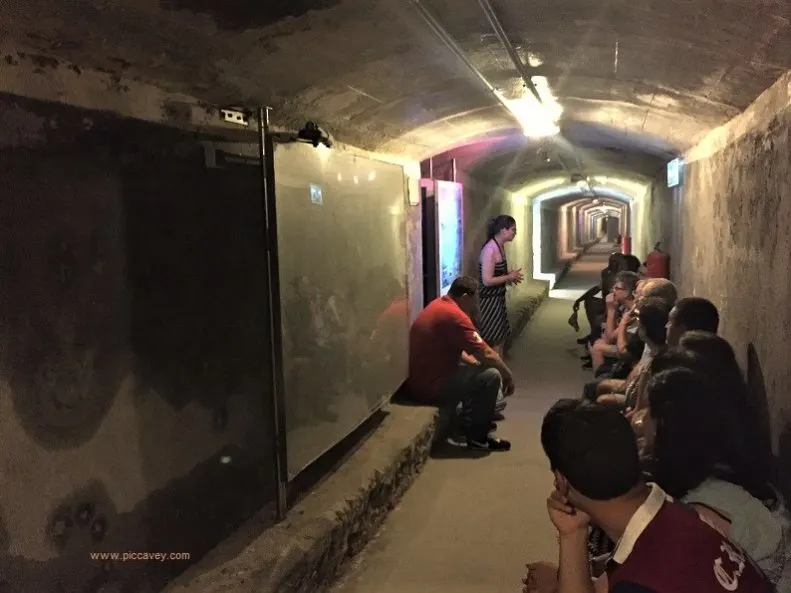 Spanish Civil War Bunkers
Los Refugios entrance is right in the city centre. With the visitor centre next to Puerta Purchena. This network of underground shelters from the 1930s were used in the Spanish Civil War. Kilometers of tunnels were built by local men under the city streets. It´s the best example of war shelters in Europe.
You can take a guided tours down into the tunnels. Discover how these bunkers helped the locals survive bombings in the city of Almeria.
At 4.5 kilometres in length (just under 3 miles) around 40,000 civilians could be sheltered when full. Almeria was bombed in 54 raids and 754 bombs hit the city. Certainly this construction made a huge difference to the local population during these difficult times.
Plaza Manuel Pérez García, 1, Almería
Opening times: 10.30am to 1.30pm + 5pm to 8pm Tuesdays to Sunday
Closed on Mondays
Almeria Cathedral
The Cathedral in Almería is unique in design. A fortified Cathedral the exterior looks more like a fortress than a religious building. The interior is done in a Gothic and Rennaissance style. Built in the 16th century this architecture was to prevent attacks and could withstand earthquakes.
The previous Cathedral was ruined by a strong earthquake and Almeria was an easy target for Berber pirates and Algerian looters.
Sol de Portocarrero
On one side of the Cathedral, high up on the wall, you can see this Sun emblem. Known by locals as the Sol de Portocarrero, this is the symbol of Almeria.
As the bishop who comissioned this was actually Villalán. As he was the bishop at the time of the construction of the cathedral. The correct name is Sol de Villalán. Things got mixed up over the years. Due to the fact that Bishop Portocarrero was in Almeria much later than the sun symbol design. (17th century)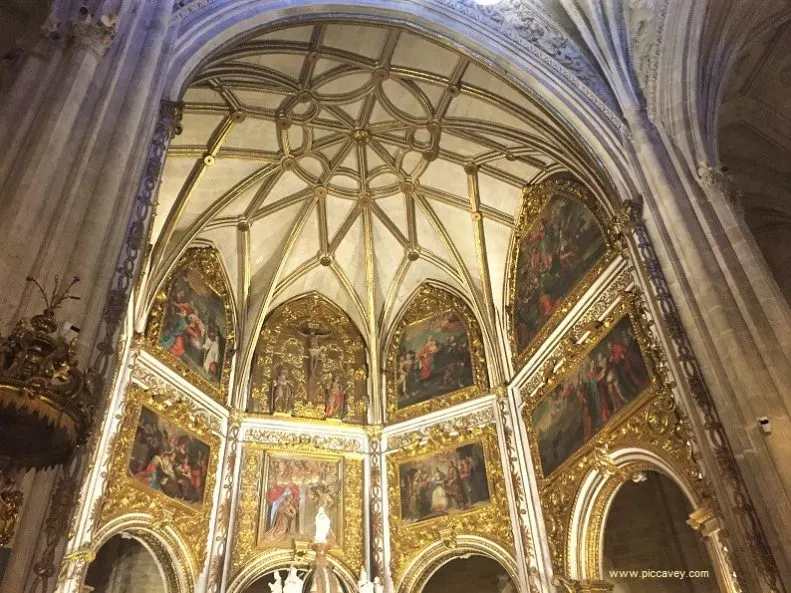 Catedral de la Encarnación de Almería
Inside the Cathedral there are a mix of architectural details. This altar is from 18th century in Baroque and Rennaisance style. Sadly this Cathedral has suffered damage throughout its history. Despite restoration of different areas of the building due to fire damage this is still worth visiting.
The cloister is absolutely stunning. Such peaceful spaces with a white arches along the entire courtyard.
Address: Plaza de la Cathderal, Almeria
Opening times & Guided tours: Monday to Friday 10am – 7pm
Open Saturdays and Sundays will varied timetables.
Times alter depending on season and religious calendar. Please check catedralalmeria.com for exact details.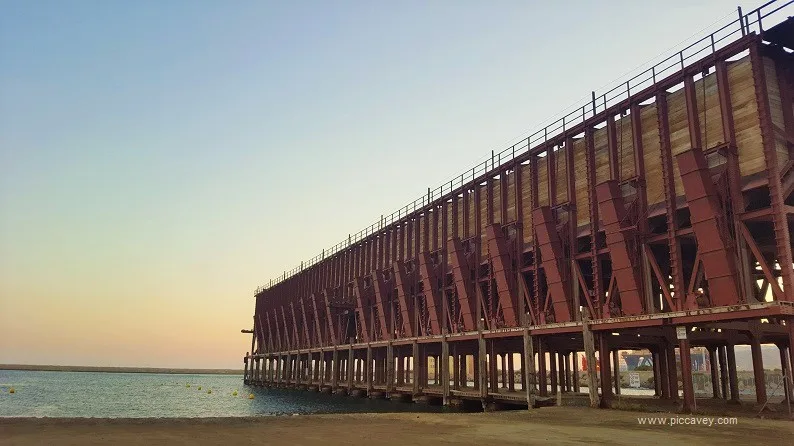 Mineral Platform
Probably the most iconic sight in Almeria. Called the English Cable by locals. This loading platform moved minerals onto cargo ships in the 19th century. Applying techniques created by Gustave Eiffel, this is a unique industrial monument. So beautiful when its lit up at night.
Iron Ore, Silver and Copper loads came from the Alquife Mines in Northern Granada by train. They directly loaded the ships with this platform, saving time and effort.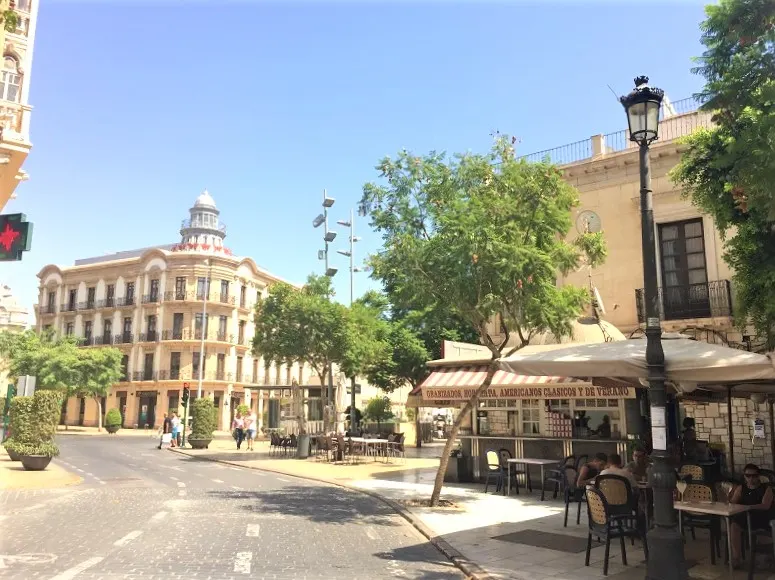 Aire de Almeria
Aire de Almeria is one of the most decadent Urban Spas I´ve been to. I tried their Wine Experience treatment.
Located in Plaza Vieja this feels like a Hammam yet it has lots of modern touches like a Spa. Water jets, beauty treatments and smart interiors.
Its a good option especially if you are in the area for a few days. Another way to unwind after walking around the Alcazaba.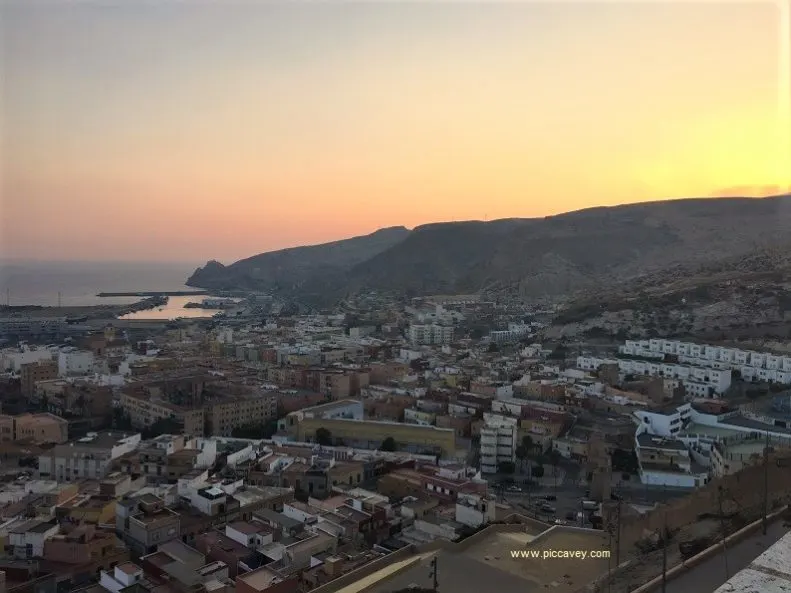 Finally here are a few Other Almeria Articles:
Almeria Spain ´s Gastronomic Capital 2019 – Typical Spanish Food
Almeria Coast Road Trip: A Costa de Almeria guide
Hollywood in Andalucia: Film locations in Southern Spain
Please Note:
This post contains affiliate links, which means that if you click through and make a purchase. I will receive a small commission. All thoughts, feelings and opinions shared on this blog and in this post are my own.