Castles in Spain
When you drive around Spain, you´ll soon come across a castle, tower or fortress. Castles in Spain abound, so I am going to share some of the best examples in Andalucia.
I have visited all of these sites however there are still many other Spanish castles that I want to see…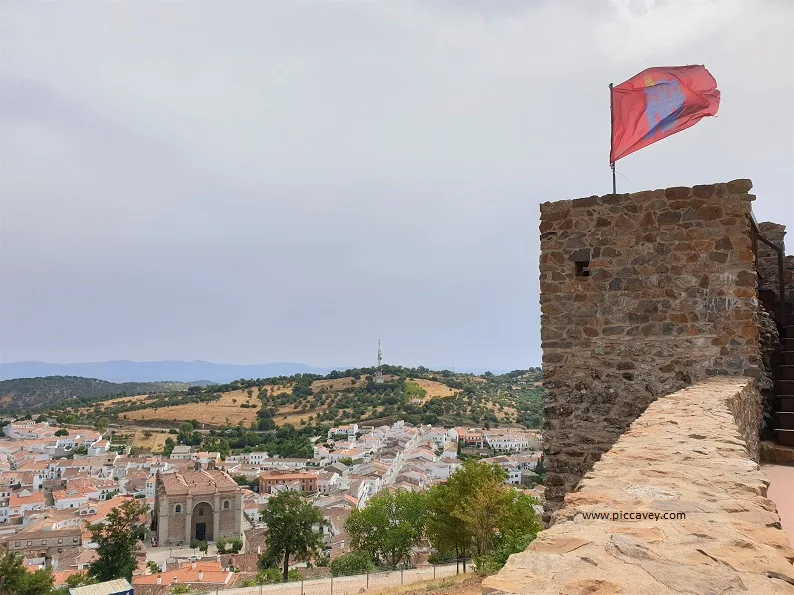 The Best of Andalucia´s Fortresses + Castles
You maybe wondering why Andalucia has so many castles. The coastline of Southern Spain often suffered pirate attacks. So most towns had watchtowers and fortresses to protect them. Some still stand today barely touched by time. Others are in ruins or have completely gone. For centuries Al Andalus was defending itself from Catholic troops moving South. This land constantly in battle shows why there are so many fortified towns and castles in the region. A land in battle this explains why there are so many fortified towns and castles in the region.
Lets take a look at some of this architectural legacy left from the past 10 centuries. And my highlights of some of the Best Castles in Spain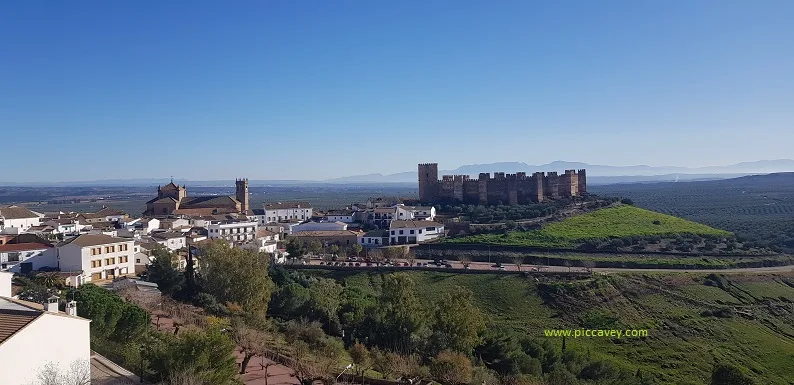 Burgalimar Castle – Baños de la Encina
Oldest of the Castles in Spain
Jaen is one of the best provinces for visiting Spanish Castles and Fortresses. In fact the province of Jaen alone has the largest concentration of fortresses and castles in the whole of Europe. There are so many well preserved examples. As Jaen is not built up. It has lots of agricultural land these historic treasures have remained intact. Jaen is most known for its award winning olive oil. Yet its fortresses and castles are even more impressive.
Burgalimar Castle is located in the sleepy town of Baños de la Encina. I´m beginning with this castle as it is actually the Oldest Castle in Spain. And not only that it´s also one of the oldest Castles in Europe too. It´s also called the Castle of the Seven Kings as it spanned seven monarchs throughout its long history.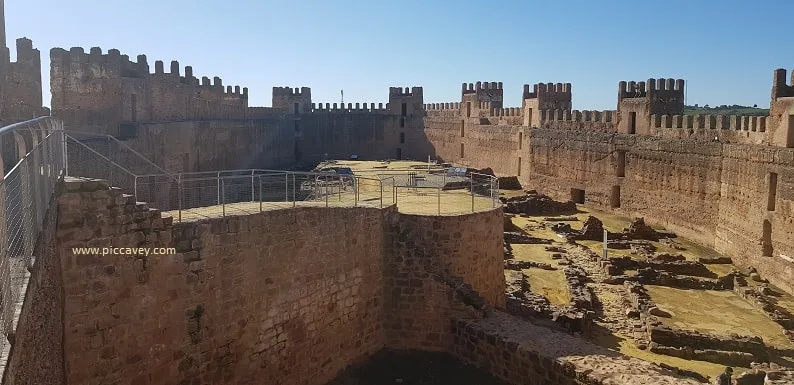 Whether you look at it from the inside or outside, it is a grand impressive building. Over 100 metres in length and with 15 watchtowers. This imposing building is in a good state of conservation for its age. You can see the surrounding countryside from the towers during the visit.
Built: 968
Type: Islamic Fortress
Address: Cerro del Cueto Plaza de Santa María, Baños de la Encina, Jaén.
Parking: I parked on the edge of the town and walked to the castle.
How to visit: They run a 45 minute guided tour in Spanish daily at these times: 10:30am 11:15am 12:00 noon, 7.15pm and 8.00pm. Arrive 20 minutes before to get tickets and register at the main gate.
Mota Fortress – Alcala la Real
Fortaleza de la Mota is 12th century castle, perched on a hill. It´s visible across all the surrounding landscape. This historic site has lots of activities for visitors. In Summertime they have special evening events and festivals. All year around there are guided tours and varied activities.
This fortress is especially interesting as it has the Abbey within the complex. Inside the abbey is an old burial ground and underground ruins. Just layer up layer of history. The whole site occupies 145,000 square metres. Thats two and a half times the size of Windsor Palace. And twenty times bigger than the White House in Washington.
On the hill close to the castle entrance there are underground tunnels that can be visited too. For history fans and those with wild imaginations it´s a great day out whichever visit you choose.
Find out more here: Alcala la Real and its Fortress
Built: 12th Century
Type: Castle
Address: Fortaleza de la Mota, Alcala la Real, Jaen.
Parking: The castle grounds has a visitors car park.
How to visit: Open from 10:30am to 7.30pm daily. Check online for special events and activities at Tu Historia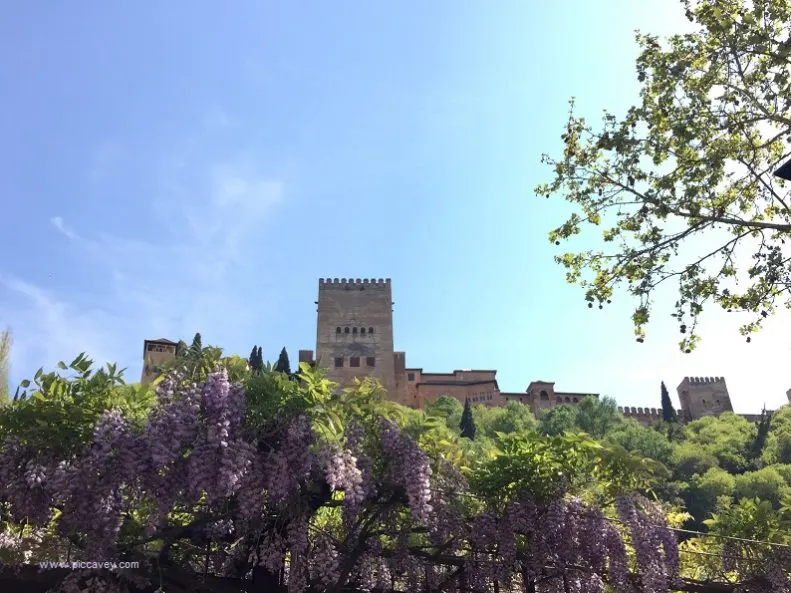 Alhambra Palace – Granada
If you have been following this blog you may have seen my other posts on the Alhambra Palace and its gardens. Although the official name is a palace it is actually a collection of buildings. Rather that just one palace. Within the grounds there are palaces, gardens, hammams and ruins. As well as watchtowers, a large church, an old convent, houses and a fortress, called the Alcazaba. This part also includes the Torre de la Vela.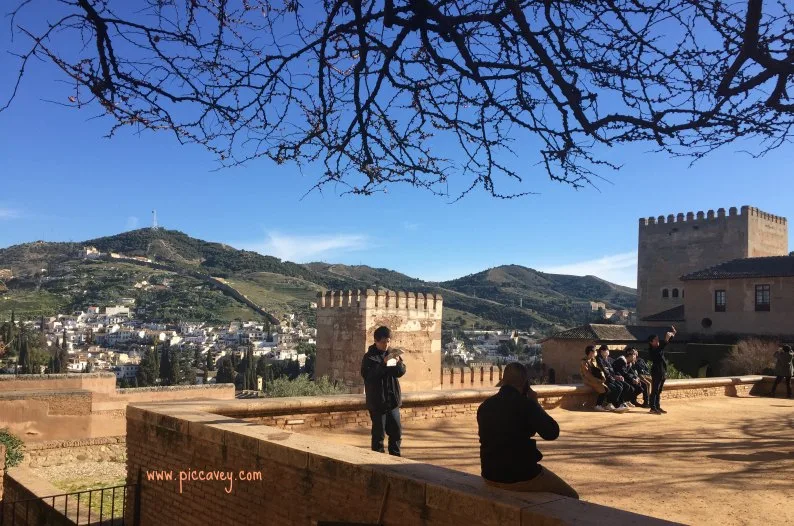 Alcazaba de la Alhambra
This watchtower and military barracks (9th century) is the oldest part of the Alhambra. It is also the most prominent tower when we look up to the Alhambra from the city of Granada.
Built: 9th century onwards
Type: Fortress
Address: Calle Real de la Alhambra, Granada
Parking: There is a Car park which is accessed via Avda Santa Maria de la Alhambra. (not through the main city centre or albaicin)
How to visit: To visit the Alhambra Palace you need to book in advance. (4 weeks ahead of time is ideal.) The simplest option is to book a Guided Tour. You can also visit individually or even book a private tour. More details here: Get Alhambra tickets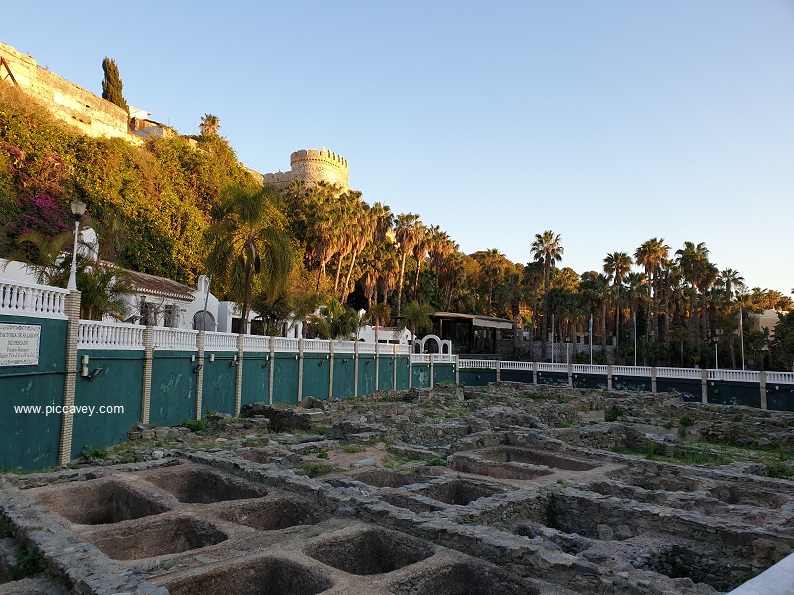 San Miguel Castle – Almuñecar
This castle is perched on top a rocky outcrop on the coastline of the town. In Spanish its called Castillo de San Miguel. Phoenician and Roman buildings have been also found in the ruins of this site. If you visit it is best to walk up to the monument as the streets are narrow and steep to go up by car. It is very difficult to park too. (or maybe get a taxi and walk back down : )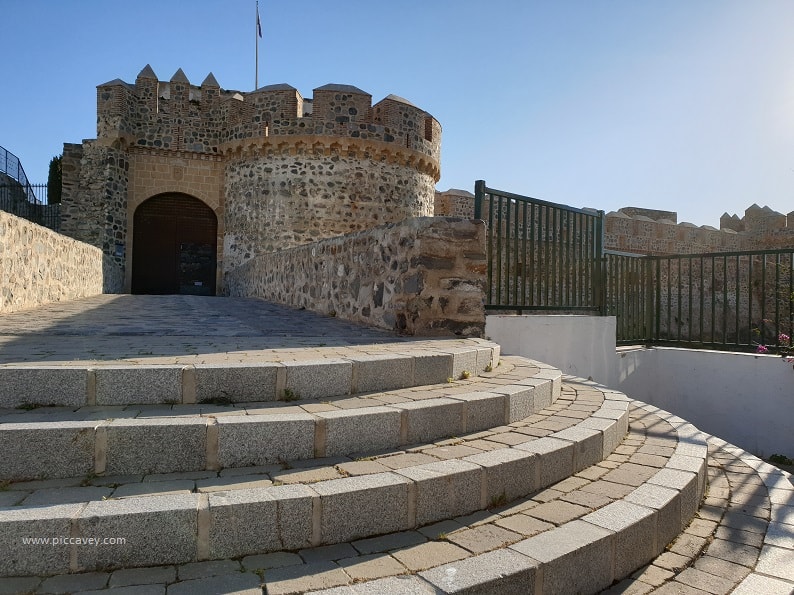 The views from the castle are stunning across the sea and town. You can see the uses that each area of the castle had and appreciate the varied architectural styles. The water storage (alijibe) is from muslim period. But then you can also see Christian constructions such as the sturdy stone bridge from 1480´s . The remains of the old bathhouse (hammam) are identifiable as you walk through the castle. There is even a letrine from that time too.
This site was used by the same monarchs who ruled at the Alhambra in Granada during the reign of Al Andalus.
Built: 11th Century
Type: Castle
Address: Calle Explanada de San Miguel, Almuñecar, Granada.
Parking: Choose a place in the main town and walk up.
How to visit: Ticket cost 4 euros. Open daily from 10.00am to 1.00pm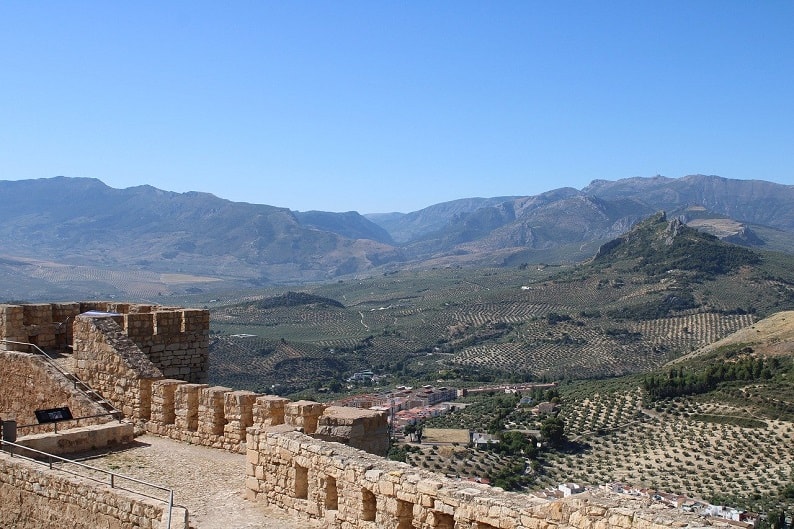 Santa Catalina Castle – Jaen
All this talk about castles in Spain. Well how about sleeping in one? Such a romantic idea right? Well there are quite a few Castles in Spain which are now boutique hotels or Paradors. The one is Jaen is probably the best example. Due to its amazing views and the sympathetic transition from historic site to hotel.
The Parador de Jaen sits atop the Cerro de Santa Catalina overlooking the entire city below. At an altitude of 820 metres you can see for miles around the surrounding landscapes. The imposing watchtower towers some 30 metres in height and is the main attraction on this site. The visit takes just over one hour.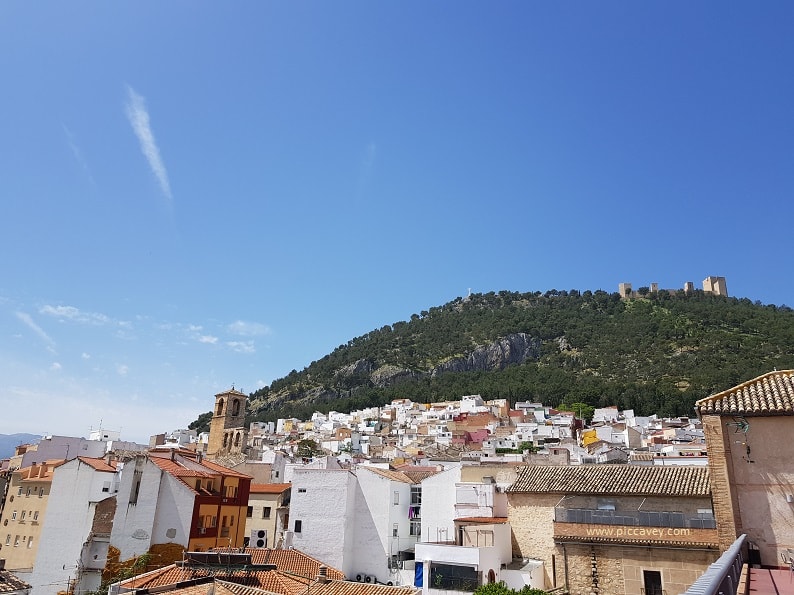 Built: 13th Century
Type: Castle
Address: Cerro de Santa Catalina, Jaen
Parking: There is a car park close at the castle.
How to visit: Tickets 3.50 euros. Open Wednesday to Sundays to 11.00am to 2.00pm afternoons 5pm-8pm (closed Sunday afternoon)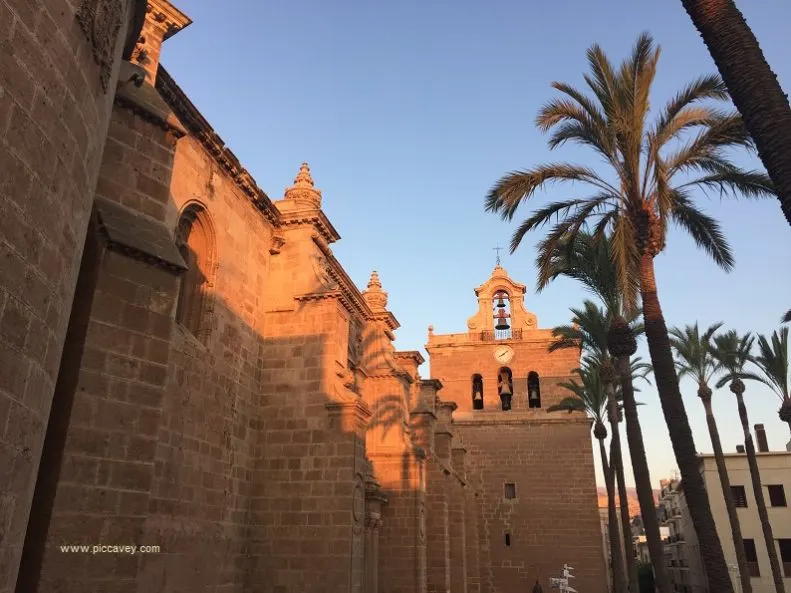 Almeria Cathedral – Almeria
Although Almeria has its own fortress, the Alcazaba de Almeria. I wanted to take a closer look at Almeria Cathedral. Due to Almeria´s location on the coast of Andalucia, the city was often attacked by pirates.
This Cathedral replaced the previous one after it collapsed in a major earthquake.
That
earthquake
was the worst in Spain´s history. (scale 7). The cathedral also suffered a large fire over its lifespan. In more recent history it served as a strong shelter during the Spanish Civil War.
Maybe it´s not a typical one of the castles in Spain. It is unusual and unique. Similar examples are those like Tuy (PO), Segovia or the one in Alcala de Henares. However those buildings were designed as a Cathedral and then fortified. Whereas this building in Almeria was designed as a fortress to be used as a Cathedral.
Inside the main area of the cathedral are two main altars. Also notable is the cloister. A large marble square with palm trees, which opens to the vestry and a side access to the main cathedral.
Built: 1564
Type: Cathedral
Address: Plaza de la Catedral, Almeria
Parking; The Cathedral is right in the city centre. Find a suitable parking space nearby. Public parking at Parking Marin or on Calle Real.
How to visit: Ticket costs 5 euros. For the visit go to the entrance on Calle Velaquez. They offer the tourist visit Mondays to Saturdays from 10am to 7pm.
Aracena Castle – Castles in Spain
Aracena in the Huelva countryside is topped with its castle. Due to its location at the heart of the Sierra de Aracena it has beautiful 360º countryside views. On the same site as the castle is the church Nuestra Señora del Mayor Dolor. Which has an old mudejar style tower worth seeing.
Find out more here about my visit to Aracena
Built: 13th century
Type: Fortress
Address: Cerro del Castillo, Aracena, Huelva.
Parking: Recommendable to park in Aracena and walk up. It´s a gentle incline through countryside.
How to visit: 11.30am until 5.30pm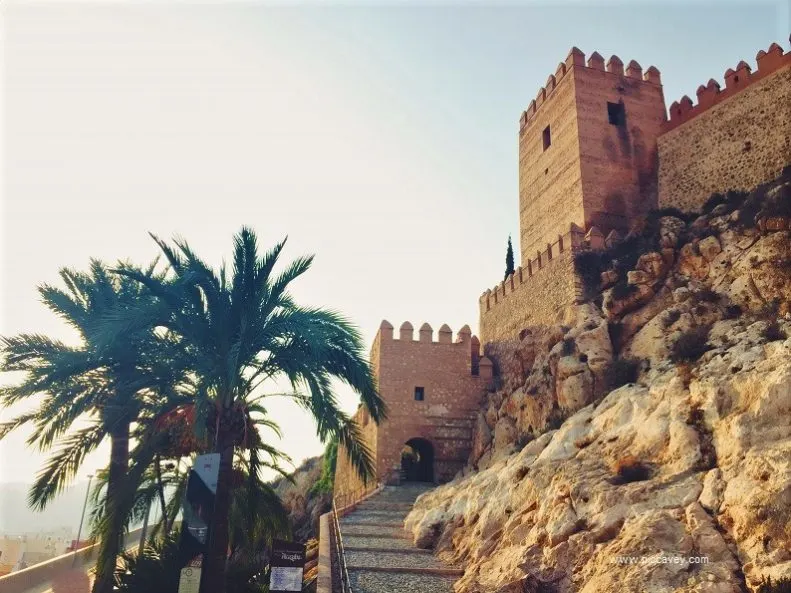 What is an Alcazaba?
Alcazaba is a word that means small fortress or fortified town. The word originates from the arabic word Al-Qaṣabah. Many words in Spanish language begin with Al- for that reason. (Other examples are: almohada – pillow, almunia – plot of land, garden, almacén – warehouse)
If you spend any amount of time travelling around Andalucia you will easily find an Alcazaba. Examples which remain today are in Almeria (photo above) Malaga, Antequera or Priego de Cordoba . Others are partially standing or in ruins such as in Guadix or Loja.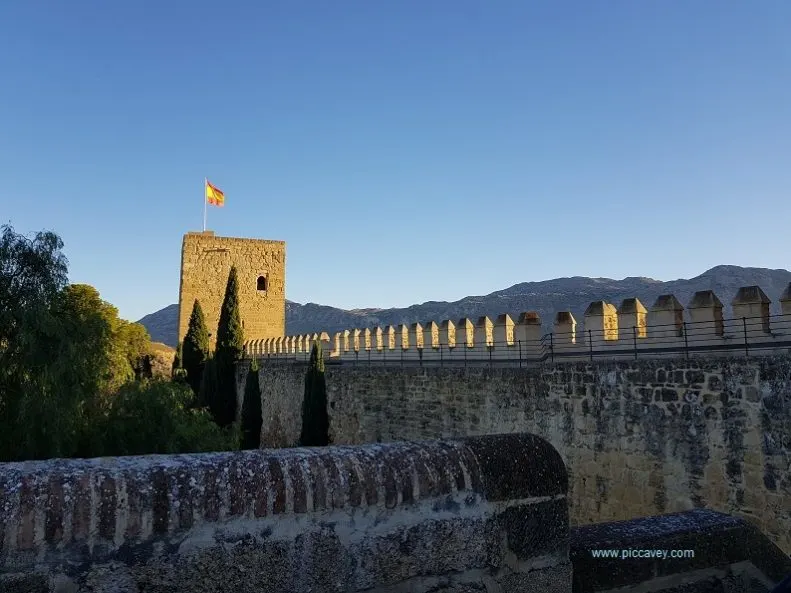 700 years of Al Andalus
As Andalusia was under muslim rule from 711 until 1492. Seven hundred years have left behind many wonderful monuments. The Alcazaba was where the military families lived. Where the soldiers barracks were in Southern Spain during those centuries. They were functional constructions rather than grand palaces. The size of the fortress is determined by the amout of troops and power that region had at the time.
Clearly a different function than that of a castle, which is generally to protect the ruler and the court of a city or region.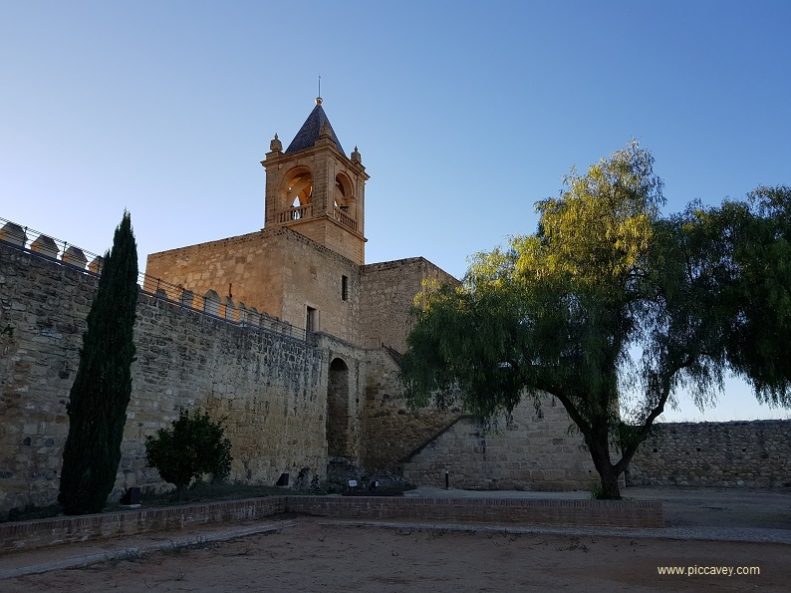 Alcazaba de Antequera
The Alcazaba de Antequera in Malaga province is well conserved and worth visiting. The extension of its site covers 62,000 square metres. That´s bigger that Windsor Castle (53,000 sq. m) and 10 times as big as the White House in Washington!
The visit will take you just over an hour. Enjoy walking up the towers and taking in the views across the turrets. See the underground dungeons and the unusual trapezoid white tower. The ticket also includes entrance to the Colegiate Church. (next to the Alcazaba entrance) So don´t miss that.
Built: 13th Century
Type: Fortress
Address: Plaza de los Escribanos, s/n, 29200 Antequera, Málaga
How to visit: Open from 10.00am to 3.00pm daily. Cost 6 euros (combined ticket Alcazaba + Colegiata)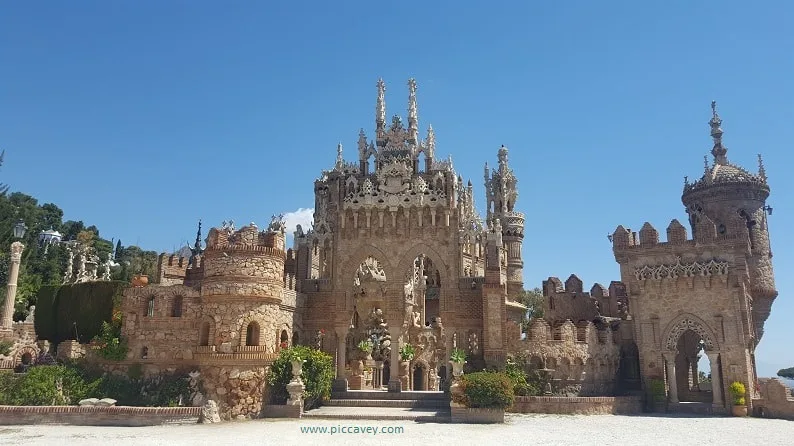 Colomares Castle – Benalmadena
Although this fantastical building is called a castle. Its actually a monument to Christopher Colombus and its only 30 years old. However it is the largest monument in the world dedicated to an explorer. It also has the smallest church in the world, measuring just 1.96 square metres. (According to the guiness book of records)
Built in a large green space with sea views, the entire visit is outdoors. Appreciate the gothic and mixed architectural styles at Castillo de Colomares. Take in time to notice the small details in each corner. It really is an impressive place that you have to see in person.
Built: 1987
Type: Monument
Address: Finca la Carraca, Carretera Costa del Sol, Benalmadena, Malaga.
Parking: Just before the entrance in the designated area by the side of the road.
How to visit: 2.50 euros entrance. Open Wed to Sun 10:00 a.m to 2:00 p.m and 4:00 p.m to 8:00 p.m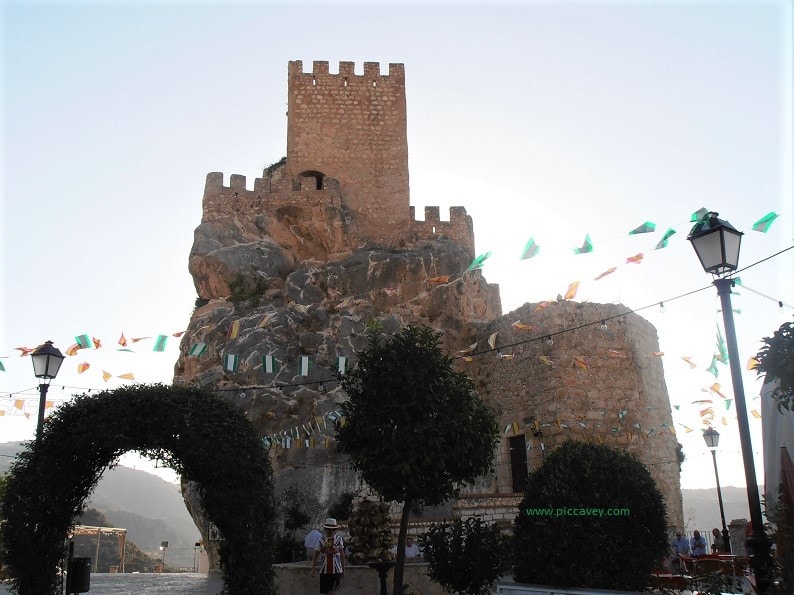 Zuheros Castle – Zuheros
This castle is probably my favourite. Of all the castles in Spain I have seen so far, this one captures my imagination the most. It´s a square arab watchtower clinging to the rock underneath. On one side is the main square of Zuheros. On the other a sheer drop and stunning views across the rugged landscape.
Built: 9th century
Type: Fortress
Address: Plaza de la Paz, Zuheros, Córdoba
How to visit: Open from Wednesday to Sunday 10.00am to 2.00pm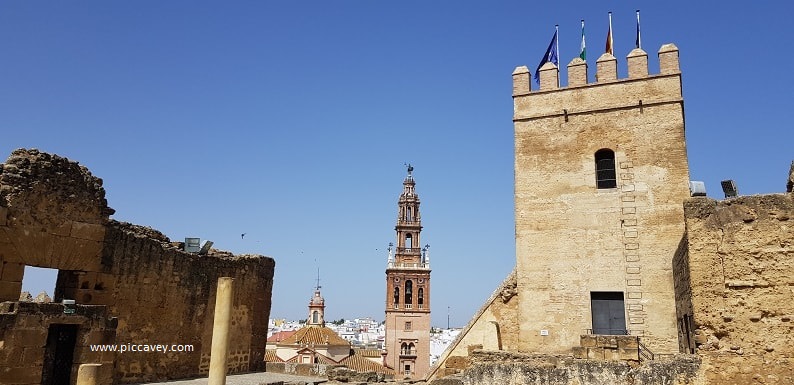 Carmona Gate – Carmona
Officially called Puerta de Sevilla, the gate is part of the fortified walls of Carmona. At this point you can walk up the stone stairs to access the fortress above.
Built: 11th century (modified over the centuries)
Type: Fortress
Address: Plaza Blas Infante, Carmona, Sevilla
Parking: Just at the entrance of the town on the left hand side is a small parking area on the street. (Ronda del Cenicero)
How to visit: Tickets are 2 euros. They are open from 10.00am to 6.00pm Tuesdays to Saturdays. Sundays and Holidays from 10am to 3pm. You can also take a trip from Seville: Day in Carmona & Necropolis Visit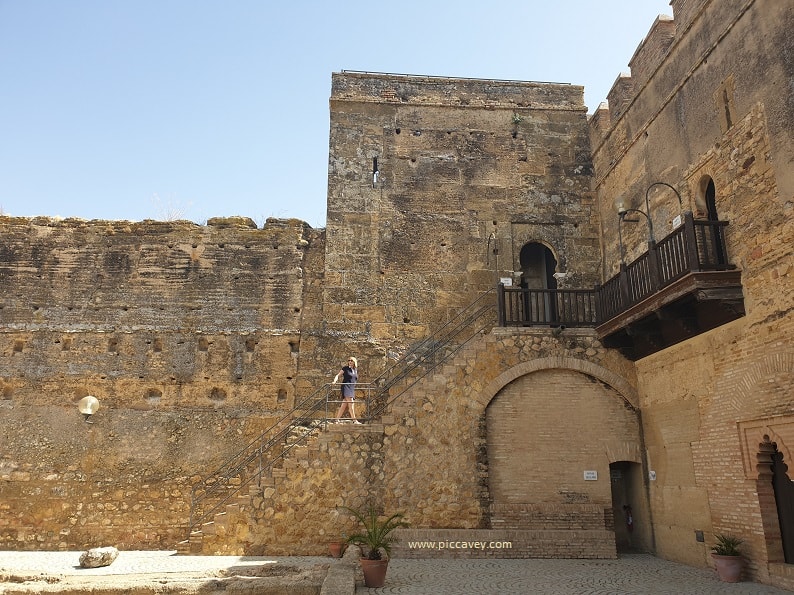 Arcos de la Frontera Castle
Arcos de la Frontera is a charming white town in the Cadiz countryside. It has so many monuments to visit, convents, churches and quaint squares. The castle is set to one side of the town and is privately owned so visits aren´t possible. In summer months the town hall arrange special guided tour on certain dates.
Built: 1474
Type: Castle
Address: Plaza del Cabildo, Arcos de la Frontera, Cadiz
Parking: Parking is difficult in Arcos de la Frontera. The best place is next to the parador. Or to park on the outskirts and get a bus or taxi to the old town.
How to visit: The castle is not open for general visits.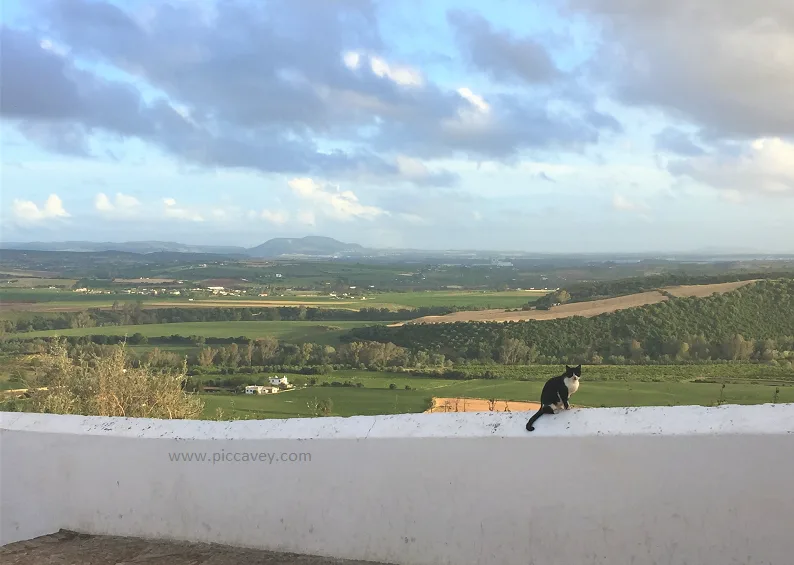 Twelve Fortresses + Castles in Spain
Here are some resources to help you plan your own Castles in Spain Itinerary: