Today´s article comes from a charming town on the Costa del Sol called Frigiliana. Listed as one of Los Pueblos Mas Bonitos de España. It´s lofty location gives great views of the Mediterranean sea from it´s whitewashed streets. In May I spent a few days in Frigiliana to get to know this corner of the Axarquía in more depth.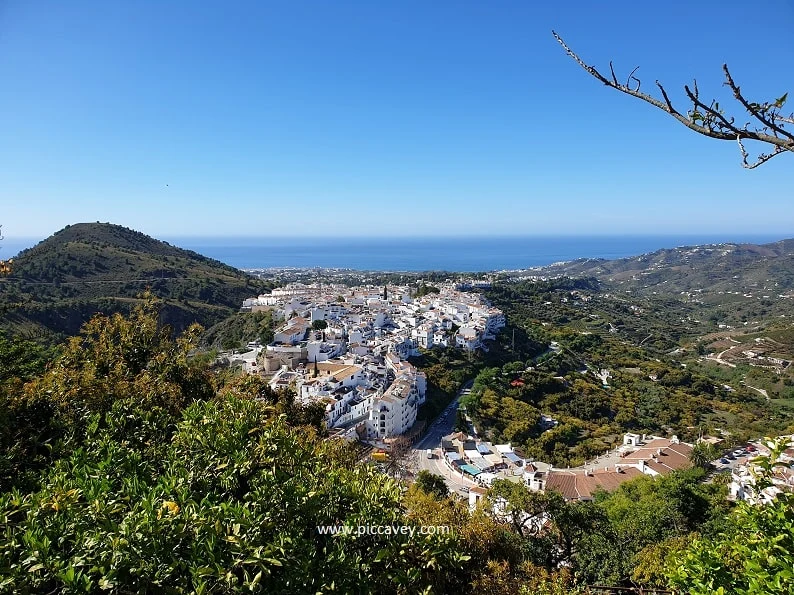 La Axarquía
With a population of around 3000, Frigiliana is just a 45 minutes drive from Malaga Airport. It´s quite a contrasting setting from the busy resorts along the Costa del Sol. The Axarquía is the most eastern part of Malaga province. In fact it´s name Axarquía comes from the Arabic for eastern region: aš-Šarqiyya.
This part of the province is well known for mangoes from Velez Malaga, local wine and raisin production. Historically it was known for its moscatel grapes.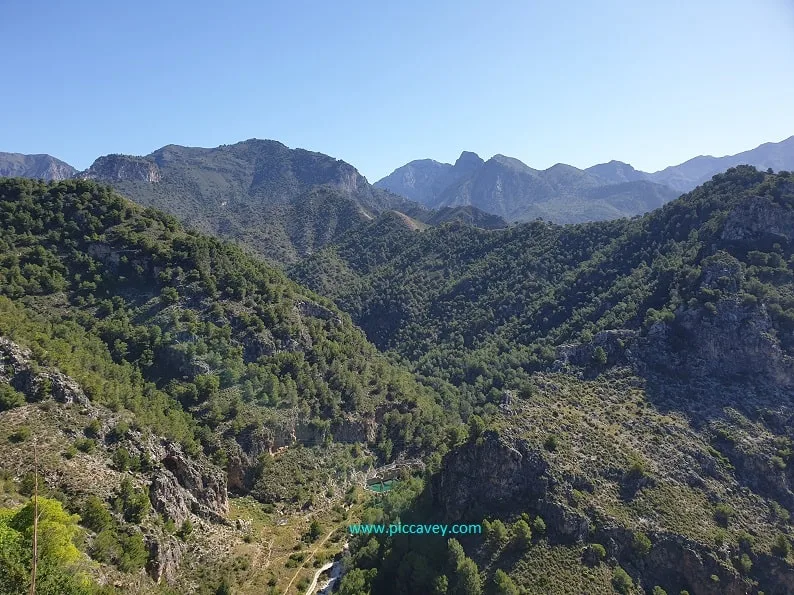 Sierras de Tejada, Almijara + Alhama
As well as Frigiliana other municipalities in the Axarquía are: Vélez-Málaga, Rincón de la Victoria. Nerja, Torrox, Algarrobo, Cómpeta, Colmenar, Periana, Benamocarra, Riogordo, Alcaucín, La Viñuela, Almáchar, Sayalonga, Canillas de Aceituno, Benamargosa, Comares, Moclinejo, Adelante, Arenas, Alfarnate, El Borge, Iznate, Totalán, Canillas de Albaida, Cútar, Sedella, Macharaviaya , Alfarnatejo, Árchez and Salares.
Both the Montes de Malaga and the Sierras de Tejada, Almijara and Alhama natural parks frame this Malaga region. Great places for mountain biking, horse riding, hiking and birdwatching.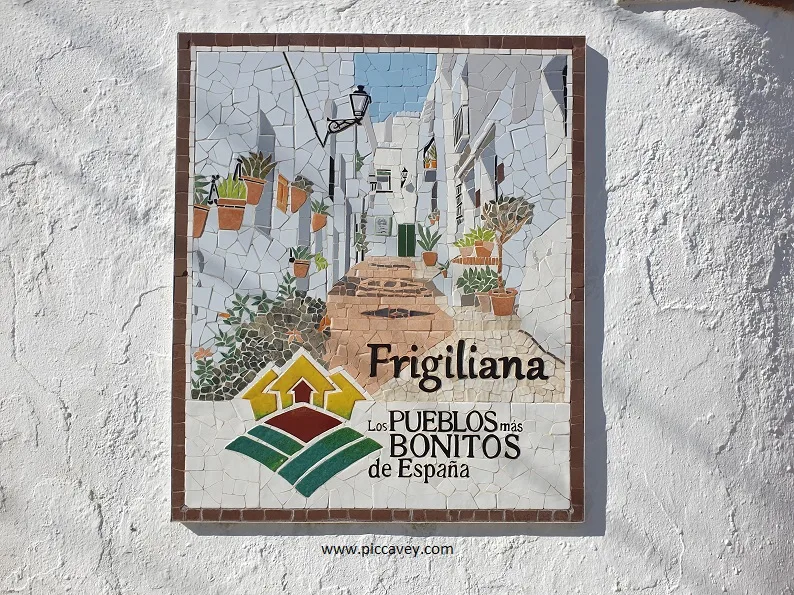 What to see in Frigiliana
Frigiliana has lots of narrow cobbled streets, stepped streets and pretty views. If you spend any amount of time here I would really recommend wearing good shoes so that you can move easily around the upper part of the town. It reminds me of the Alpujarra somewhat with its whitewashed streets and plant pots dotted around porches.
Upper Quarter
Climb up the stepped streets to the upper part of the town. These cobbled streets are decorated with bold blue doors, plant pots and ceramics. You will notice the wall plaques (in Spanish) recounting the history of Frigiliana. Take a look at the scenes from the 1567 Peñón Battle, also known as the Rebellion of the Alpujarras.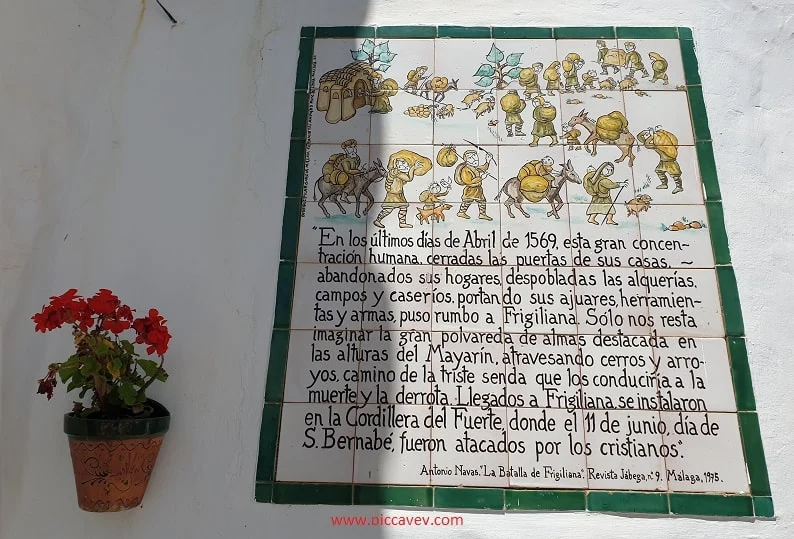 The Battle of Frigiliana
At this time in history the Spanish Inquisition was almost at its peak. After the Jewish community had been banished from Andalusia and the Catholic Kings were looking to oust the Muslims from Spain too. In 1567 there was a huge battle between Christians and Muslims in Frigiliana. Many Muslim soldiers came from Granada villages looking to get support and more forces crossing from Africa to the Malaga. In total 7000 men women and children fought the Christian soldiers. Quite a bloody time in Spain´s history.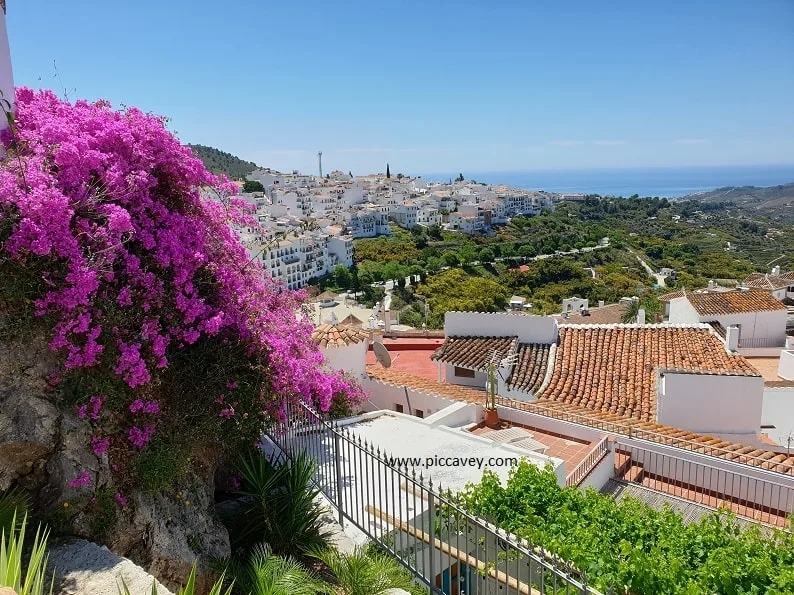 What to Buy
As you come back down onto the Calle Real from the Upper part of time, you will come across small supermarkets and souvenir shops. I noticed the small boutiques selling boho fashion and Ibiza style clothes. These quaint stores have selections of artisan wicker bags and shell bracelets too.
In the traditional ceramic store at Calle Real 15. I bought a colourful ceramic salamander for my balcony. The hand painted pottery lizard will add a pop of colour to my outside wall this summer. From another shop along Calle Real, I also bought a huge jar of honey. Its pretty special as it is local honey from bees visiting mango trees. Mangoes are grown in this area of Malaga province. Especially in Velez Malaga and the Costa Tropical.
In Frigiliana market day is every Thursday. The local market stalls are set up on the Plaza de las Tres Culturas and stay until lunchtime. There is a mix of food stalls, housewares and clothes.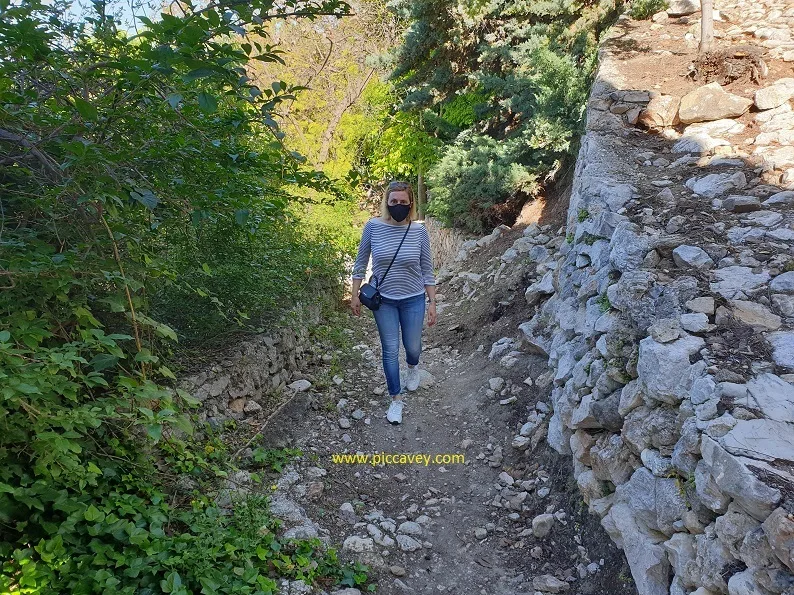 Lizar Castle Ruins
If you aren´t put off by the climb you can head up past the Upper quarter to the old castle ruins. The castle that perched high above the town of Frigiliana was destroyed by Christian troops in 1569. So really what you are going to see is a viewpoint over the landscape on the former site of the castle. Their are barely any ruins left to see.
To one side of the site you can see a small section of a wall. It´s believed that the castle was built in the 9th century but it may have been an 11th century fortress.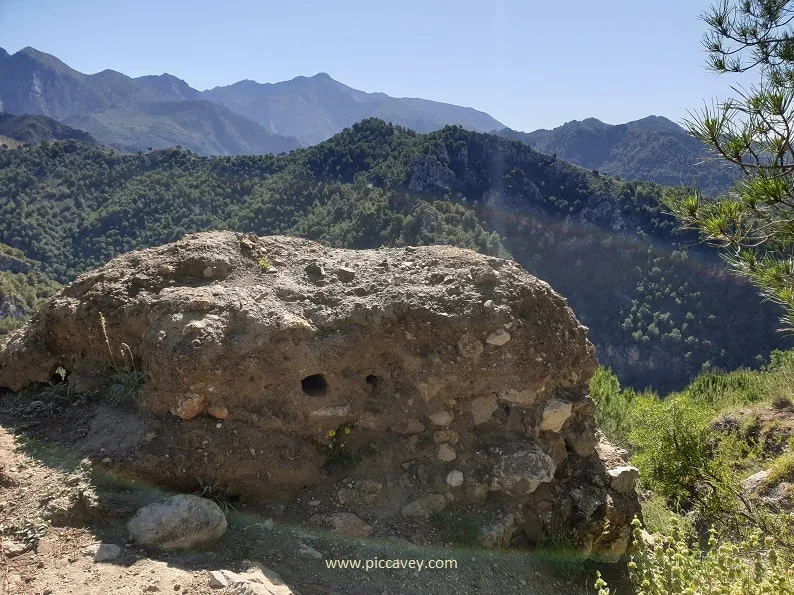 Views of the Mediterranean
To walk up to the top, you need to head to the upper part of Frigiliana, close the Garden Restaurant. From there a narrow uneven path takes you up between houses. Take care to follow the arrows and signs carefully. Some of the land around the trail is peoples gardens or privately owned land.
Along the route you can see stunning views of the coastline and the sea sparkling in the sunshine. There are also some metal sculptures along the pathway too. I took the same route up and back down again. In late May at 11am the sun was already quite hot by the time we had reached the top at midday.
Here are two possible walking routes (in Spanish)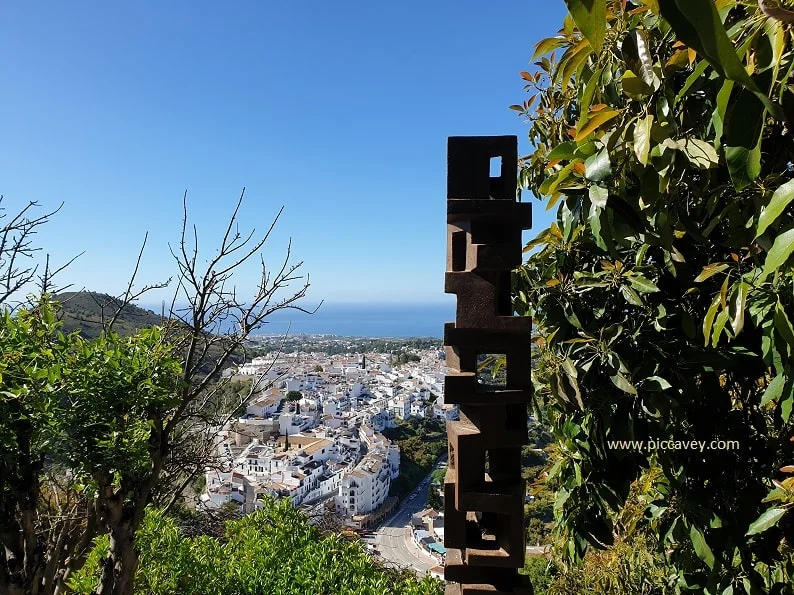 Where to Stay in Frigiliana
For my stay in Frigiliana the accommodation was a small boutique hotel called Millers of Frigiliana. The location couldn´t be better as it is on the Calle Real. Right in the centre of the town and between the Upper and lower part of Frigiliana.
This property can actually be booked entirely by one family if there is a larger group of you. It has 8 rooms, a kitchen space, inner patio and upper terrace area.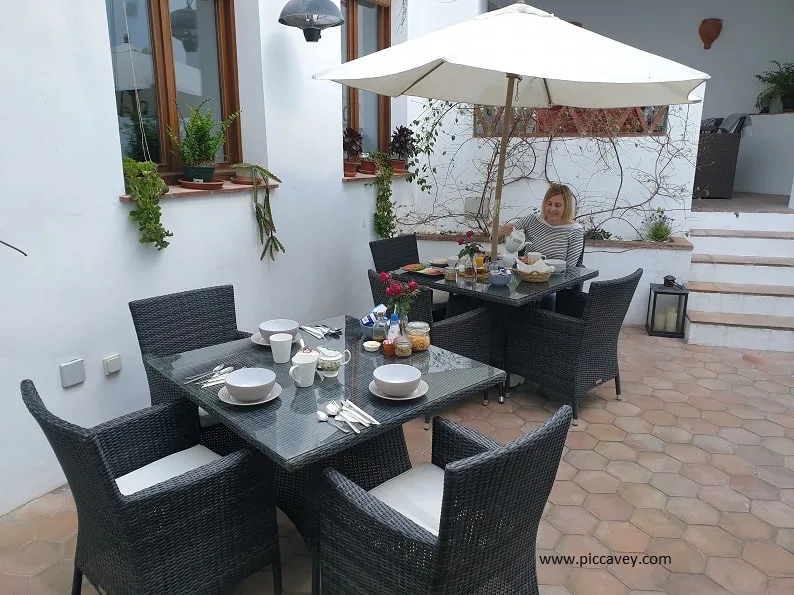 Millers of Frigiliana
Millers feels like a home from home as there are spaces such as the sun deck, an open terrace with comfy chairs and loungers. The patio (as seen in the photo above) or the lounge area downstairs. My room had a small balcony so I could read outside in the evening. This hotel has been going for quite a few years now, it was originally two houses that have been merged into one. So it does have a homely cosy atmosphere.
Parking in Frigiliana
Parking in Frigiliana is not so easy (as with most Spanish towns) so we parked on the main road. (200 metres from the accommodation). Walking up with our luggage to Millers. As we had overnight bags, it wasn´t a problem. If you stay for longer and have more luggage you could drop it off at the main door by car. There is no street parking out front at the hotel.
If you cant find free street parking. The main car park is at the entrance of Frigiliana. It is underground (below the marketplace) and is paid for by the hour.
Also close to the tourist information office on Camino del Boticario, there is a free car park that may have space. Tourist information is on Calle Cuesta del Apero, 10 a short walk from Plaza de las tres culturas and worth going to. There is a small fortress with a viewpoint there, offering a different perspective from this vantage point.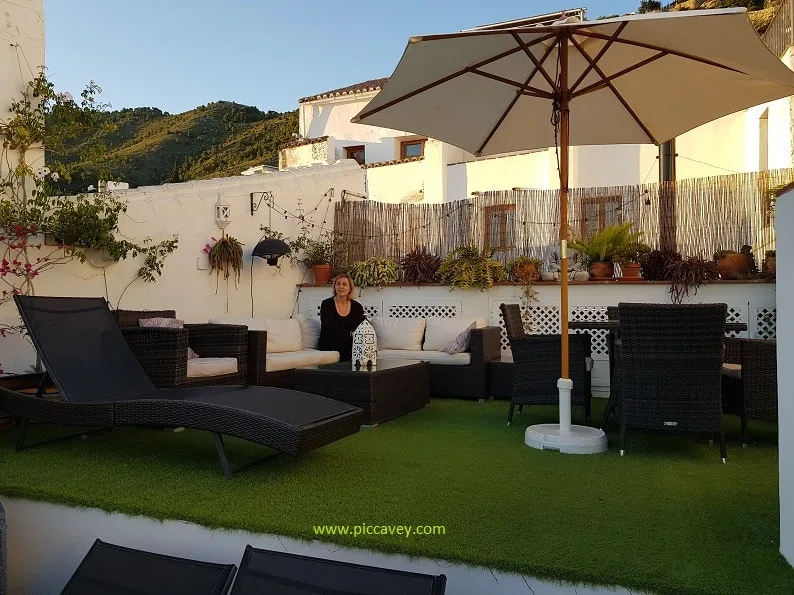 Where to Eat in Frigiliana
There are lots of great places to dine in around the town. I managed to try four of them but there are many others that weren´t open. As I visited on Monday and Tuesday things were quieter than mid week or on the weekend. Here are my tips for places that are open most of the time.
Restaurante Adarve
In the Upper part of the town, known by the locals as barribarto. This place has a fabulous outdoor space with great views. Staff were very friendly and helpful. I chose a Quinoa salad to start and fresh grilled fish for lunch. I would recommend booking on weekends and holidays. It can be popular.
Address: Calle Alta, 3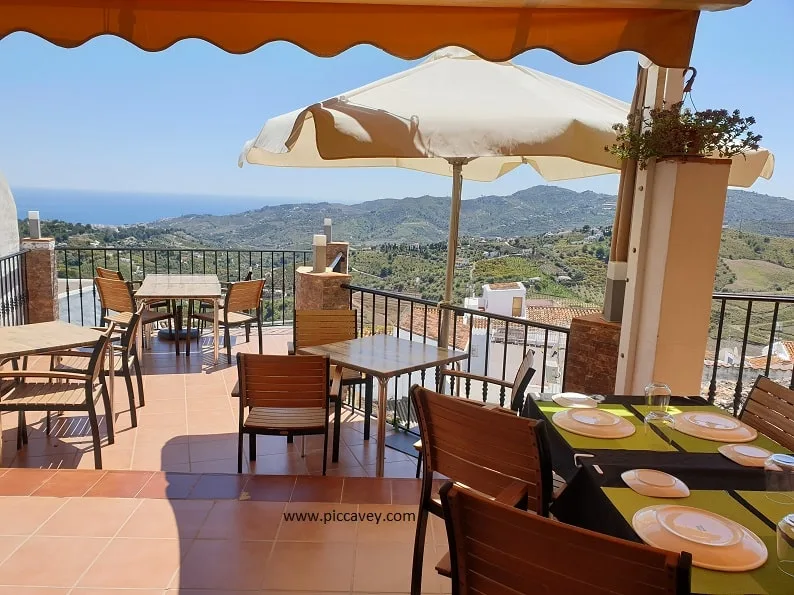 The Garden
Although this place was recommended to me by four different friends, I still have not been able to go. The opening days are Wednesday to Sunday from 21st May onwards. As I have visited a few times on Mondays and Tuesdays or out of season I always find them closed. Address: Calle Santo Cristo
El Colmao
Is a wine bar on one of the main streets of Frigiliana. Its a great spot to spend an evening tasting fabulous lesser known wines. Maria also has some food on offer too, although it´s informal bar snacks and sharing plates rather than a full on restaurant. (photo below)
Works wonderfully for warmer days when you want a light meal in the evening. The wine selection is varied and extensive. You can also buy the wine to take home if you like it. (like I did)
Address: Calle Real, 32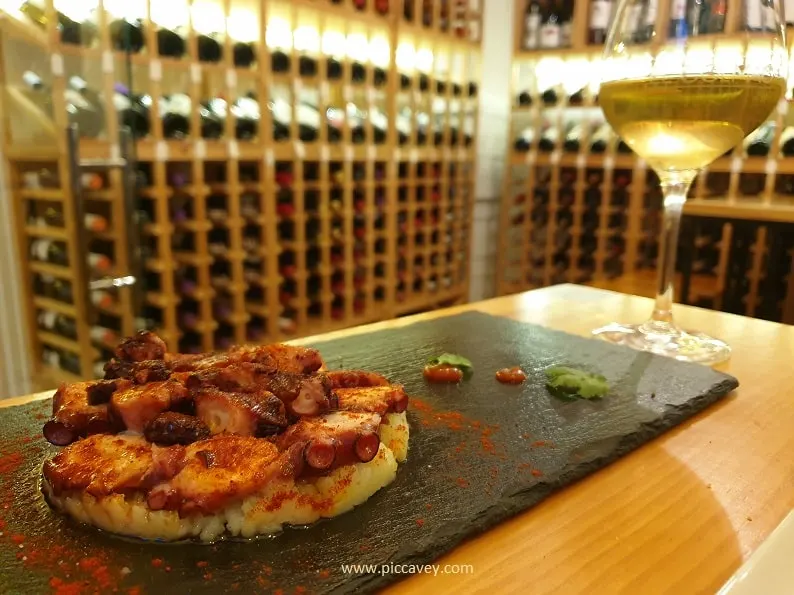 Taberna del Sacristan
The Sacristan is a classic in Frigiliana, I ate there on a visit some years back. They are at the other end of Calle Real, in front of the church. Set on a quiet square, food here is traditional but delicious. Waiters are really friendly too. Fried aubergines are a personal favourite of mine here. (They also have another restaurant on Plaza de las 3 Culturas 8 + 9).
Address: Pl. de la Iglesia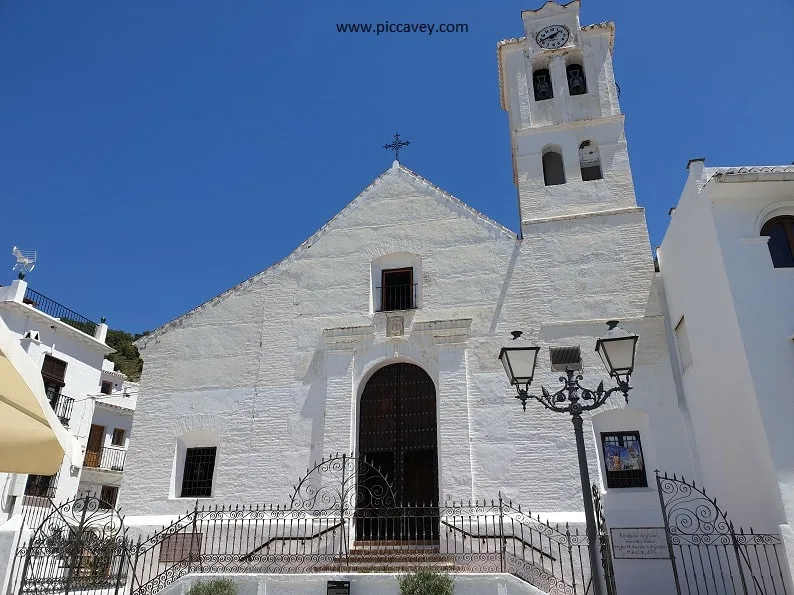 Vinos el Lagar
This bar offers local wines and tapas. There is an outdoor space overlooking the Plaza de las tres culturas at the entrance of Frigiliana. Large barrels serve as tables on which they serve beer, wine and tapas. Inside El Lagar they also sell local gourmet products too such as local wine, cheese and honey. Address: Calle Real 1A
Other options….
Off Plaza de las Tres Culturas, there is a large square with a view point. In the white buildings there are 3 or 4 restaurants here with outdoor seating. I didn´t eat at any off them during my stay. Plaza 45 is known for for tapas and drinks. It´s popular with locals too.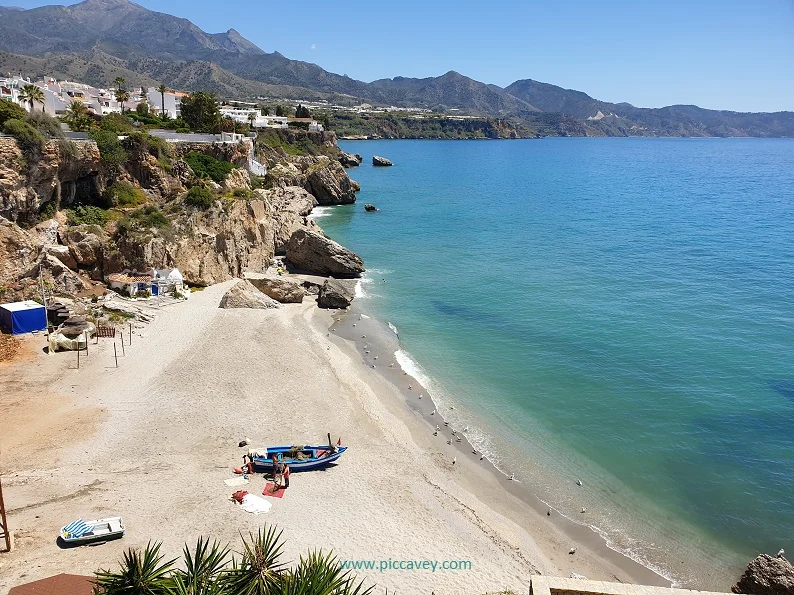 Close to Frigiliana
Finally you may want to know if you plan a longer stay in the area what you can do outside Frigiliana. Nerja and the other towns of the Axarquía within short driving distances. In the landscapes surrounding Frigiliana there are endless hiking routes.
There are lots of beaches to choose from too. You are spoilt for choice in this part of Malaga. Yet you can also find quieter spots along the Costa Tropical, in Granada province as well.
Others options is the cave in Rincon de la Victoria, known as the Cueva del Tesoro. This makes a nice morning outing from Frigiliana, if you want to do something different. Not as famous as the Nerja Caves, however this local gem is still impressive.
Of course you can take a day trip to Malaga for a shopping day or Granada to see the Alhambra Palace too. Frigiliana makes a great base for a short break or a longer holiday too.