Strummer Square in Spain
A whole year has past since I was asked to comment for The Telegraph (Dec 2011) about the Joe Strummer campaign in Granada.
A group of people in Granada were requesting a street to commemorate the British rocker Joe Strummer. More than 2000 signatures and a facebook page was also created for the campaign.
This month (Jan 2013) it has been announced that the singer from the Clash will have a square named after him.
The musician loved to spend time in Granada. He visited often in the eighties. He would also travel to Almeria too.
He spoke of Andalusia and Granada often and was fascinated by the famous Granada writer & poet Lorca.
In fact Granada and Federico Garcia Lorca are both mentioned in the lyrics of the song Spanish bombs.
He knew Spanish rock bands such as 091 and other musicians. He was regularly seen in the Albaicin or in bars along Pedro Antonio de Alarcon whenever in Granada.
The chosen square is in Granada´s Realejo district. Although it will not be officially approved until February 2013. (There are more details in Spanish in this piece by Granadaimedia )
The current name of the square La plaza del Pilar de Escoriaza takes its name from the fountain (pilar) in the square. This water feature has been there since 1888. The square has recently been renovated and considerably improved.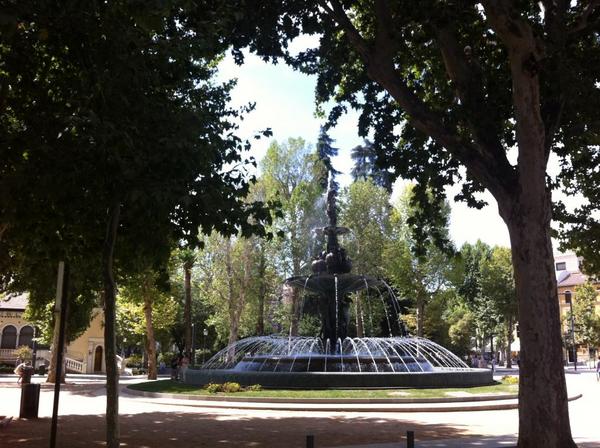 The location is just off Cuesta Escoriaza, an uphill climb from Paseo de la Bomba. If you walk to the very top of the road, you´ll come across a few designs by the popular Graffiti artist El Niño de las pinturas .
I think Joe Strummer would have approved of the location of this square in this typical Granada ´barrio´
The 10 year anniversary of Joe Strummer´s death has just passed this December. He died at the age of 50. Currently there are 2 films being made as well as this Spanish square being named after the artist. Nick Hall is currently working on the documentary I need a Dodge and then there is also a biopic called Joe Public being filmed about by Film4.