As a full time travel blogger, lockdown wasn´t going to be easy. I usually spend more time away from home than in it. Even mealtimes are out. I don´t often have breakfast at home.
So spending 3 months at home was going to be a challenge. Over this time I have been cooking and baking lots. I have also spent sometime sorting out my wardrobe and home office space.
The situation in Spain is beginning to ease as things get under control. Granada moves onto phase 1 this week. (18th May 2020)
Wardrobe Clearout
Working throughout my wardrobe is always quite a task. In Spain it´s typical in springtime to switch winter clothes to summer season. So its probably the best time to take a look through things.
It soon became clear to me that I had lots of dresses and outfits for events. Suits and smart things. However I didn´t have many things to actually wear at home. As I dont spend much time at home I usually get home late and wear PJ´s.
So as I decided what I was putting on Vinted, what was going to charity and what to keep. It was clear that I needed a few home wear pieces to get through lockdown.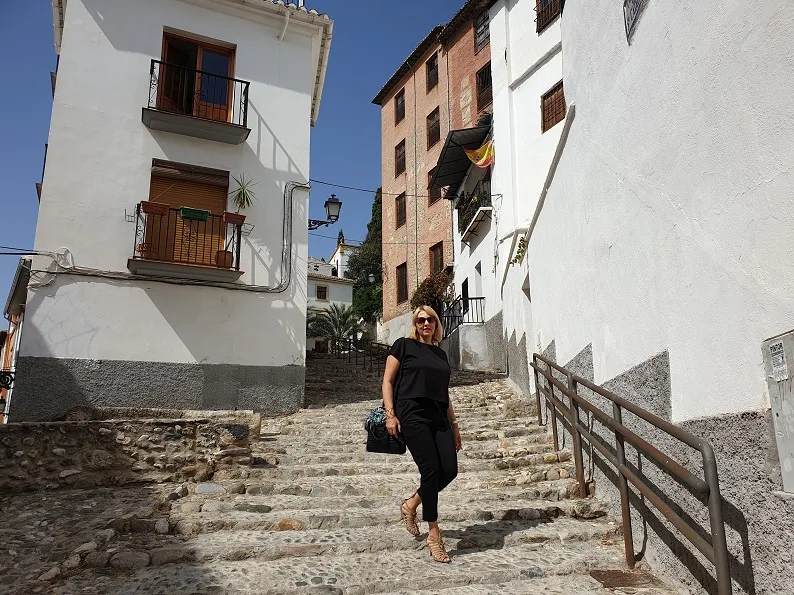 Lockdown Loungewear
Last spring I got this black suit (seen above) that I use for long trips. It´s great to look smart when travelling. It has an elasticated waist and is lightweight. It is really comfy. After digging out this for lockdown again, I went to check out a few new loungewear suits in spring colours.
Looking good during lockdown is important to me. It makes you feel much better about the day if you get out of your pyjamas in the morning and make a loose plan for the day ahead. It is also handy in case I get a food delivery, online shopping parcel or have a zoom call. Notice that I am make up free in the photos. I havent been wearing any make up since lockdown began in Mid March.
Comfy Loungewear
I got three new sets. Along with the one I already had, that gives me enough to be able to have 2 in the wash and 2 to wear throughout the week. I choose a Silver grey and Camel set. The same outfit, just in a different colour. Boxy V neck t-shirt and cropped bottoms.
Then also picked a Khaki joggers set. This has a long sleeved top for the cloudy and cooler days. This is my favourite pick. It´s so comfortable in a jersey material. The bottoms are cuffed at the ankle and have pockets too.