Lombardy in Northern Italy is a region dotted with six lakes. With stunning landscapes, historic villas and vineyards too. Its an ideal location for a road trip. The capital of Lombardy is Milan, but the region has far more to offer than the fashion boutiques of Via Monte Napoleone.
On my road trip around the Italian Lakes I visited different towns around the region. Let's go!
Lakes of Lombardy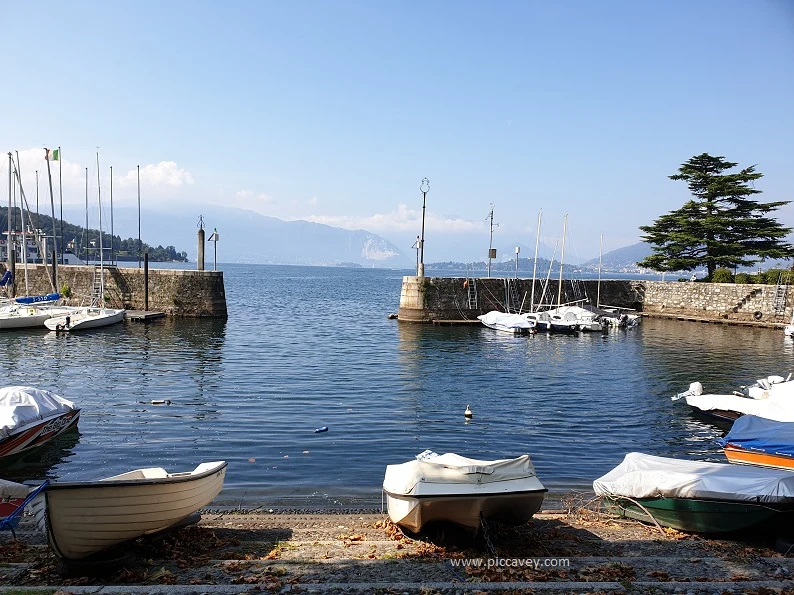 Lake Maggiore
Located between Italy and Switzerland, this lake is the second largest in Italy. Lago Maggiore is over 64 kilometres long (40 miles) and surrounded by fabulous places to visit. See above is the quiet town of Laveno Mombello. Another example is the 14th century Hermitage of Santa Caterina del Sasso.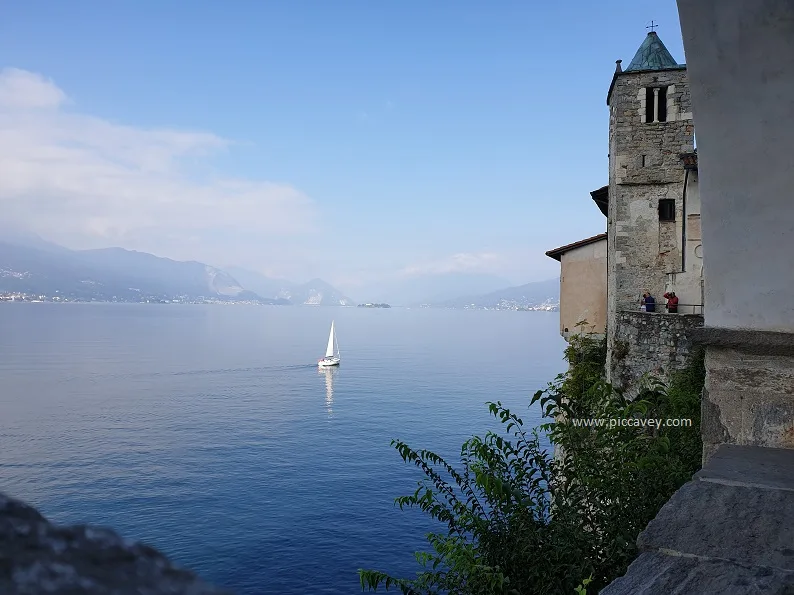 Santa Caterina del Sasso
Accesible by car or on one of the lake ferry services. This Roman Catholic Monastery was modified over the centuries. Some parts of the building are from 14th century. whereas later additions such as the ceiling frescos are from the 19th century.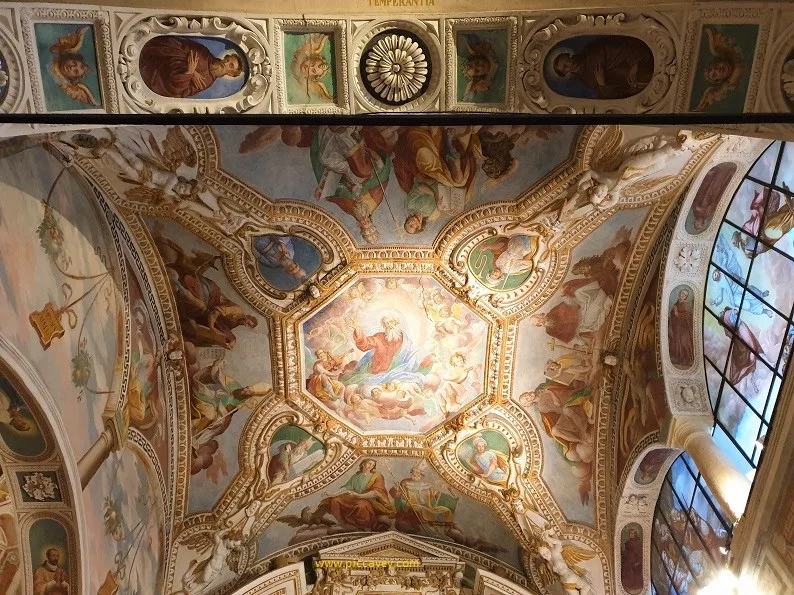 Rocca di Angera
The 13th century Borromeo Castle on Lake Maggiore has some stunning views. You can visit the castle inside and its gardens. It's worthwhile climbing the stairs to the top of the watchtower. From there enjoy 360º views of the surrounding landscapes and lake. Also inside the monument is a Doll Museum. Housing over 1300 dolls from all over the world. It's one of the most impressive toy collections that I have ever seen.
In fact around the lakes are quite a few Italian Palaces & Villas worth visiting.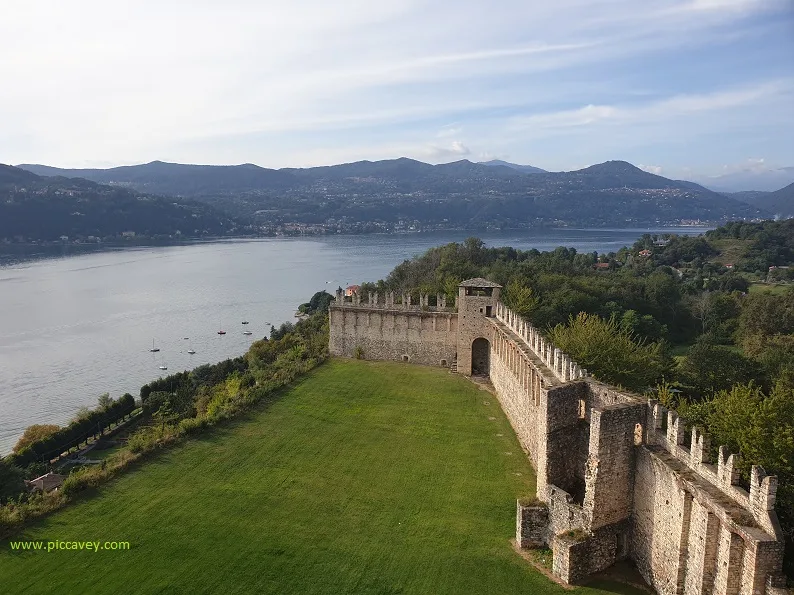 Lake Iseo, Lombardy
Lago Iseo is probably my favourite from the trip. The lake is pretty deep with an average depth or 124 metres (407ft). With three islands inside the lake, St Paul, Monte Isola and Loreto, it makes such a picturesque boat ride.
Monte Isola, is Europe's largest lake island and also one of the Borghi più Belli di Italia. A selection of the most beautiful historic towns in Italy. Seen below is the magical island of Loreto.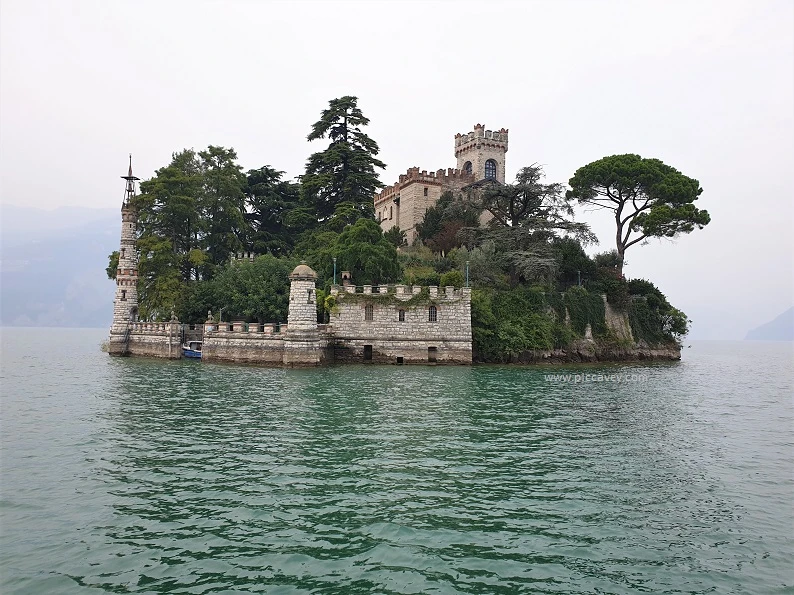 Monte Isola
The boat ride left from Iseo and took us across to Peschiera Maraglio. In this adorable fishing village we visited a traditional net workshop. On Monte Isola no-one has cars, but there are lots of vespas (scooters). So great that locals are more likely to have a boat than a car.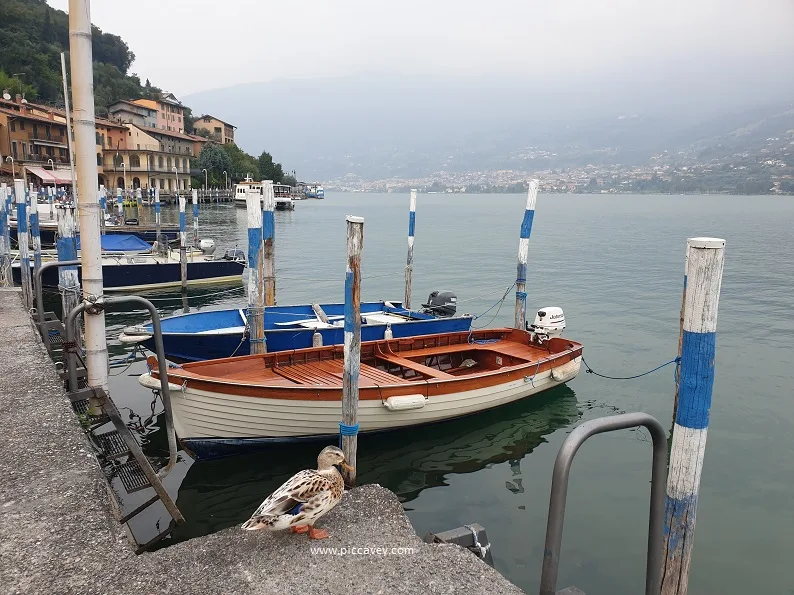 Lake Idro
One of the most interesting outings was the hike up the Rocca d Anfo
Built in the 15th century. This military fortress overlooking Lake Idro was later fortified by Napoleon. Strategically located between Germany and Milan it was an important site in the 1800´s. We visited the military barracks for 400 soliders. The gunpowder warehouse and explored the underground tunnels inside the rockface.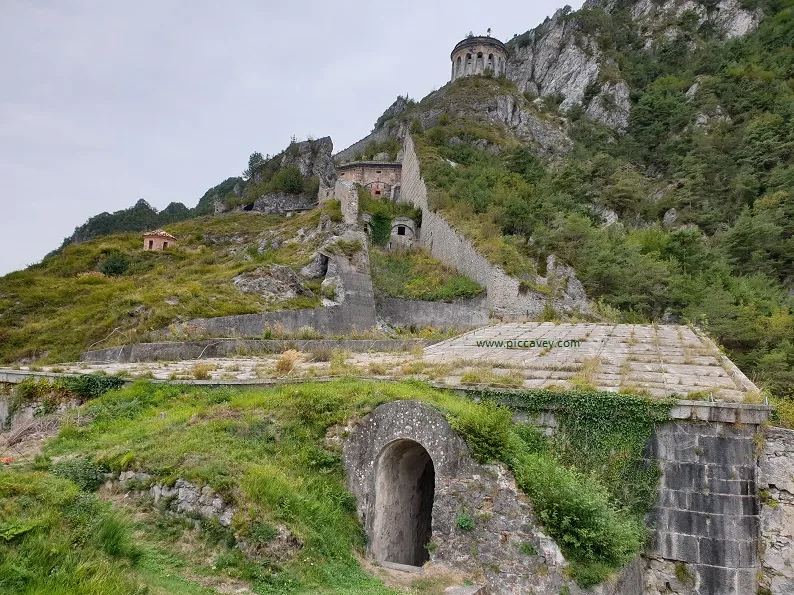 Climbing up is progressive despite the 1300 steps along the sections of the walk. As you stop off to take photos and listen to the tour guide. Stopping at the different places on the mountain makes the hike fun and not hard work.
This monument is open in Summer months only and needs to be guided. They offer tours in English and Italian.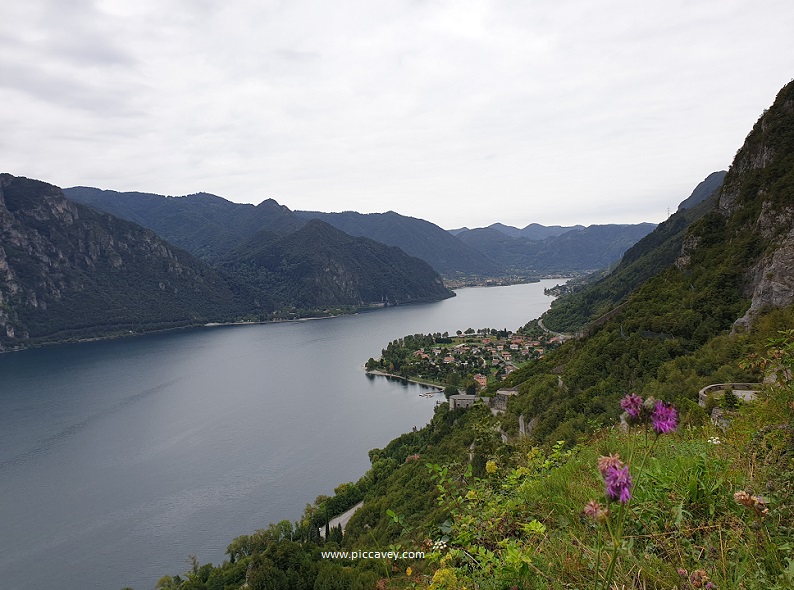 Lunch afterwards was a short drive away at Ristorante Da Genny in Idro. There I enjoyed an amazing dish of pasta with gorgonzola cheese and fragrant truffle.
Followed by Fish from the lake (similar to trout) and a delicious tiramisu. It was so welcome after all of that uphill climbing.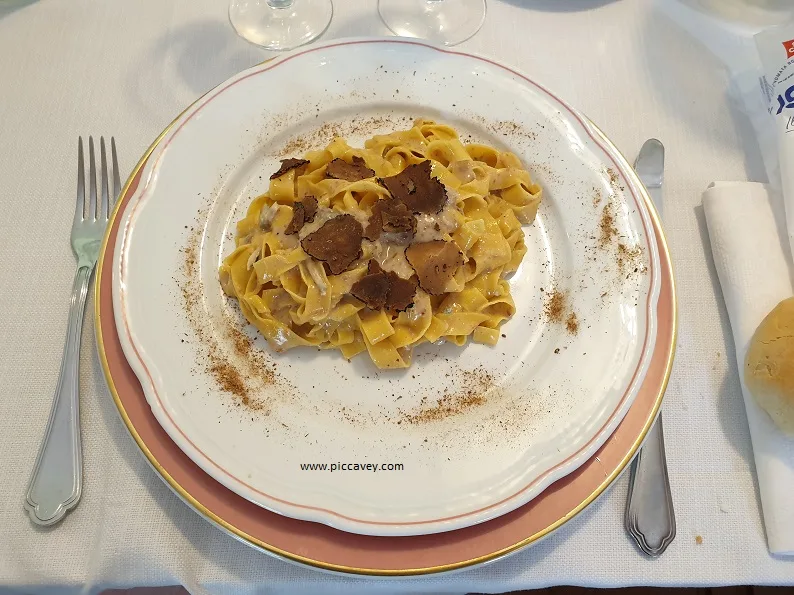 Lake Garda
Lago di Garda is the largest lake in Italy with a surface area of 370 kilometres. With lots of towns dotted around the lakeside, I visited four locations on the west side of the lake.
Toscolano-Maderno
This lakeside town has a long history of paper production. The Toscolano stream which flows into Lake Garda was once busy with paper mills. Now Toscolano 1381 workshop relives this epoch though its hand made stationery.
Since the 16th century this area was known for the best paper in Italy. At its height of popularity it supplied the administrative capital in Venice. It even exported to Asia. I got to try the process myself and see some of their recent creations in their shop.
Tignale
Lombardy Lemon History
They say ¨When life gives you lemons, make lemonade¨. But in Tingale they actually make Limoncello. The Pra de la Fam seen below is lemon grove and a traditional building. Recreating the original lemon houses found in the area in the 13th century.
The open greenhouse protects lemon plants in winter months. Lemons aren't happy when temperatures fall below 12ºC. On humid summer days the roof is opened up. So the plants can breathe.
This area was poor and survived from fishing. Until lemon production brought a new industry to the area. The lemon industry along the shores of Lake Garda lasted up until the 1850´s. Around this time local lemons where hit by a disease. Also support from Venice wained. Allowing Sorrento lemons from Southern Italy to increase in popularity.
Currently this agritourism project shows visitors this unique location. They also sell local products such as lemon syrup, lemon jam and limoncello. Information is available in Italian, German and English.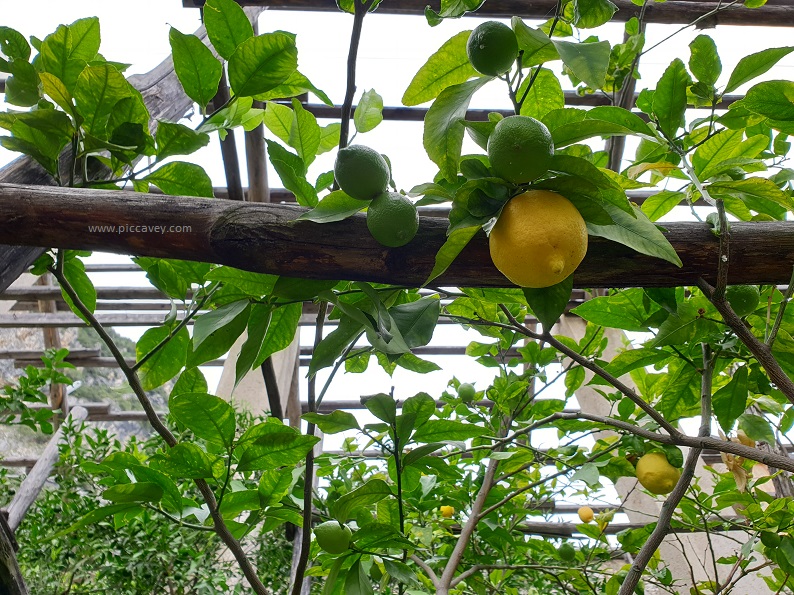 Gardone Riviera
Gardone Riviera is one of the listed most beautiful historical towns in Italia. Known as Borghi Piu Belli d´italia
After stopping for a lovely lunch at Locanda Torricella. This traditional restaurant at the entrance of the town is opposite the main church. With a large outdoor terrace you can eat outside or in. Some evenings they have live music playing outside as you dine.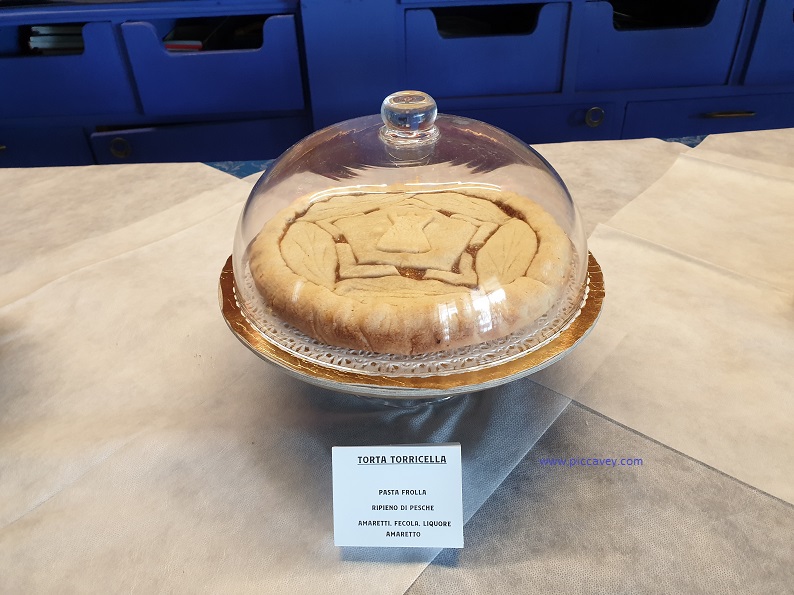 Gabriele d'Annunzio
We visited the Foundation Vittoriale degli Italiani. Once home to Italian poet Gabriele d'Annunzio (1863-1938). This unique villa has views across the Lake Garda and a fascinating interior. La Giaconda (1899) is maybe his most famous work, yet he did not limit himself to writing. He was a soldier and politician too. His home reflects this rich career with antiques from different countries.
Once inside this packed house you can see a chapel style room. Filled with symbols of all the different religions. In one of the rooms to receive visitors there is even an plane propeller hanging from the ceiling.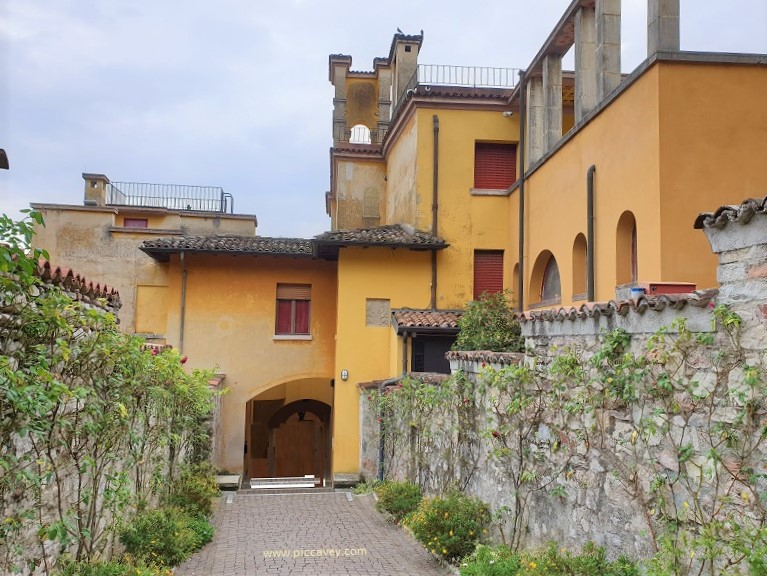 Take the guided tour of the house. You will have to leave your bags and belongings in a locker (free to use). The spaces in the house are quite small. There are lots of pottery and delicate items that big rucksacks may damage.
The gardens of the property are immense and are on different levels. Leave enough time to explore them. Clearly an eccentric, d'Annunzio even has a grey warship set into the garden.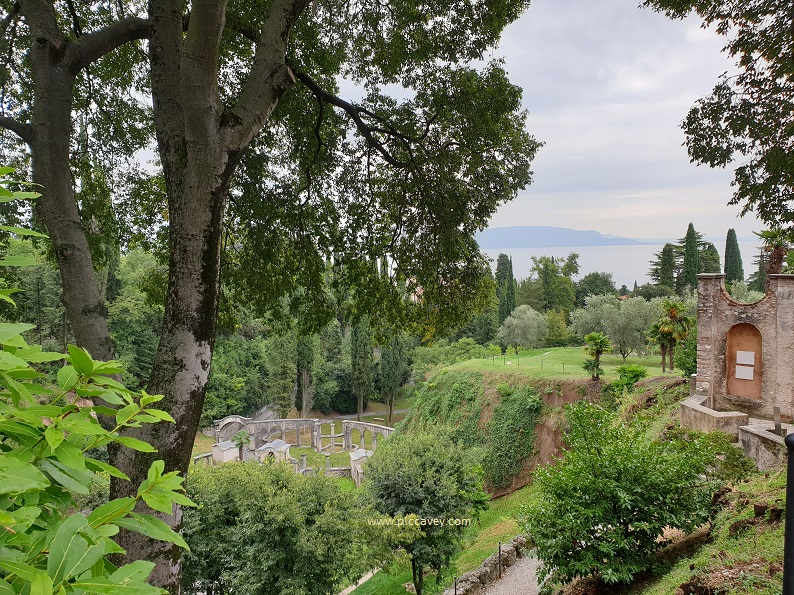 Lombardy Wines
The Lombardy region is a perfect mix of landscapes, historical sites and fabulous food. Yet it also has many wine producers. Foodies will have a great time seeing some of the vineyards. I managed to visit 4 different sites in the week that I was there.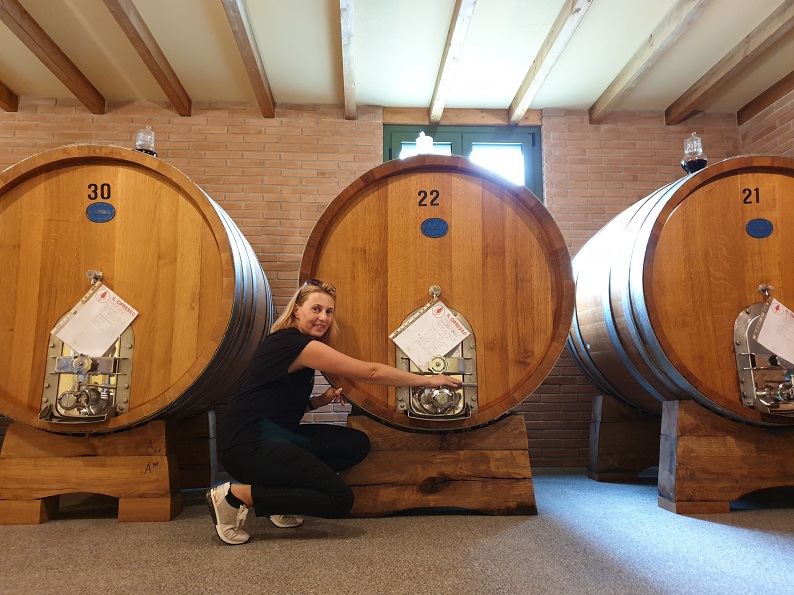 Oltrepó Pavese
The region of Oltrepo Pavese, Pavia takes its name from the River Po. (it refers to the Pavia region past the Po river). Often called the Tuscany of Northern Italy. It is the largest wine producing region in the country.
The Enoteca Regionale in Pavia is a wine shop and restaurant rolled into one. With a huge selection of white wines, red wines and sweet wines. It really is a wine lovers paradise. The food was excellent too.
We also enjoyed a tour at the Complesso Riccagioia di Terrazza Coste. (Seen below) To learn more about the different grape varieties produced in Lombardy region.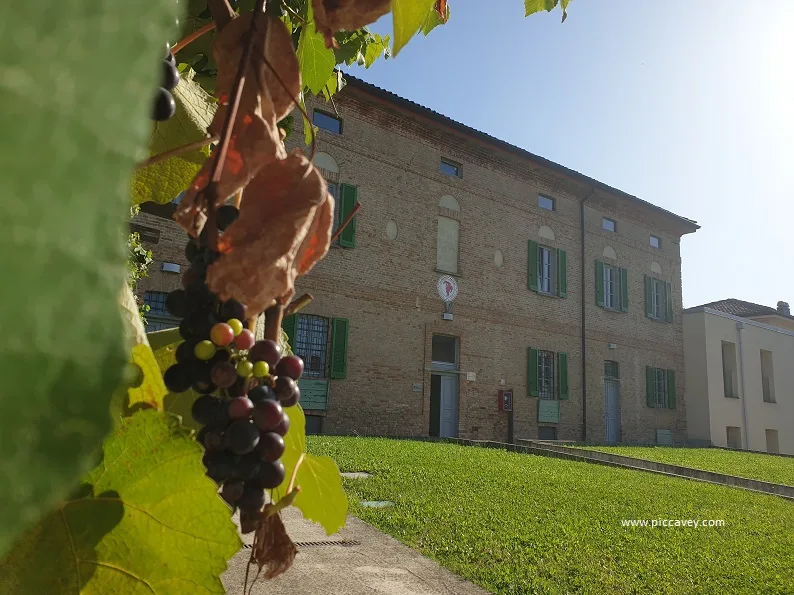 Scanzorosciate
The following day we visited the Terres del Vescovado. Specifically Il Cipresso winery in Scanzorosciate. This stunning property offers wine tastings, a guided tour of their premises and even horse riding on their land.
Il Cipresso only produce 20,000 bottles annually the focus is on quality not quantity.
The highlight was tasting the Red Moscatel wine Moscato di Scanzo. Usually moscatel grapes are white or yellow. However this variety, specific to Terres del Vescovado region is a Red grape. Its a wine that is sweeter than a red but not as sweet as dessert wine. Very complex and delicious for a winter evening.
Limited to a production of only 2000 bottles per year, I had to take home a bottle for Christmas.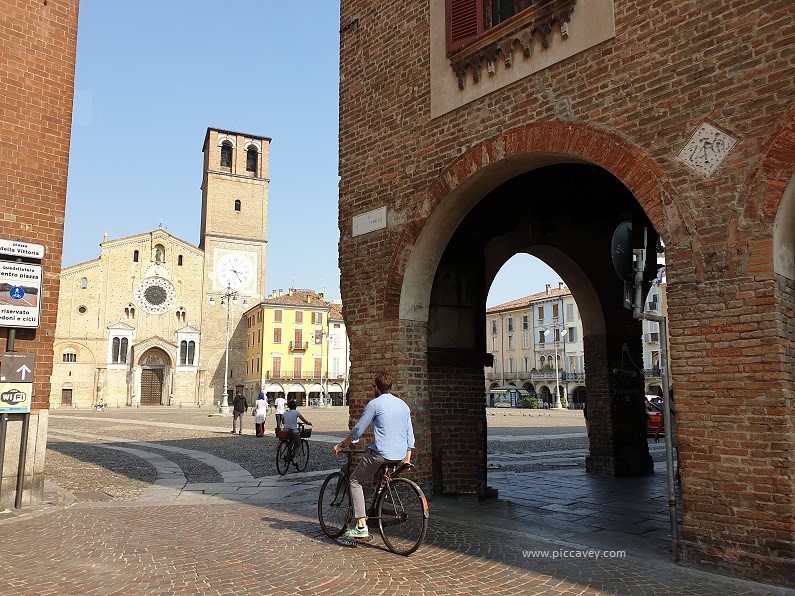 Lodi, Lombardy
The lovely town of Lodi, just an hour from Milan was a pleasant surprise. The main square was one of the those places that I took so many photos. It was photogenic from every angle.
After seeing the old city wall and watchtower, we headed into the historic centre. Visiting the main church and this stunning square.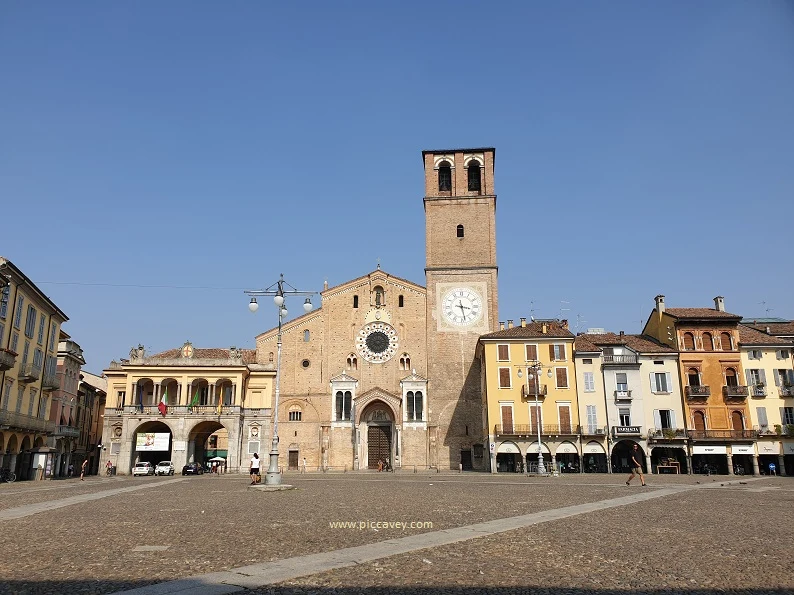 The highlight in Lodi was the visit to the Templo Civico della Beata Vergine Incoronata. Although from the outside it's an unassuming building, inside its magnificent. Designed in 1488 it's one of the best examples of Renaissance art in Lombardy. The church was cover in blue and gold details all on the ceiling and walls.
Breathtaking.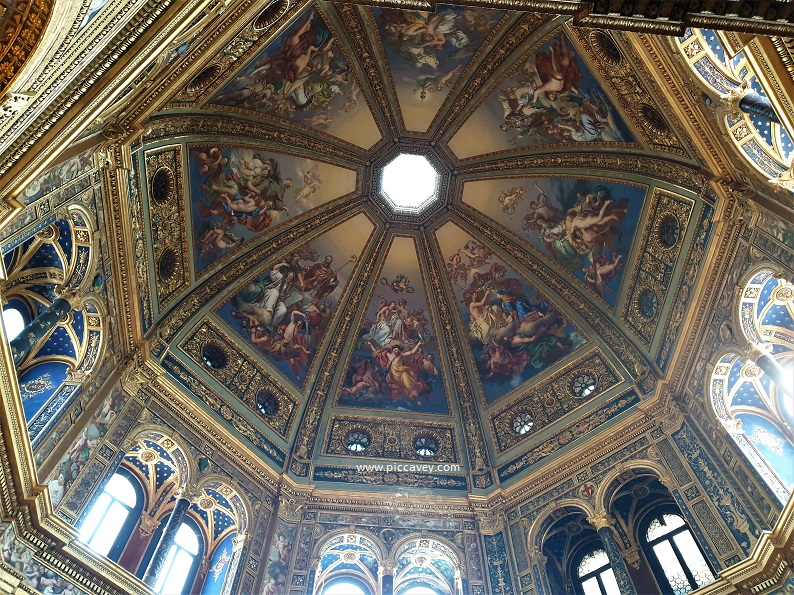 Grana Padano Cheese
Another visit in Lodi was to the Dedè farmhouse. Producers of Grana Padano cheese and other dairy products. Set in Borghetto Lodigiano, a village outside of Lodi. Their main cheese is a crumbly texture. Grana Padano is an unpasteurised cows milk and naturally cured
The recipe for Grana Padano cheese was first created in the 12th century. Monks at the Chiaravalle Abbey in Milan perfected this cheese. (Santa Maria di Rovegnano). It also lasts a long time without going off. This cheese variety can be aged up to 2 years.
More information (italian) Caseificio Dede.it
On another trip to Italy I visited Bologna where I learnt even more about Italian Food.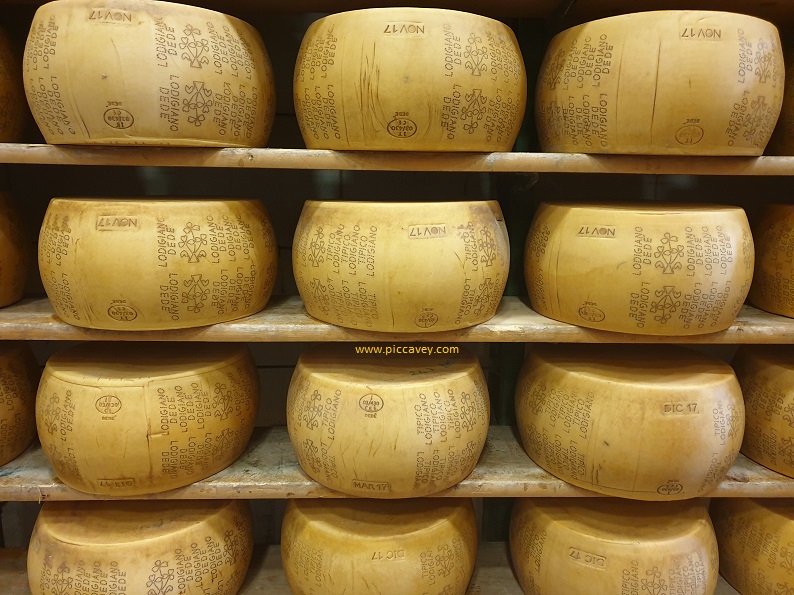 Milan
The capital city of the region, on arrival I had a little time to explore the beautiful Navigli area. Something I have wanted to do on all 4 previous visits to Milan but never managed to do.
Dinner at the Trattoria Milanese felt very traditional and authentic. Even though it was right on the Darsena, one of the main nightlife spots in Milan.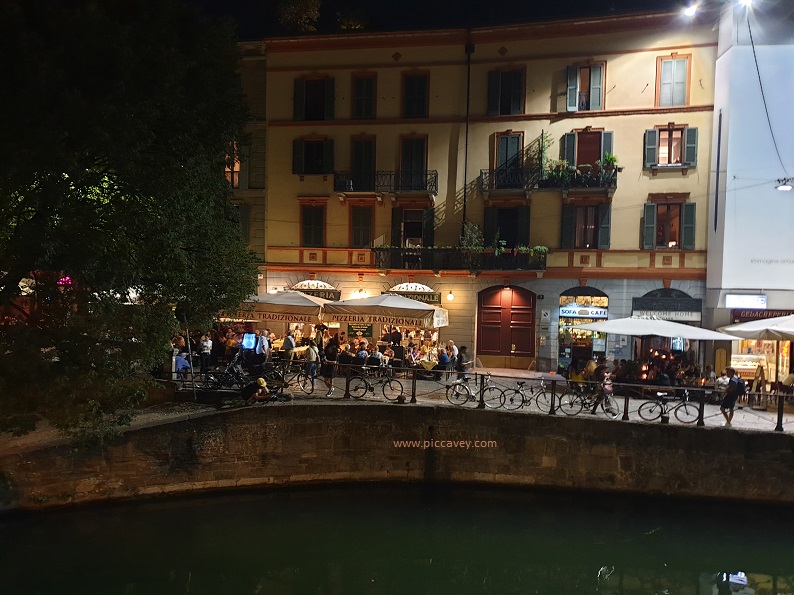 Another visit in Milan was to the Campari factory in Milan. Restored by Swiss architect Mario Botta. Now home to all the Campari advertising from years gone by.
Lunch close to Corso Como, in Milans shopping district was at Ratanà Restaurant. This smart eatery is highly recommendable. Particularly their Saffron Risotto, a typical milanese dish.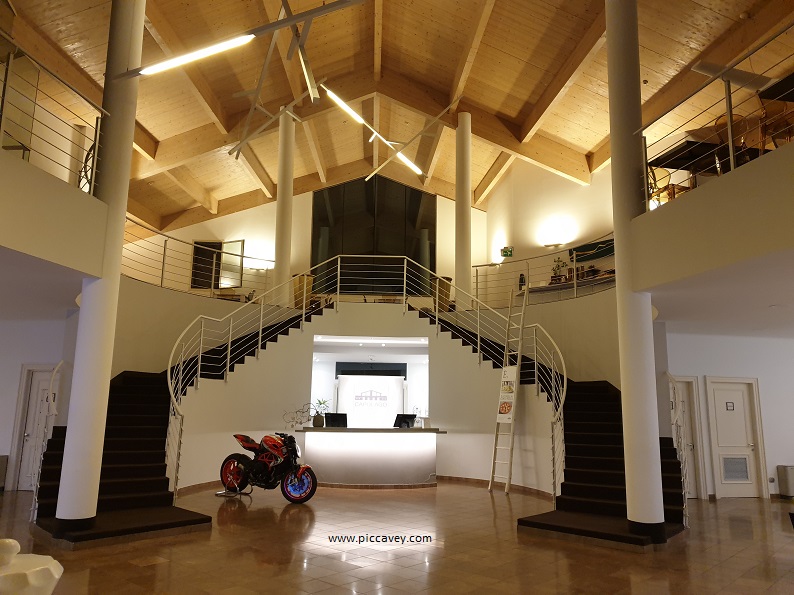 Where I Stayed – Lombardy
On this Lombardy road trip I stayed in a few different hotels:
Getting to Lombardy
The best option is a flight into Milan and drive up to the Lake Region of Lombardy. Hiring a car is the most recommendable option to visit this region.
You can also take a daytrip to see Lake Garda tour from Milan
There are some public transport options. For example there is a train service to Laveno Mombello. But this will limit your exploring somewhat.
Disclaimer: Please note that I have visited Lombardy on a promotional trip. I have experienced all the activities I wrote about in this post complimentary. However, all the opinions in this article are my own. I would not recommend anything that I wouldn't have enjoyed myself doing or think it was a great place to visit.
This post contains affiliate links, which means that if you click through and make a purchase, I will receive a small commission. All thoughts, feelings and opinions shared on this blog and in this post are my own.