Although many visitors head to this stunning Balearic Islands for a relaxing break. I wanted to enjoy the Island of Majorca and explore it throughly. In this article I share my road trip from the capital city Palma de Mallorca right across to the North of the Island.
From Palma on the South part of the island we drove through the centre of Mallorca. Right up to the lighthouse at Cap de Formentor. This circular route was a perfect way to discover all that this mediterranean island in detail.

Majorca Island Road trip
Eager to leave the airport behind and start to explore we headed onto the motorway towards to the capital, Palma de Mallorca. The plan was to visit Mallorca Cathedral and the historic old town. Driving from the airport along the motorway was simple and it was a short drive into the centre of Palma.
Just a quick jourmey of 10 kms (about 7 miles) and we were already there.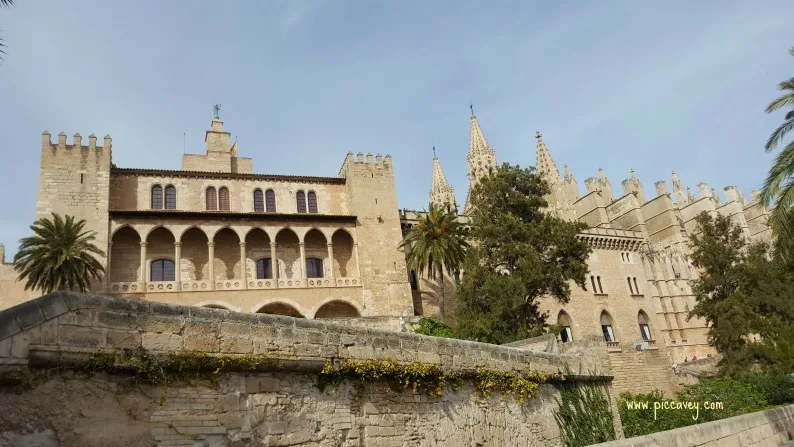 Historic centre of Palma
Walking around the centre of Palma de Mallorca was quieter than I´d expected. The cathedral and Almudaina palace (above) have great views out to sea. The Cathedral called La Seu has one of the highest naves of all Gothic cathedrals. Its 44 metres high (144 ft) and the 8th in the world.Built on the site of an arab mosque and completed in 1601.
I would recommend seeing this at sunset. The view of the Cathedral´s gothic silohuette along the coastline as the sun goes down is pretty special. Another important historic site is Bellver Castle, which I didnt get to see on this trip. But its unique circular structure is well worth the jaunt up the hill.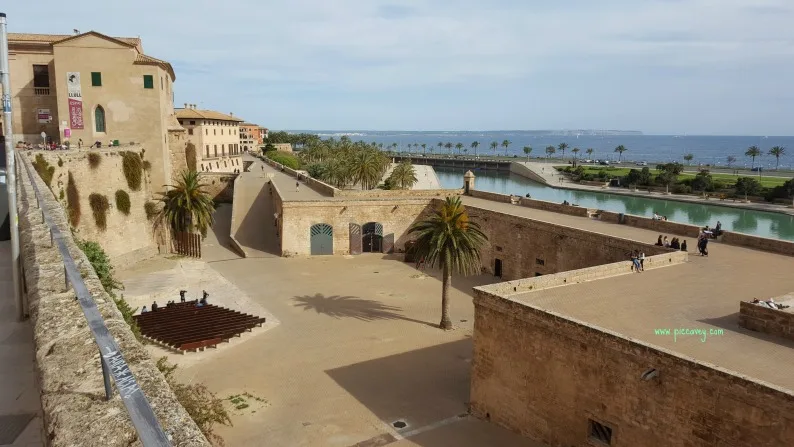 Palacio Real de La Almudaina
The Royal palace of the Almudaina was once an Arabic fortress and the Alcazaba of Mallorca. It was later chosen as a Royal palace in 14th century. Still today the upper floor, is used by the Spanish Royal Family for official engagements. It is decorated with objects and furniture from 17th and 18th centuries.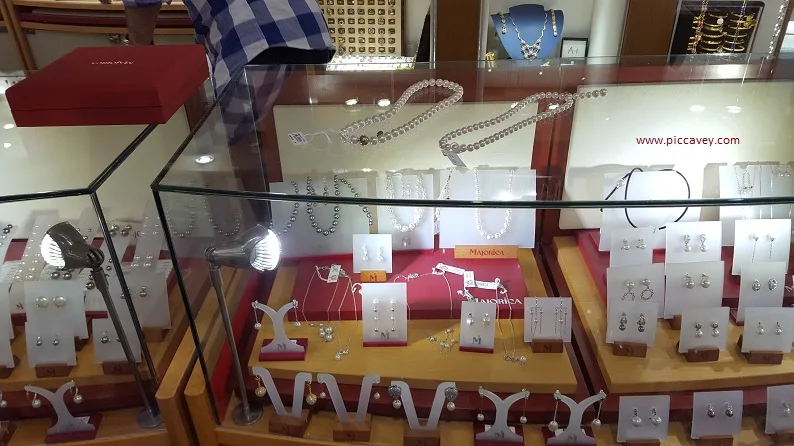 Shopping in Palma
We continued our wandering along the quaint historic streets behind the Cathedral. This is a great place to do some window shopping. There are plenty of Spanish shoe brands selling local names such as Som Mits, Camper or Carmina.
Then of course there are the famous Mallorca pearls too. The most well known are Majorica, a local company which has been trading since 1890. This process of making pearls involves a long coating process which achieves a similar finish to natural pearls. (far superior to plastic beads)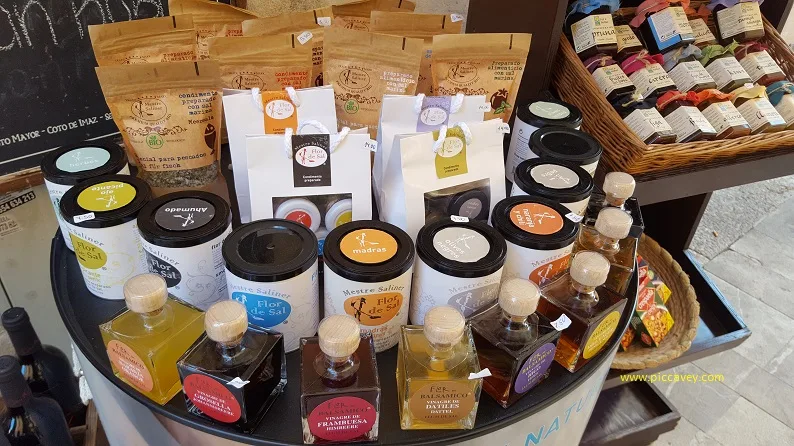 There are also lots of little gourmet stores selling local pastries such as the Ensaimada or delicious food items like sobresada. Cosmetics made on the island with natural ingredients. Soaps made with local fruit, scrubs made with salt from Es trenc or olive oil based creams are also good quality.
After spending some time in the historic parts of Palma we hit the road towards the north of the island.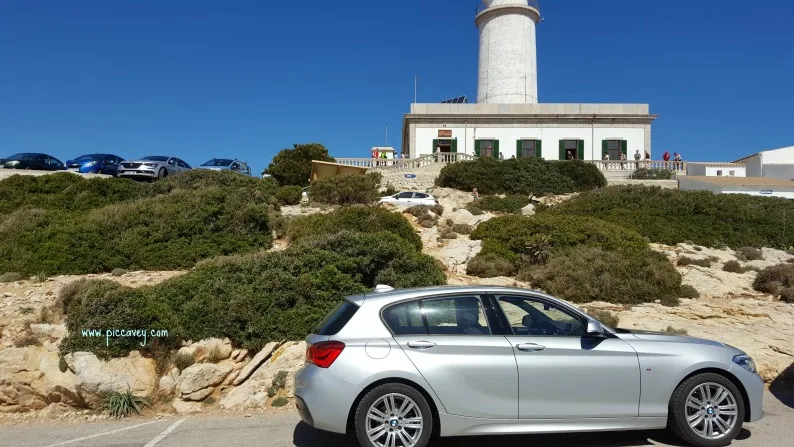 Cap de Formentor
Heading direction Alcudia I decided we would drive up to the Cap de Formentor to enjoy the dramatic scenery and views. These roads were clearly designed for Mountain goats and bikes. On the way it is very curvy, steep mountain roads packed with cyclists, training in the mild weather. Not an easy drive as occasionally we´d cross a large tour bus and wide 4×4.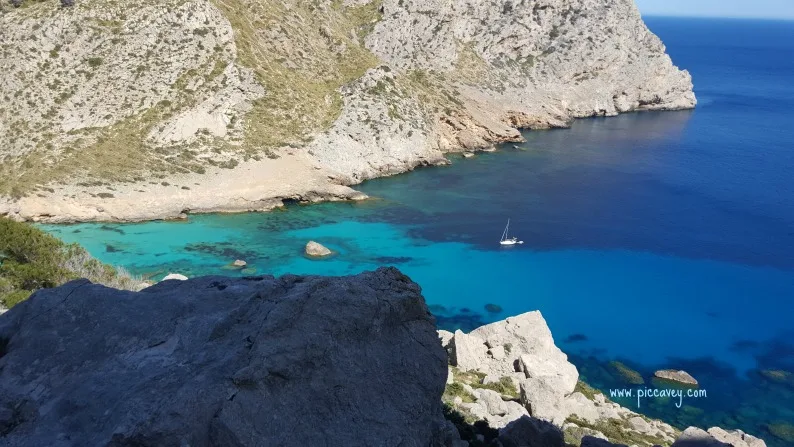 Sierra de Tramutana
The drive was worth it for the stunning views and beautiful landscapes. Seeing a mountain goat with two kids jumping out right out in front of us was a lovely thing to see. This road is part of the Sierra de Tramutana named a UNESCO World Heritage Site in 2011.
Along this road there are few places to stop and some of the car parks do get busy. We managed to stop at the Cap de Formentor and at Punta de la Nao. On the day we visited it was really sunny (suncream and hats required) but there are days when it is really windy. Take care up there.
Car Hire Majorca
On arrival I found Car Hire Palma Majorca airport easily in the arrivals terminal. I´d requested a compact car as it was just for 48h on the island. We only had two small suitcases so something small would be fine.
As I am used to visting cities around Spain, parking bigger cars can be tricky, especially in the old towns. It´s always useful to have the GPS system too.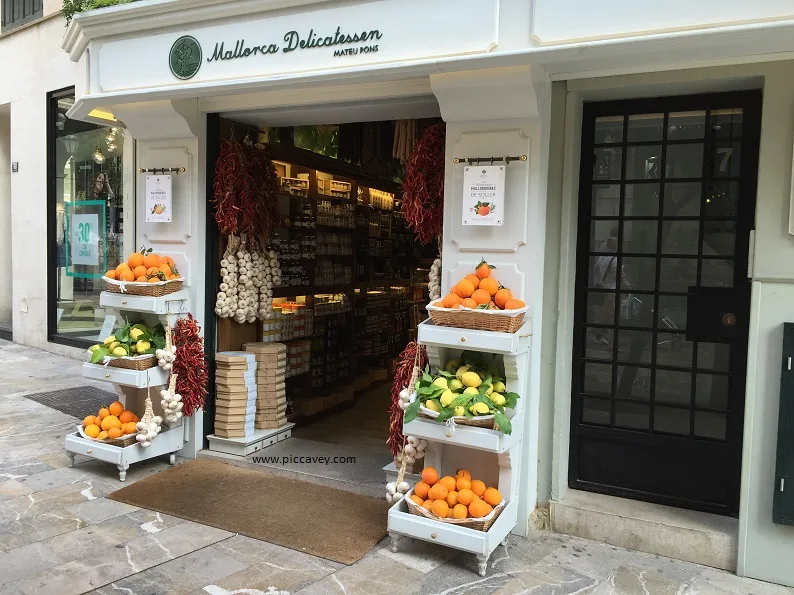 What to Eat in Mallorca
Typical foods on the island are sobresada as I mentioned. This is a salami like sausage, however it´s soft and spreadable. It makes a good sandwich with melted cheese. Typical pastries in Mallorca are pasty style Cremadillos. They have a custard like filling. Also the omnipresent Ensaimada with its characteristic shape.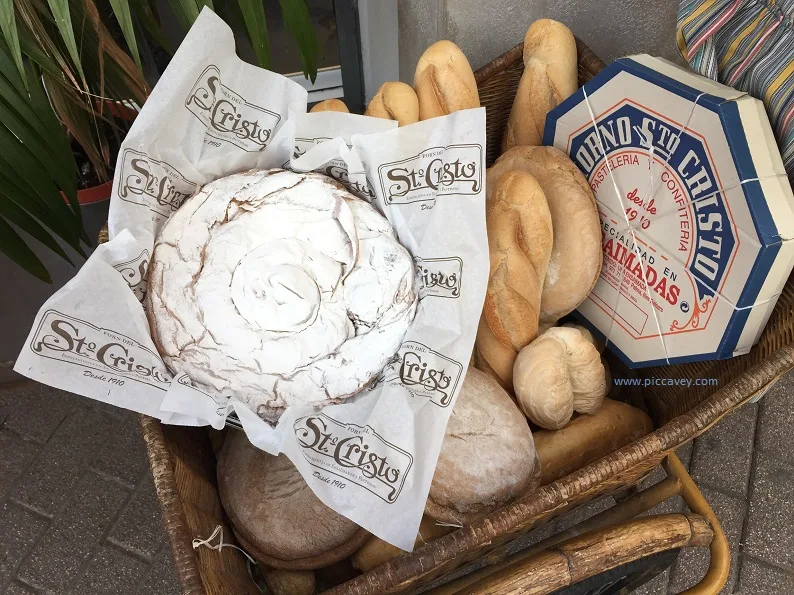 Ensaimadas can be plain or filled with sweet pumpkin paste, called Cabello de Angel (angel´s hair). They come in these typical flat boxes and you´ll see the plane home packed with them.
Local Mallorcan Food
Other typical dishes are Tumbet or Coca de Trampó. Tumbet can be served with fish or meat. It´s a vegetable dish made with tomatoes peppers and aubergines. Coca is a flatbread very typical in Catalonia. On Mallorca they serve it with trampo which is a vegetable topping with diced tomatoes peppers and onion.
In Palma de Mallorca you can see all the local produce at Santa Catalina market (plaza de la Navegación). Its open everyday except Sunday from 7am to 5pm.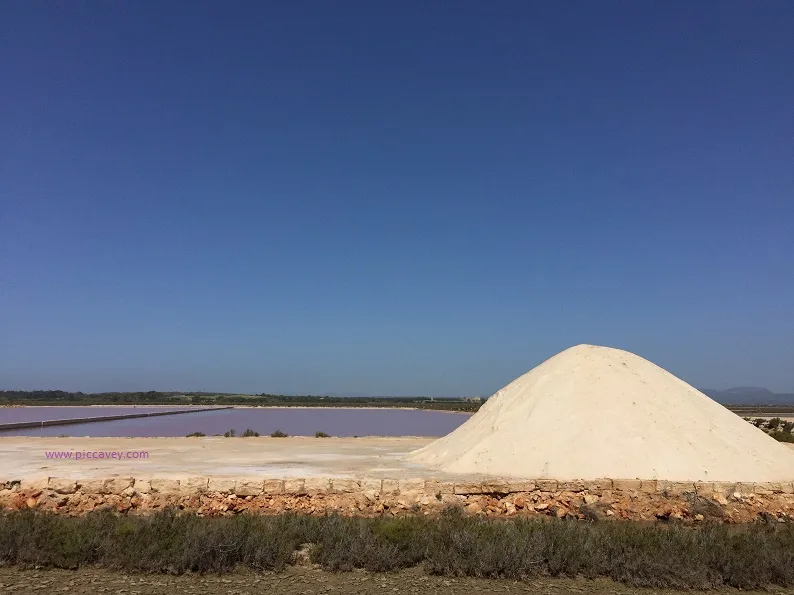 Port de Pollensa
With sheer drops and 300m cliffs above the sea, this road is not for those scared of heights. From Port de Pollensa to the Cap de Formentor the route is 10 miles long (16 kms). Yet it takes around 40 minutes to drive (depending on time of year and number of buses/cyclists).
It can be dangerous in places to pass the cyclists. Roads ono this part of the island are just wide enough for two cars. Be very careful and drive slowly. Driving along past Port de Pollensa an impeccable beach town with it´s own marina. The beach was enormous and there are lots of restaurants and facilities here.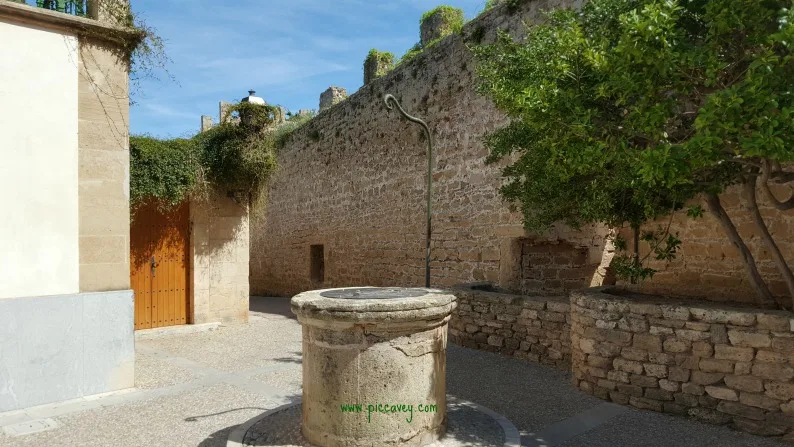 Alcudia
However I headed directly to the old town of Alcudia. The tourist areas of Port d'Alcúdia and Platja d'Alcúdia. Its here where hotels and most popular beaches are located, but I was interested in visiting the old town of Alcudia for it´s historic monuments.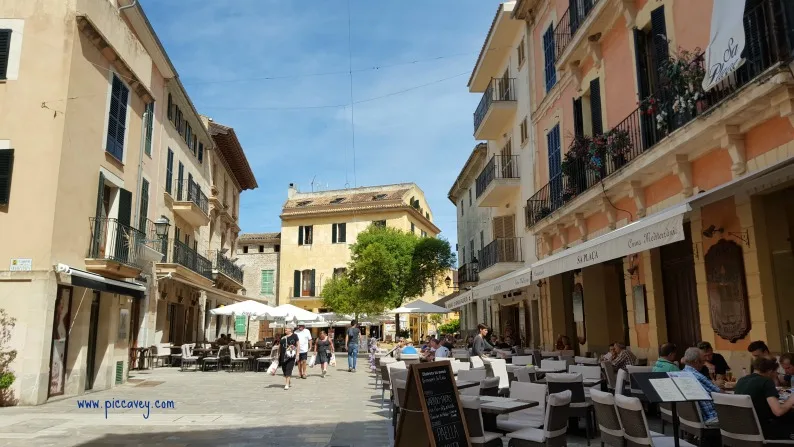 Alcudia Old Town
Surrounded by a 14th century city wall, this roman settlement has a quaint feel to its streets and squares. Inhabited since the Bronze age its no surprise that it has plenty of ancient ruins and relics.
There are also plenty of traditional restaurants and bars tucked into the different corners of the town. As well as the old city walls and historic Church of St James, many other notable buildings that give Alucdia a certain charm. The local market is held on Tuesdays and Sundays making it a great location to escape from the busier tourist centres nearby.

Car Return
After driving around Palma de Mallorca, Satorre, Llucmajor, Pollensa, Alcudia and Cap de Formentor. We made the most of our weekend break.
So it was back off to the airport to delivery the car in time to get the plane home. When I rent a car I am always careful to check all the compartments to make sure I don´t leave anything behind (jacket, sunglasses, etc)
*Money saving travel tip I always get the petrol filled up before handing it back to the hire company. It always works out cheaper that way.
When I arrived to Palma airport the signs into the airport to the hire car areas was clearly marked. It was easy to navigate through to the area I needed to get to. Using Car Rental to see Majorca was a great idea. It made the trip more enjoyable.
I hope to get back to the island sometime. 36 hours in Majorca wasnt enough.
Next time I want to visit the Cueva del Hams close to Manacor and visit the Sierra de Tramutana….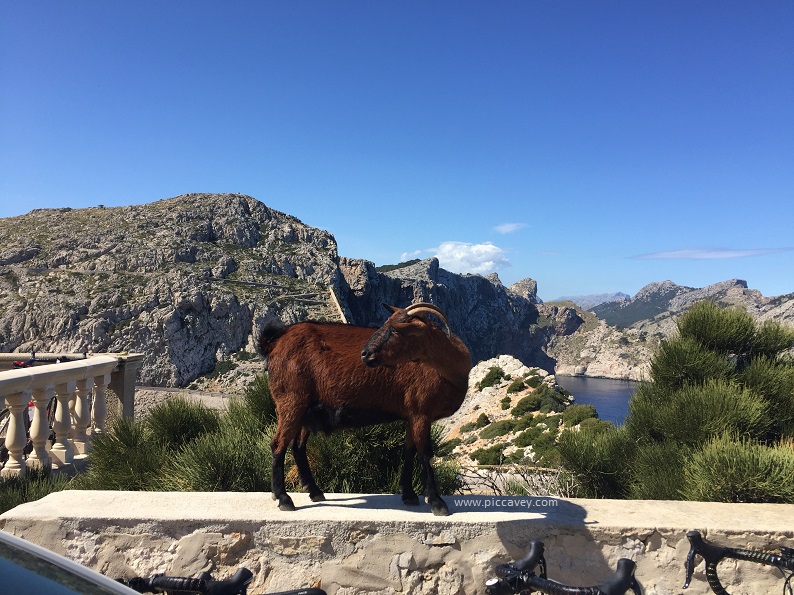 This post is part of a paid campaign to promote the Balearic and Canary Islands, as part of their #SpanishIslands Campaign. Although all views are my own and I have not been instructed what to include.
Resources to help you plan your own Island Escape:
Please Note: This post contains affiliate links, which means that if you click through and make a purchase, I will receive a small commission.
All thoughts, feelings and opinions shared on this blog and in this post are my own.