Malaga Glass Museum was on my list of things to see when my family came to Malaga. As they know a bit about antiques, I knew that the visit would be of interest to them. I didn´t expect to enjoy the visit myself!
The museum is a little out of the way. Although it is not far from Malaga Cathedral if you walk across town. (See the map below with exact details) This was opened in 2009 and its reputation is steadily growing in Andalusia.
Visiting Malaga Glass Museum
Malaga Glass Museum runs regular guided tours. The team are knowledgable and guide in Spanish, English, French, Italian and even in Japanese. The visit lasts just over an hour and really makes the visit worthwhile. Our guide and co-founder Prof. Ian Phillips explained the history of the museum and threw in lots of entertaining anecdotes about the pieces. The tour was entertaining and I learnt quite a few things myself.
The glass exhibited covers from the beginning of the production of glass from Ancient Egyptian right up to present day. There are pieces from all over the world. Gallé, Murano and Lalique appear in this fabulous collection.
Private Collection
Not only does the musuem have glass on display. There are also lots of interesting pieces of antique furniture and art. The museum was set up when three friends who had inherited collections of antiques and glass. Prof. Ian Phillips, Gonzalo Fernández Prieto and Steven Spragwe joined forces to share this vast collection.
As they were from different places the museum could have been anywhere in the UK or Spain but luckily it was set up in Malaga! The setting of the museum is an 18th century Italian house, which has been carefully restored.
This private collection has more than 3.000 pieces of glass. On the lower floor there are some beautiful examples of stained glass windows. Many rescued from old churches. One example was designed by the Arts & Crafts movement artist William Morris. together with Edward Burne-Jones.
So if you are interested in antiques, glass or art pop over to see the museum sometime.
Malaga Glass Museum, Spain
Useful information:
Website: Malaga Glass Museum
Opening hours: from Tuesday to Sunday 11am to 7pm
Entrance fee: 5 euros
Address: Plazuela Santísimo Cristo de la Sangre 2, Málaga 29012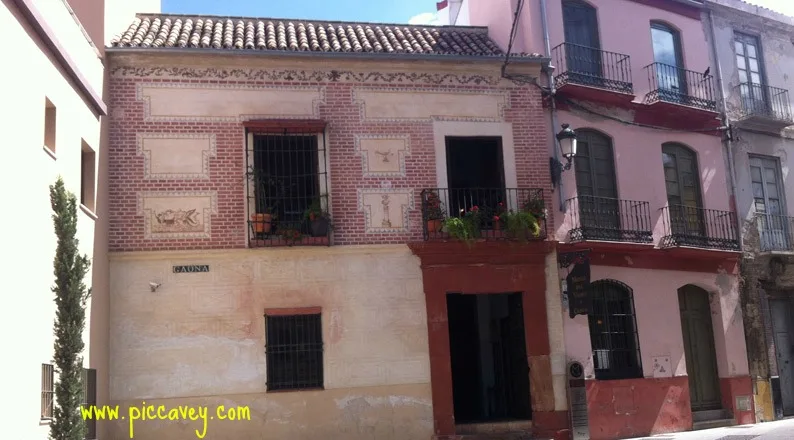 Malaga Museums
The Thyssen, Picasso Museum, CAC, the Pompidou and the Russian Museum.
I also visited Malaga Wine Museum which is a must for those interested in Spanish Food & Wines.
There are plenty of other cultural activites going on in Malaga city.
Book more Museums > Malaga Skip the Line Tickets
The Automovil museum is also quite interesting and worth looking into.
Read more here: A vintage day in Malaga

Please Note:
This post contains affiliate links, which means that if you click through and make a purchase, I will receive a small commission. All thoughts, feelings and opinions shared on this blog and in this post are my own.