On World Tapas Day, June 20th I´m sharing my Bib Gourmand experience at the fifth edition of ´Bocados´ festival.
This gastronomic event in Granada was earlier this month. Located on Paseo del Salon, along the river, it lasted four days.
Celebrated annually in Granada, this year it was also held in Valencia on 14th-16th June.
Accompanied by Jazz music it took place in the Parque Doctor Lluch.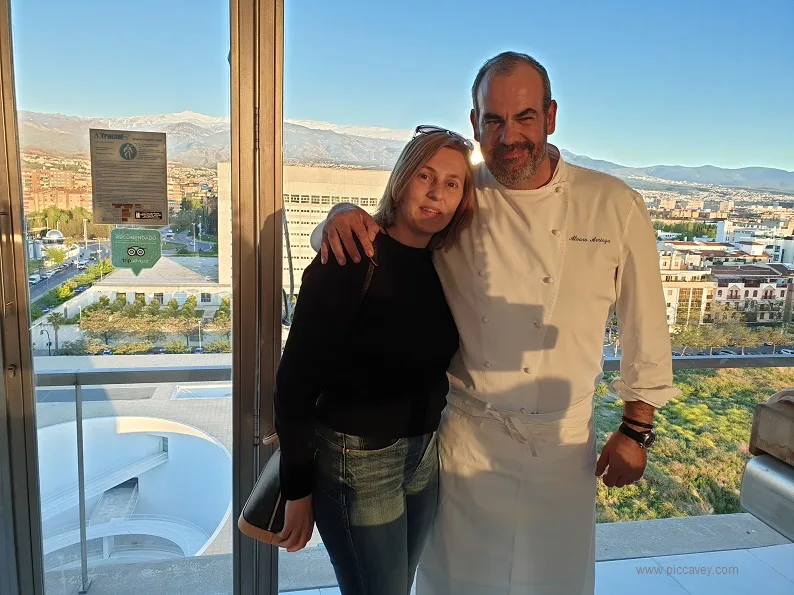 Granada Food Festival
This years Granada edition ran from 30th May until 2nd June 2019 and 8 local chefs competed.
Open to the public from 12h to 4.30pm and 8pm to midnight its a great way to discover new culinary ideas. Discovering the latest ideas from local chefs in Granada.
All eight chefs congregate at this culinary meeting point. As well as the delicious food on offer there are other activities such as showcooking demostrations, beer tasting workshops, live music and DJ´s.
Opened by Álvaro Arriaga (Restaurante Arriaga) Paco Morales (NOOR) and Celia Jiménez (Restaurante Celia Jiménez) it was a busy day. Attended by local authorities, top chefs and the organisers from Michelin Spain and Mahou San Miguel.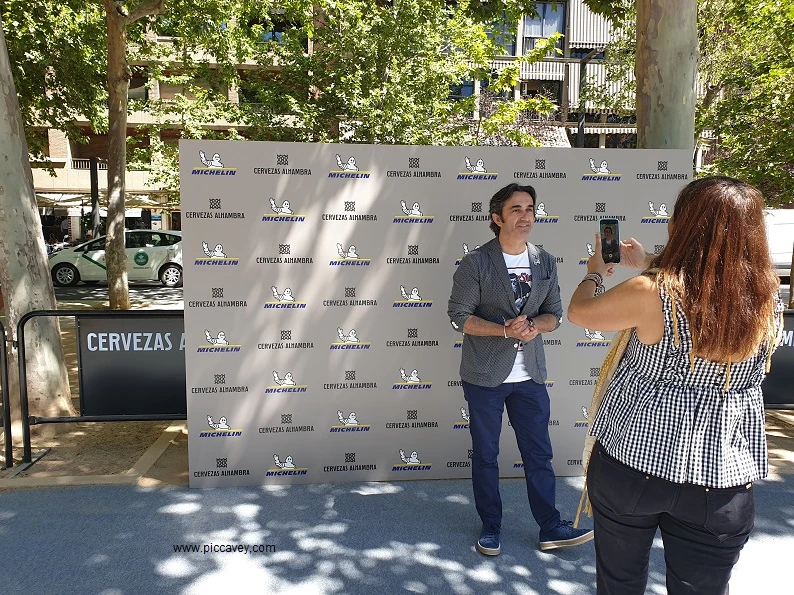 Michelin Bib Gourmand
An important part of the four day foodie event was the presentation of 2019 Bib Gourmand restaurants in Andalucia. Since 1997 Bib Gourmand Red guides by Michelin offer locations where you can dine for under 35 euros.
This years publication recognised 38 restaurants across Andalucia. The chefs were presented with their embroidered chefs jacket in Granada by the director of Michelin Spain. It was great to see that so many places listed in the Southern Spain region.
Restaurants from all Andalusian & Spanish provinces feature in this years red guide
This years ´Buenas Mesas a Menos de 35€´ covers 407 restaurants in Spain and Portugal, also including the 38 Andalucian locations.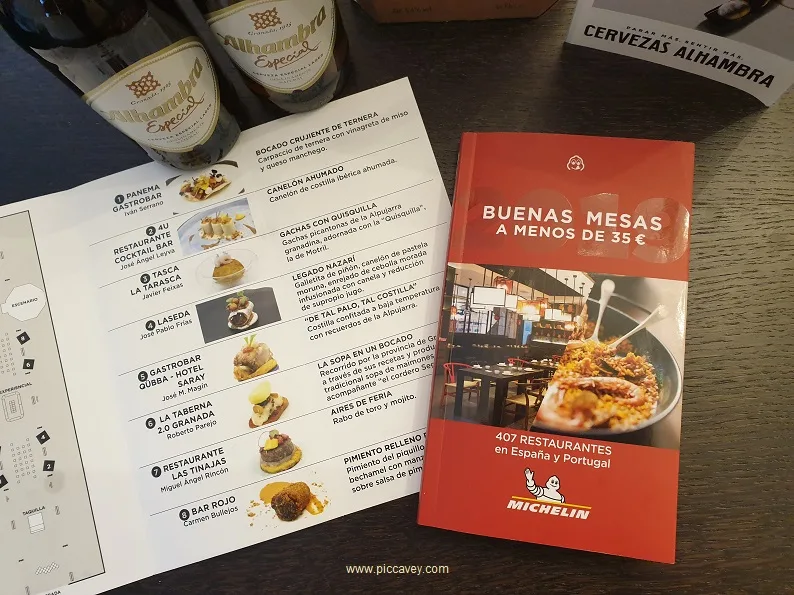 The Andalucian listing is as follows:
Great food under €35
Almeria
Asador La Chumbera, Agua Amarga
Juan Moreno, Vera
Cadiz
Casa Bigote, de Sanlúcar de Barrameda
El Duque, de Medina-Sidonia
La Condesa, Jerez de la Frontera
Sopranis, Cádiz
Venta La Duquesa, Medina Sidonia
Casa Paco, Chipiona
Arohaz , Zahora
Córdoba
Cuchara de San Lorenzo, Córdoba
La Lonja, Córdoba
El Envero, Córdoba
La Taberna de Almodóvar, Córdoba
Casa Pedro, Puente Genil
Jaen
Canela en Rama, Linares
Cantina la Estación, Úbeda
Amaranto, Úbeda
Mesón Leandro, de Cazorla
Oliva Garden, La Guardia de Jaén
Los Sentidos, Linares
Granada
El Chaleco, Almuñécar
La Cantina de Diego, Monachil
Huelva
Aires de Doñana , El Rocío
Casa Dirección, Valverde del Camino
Arrieros, Linares de la Sierra
Malaga
Aderezzo, Marbella
BiBo, Marbella
Café de París, Málaga
El Palangre, Estepona
Figón de Juan, Málaga
Platero y Co, Gaucín
Sevilla
Agustina, Cazalla de la Sierra
Az-Zait, Sevilla
Cañabota, Sevilla
El Gallinero de Sandra, Sevilla
Torres y García, Sevilla
Manolo Mayo, Los Palacios y Villafranca
Deli, de Montellano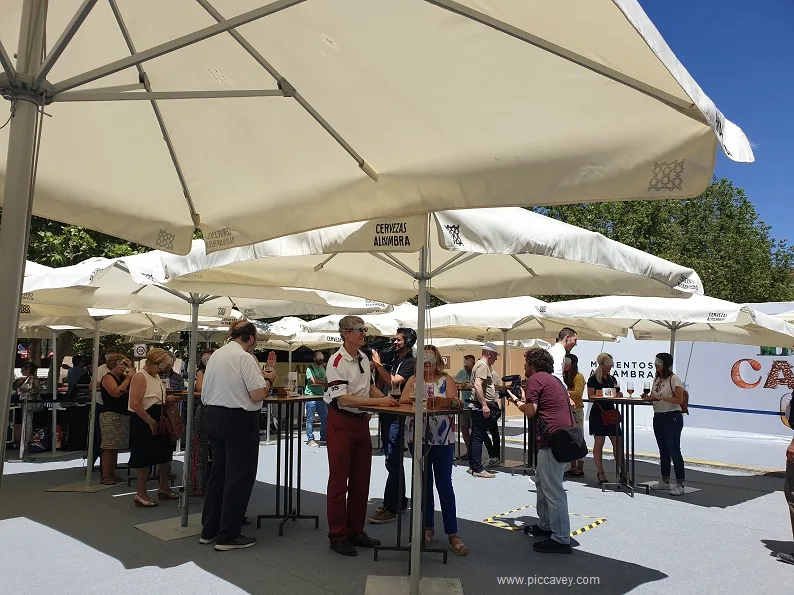 Bocados Granada Food Festival
Back to the food festival.
The participating chefs, restaurants and dishes in the Granada 2019 Bocados were:
Crunchy Veal Carpaccio from Panema Gastrobar by Iván Serrano
Smoked Canelon from 4U Restaurant by José Angel Leyva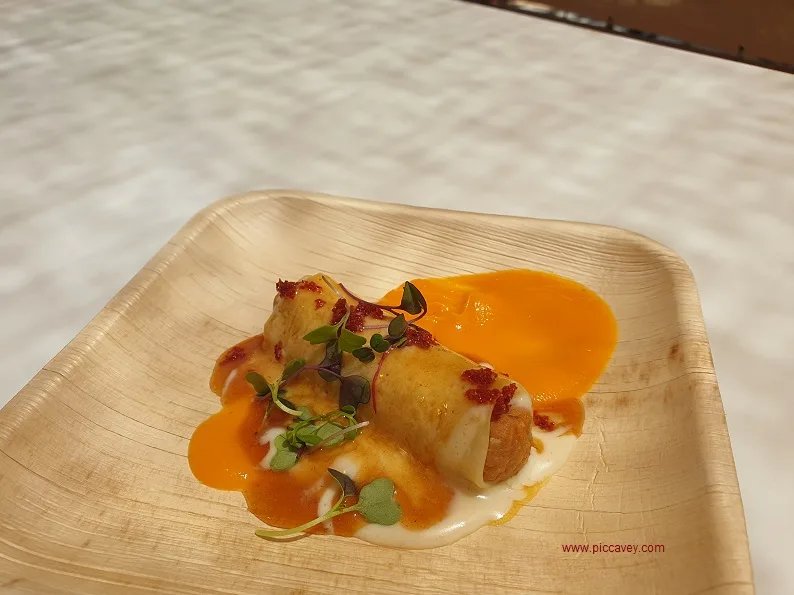 Gachas + Motril Shrimp ´Quisquilla´ from Tasca La Tarasca by Javier Feixas
Nasrid Legacy from La Seda by José Pablo Frias
Alpujarra Style Ribs from Gastrobar Qubba by José M Magin
A bite of Soup from la Taberna 2.0 by Roberto Parejo
Air of the Fair from Las Tinajas by Miguel Angel Rincón
Stuffed Red Pepper from Bar Rojo by Carmen Bullejos (shown below)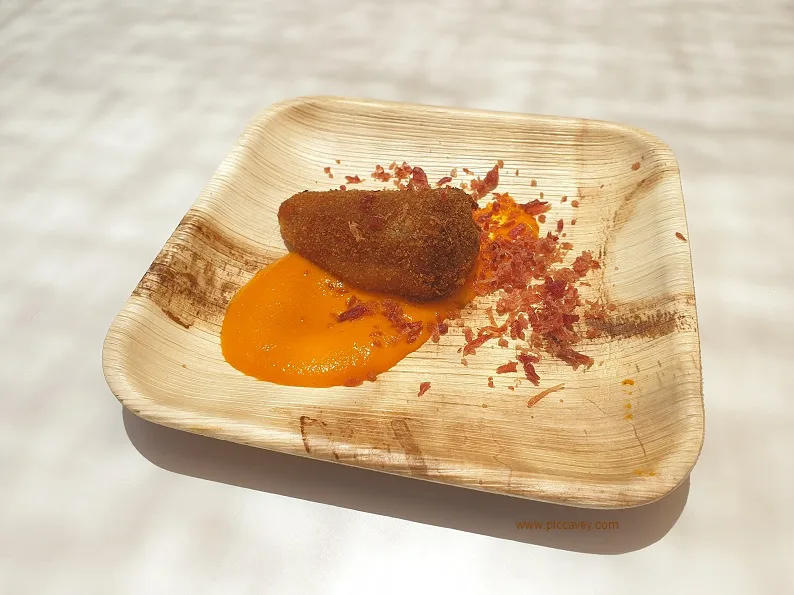 In this fifth edition the dishes were closely matched and all impeccably presented.
The judges must have had quite the task to decide on the winner.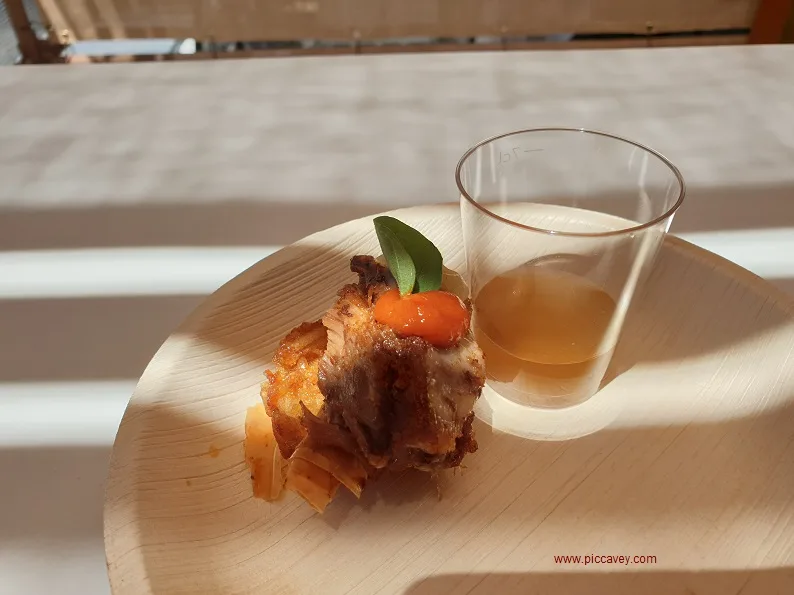 Bib Gourmand Bocados Winner 2019
This year the winning entry was Alpujarra Style Ribs. Created by Gastrobar Qubba by Chef José M Magin. (shown above)
Qubba is located on Calle Professor Tierno Galván, Granada. Although this only opened in September 2018 but is already getting a great reputuation for contemporary cuisine. It is in the same building as Hotel Saray, close to Palacio de Congresos and easy for parking too.
After trying all eight entries, my personal selection from the ´bocados´was Nasrid Legacy. The entry from La Seda and chef José Pablo Frias. I actually tasted it four times. It was so delicious. (seen below)
A take on Pastela Moruna (Moroccoan inspired chicken pie with cinnamon) the presentation was just immaculate. So delicate and perfectly mouth sized. La Seda restaurant on Plaza Bib Rambla offers Organic food. They also do a fabulous kiwi and fresh cheese toast for breakfast.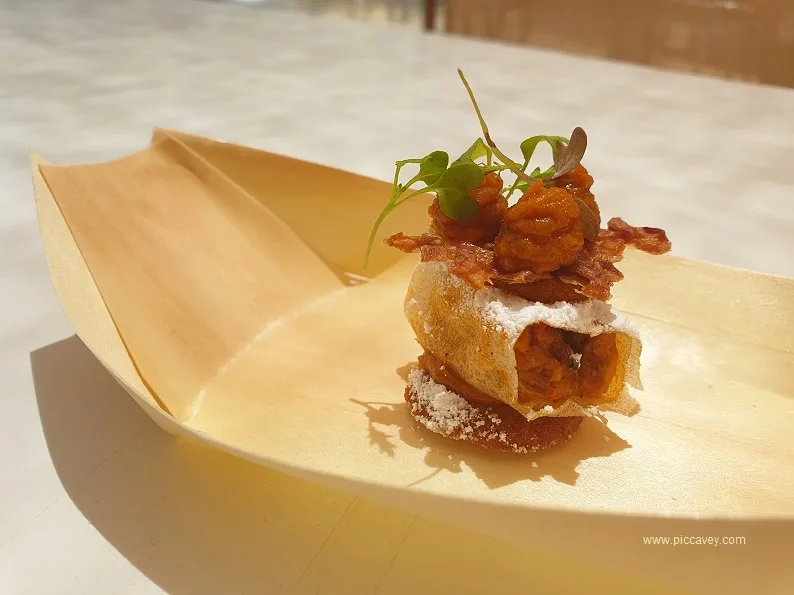 Food Pairing with Beer
Organized by Mahou San Miguel there were some great beers on offer to pair with the tasty dishes. They also did some blind tasting activities and beer pouring competitions over the 4 day event.
Alhambra Reserva 1925
San Miguel Magna
Alhambra Roja
San Miguel Manila
Mahou Original
Alhambra Vintage
Mahou gluten free
Alhambra sin Especial (Alcohol free)
Mahou toasted 0,0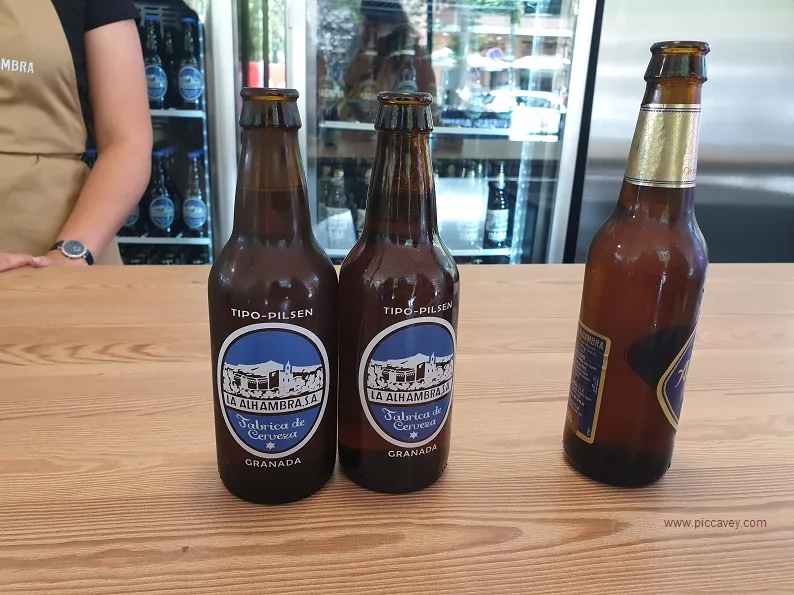 There were specialist beers on offer too. Such as barrel aged ones with sherry notes or Baltic porter. The Baltic porter has licorice notes and is a deep brown almost black colour.
Alhambra with Pedro Ximenez
Baltic Porter
Amontillado Alhambra Beer
Alhambra with Palo Cortado
Tapas in Granada
Bib Gourmand & this Bocados festival returns next year in early summer.
Find out more about gastronomy in Southern Spain reading about the difference between Raciones Tapas and Montaditos
Or discover my post on Tapas Bars in Granada or Restaurant Recommendations for Granada
or you may want to find out more about the Granada de Tapas Festival which is celebrated in March.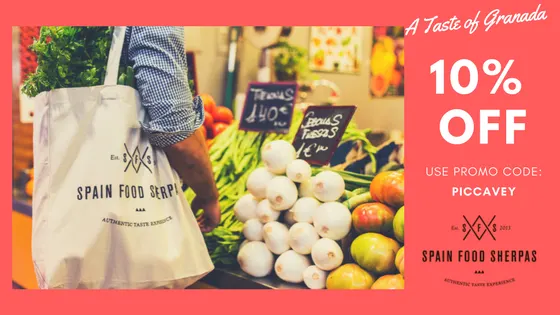 Granada Food Tour
You could even book my Taste of Granada food tour and see my handpicked tapas when you visit