New Years Eve in Granada
Celebrating New Years Eve in Granada is generally a family affair. In the city centre the main spot to welcome the new year is Plaza del Carmen. The square outside Granada Town Hall. Granada city council or Ayuntamiento usually organise live music in the square. Sometimes a laser light display or fireworks happen around midnight.
Another popular place to see the new year in is at Sierra Nevada ski resort. Unless you have accommodation there you will need to make to get transport back to Granada booked ahead of time. Note: Depending on the weather, you may need chains if there is snow and ice on the road at certain altitudes.
12 grapes at Midnight
In Spain it´s traditional to eat 12 grapes as midnight strikes. Although this tradition goes back sometime it is not actually that old. Since 1882 there are records of this grape eating tradition to welcome the new year. However in 1909 it became widespread due to a bumper grape harvest that particular year. With vendors packaging up 12 grapes for luck ´las uvas de la suerte´ to see in the new year.
To celebrate Spanish style you need to get a dozen grapes ready beforehand. Seedless grapes work best. I can also recommend choosing smaller grapes rather than bigger ones.
If you pop into a supermarket you might find tinned grapes. These ones are peeled, deseeded and already come in tins of 12. This is the best option to be able to eat all 12 within the time.
On each chime of midnight you eat a grape. This tradition is believe to bring good luck for the new year. Each of the 12 grapes represents a month of the new year. Even after living in Spain for so many years I have rarely managed to eat the grapes in time. Its quite a challenge.
New Year 2022 in Granada
As always the main place to see in the new year 2023, is at Plaza del Carmen outside Granada town hall. At 11.30pm on 31st December 2022 people will gather to watch the clock strike midnight and welcome the new year. Usually accompanied by a light show and music or even fireworks. It really gets busy despite the cold temperatures.
Where to celebrate New Years Eve in Granada
Dining out on New Years Eve can be an costly exercise. Most menus include elaborate dishes made of fish or seafood. Many restaurants are closed on 31st December 2022 (in the evening) If you intend to eat out you need to plan ahead. Find out the places that are offering New Years Eve Dinner Menus and book in advance. Locals tend to eat together as a family at home.
Expect to pay around 70 euros – 200 euros for a New Years Eve dinner and drinks. If you are staying in Granada over New Years, it is essential to plan ahead. Especially what your will do for dinner on New Years Eve. Make sure you get something that suits your budget and location.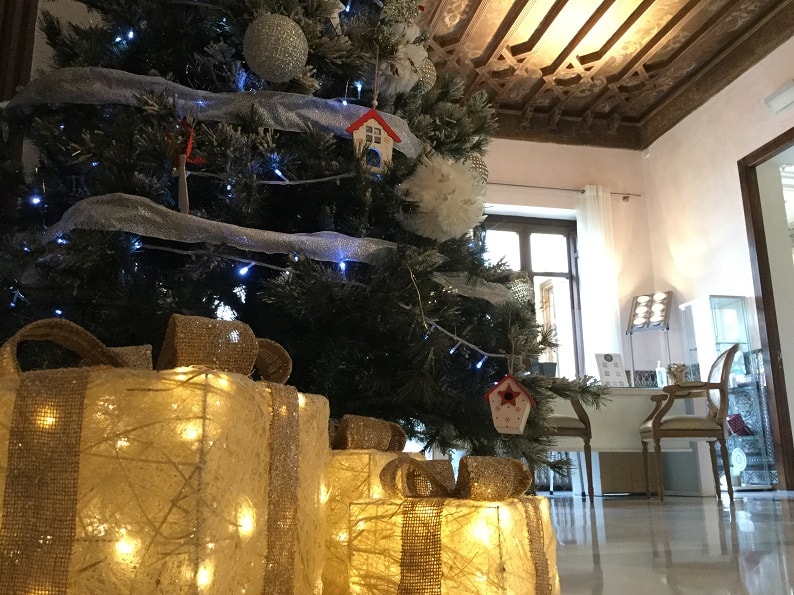 New Year Eve Menus in Granada
Here are three options that I have information about so far this year for 31 December 2022.
Hospes Palacio de los Patos is an elegant 5 star hotel located in the centre of Granada. For their celebration dinner on 31st December there have a 8 course meal. You need to book ahead as spaces are limited.
Welcome drink Champagne Taittinger Brut
Welcome appetizer: Tasting of artisan sourdough, AOVE and Maître d´hôtel butter
Escalope of cured duck foie gras with pickled partridge, caviar soul and lyo corn
Warm marcona almond and coconut cream, Motril shrimp tartar and pineapple and basil granita
Pulpo glaseado con salsa Périgueux, cebolleta asada y cremoso de apionabo
Glazed octopus with Périgueux sauce, roasted spring onion and creamy celeriac soup
Pork suckling pig ingot with sweet potato praline and mushroom duxelle
and mushroom and king prawn duxelle
Coffee and cocoa sponge cake with creamy piononos and toffee ice cream
Traditional Christmas Sweetsmade by local Monastery of Commander of Santiago
Lucky grapes
Price is 180 euros (inc IVA) per person.
Bookings: (+34) 958 535790 Address: Calle Solarillo de Gracia, 1, 18002 Granada
El Secreto de Humphrey Restaurant on Calle General Narváez (just off Calle Recogidas) Usually the offer a 8 course meal with limited covers. Last year it began at 9pm and cost around 80 euros per person including Wine and Cava. (Will update for this year when available)
Ruta del Azafrán on Carrera del Darro. This restaurante is opposite the Alhambra in the lower Albaicín on Carrera del Darro. Last year 2021 Their NYE menu was priced at 110 euros for 10 courses including drinks. Spaces are limited here so you need to book ahead.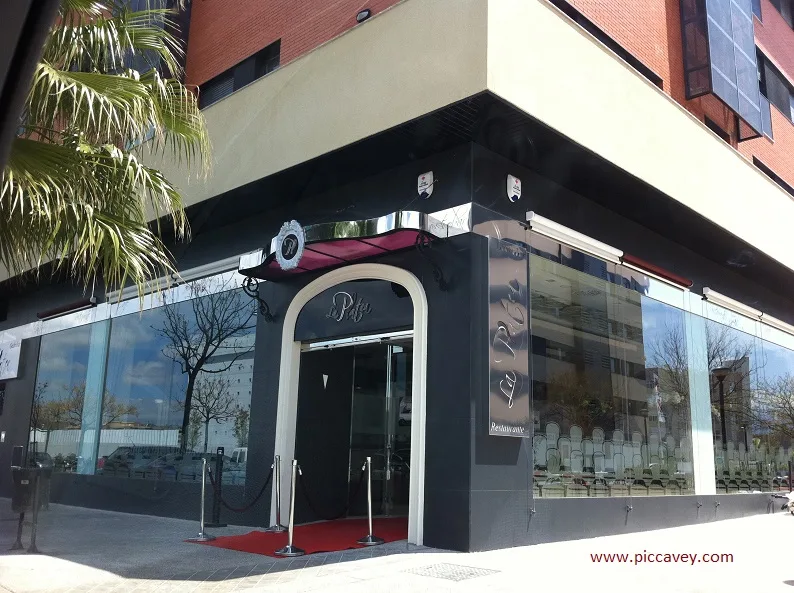 Restaurante La Platea
La Platea is opposite the Forum building.
Their New Years Eve menu is 110 euros for a aperitive and four course dinner.
More details + Bookings: La Platea
Welcome canapés
Iberian Ham D.O.
Duck Gyozas on apple puree
Seabass Kimuchi on lime and tiger milk emulsion.
Maki in Peruvian Causa style Chicken in panko, with avocado and japonese mayonnaise
Cockles with foie gras puree and notes of Bouron sauce.
Starter
Caprese salad with Kumato, burrata and basil emulsion

Carrot soup with duck confí and baked peas.
First course Sea bass served on potato and sweet potato cream with poached baby vegetables, and drizzled with lime and coriander vinaigrette
Main course Iberian´presa´ pork with sautéed premium potatoes and peanut butter
Dessert Cocktail glass filled with cheesecake with mango and ginger
Lucky grapes, party bag and cava
New Years Day
On the 1st January shops and museums are closed. The Alhambra Palace is not open on 1st January 2023. If you want to visit during new year. You need to book your tickets for 31st December or 2nd January 2023.
On the first day of the year many restaurants are closed too. Especially at lunchtime. Some may open on the evening of the 1st January. Make sure you get any supplies on 31st Jan in the morning. Particularly as both the 1st and 2nd January are local holidays in Granada.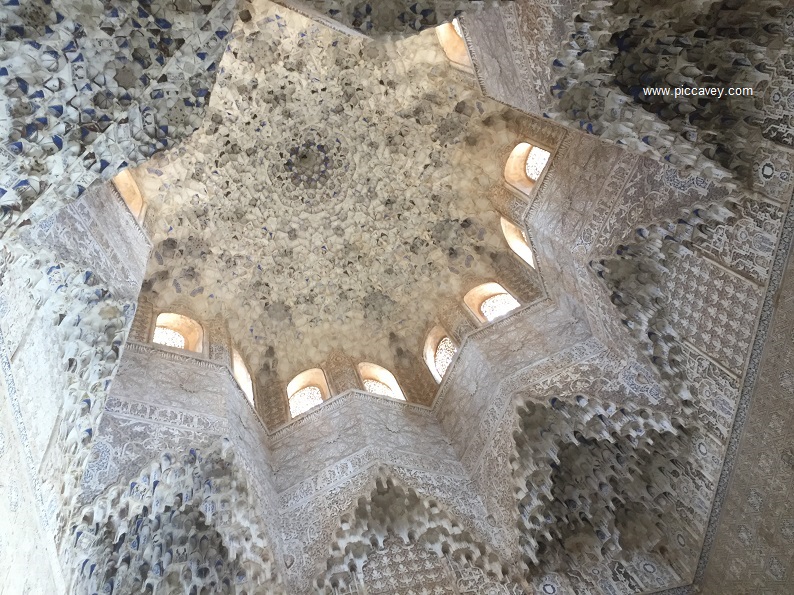 Dia de la Toma
On the 2nd January Granada celebrates another local festival. Known as El Día de la Toma it means the seizing or the taking of Granada. This day marks the conquest of the kingdom of Granada. Isabel and Ferdinand, the Catholic kings took over the city on this day in 1492. This celebration is controversial and some local s believe that it is outdated to celebrate this date. The main part of the day is held at Granada Town Hall in Plaza del Carmen at 12 noon.
2nd of January Fiesta
The ceremony is comprised fo a flag being waved from the town hall balcony. Afterwards there is a parade with military and local authorities through the old town. They ring the bell on the Alhambra´s watchtower, Torre de la Vela. In the same way that they would centuries ago. This celebration of the historic date only lasts about 1 hour. However traffic is affected as the city centre is closed to vehicles throughout most of the morning.
A Spanish Christmas
Even after Granada has celebrated on the 2nd of January. Christmas is still not over. From the 2nd to 5th January you can still enjoy the
Nativity Scenes
in and around the city. Epiphany is an important date in the Spanish calendar on 6th of January. In fact for some it´s the most important date of the Christmas calendar. Traditionally on 5th January in Spain the Three Kings parade known as the Cabalgata takes place.
Three Kings in Granada
Cabalgata will be on in 2023. Early on the evening of the 5th January the three Kings of orient arrive in Granada. The kings and their calvalcade throw sweets as they walk through the city centre. The parade sets off from C/Rector Lopez Argueta. Then it moves along Gran Via and down into centre of town to Puerta Real. To see the exact route check local press the day before.
Starts: 6.00pm at Plaza Gran Capitán
Calle San Juan de Dios
Gran Vía de Colón then down along Calle Reyes Católicos,
Puerta Real then to Plaza del Humilladero
Carrera de la Virgen
Puerta Real and to Plaza del Campillo
Back to Calle Reyes Católicos and completes the route in Plaza del Carmen or Granada Town Hall. Estimated 10.30pm.
Cabalgata de Reyes
While watching the parade you may want to keep an eye out for umbrellas. Some people open them, turn them upside down, so they may catch more sweets. Some people take stepladders to get a good view too. There are around 20 floats and around 10,000 kgs of sweets throw by hundreds of actors in the Granada parade. This has been going more than 100 years in Granada, one of Spain´s oldest parades. It began in 1912. In that first edition even local Poet Federico García Lorca took part. You will enjoy this lively street parade known as Cabalgata de Reyes Magos and you may even line your pockets with some sweets.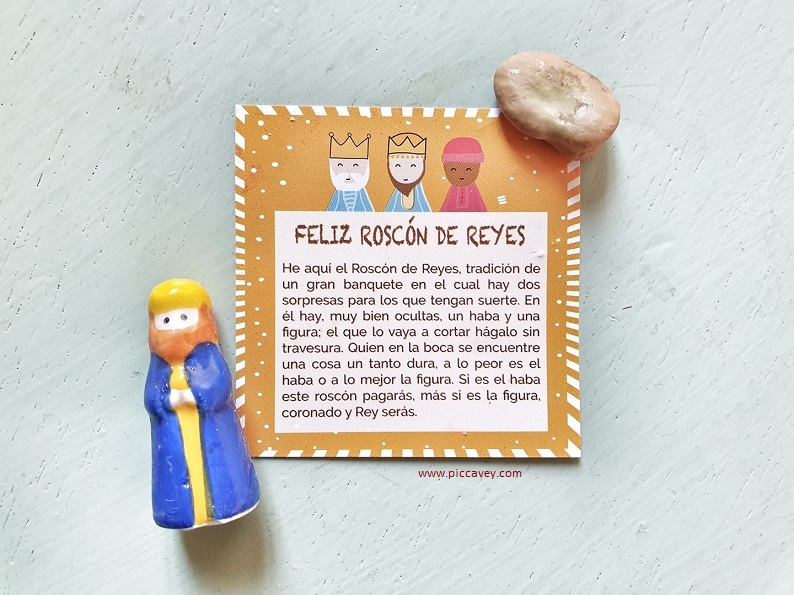 Duende Fermin
Once the Cabalgata ends at the Town hall. Duende Fermin appears on the balcony on Plaza del Carmen. He thanks the three kings and warns local children that must go to bed on time. Reminding them to be good so they get their Christmas gifts. After this talk by Duende Fermin, fireworks close the cabalgata celebrations above Granada town hall.
Si es el haba lo encontrado este postre pagarás

más si ello es la figura coronado y Rey serás
Roscón de Reyes
Shops are open until late on the 5th of January (until midnight) This is a great moment to buy a typical Roscón de Reyes. This traditional cake is for the 5th or 6th of January. A brioche style mixture, topped with candied fruit and sugar. Filling are white cream (nata) or crème patisserie (crema). Other fillings are now becoming popular too such as truffle or chocolate.
Watch out for objects inside the Roscón. The Spanish answer to the sixpence or three penny bit is La haba. Inside each roscon you will find a dried broad bean. If you get this in your slice, tradition says you should pay for the whole cake. However you may be a luckier and find the King. If you do, you will be King for the day. Usually you get a cardboard crown to wear. To avoid problems between siblings, parents ask their baker to put one king for each child.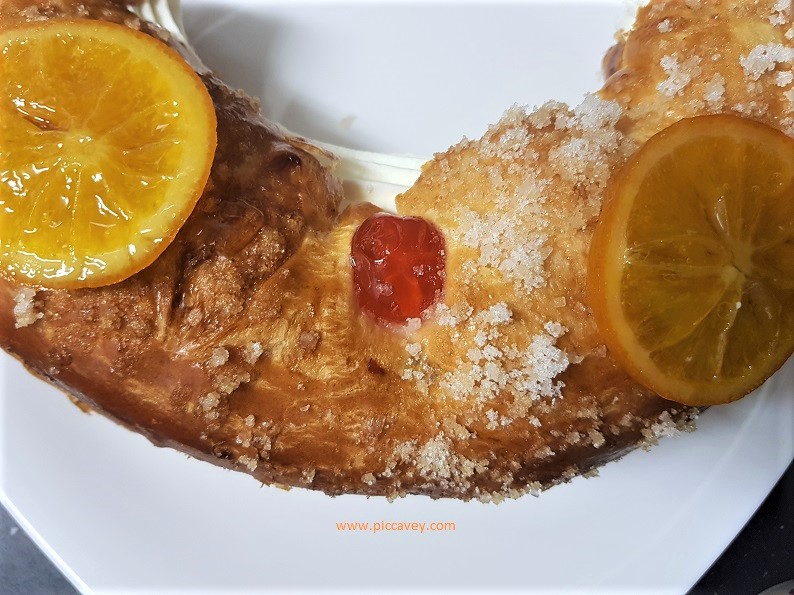 Coal for Naughty Children
In Spain the morning of the 6th January is when the Christmas gifts arrive. After the three kings of orient have delivered them the night of the 5th. If you have been naughty, it´s traditional that they leave coal instead of gifts. To make this custom more gentle for mischievous children there is a sweet version of coal. This black sugar based treat is a warning to be good next year.
January Sales in Spain
In Spain the January sales begin at 10am on Saturday 7th January 2023. Shops also open on the first Sunday of the sales from 11am to 4pm. (Sunday 9th January 2022)