The Costa Blanca is popular for its moderate sunny climate. There are also lots of different towns and villages to explore.
If you are looking for a Spanish Villa or rent for several months each year. It can make a great base to explore the Eastern coast of Spain.
Day trips from the Costa Blanca to Valencia, Murcia or Almeria will allow you to explore the region.
August is the hottest month with an average temperature of 29C (84F). The coolest month is January with the average temperature of 11C (52F). Even in winter months you can enjoy more than 5 hours of sunshine a day.
This makes the Costa Blanca a great place for a holiday home or even a retirement destination.
I still have to explore other villages in the area such as Guadalest or Elche which I have left for next time.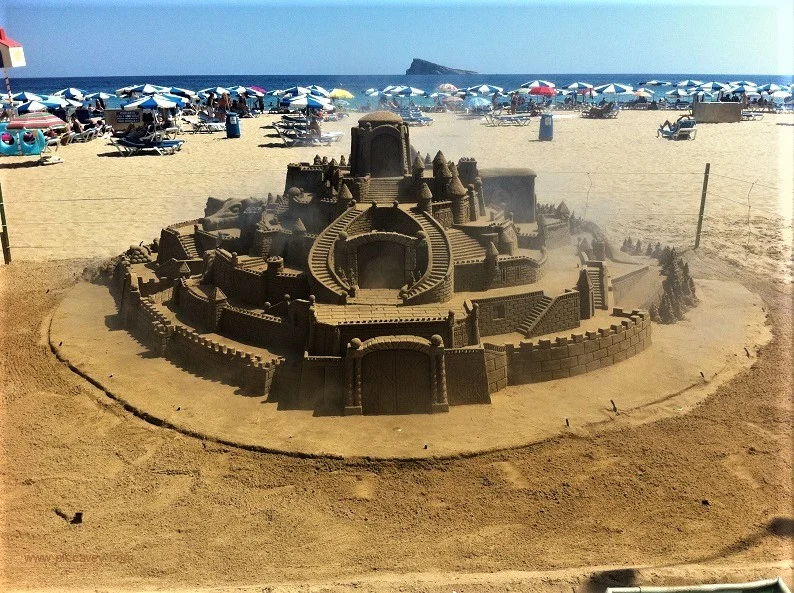 5 popular Costa Blanca destinations
Javea
Located on the edge of Montgo Natural Park, Javea has both sea views and mountain views. There is more Javea information here.
As well as it having some fantastic beaches and nature surrounding the town. It is a great location for water sports but also for hiking and birdwatching too.
The festivals in Javea are also worth seeing. The Lady of Loreto is exciting and not for the feint hearted. Bulls are let loose in the harbour and beach in the evening. Ending with fireworks, it´s thrilling to watch from a distance. Celebrated at the end of August and first days of September each year.
Mid July the festival of the Moors and Christians takes place. A re-enactment of the historic battle some 700 years ago in the region.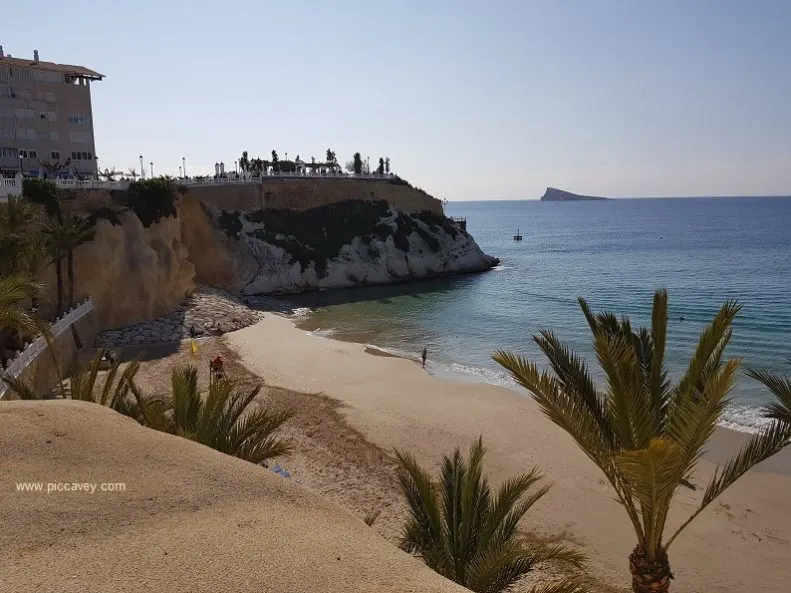 Alicante
One of the largest cities in the region. Alicante is an important port, yet also has beaches, a castle and a bustling commercial area.
The hub of the Costa Blanca this makes a good base due to the transport links via air, ferry train and bus service. Alicante Airport is the busiest one in the Valencian Community.
Santa Barbara Castle offers spectacular views over the city and the port. Get up there by taking the street level lift built into the side of Mount Benacantil. You can also take a boat across to Tabarca Island which is just opposite the city.
One of the most popular festivals is the Bonfires of San Juan celebrated in June. On Postiguet Beach fireworks and bonfires are lit for the Summer Solstice.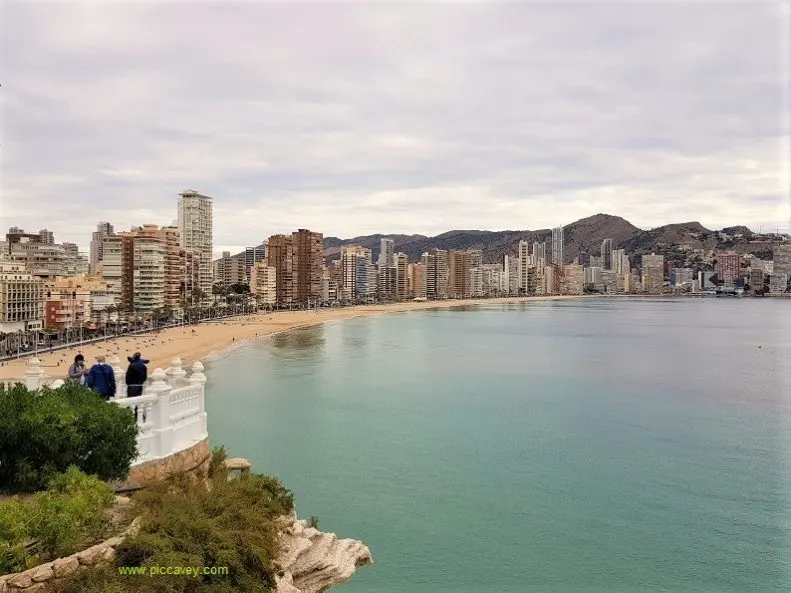 Benidorm
Very popular with European tourists since the 1970´s. It is no surprise as the beaches of Benidorm are excellent. It is a popular resort all year around. Benidorm has lots of nightlife and shows to keep you entertained whenever you visit.
The bustling town also has quite a good commercial and shopping area. In low season the resort is still lively, from November to March with visitors still come along for winter sunshine.
Looking to rent or purchase in the area is a sound move as this popular tourist hotspot is thriving and growing.
Terra Mitica is a great place for families staying in Benidorm. This theme park has day passes and is a fun way to spend a hot day. There is also Terra Natura, Animal Park of the complex which will be a hit especially with younger children.
You can get there by train on the excellent cercania service which runs from Benidorm along the coast if you do not have transport.
Aqualandia Water park is also a bit hit with families in Benidorm too. This opens on 27th May and the season lasts until late September. This water park was the first one to open in Spain and is one of the world´s largest. With 150,000 squares metres to enjoy, it will be a memorable day out.
There is a tram service from Alicante and Denia to the Park. There is also a large car park on the site too. Alsa Buses offer a direct bus link with Valencia and Murcia to the Park.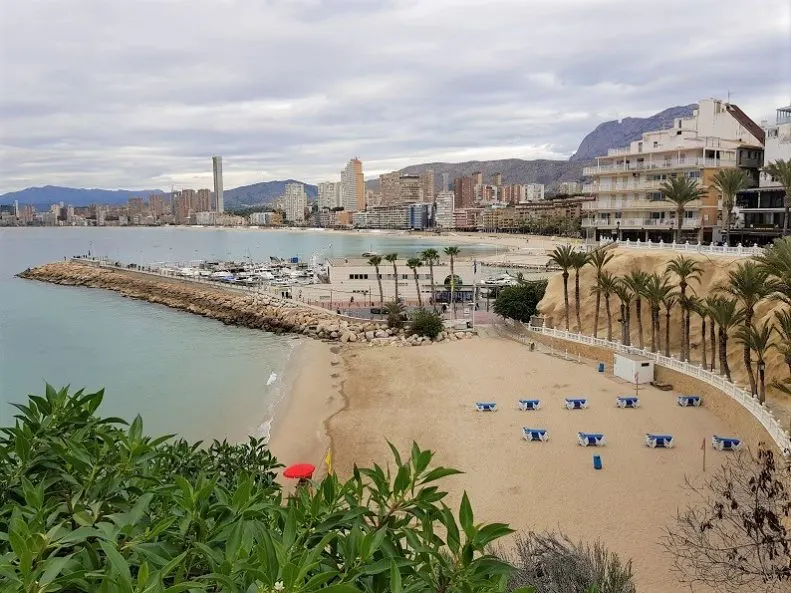 Altea
Altea was once a fishing village and is a quieter resort. With its quaint marina and small fish market. This makes a lovely location for a quiet break.
The restaurants along the seafront make a charming place to dine while watching the boats come in from a day on the sea. Walking along the palm tree lined promenade in the evening makes a pleasant end to the day.
The location is protected from the sea breeze, tucked behind the Sierra de Bernia. This gives it a very mild climate all year round. It is also a good location for families as it is not as busy as other resorts along the Costa Blanca.
Villajoyosa
This small fishing town is well known for the vibrant colourful houses along the seafront. It also has a chocolate factory too.
Although it is a small resort. It is quaint and well connected with the Cercanias railway service. Trains run to Alicante, Benidorm and other places of interest along the coast.
This resort is more seasonal, although the locals do live there all year round. Quieter in winter months it gets busier from Easter week through to end of September.
Whether you are looking for a busy popular resort or a quiet fishing village the Costa Blanca has something for to suit all tastes.
This post contains affiliate links, which means that if you click through and make a purchase, I will receive a small commission. All thoughts, feelings and opinions shared on this blog and in this post are my own.