Traditional shops appearing in local news over the past twelve months has saddened me.
The essence of Spanish traditions are being challenged. Perhaps drowned is a better description.
Steadily franchises are taking over Spain. Already well established in large capitals such as Barcelona, Madrid and Valencia these shiny new stores are now flooding streets of provincial capitals too.
Spain´s Traditional Shops
July 2015
Last month the café Commercial in Madrid closed, it had been in business for 100 years. Founded on 21st March 1887 it was also one of the first Madrid cafés to employ women.
December 2014
Many small family businesses closed at the end of 2014. When Spain celebrated the New Year 2015 the dramatic increase in shop rent killed off many business. This happened due to the change in the ´Renta Antigua´. Generations of artisans and traders were forced to close their businesses. This means the end of trading for many characterful stores across Spain. Although Granada and Madrid are cities which particularly suffered.
In Granada there are not lots of fast food restaurants and coffee bars in the city centre. There are some but far less than in other similar sized towns. I´m sure that this is a good sign for the city.
Luckily locals here are used to their neighbourhood bar and are keen to pay 1 euro or 1.20 for their morning coffee.
This summer alone I have seen International franchises open up in both Granada and Almeria. These new businesses stand right next to traditional bars haberdashers and ironmongers. The worry is that the young Spanish shun the traditional stores for these shiny new international brands. Armed with their huge marketing machines and instantly recognizable branding.
I am not against progress; I would just prefer this to a little more balanced.
Perhaps people don´t take a moment to stop and realise that newest is not always best.
Traditional shops often have more variety and sell individual pieces, rather than pack.
The plight of the Spanish bar
Not only is the humble corner store impacted. Traditional Spanish bars across the country have to compete with new gastro bars (This reminds me of a similar situation in the British Public houses. The typical village pub vs the Gastro pub)
The new trendy bars (and place to be seen) are quickly popping up and taking over city centres. Sometimes the new places don´t have ´real´ waiters. Waiting staff can´t remember orders. They use tablets to punch in the drinks. Do they really have a good knowledge of their trade? Not always.
When I eat out I certain expect the restaurant staff to know about local produce and great recipes? But it seems now that it is more important for them to know about search engine optimisation to get their name out there to the masses.
I know which I prefer.
Square plates
Having a smart interior and a square plate seems to go along way these days. Myself I´m more about provenance. (I live in Andalusia which is suffering high unemployment so I want to support local businesses and producers) Why use apples from South America if I can have them from a local village in Granada province?
Up until recently I visited a bar every day for coffee and toast. The waiter knew exactly what my order was Mon-Friday (Leche Manchada + tostada integral con jamon york) and then what the order was on weekends and bank holidays. (Leche manchada + suizo mixto)
The service is personal. This waiter knew when my football team had won or lost and which newspaper I read. (only one of the four papers win that the bar had available) When I walked past the window on the way into the bar he was already preparing my order most days. This attention to detail kept me a loyal customer day in day out. Sadly the owner retired and the café is now run by other people. It´s not the same.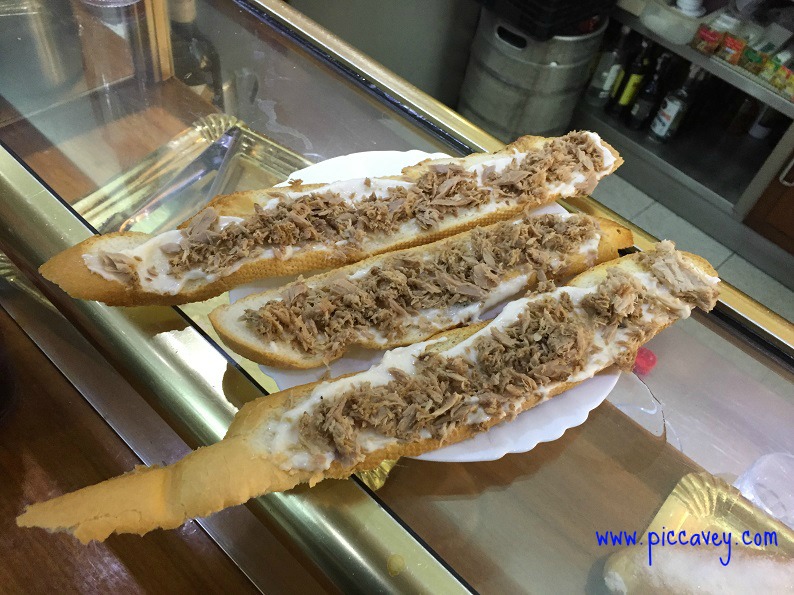 In July I was at one of the main Spanish airports and went to buy bottled water. They were only selling a french brand. However the bottle had a fancy label with the monuments of Spain on it. A bottle of overpriced water with a label encouraging me to Enjoy Spain really isn´t going to work for me I´m afraid. Solan de Cabras, Lanjaron, Font Vella… they have some many others to choose from.
It makes me think that I must be the only one questioning these trends. When I am travelling in Spain I want to support Spanish companies and brands as much as I possibly can.
Pick a traditional Spanish bar
Look out for a large metal or wooden counter.

On the bar somewhere there will be a glass display case with the days tapas or pastries laid out.

There may even be a litter of paper napkins on the floor.

The people in the bar are locals.
Here´s a video in Spanish about the situation of traditional bars in Madrid
What is the solution?
Maybe we are too far down this road to resolve this situation but there are some things that could help. City planning and parking certainly isn´t helping at the moment. Historic old towns don´t allow space for lots of car and car parks are very expensive.
Some of the Food markets in Spain are undergoing revamps to provide tapas and gourmet experiences as well as great produce. This way they have business in mornings and afternoons.
Maybe traditional places can offer WiFi to bring in a younger crowd (if they don´t already offer it)
The main way to slow down this grim trend is by voting with your feet. If you use these traditional shops and bars then they may survive.
But are there enough of us?
If not sadly the identity of Spanish cities seems to be at risk of being lost forever
Feel free to recommend in the comments Traditional Shops and Businesses in Spain which you know…