Turkish Food + Drinks to Try
Turkey is one of the most beautiful countries in the world. Turkish food is varied and delicious, the country also has stunning historic monuments. Turkey is known for its ancient infrastructure and beautiful landscape. And not forgetting its unique location between Asia and Europe. Many visitors from across the world have enjoyed Turkey's cuisine when they travel there. Lets take a look at the tastiest food and drinks you must try when you visit Turkey.
Turkish Delight (Lokum)
Turkish Delight is by far one of the most typical dishes in Turkey. This sweet dessert leaves no one indifferent. In the UK this exotic treat is synonymous with Christmastime. You shouldn´t miss out on trying the real thing when you visit Turkey. With endless combinations of pistachios, dates and walnuts. Combined with other flavours such as Rose, lemon or pomegranate. This market stall seen below in the capital Istanbul has a typical selection of Lokum.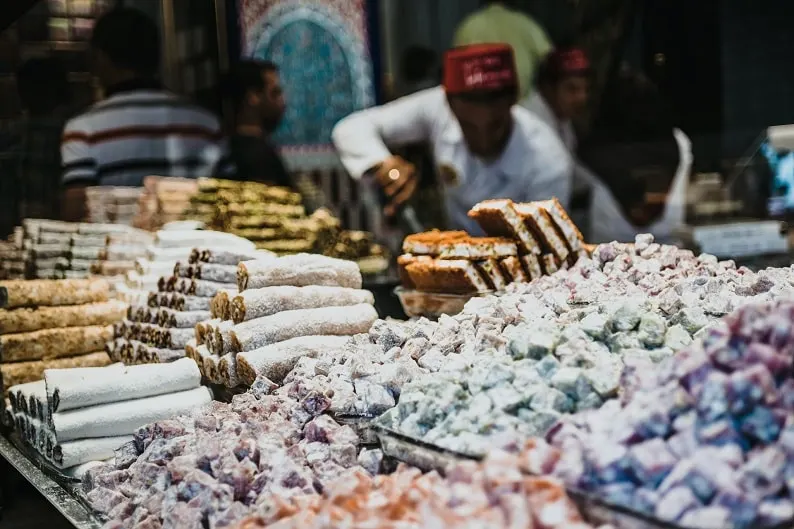 Manti
Manti is also a remarkable Turkish dish that resembles pasta. Turkey's Ravioli is extremely special because it consists of small dumplings made by hand. These dumplings are filled with beef or ground lamb. After filling the dumplings, it is topped with a yogurt sauce. This is why Manti is one of the most complex dishes to make. It's a time-consuming dish to prepare but so tasty to eat.
Mezze
Mezze is served almost all around Turkey. It's usually a small selection of tasty bites paired with drinks. This is perhaps the most popular appetizer to treat yourself to before your main course. One of the dishes is made with vine leaves stuffed with rice. They also serve meatballs and eggplant (aubergine) salad. There's a variety of other options allowing you can choose between meat-based or vegetarian food.
Turkish Tea
Turkish tea is one of the most popular drinks in Turkey. There are several things that make this tea unique. One of the reasons Turkish tea is so special is the way it's prepared. Made in two pots rather than one. Turkish tea leaves are relatively bigger and leafier than other teas. As the leaves are big, the tea has a wonderful and unique aroma. Rize leaves are used; this rare variety of tea is grown in Rize province. The wettest region in Turkey located between Trabzon and Artvin, near the coast of the Black sea it is a region rich in biodiversity. They also grown Kiwi fruit in this part of Turkey.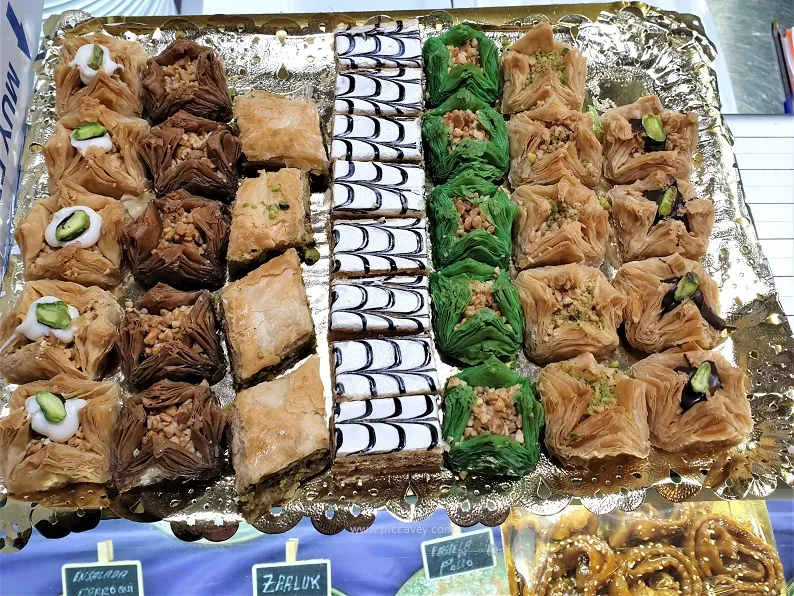 Baklava
The origin of this dessert dates back to the Ottoman Empire. However, now Baklava is found in almost every place in Turkey. Pastries are layered with nuts and tasty syrup is poured onto them. Mostly, the nuts are finely chopped and are complementary. This treat is suitable for any occasion; you can order it as part of your fine dining experience in a restaurant or get it as a takeaway for a cozy night in. It's one of the best dishes in Turkey that is a must-try! I often try these in my local tea houses in Granada where I live but nothing is like the real thing.
Turkish Style Apple Tea
Turkish apple tea is a genuine delight. You will never find a delicacy like this anywhere else in the world. The best part about Turkish apple tea is its availability across the country. If you visit Turkey, you're likely to find it in every single restaurant, house, or cafe. Nowadays, it's even used as a business tactic because shop owners make the customers sit and offer them apple tea to improve customer satisfaction.
Kumpir
Kumpir is basically a baked potato. However, you'll never have a baked potato like this anywhere else. It's a complex dish to make because you need a giant potato cut from the middle. After cutting the potato, it's filled with cheese and butter. Finally, there are lots of extras that can be put on Kumpir. You can add ketchup or yogurt depending on your mood and taste. It's rich in carbohydrates so it's great for people who are sporty or have an active lifestyle.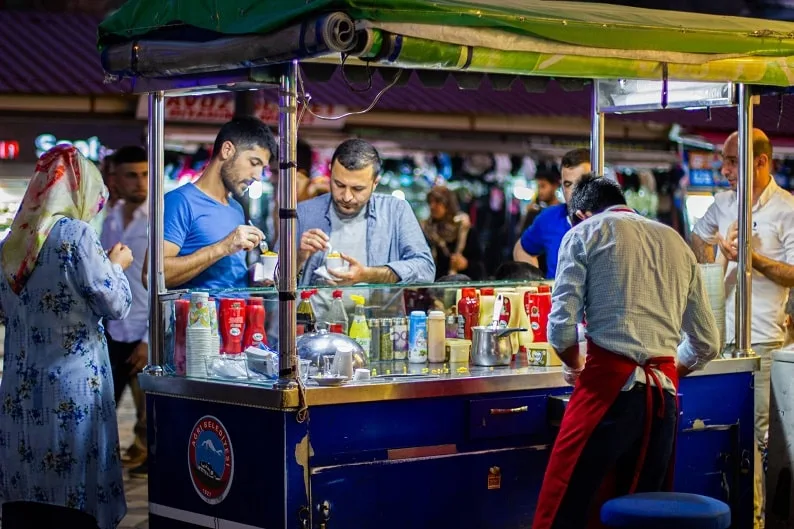 Turkish Food to try
Turkey has a wide variety of dishes you should definitely try once. Some dishes are sweet while others are savoury in taste. But do know before you go that not because not all dishes are available everywhere across the country. Manti is one of the most renowned dishes of Turkey along with Turkish apple tea. Baklava is one of Turkey's special desserts. While you're on holiday, don't forget to grab a bite of Menemen for breakfast. It's actually seen every morning across the whole country. If you're into pizza, you'll love Lahmacun as this is another beloved dish with a Turkish spin on it. It's safe to say, you won't go hungry in Turkey!
What Turkish Food + Drinks to Try in Turkey when you visit