The Alhambra Palace in Granada has been the most visited monument in Spain over the last 5 years.
In 2011 alone 3,096.829 people visited this stunning historic monument. The Alhambra is actually a complex of palaces rather than one building.
The symbol of the Nazrid Kingdom, it dates from the year 1238.
When you arrive you first notice the views of the Alcazaba and the Albaicin district across the other side of the city.
The intricate detail in the ceilings, walls, doors and windows of the Alhambra can be seen throughout the entire visit.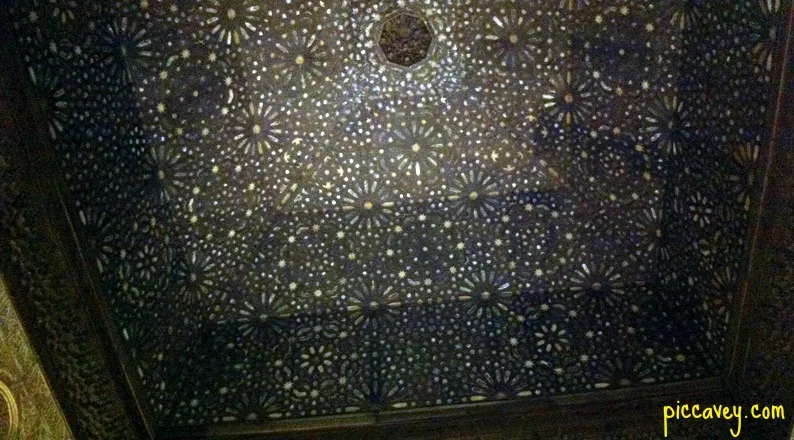 Details in ceramic tiles, alabaster, stone, wood and precious metals. Wall engraved with thousands of religious and poetic verses at the request of King Yusuf I back in the 14th century that we can still see today.
Some of the phrases that have been noted are ¨There is no victor but Allah¨ ¨Rejoice in good fortune, because Allah helps you¨ and
¨Be sparse in words and you will go in peace¨
The Red castle as it is also known has been the emblem of the city of Granada for almost 800 years now. It´s amazing how well conserved the Alhambra is. In 1984 it was declared a UNESCO World Heritage site.
(see my related post: UNESCO sites in Spain)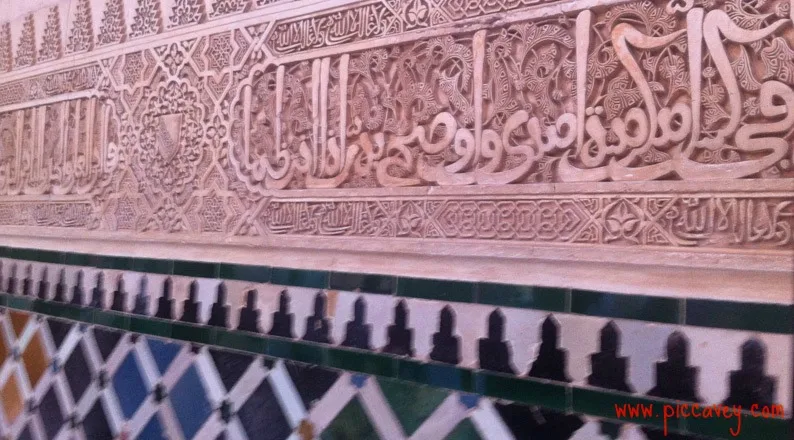 The Nazari palace is the centre of the palace and is made up of a maze of spiralling corridors and rooms. Imagine how this would have looked with beautiful ceramics and furnishings with silk laden princesses flitting through the passages.
Patio de Lindaraja is one of my favourite corners of the Alhambra. The views from the balcony down to the peaceful garden with box hedges and it´s elegant fountain calm the visitor.
On a recent visit I was lucky to be able to see the Peinador de la Reina. This is an area which is not usually open to the public. It overlooks the Carrera del Darro from high above and inside holds detailed paintings on its interior walls from the 16th century.
Another area that is not on the normal visit route is the Hammam or Arab baths. They are made up of 3 different areas the steam room, the changing room and the massage area.
This photo below shows the intricate woodwork of the rooms. Originally these wooden beams were decorated in red and gold colours which have faded over time.
The Generalife is the Summer palace. Delicately scented gardens, lots of water channels and fountains.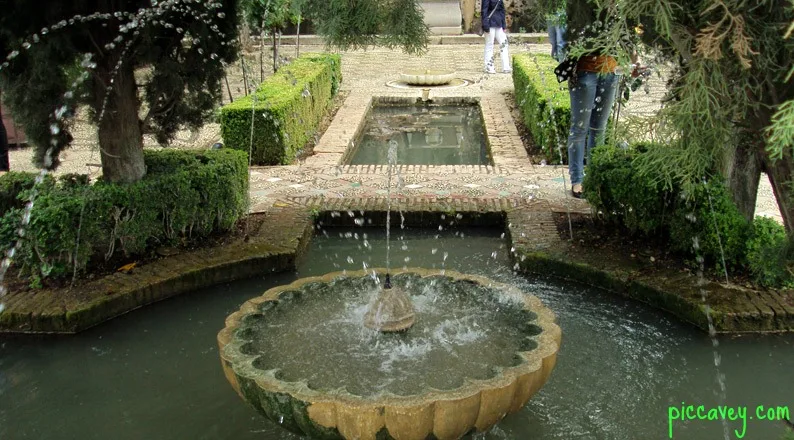 Walkways, staircases and flowers to please the royals as they enjoyed the Andalusian Summer residence.
I hope you have enjoyed this virtual tour around the Alhambra Palace and Generalife.
Hope you get to visit sometime soon. It´s well worth the trip.