El Campello is a coastal town, not far from the City of Alicante. With 23 kms of coastline (over 14 miles) El Campello Spain makes an ideal holiday destination. Yet this charming resort has more to offer than it´s sandy beaches and sea views.
El Campello takes it name from the Spanish word Campo meaning Countryside. It was an agricultural area on the edge of Alicante city. A humble area with fisherman living along the seafront and the labourers living in the upper part of town close to their crops.
This post is sponsored by El Campello Turismo although all opinions remain my own.
El Campello Spain
By the year 1903 El Campello had grown in size and significance. The municipality declared its status as a town in its own right. At the turn of the century it cut its administrative ties from the city of Alicante and set up its own town hall. This explains why there are not so many historic or monumental buildings in the older parts of El Campello.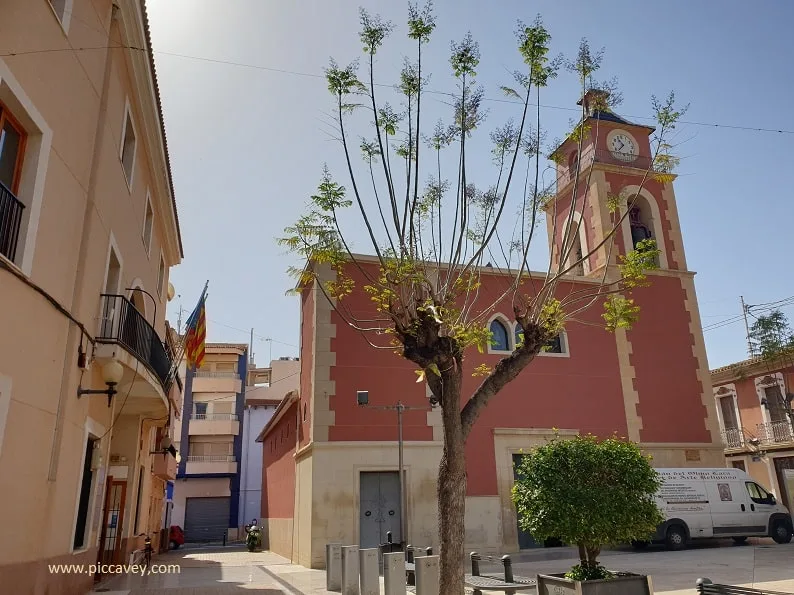 Despite it being a relatively young municipality it still has two churches. Santa Teresa seen in the photo below, which is has an elaborate interior. This was the agricultural parish. The other church Nuestra Señora del Carmen was the sailors church, it is located closer to the sea, just off Carrer de la Mar.

Staying at Ahoy Apartments
In fact the place where I stayed was very close to that church. A short walk up from Nuestra Señora del Carmen is Ahoy apartments. A modern building close to the promenade and all of the main shops and services. Situated just 300 metres from the sand, its handy for the proximity of tapas bars and restaurants.
Ahoy Apartments was very easy to find on arrival into El Campello too.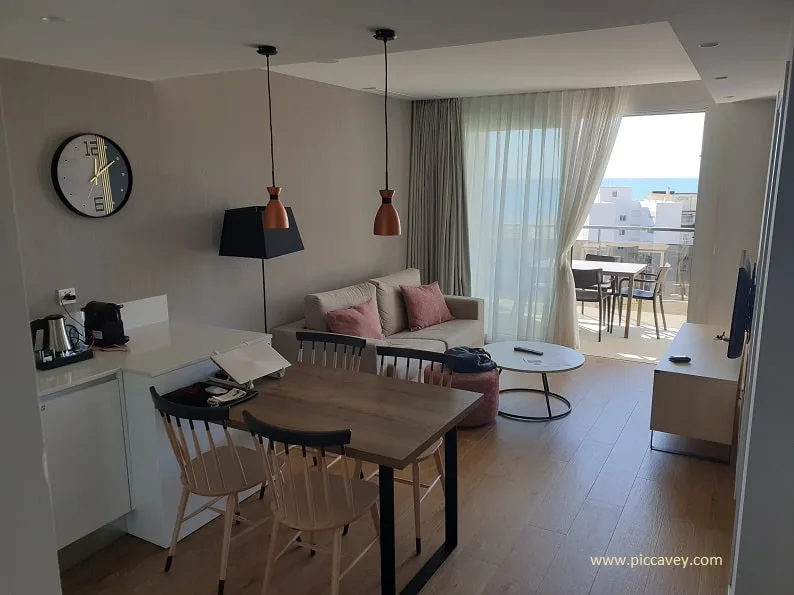 Apartment with Terrace and Sea Views
With parking out front along the street as well as underground. It was easy to unpack the car and get the luggage up to our apartment. The furnishings at Ahoy are very practical and user friendly. They only opened in 2020 so everything is fresh and new. Shown in my photo above, you can see the living space in the holiday apartment. Equipped with a balcony and enough space for a sun lounger and dining table. It even had a sea view.
Other family sized apartments have a park views and more surface area for young children or larger families.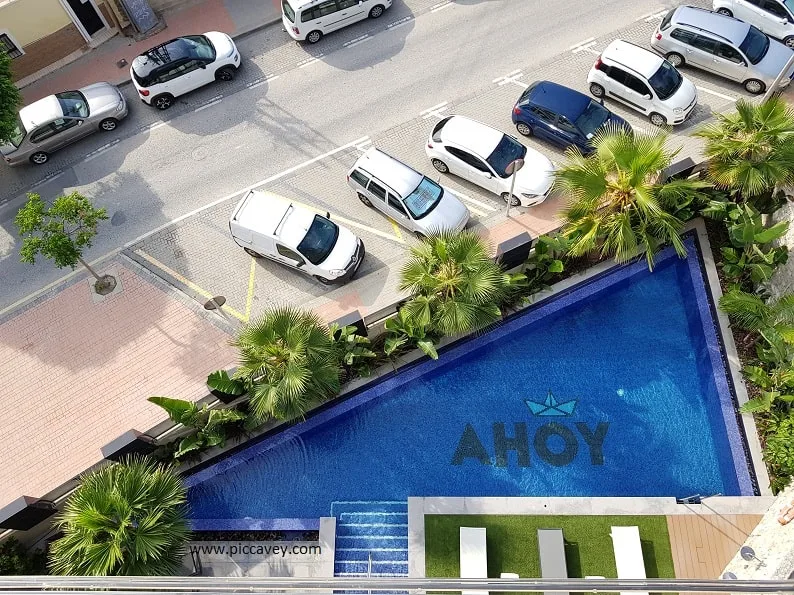 Staff were very friendly and helpful. The pool was very inviting. Although during my stay in May, the weather wasn´t quite warm enough for me to swim. The ground floor pool area also makes a great corner for reading and sunbathing too.
There were lots of advantages of staying at Ahoy as well as its super new interiors, friendly staff and great location. The food places in El Campello were very close so we could get takeaway on one particular evening when we didn´t want to eat out. Having plates, knives, forks and everything to hand makes it all so much easier.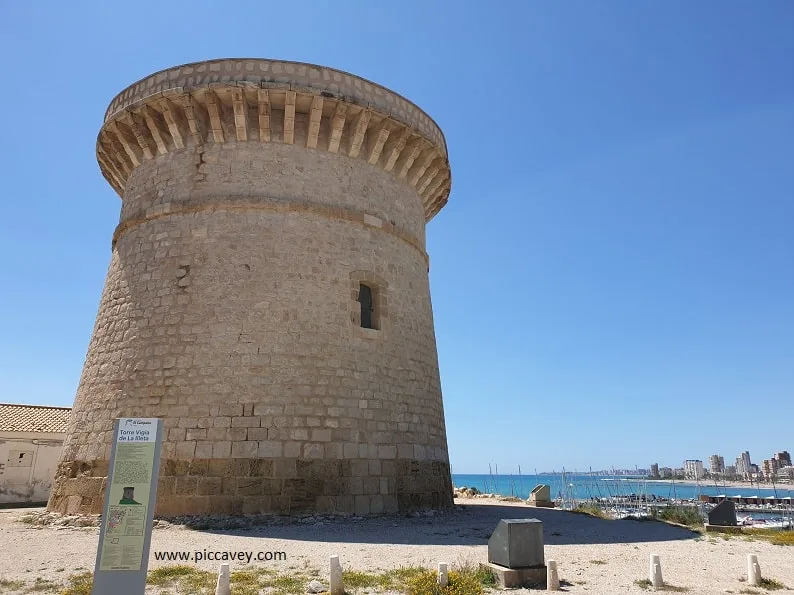 Historical Sites in El Campello Spain
Torre de la Illeta
Although I mentioned that El Campello didn´t become a municipality until 1903, it does not mean that the location doesn´t have an interesting past. The most important symbol of El Campello is the Torre de la Illeta. This 16th century watchtower was built to protect the area from pirates. Constructed in 1554 and patrolled by four guards, two on horseback and two on foot. They would communicate along the coast using smoke and fire to warn others. The location is in a strategic line with the Castillo de Santa Barbara in Alicante for example.
This watchtower is usually not open for visits. However if you are particularly interested in seeing this monument. The town hall does open it on specific days as part of a guided tour. Check with local tourist information to see if a visit is scheduled when you are visiting.
Queens Baths in El Campello
Named Los Baños de la Reina although the idea that a Muslim queen bathed there is just a legend. This part of this archaeological site was in fact a roman fish factory. These man made pools were a place to keep smaller fish. Eventually growing in captivity until they were mature enough for eating. These fish pools are now deteriorated due to the crashing waves, saltwater and passing of time. So their outlines and shape is less clear. Some are submerged whereas others opened up on one side. Originally they would have been solid walled rectangular pools with no spaces to getaway.
However it is still amazing to think that they have lasted all those centuries. On this site as well as the Queen´s Bath, the island has Phoenician, Roman and Ibero remains. While some have been uncovered and studied, other parts are still unclear in this historic puzzle.
When you visit El Campello it is well worth taking the guided tour around this Island Illeta dels Banyets for 2 euros. The monument is closed off to protect the ruins. You have to go within the specific opening hours to see the site with a guide.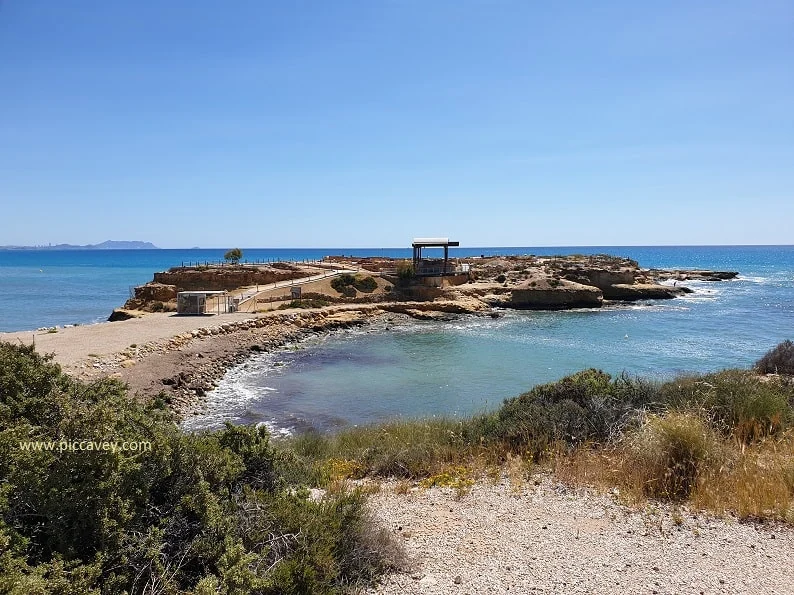 Club Nautico El Campello
On the other side of the Island is the Sailing Club and the Harbour. Here there are a few places to eat such as La Cova, the Club Nautico and the Lonja Bar. From this spot seen on the photo below is where the long promenade begins along the sea front.
To walk along and see the boats and sea views. See hundreds of fish close to the harbour wall, spot tiny black crabs and newts amongst the rocks. Stop off for a cold drink in one of the bars. See the locals jogging along the beach, taking an outdoor yoga class or walking their dogs up and down was a great way to start my day. The pavements here are quite wide and its flat along the paseo.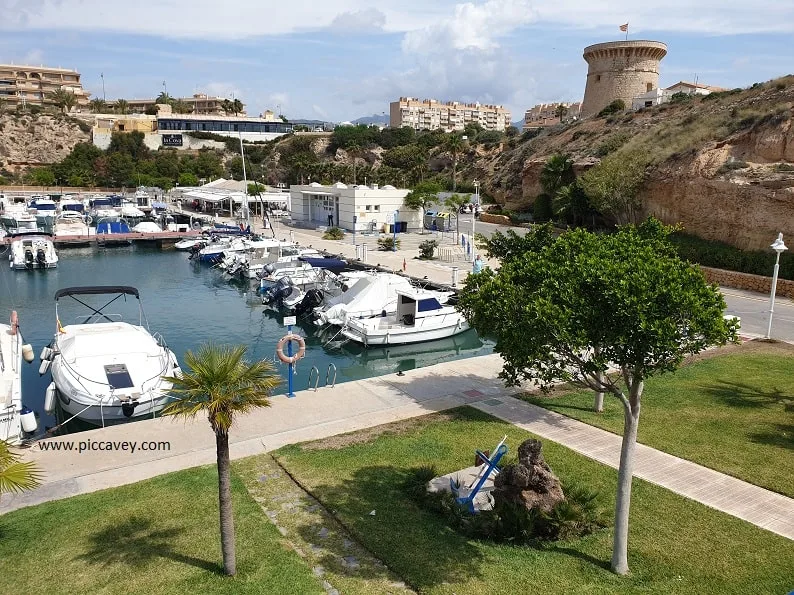 Trams in El Campello Spain
El Campello is extremely well connected with transport links. There is a Tram service that links the town to Alicante, Benidorm and Villajoyosa. Its simple to use and practical with regular service. Handy i you want to take a day trip or a shopping outing you can easily move around without having to worry about driving or parking spaces.
The tram stop is a short walk from Ahoy Apartments to the station. It´s just 400 metres to the tram station from the accommodation.
Other transport links of course are buses and trains into Alicante from the main Spanish cities. Good motorway links if you are driving in. The best airport for getting to El Campello is Alicante which is 20 minutes away.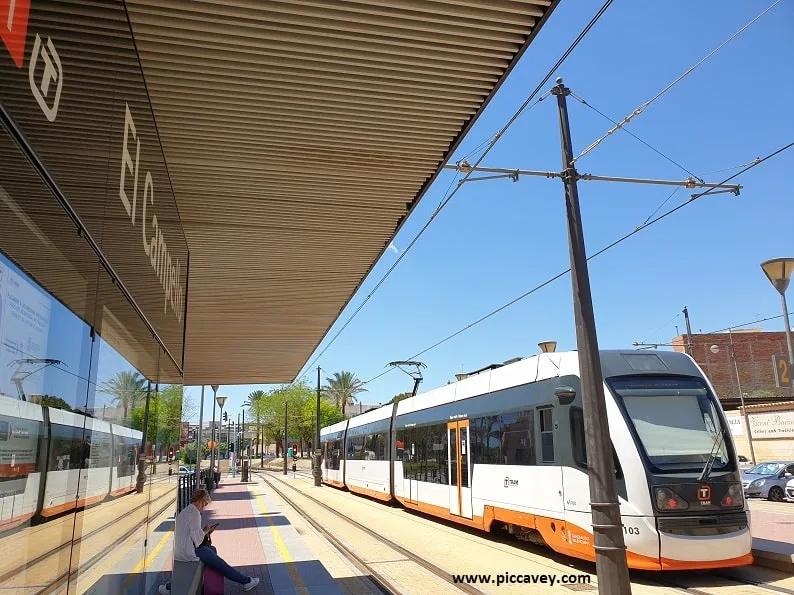 Beaches in El Campello
One thing that jumped out at me straight away was the book club. They have a beach hut that is open in summer months as a little library. Thought this was such a great idea. The beaches are well maintained and have lots of space. The Playa de Muchavista is around 100 metres wide in most places of the beach. That is just one of the 16 beaches you can choose from.
Playa Carrerlamar
My personal favourite is the urban beach of Carrerlamar as its right in the busy part of El Campello. I do like to be close to shops and good restaurants when I enjoy a beach day. There are also plenty of opportunities for water sports along this stretch of coast too.
Some parts of the beach have climbing frames and swings for children too.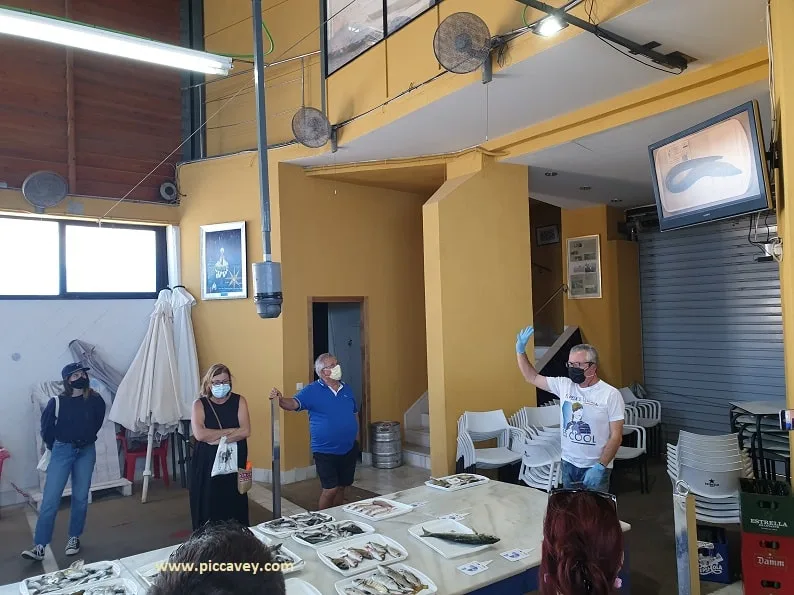 Fish Auction
One of the highlights of my stay in El Campello was the fish auction. Held at La Lonja (close to the Club Nautico) when the days catch arrives into the harbour. The locals head over to see what fish have been caught that day. The fresh fish and seafood can be purchase directly at the auction. It usually starts at 6pm mid week.
This fish auction is actually one of very few left in Spain that is open to the public. Most are only accesible to fishmongers and restaurants. So this tradition is being revived by the local fishermen of El Campello so that people can learn more about the fish they are eating and the industry.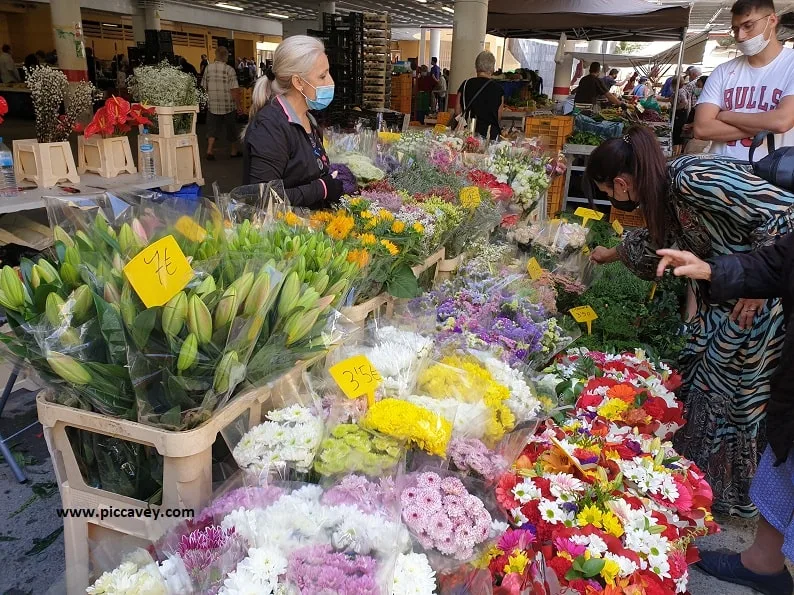 Market Day
El Campello has its market on Wednesdays. The outdoor market has local produce, as well as household goods and clothes. It is a large market that takes quite a while to get around. You can see the stalls just below the Town Hall on Calle Alcalde Oncina Giner.
If you are staying in an apartment it´s a great opportunity to head over to the market to buy some fresh produce to cook for dinner.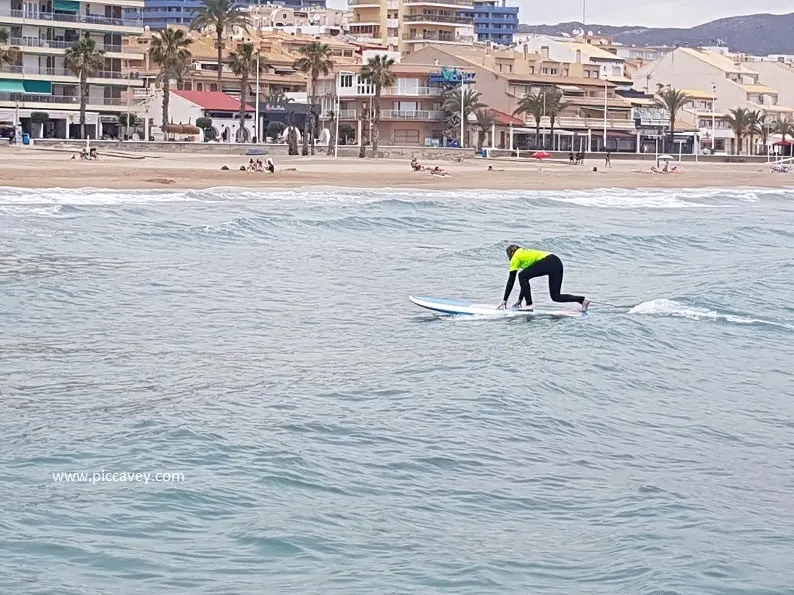 SUP + Surf
While I was in El Campello I got to try a few water sports. Stand up paddle (SUP) and also an introduction to surfing. As it was a little choppy that day and the water temperature was still cool in May, I got wetsuit hire included in the lesson.
If you notice on the photos, there aren´t many others in the water on that day. ; )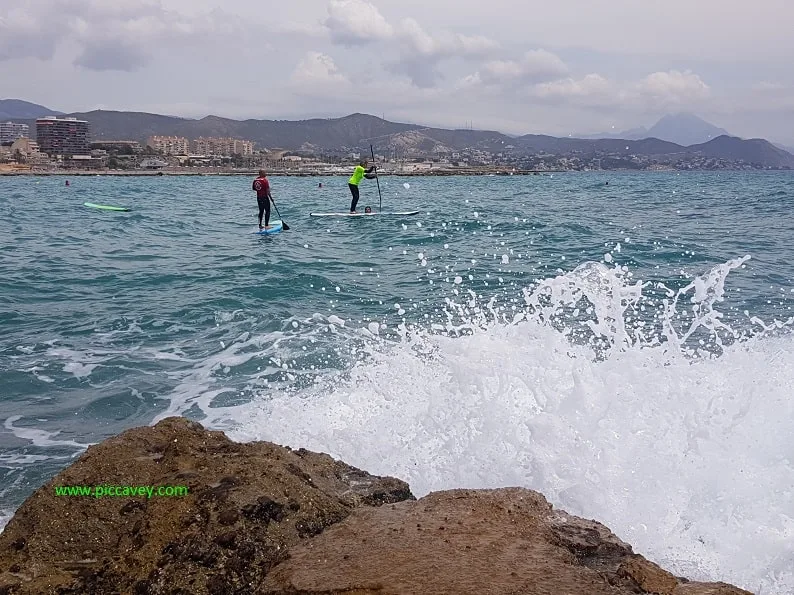 SUP was a little challenging but after a while I managed to stay up. The monitor was very patient, spoke really good English too. He had actually been a Surf Teacher in Australia. If you havent done Stand Up Paddle before, I´d encourage you to give it a try this summer. It looks pretty daunting, but its fun. Once you know how to get back onto the board, its less challenging.
Learning the basics of surf seemed more difficult, but also more fun. By the end of the lesson I had actually managed to get the position down. (1st photo)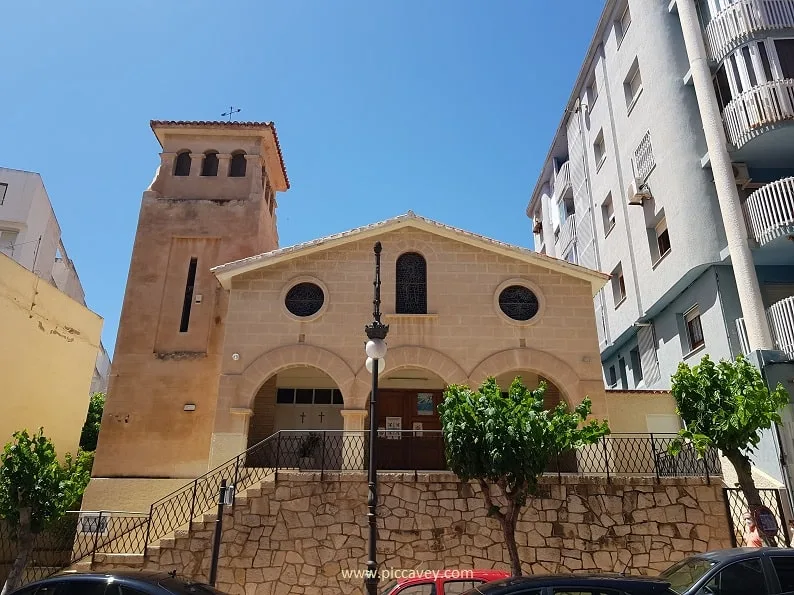 Festivals
As with any Spanish town or village. El Campello also has its festivals. The most popular one is the Moors and Christians where they recreate battles on the beaches. Wearing period costume, waving flags and arriving in boats, this spectacular festivity is celebrated very early on the 12th October.
The Virgen del Carmen is of a more religious nature where they honour the patron of the sailors. The Virgen of the Sea. One of the more eye catching parts of the festival are the Castellers or Human Towers that are performed at this celebration.
Virgen del Carmen – 16th July
Moros y cristianos – 11th to 15th October
Where to Stay in El Campello Spain
While there are many Accommodation Options in El Campello the majority tend to be apartments and holiday rentals. The one I stayed at Ahoy had good customer service and people on reception during most of the day.
It´s not a huge resort with lots of large hotel complexes. Perhaps that is exactly the charm of a place like El Campello. It´s like a home from home.