Gay friendly guide to Granada
This week I have teamed up with a local blog Trotamundo (articulo esta en español en este enlace> Trotamundo) to bring you the best tips for a Gay friendly stay in Granada.
Granada this summer was the first Andalusian city to open an information point for LGBTI. At Granada Town Hall they want to work to support, defent and highlight Gender Diversity. Recently I gave them some tips on different places around the city when they visited on a weekend break.
They have a few recommendations of their own to make too.
Best places to eat
El Bar de Fede
Next to the San Agustin market. This funky bar serves great local dishes with produce from the market. A relaxed vibe at lunchtime, it gets busy in the evenings. Get there around 8.30pm-8.45pm on weekends to get a table. Calle Marqués de Falces, 1, 18001 Granada
PuraVida Burger
A new place in Granada. This burger bar has a Mexican theme and makes you feel like you are on holiday. Our choice is the Italian burger which is finger licking delicious. For a different starter try the greek style samosas or the colourful nacho sharing plate. Calle Escudo del Carmen, 18009, Granada.
Café Baraka
A great place for coffee, brunch or a just sandwich. The best choice is American style french toast with red fruits. Their fruit lassis are also delicious for hot days in Granada. A short walk from the cathedral this bar is also dog friendly. (Closed on Mondays) Calle San Jerónimo 24, 18001, Granada.
The meaning of Baraka is:
Luck, fullness, benefit, blessing, positive energy, satiety.

It is the active principle of everything nice that happens to us in everyday life.
Papapua
A good option for vegetarian and vegans, this kitsch little eatery has mismatched vintage furniture and an ecclectic vibe. Located on Calle Molinos in the Realejo quarter, they offer Arepas and other Latinamerican cuisine. (seen above) Calle Molinos, 16, 18009 Granada
Tapas in Granada
For more Foodie tips in Granada check out > Typical Granada Tapas Bars
Most places in the city offer a free tapa with each drink.
Gay Friendly Hotels
Here is our pick of hotels in Granada from High End to budget options there are three recommendations to suit all travellers.
Hotel Alhambra Palace
This emblematic hotel was opened by the King of Spain in 1910. An iconic establishment visited by many actors writers and musicians over the years. Located within the Alhambra woods, the views over the city are spectacular. With a bus stop and taxis right at the entrance you have the best of both worlds. Alhambra and City. A short walk from the hotel down the hill and you will find the centre of the Realejo quarter.
Campo del Principe which is directly below the Hotel Alhambra Palace. The highlight of this four star hotel is the mudejar style interior. Horsehoe archways create an exotic palatial mood. Another plus is the balcony café overlooking the Sierra Nevada Mountains and city. A great place to watch the sunset.
Hospes Palacio de los Patos
This five star hotel is set within an Andalusian palace style building. Highlights are a modern basement spa for cooling down after long walks and sightseeing. Another highlight is the large outdoor patio garden for food and drinks al fresco (Photo above) The Palacio de los Patos also has beautiful interiors. A blend of classical architectural details with modern decor. Situated on Calle Recogidas this is accesible by car. A convienent central location for shops and restaurants.
Hotel Cerro del Sol
Located 6kms outside of the city this budget option is a good all rounder. Hotel Cerro del Sol offers accomodation for $68/55 gbp. Included in that price you have a swimming pool and quiet location. The bus service SN1 connects the hotel to the city (passes frequently every 10 minutes) You can also take a taxi for $12 / 9gbp if you prefer a door to door service.
This is a great option for those looking to rent a car and enjoy day trips in and around Granada province. They have wifi and free parking.
Good if you prefer to wake up to great Sierra Nevada landscape rather than a city location.
What to do in Granada
Most visitors to Granada come along to visit the Alhambra Palace. If you are spending a weekend in the city these tips will help you plan your 48h in the city.
Getting tickets can be tricky especially in busy Spring and Summer months. Book your tickets between 30-60 days ahead of time to choose the best time to visit the Nasrid palaces.
Should the tickets on the Patronato website be sold out.
Try this link to get your tickets >
Relax at Baños Elvira
Another great option for a weekend break is to unwind at the Baños de Elvira. A hammam style experience on Calle Arteaga. A 30 minute massage and one hour bathing session is one of their most popular services.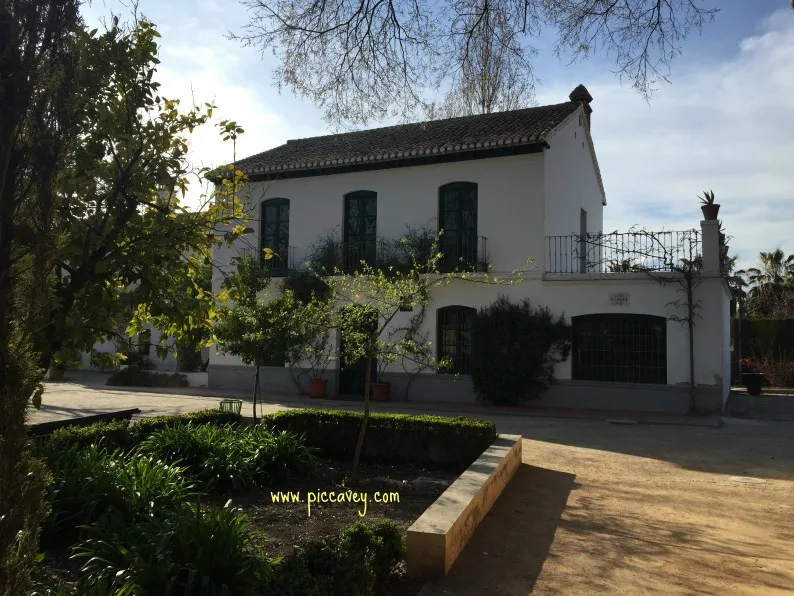 Bohemian Granada
Granada is an important city for Artists and Writers. Why not retrace the steps of Local Poet and Writer Federico Garcia Lorca visiting the Huerta de San Vicente or taking in a play while you are in the city.
Don´t miss a visit to the Tea shops around the lower Albaicin and the colourful shops around the Alcaiceria. Find some off the Plaza de Bib Rambla and others on Caldereria Vieja, off Calle Elvira.
Do let me know if you have more noteworthy Gay Friendly places in Granada worth recommending.

Please Note: This post contains affiliate links, which means that if you click through and make a purchase, I will receive a small commission. All thoughts, feelings and opinions shared on this blog and in this post are my own.