One of the best reasons to come to Granada is for the fantastic landscapes. Montefrio is one of these great locations. Of course the city of Granada is a great location for historic sites, gastronomy and charming atmosphere, yet the province also has its fair share of attractions too.
Don´t miss this town which is a short drive from Granada (direction to Malaga)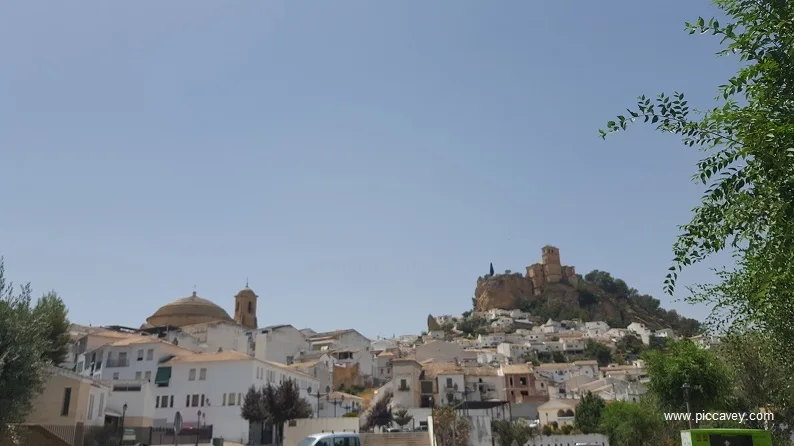 Best view in the World
Montefrio was selected by National Geographic as being one of the Best views in the world. The Nat Geo selection of ten included this Granada town and one other town in Catalonia called Castellfolit de la Roca. Situated in Girona province.
When you see the views in Montefrio you can see why this unspoilt white village came out top. Located to the east of Granada Province Montefrio is an agricultural town with a spectacular skyline. I´ve been to Montefrio and Poniente Granadino area many times. Near to Loja and Riofrio this was the last frontier of the Kingdom of Granada.
On one of my recent trips I captured this view in a short video below from the Mirador de National Geographic.
Visiting Montefrio
Apart from this magnificent view there are other things to see here. The main monuments in this rural Andalusian town are its two old churches. La Iglesia de la Vila and Iglesia de la Incarnacíon. One, perched high above the town on a rocky cliff and the other is a round domed structure in the main town. This is the view from the Iglesia de la Vila looking out across Montefrio and the round Encarnation church below.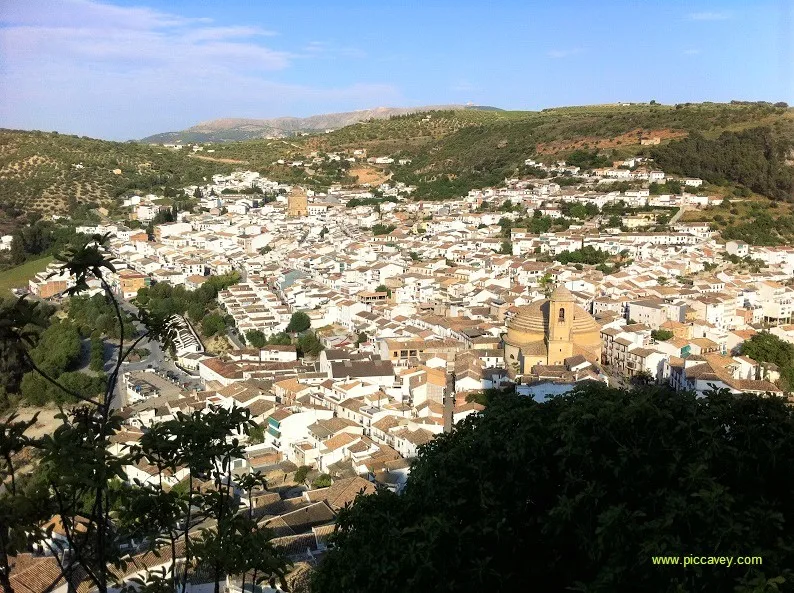 What to See in Montefrio
The Convento de San Antonio is also worth stopping off to see. The view outside is impressive as it has own mirador of Montefrio with another perspective of this photogenic place.
Inside this building you can see that it was a 16th century building with its beautiful portico courtyard. They also serve great food in the adjacent rustic style restaurant. (check timetable + book ahead)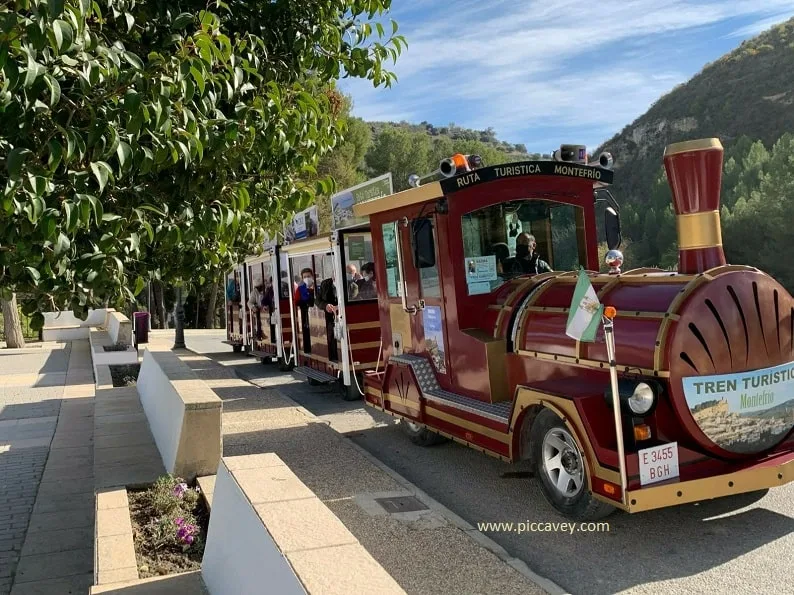 Montefrio Tourist Train
See the main sights from the Tourist train when you visit Montefrio. This departs from the Plaza Virgen de los Remedios. The train stops at all the main sights in town. The Viewpoints, the two churches and its fortress.
The timetable is daily
10am until 2pm
4pm to 6pm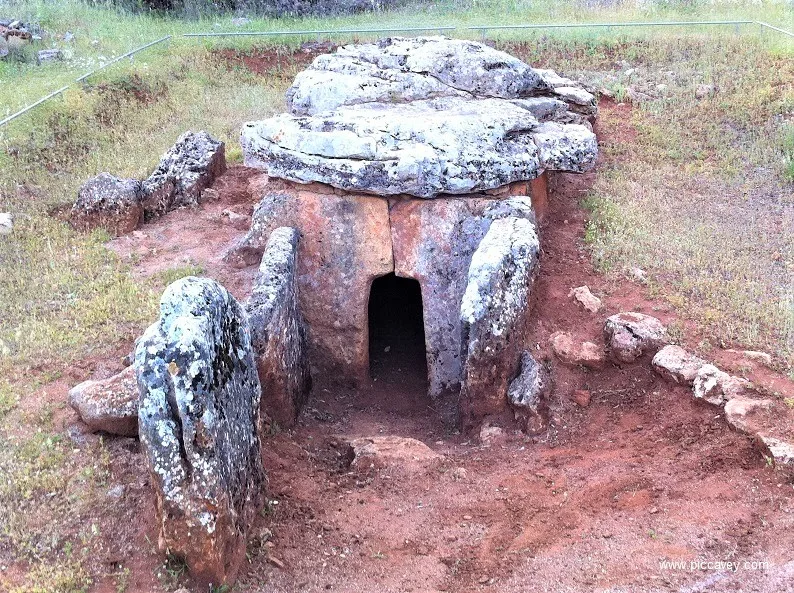 Montefrio Dolmens
Just outside the town of Montefrio Las Peñas de los Gitanos in the surrounding countryside is a wonderful place to visit. Dotted with many Megalithic constructions and lush green landscapes overlooking Montefrio and the hills beyond.
This is just 5 kms out of the town and boasts caves, dolmens and ancient burial sites. According studies done at the University of Granada some of the first dwellers on this site dates back to the year 5.500 BCE, Early Neolithic and Bronze Age.
On a 6 square kilometres plot there are over 100 dolmens, a post Roman ruin and a visigod necropolis. La Peña de los Gitanos is really is a great place for archaeological fans to see. The visit takes around 2 and half hours and you need good footwear as the route is through fields and wooded areas.
Book ahead of time by phone or email. (contact telephone + 34 628 305 337)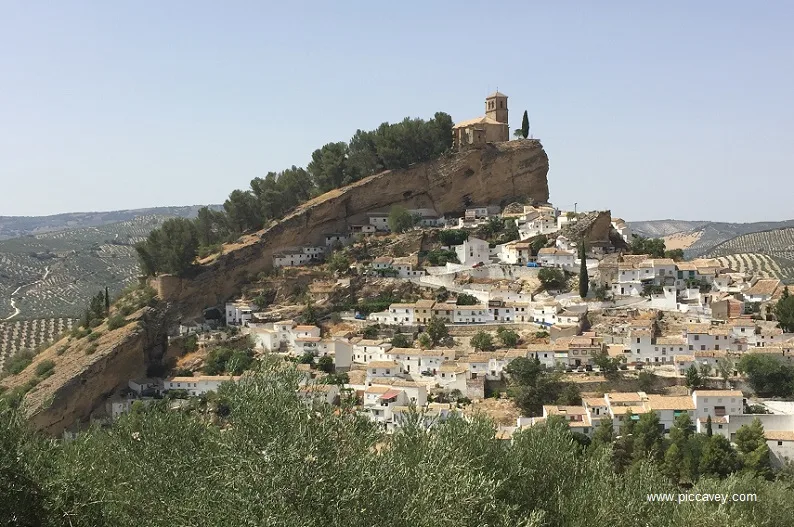 Where to Eat
There are plenty of bars and cafés in the main part of town but to dine well head to the Flor del Olivo restaurant. Headed up by French Chef Jean Paul Vinay, this re known chef worked at El Bulli some years ago with Ferran Adria. (This restaurant is now permanently closed.)
To welcome you into the restaurant you get to choose between 20 types of Extra Virgen Olive Oil from the region. As the name Flower of the Olive Tree suggests they are showcasing local food and EVOOs. For lunch on that hot Summer day I choose an ice cold salmorejo (tomato soup) and a fish dish.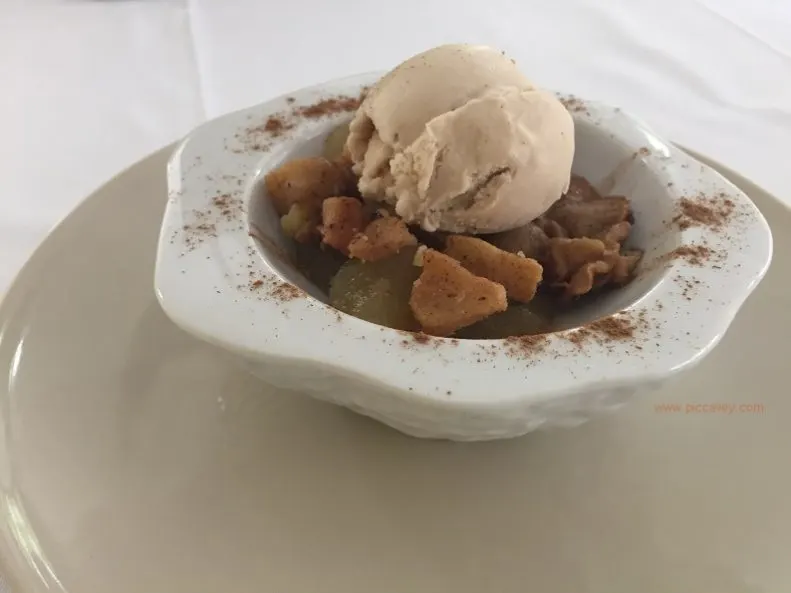 All the dishes were delicious and well presented. Although the menu is not an endless selection, it´s a carefully chosen list of best quality seasonal ingredients. For dessert this baked apple offering came dusted with cinnamon and topped with home made ice cream. The perfect end to the meal. Located on Avenida La Paz 58, drive up the road and find street parking before the restaurant.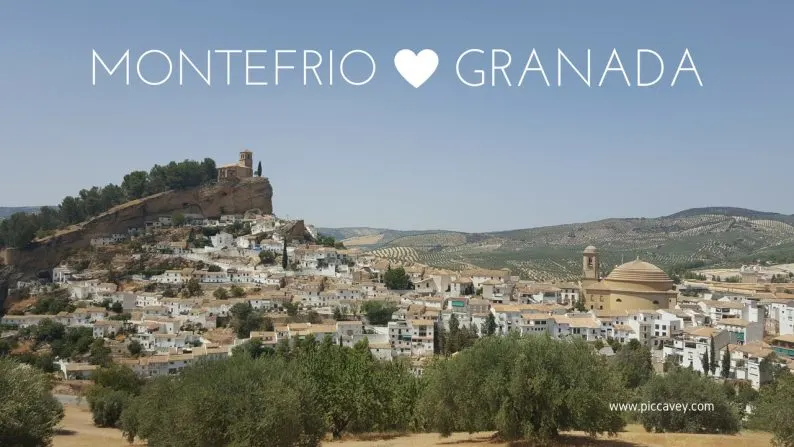 Montefrio distances
110 kilometres from Malaga
86 kilometres from Antequera
60 kilometres from Granada
32 kilometres from Loja
25 kilometres from Alcala la Real