2013 Highlights
After my review of my Spain blog in 2012 being so popular last year, these are some of the highlights on the blog from 2013.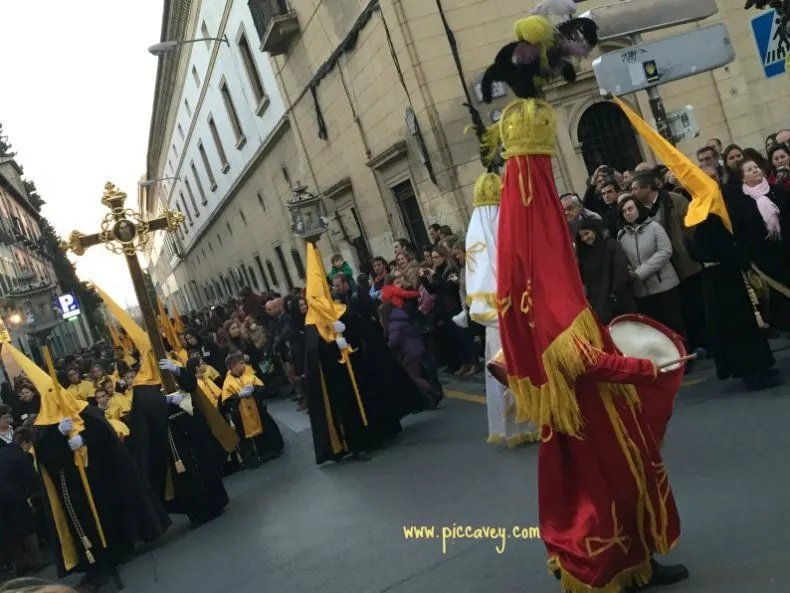 My 2013 Review
January 2013 was busy with quite a few collaborations
16th January My 5 Tips to move to Spain at Expat Explorer HSBC website
23rd January Spanish Food World article ¨A Guiris Guide to Snacking in Spain
29th January Spanish Tourist Office Social News Hub linked my post on their front page!
February 2013 Huge Milestone: I wrote post No.100 on my Spain blog.
In March I helped CNN Travel with their production of a Granada travel show presented by Anthony Bourdain. (pic above) Several of my suggestions where taken onboard and included in the US show. Parts Unknown which aired Sept 2013.
April – I enjoyed Easter week in Granada and got to see the beautiful procession from the Santa Maria de la Alhambra Church down the Alhambra woods into the city.
May – I helped to organise a Spanish Wedding in the Almeria Countryside for a friend of mine. I also travelled to Tarragona for the TBM CatSur. Highlights were a day spent in historic Tortosa and kayaking in San Carles de Rapita
Summer 2013
June I enjoyed a Fabulous city break in Cordoba despite the intense heat. Hospes Palacio de Bailio was the perfect place to unwind.
Also in June I participated in the first Talking about Twitter Granada and met Rosa Lopez (Singer) The two day conference was a great networking event for Spain blog and twitter users in Spain.
July – I gave a 2 hour lecture as part of the Summer Course at University of Granada on Social Media and Personal Branding.
Also in July I enjoyed the Summer Flamenco festival in the Corrala del Carbon. I try to go every year to this festival.
August – I took a few days off to enjoy some of the more remote villages of the Alpujarras . Another day out that month was to Ronda which I´d visited before but I always enjoy returning to.



Autumn + Winter 2013

September – I had visitors from the UK over. We went to Lanjaron Spa for a pampering day. I also had a great time later that month at a friends Wedding in Benalmádena, Malaga.
October – I travelled to the USA on my annual holiday. Revisiting New York and seeing Boston for the first time. Highlights were celebrating Halloween in Salem, Massachusetts and seeing the Cloisters in New York. (Shopping was involved too)
November – I participated the second WABAS event in Malaga. Writers and Bloggers in Spain got together at On Spain Malaga. Here are the attendees in the photo below (although the online group is actually 100+)
December I enjoyed several Christmas parties and lots of travel this month. The highlight was a family meal to celebrate my Grandma's 91st birthday.
But also this month I also went for a chocolate massage and Arab bath session at Aljibe de San Miguel on the last day of the year. (Post too follow soon) A fabulous way to unwind and prepare for 2014.
Spain Blog in 2014
Now as we all set out into the shiny new year we think about New Years Resolutions
Which will yours be?
I am still thinking about mine…
GRACIAS!
Thanks for your support in 2013
You may also click like on my Facebook page