What to see in Madrid. I though it was time to write something about Spain´s capital city.
Since 2006 I have been visiting Madrid, my most recent visit was this month in September 2013. I usually visit once or twice a year. My trips of 2-3 days are often for business but sometimes I get to stay over a weekend or meet up with friends there.
Things to see in Madrid
One of the main attractions in Madrid according to that Olympic speech is the Plaza Mayor. The suggestion made was to have a ´relaxing Café con leche´ in that typical square. Personally I recommend having a coffee in ¨Recoletos¨ myself. This tree lined avenue in Madrid is often the location for books fairs or Sunday strolls. It makes a perfect setting to watch the world go by.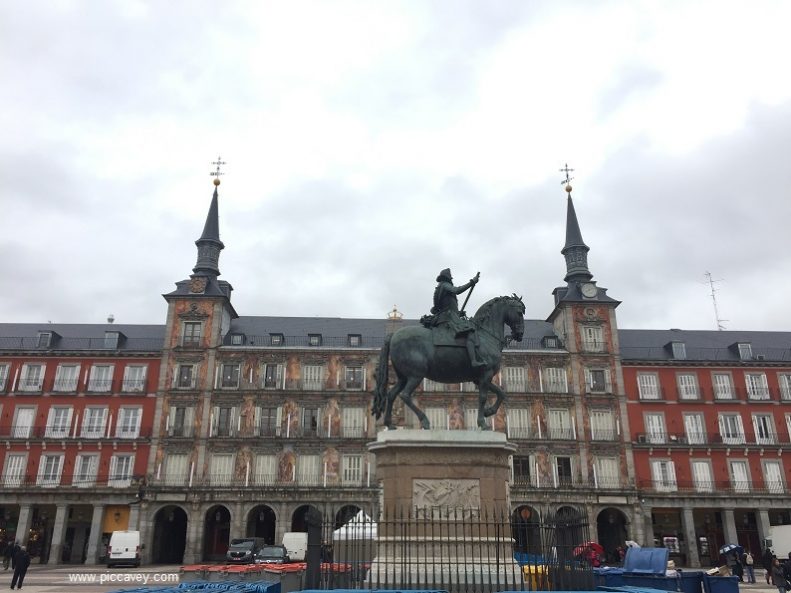 Plaza Mayor
Of course when in Madrid you must see the Plaza Mayor, it is a beautiful porticoed square, but honestly choose to drink your coffee somewhere else, unless you don´t mind paying inflated prices in that location.Spain´s capital is unfortuntely known for it´s traffic jams and general hustle and bustle. It is not my favourite destination in Spain.I would highly recommend comfy shoes on to tackle the endless corridors in the Metro of Madrid.
This photo below is of Atocha train station, part of the Metro system. The unique garden inside is one of the more pleasant corners to see while travelling around Madrid. There are hundreds of turtles to see which make it a novelty for passers by to see.
Templo de Debod
Even though it´s a busy city, over all these different trips I have discovered things to see in Madrid. This Temple had to be saved due to the construction of the Aswan dam. You can see the Temple of Debod not far from Plaza España. This is particularly beautiful as the sun sets.There are many historic buildings in Madrid. (first photo at the top is the Plaza de la Vila) and here pictured below is the Almudena Cathedral. This beautiful buidling is located in the same area as Palacio Reial which you can visit. This was once the royal residence for the Spanish Royal family.
Madrid Museums
In my opinion one of the main reasons to visit things to see in Madrid is the Art. The collections in this city are vast. The Prado Museum is the Spanish National Art Museum and boasts most of the Spanish classics, currently they have over 7000 paintings exhibited. Paintings by Goya, Rubens and Velazquez can be seen here. The temporary exhibitions are usually really popular and queues are generally long. Get here early.
Of all the art I saw in Madrid on my weekend there my personal favourite was the Reina Sofia Museum at the time I visited they had a temporary exhibition of the Waterlilies by Monet. The art here is more comtemporary and I found this more to my own taste. I didnt get to visit the Museo Thyssen-Bornemisza which makes the third art museum in this triangle. This is on the list for next time.
Shopping in Madrid
My second reason for visiting Madrid is the shopping! As this is the capital city you can find practically everything you want. My favourites areas are the High End Serrano district with it´s flagstore Corte Ingles store and impeccable boutiques.
I also love Chueca. The main streets around Fuencarral and Hortaleza are fun with an ecclectic mix of independent and fashion stores.
I´ve heard that the Malasaña district is catching up with Chueca but I haven´t had chance to head that way so far and check it out.
(another thing on my to do list…)
Where to Stay in Madrid
Madrid has a large expat community due to the amount of large companies and HQ´s offices there.
On my most recent visit to Madrid I stayed in Eurostars Tower Hotel. This is located in the business part of Madrid, in the North of the city. The hotel has over 30 floors. From the breakfast room you had a birds eye view of the city of Madrid.
It´s is ultra modern and for me the highlight in the room was the lighting control panel. This may seem a little odd but knowing which button to press for which kind of light was a real luxury.
Other good hotels I have stayed in over my past visits to Madrid are:
You may also find useful the Hostal guide on Budget yout trip´s website. For example this guide to Best Party Hostals in Madrid
Read more about other Spanish cities I have visited.
Please Note: This post contains affiliate links, which means that if you click through and make a purchase, I will receive a small commission. All thoughts, feelings and opinions shared on this blog and in this post are my own.