FITUR is an annual International Tourism Fair held in Madrid. This important event in the Travel sector calendar is held each January at IFEMA exhibition centre in Spain´s capital.
Along with the ITB in Berlin WTM in London these are the most important travel fairs in Europe. FITUR is a five day event, the first three days are for business and professionals. The last two days (Saturday and Sunday) it is open to the public. With 131 countries taking part in this edition, you literally have the world at your feet.
At a glance
222,000 visitors
136,000 professional visitors
66.900 m2 of exhibition space
It´s a great opportunity to visit stands from places you haven´t travelled to yet. Many of them have elaborate stands with dramatic displays to attract your attention. Some even offer typical food or have shows planned to draw in the audience. Its a great place to spend a day if you love to travel or want inspiration for your next trip abroad.
FITUR: The Basics
Where: IFEMA Madrid (10 minutes from the airport)
When: Wednesday January 18th to Sunday January 22 2023
Cost: 12 euros (General entrance)
Get there by Metro: Feria de Madrid (Pink line)
If you have a Professional pass, buses are arranged from the official FITUR hotels each morning and evening. They leave from outside the hotel and drop you as close as possible after you spend the day at the fair.
Weather: Madrid is cold in January so make sure you have a good coat!
Facilities: There are several cafeterias and food outlets around IFEMA. Find them at the end of each pavillion and along the central walkway. (outdoors)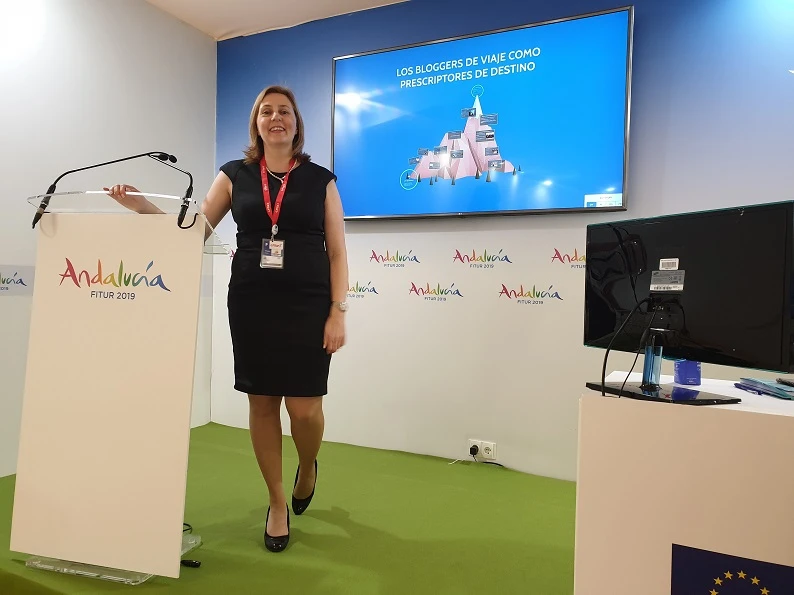 FITUR Blog Award
Each year FITUR presents several awards for different areas of the Travel and Tourism Sector. Categories include the best stand, best companies in adventure tourism, Best mobile apps and best Travel blogs.
I´m thrilled to announce that the award for the Best Travel blog was given to me in 2016.
Piccavey.com was awarded the FITUR TravelBlogger 2016 for Best Content.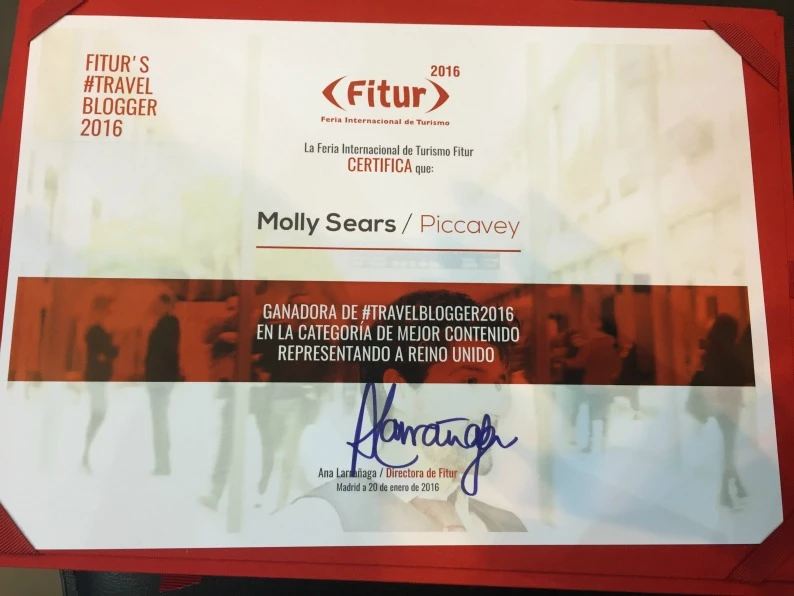 The winning blog was chosen by a panel of experts according to these factors below:
Content of quality
Integration of different communication formats
Innovative use of the medium
Frequency of publications
Overall contribution (including guest posts and article collaborations)
Outreach
Influence
FITUR for bloggers
Fitur has different events for bloggers. As well as the TravelBlogger Award there are activities specifically for blogueros de viajes. Minube usually organize an event on Saturday morning coinciding with FITUR.
Birratour is one of the most important blog events during fitur week. They organize an evening with prize draws with flights, travel vouchers, activties or other great deals. Although I usually go along to catch up with fellow bloggers I´ve not seen for a while. Its always good to meet up with potential partners and collaborators. You learn about new blogging platforms and other type of collaborations at these networking events.
Thanks, Gracias, Danke, Toda…
I have to thank lots of people who I met at over the three intense days at IFEMA.
Israel Ministry of Tourism
FITUR
Victoria & Travel Bloggers Meeting
SIXT Rent a Car
NH Eurobuilding,
Hotel Courtyard Marriott Princesa
AndaluciaLab
Turijobs
Hilton Sa Torre Mallorca Resort
Cicerone Granada
Andalucia Travel Bloggers
Artificis
Hey AV
ViacFairs
Other articles.