Visit Cordoba Spain in a Day
During the last week of June I took a weeks holiday in Malaga. But I also enjoyed a day trip to Cordoba, Spain that week too.
You may have already read the 15 Reasons to see Malaga post which I wrote after that 7 day city break. This Visit Cordoba plan was a surpise for my parents were over to see me. This private tour would be departing from our Malaga hotel and I wouldn´t tell them where we were going.
I know Andalusia quite well, so I am usually the tour guide when people visit me.
Booking this tour was my way of handing the baton over for the afternoon. Little did I know what an afternoon it was going to be!
That morning in Malaga large grey clouds loomed over the port. I expected to leave the grey weather behind as we headed east to Cordoba. Cordoba is always hot and sunny.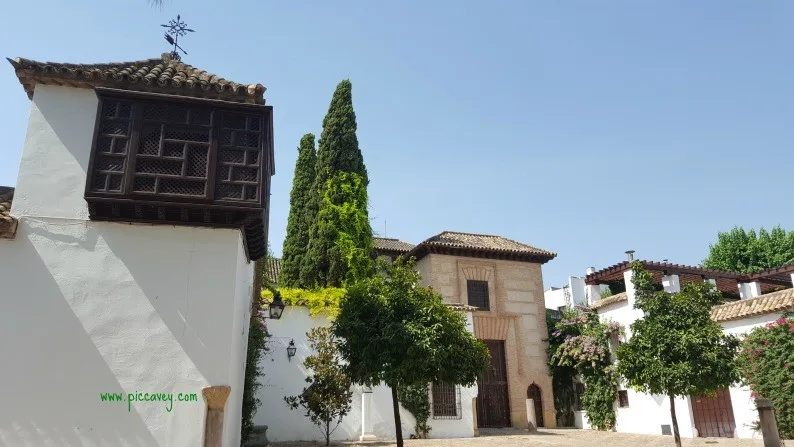 Visit Cordoba in Spain
So we left our city centre hotel at 2pm sharp. Manni picked us up in a roomy car. He briefy commeted the possibility of storms throughout Andalusia. I didn´t take much notice as it was clear to me that we would leave the clouds in Malaga.
We were driven to Cordoba smoothly. Manni pointed out the olive groves and countryside along the way. As we got closer to the city, my parents had worked out that we were heading to Cordoba. At this point some ambient music helped to set the scene as we approached the historic city.
I must say at this point I know Cordoba pretty well. I have visited many times over the last few years. I stayed for several days on different occasions. So on this tour I imagined that my parents would enjoy it and I would just stroll around, enjoying the view.
Posts written about Cordoba:
We began our tour on the edge of the city walls. Explanations of the history of the city were informative but never boring (or too long). The route lead us along beautiful narrow streets and through quaint squares. We stopped off at different points to see things of interest. The Synagogue dating back to 1315 or the enchanting setting of the zoco artesano.
Not too long after beginning the tour large drops of rain began to fall. Manni quickly ushered into a charming Taberna nearby. As the rain came down in a summer storm, we were comfortably enjoying a Montilla Moriles tasting. This sweet wine produced in Cordoba was a delight to discover. We tried six varieties. My personal favourite, a Pedro Ximenez, had won over 100 awards. It stood out from the others. A complex blend of flavours. I could pick out honey and raisin notes.
After this masterclass in Cordoba wines we continued along, the walking never became tiring. Every now and again we took little stops to stop for a drink. One such stop was a fabulous rooftop terrace with views across the city and the mezquita. On another stop we got to see a leather maker working his craft and could browse the shop too.
Dinner was a great choice. The restaurant selected was in a narrow cobbled street, the place specialises in sefardi cuisine. They had the delicious aubergines in honey which I love. The place had it´s own typical Andalusian patio and a charming atmosphere.
Mosque of Cordoba
The highlight of the tour was the visit to UNESCO monument, the Cathedral-Mosque of Cordoba Spain. The nightime visit is more intimate as group numbers are small. On this tour parts of the monument are illuminated as you hear explanations through an audio guide. The audio guide in english language was excellent, they had many languages to choose from. The experience was quite different from seeing the Mosque in the heat of the day with crowds of tourists.
As we left the mosque behind, we end the day trip by crossing the Roman bridge to leave the city. We were able to take photos from across the river of the bridge with the mezquita lit up in the background. We only shared the stunning view with a few bats circling above us.
Although I was only on the tour to go along with my parents I enjoyed it as much as they did or more. I hadn´t realised I was going to be shown a different Cordoba. The timing was impeccable, the combination of culture and local cuisine was well balanced.
Please Note: This post contains affiliate links, which means that if you click through and make a purchase, I will receive a small commission. All thoughts, feelings and opinions shared on this blog and in this post are my own.