Lorca in Granada
One of the most famous Granadinos is Federico García Lorca. A playwright, a poet and theatre director born in 1898. Considered the best Spanish poet of the 20th century.
I read ´La Casa de Bernada Alba´ for my A Level Spanish Literature. Since then I have learned more about Lorca.
In this post I decided to delve into the world of Federico García Lorca retracing his steps around the Granada region.
Birthplace of Lorca, Fuentevaqueros
The logical place to begin my research is the poets Birthplace. A house in the town of Fuentevaqueros and where Lorca lived for most of his childhood. To get there it is just a short drive from Granada. (22kms)
Find more details about the Casa Natal of Lorca .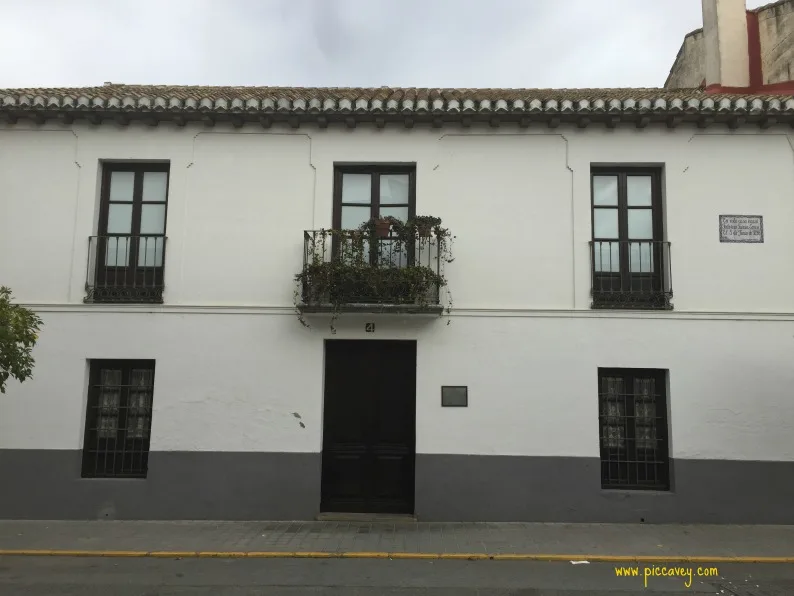 The house is open for visits. The guided tours are done on a specific timetable.
As you walk through you will notice original furnishings. The third floor was originally a granary.
This space is now used as an exhibition area. Each season the themes are changed and updated.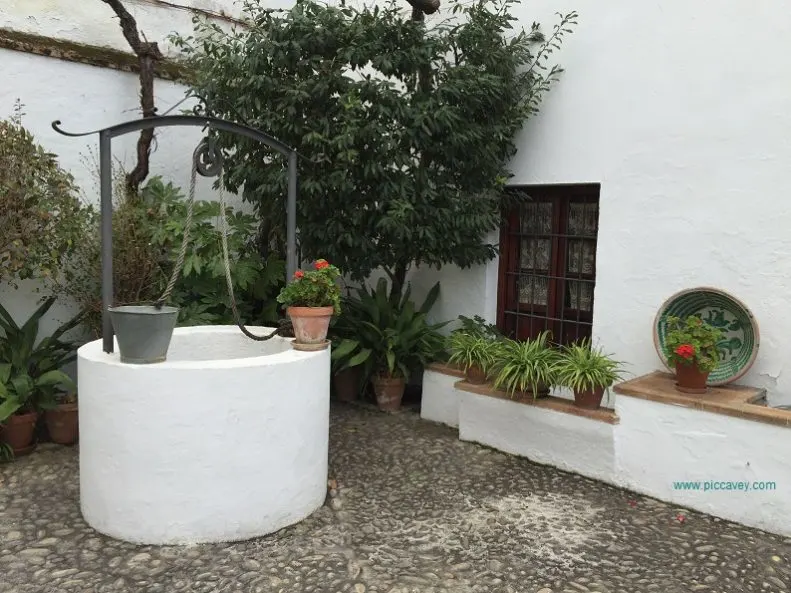 Lorca Casa Natal
Federico Garcia Lorca´s Birthplace – Guided tour times
Address: C/ García Lorca, nº 4 18340 Fuentevaqueros, Granada
Closed Mondays & Sunday afternoons
April to June 10am, 11am, 12 noon, 1pm 5pm and 6pm
July and September 10am, 11am, 12 noon, 1pm and 2pm
October – March 10am, 11am, 12 noon, 1pm 4pm and 5pm
Its best to arrive 15 minutes before the tour begins.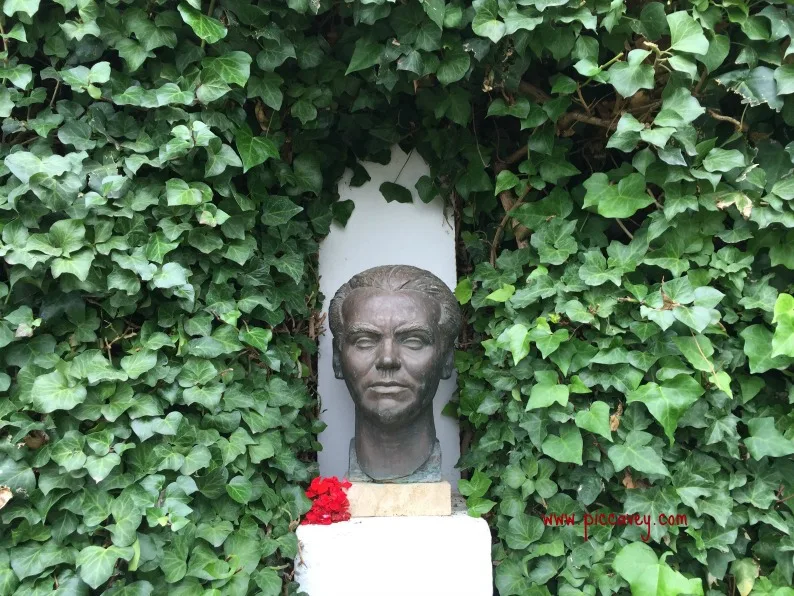 Centro de Estudios Lorquianos
In the same town as the birthplace, just a short walk along the main road of Fuentevaqueros, is the Centro de Estudios Lorquianos.
This exhibitition space makes a good spot should you have to wait until the next tour.
Some of Federico Garcia Lorcas illustrations are here amongst other documents such as photos or press cuttings.
Centro Federico Garcia Lorca – Granada
The Centre of Federico Garcia Lorca in the historic centre of Granada opened in 2015. Close to Granada cathedral on Plaza Romanilla, this cultural centre aims to promote and educate on the works of Federico García Lorca.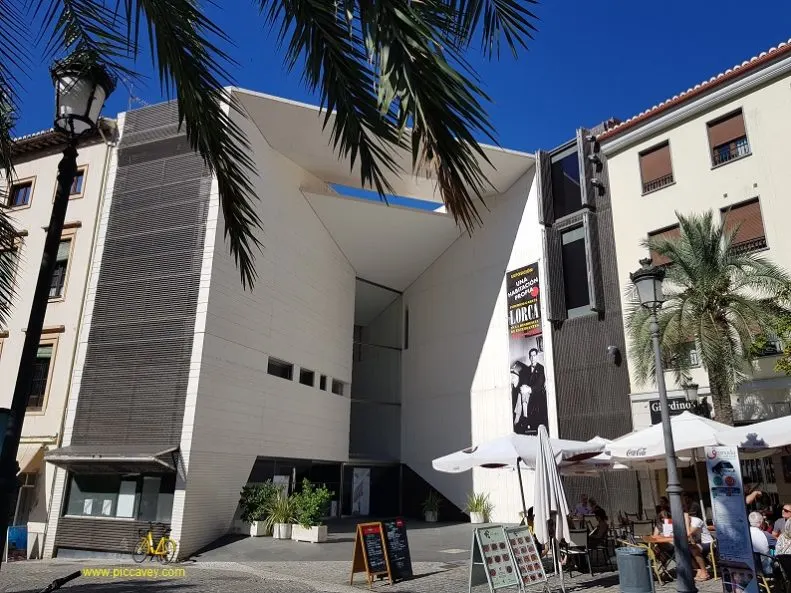 The main exhibit is the manuscripts and documents of Federico García Lorca. 5000 original manuscripts will be stored inside this cultural centre. There are also plenty of activities such as performances, recitals and exhibitions.
More information about: Centro Federico García Lorca
Opening Times Centro FGL
Closed Mondays
Sundays 11am to 2pm
Tuesday to Saturday 11am to 2pm + 6pm to 9pm (summer)
Tuesday to Saturday 11am to 2pm + 5pm to 8pm (winter)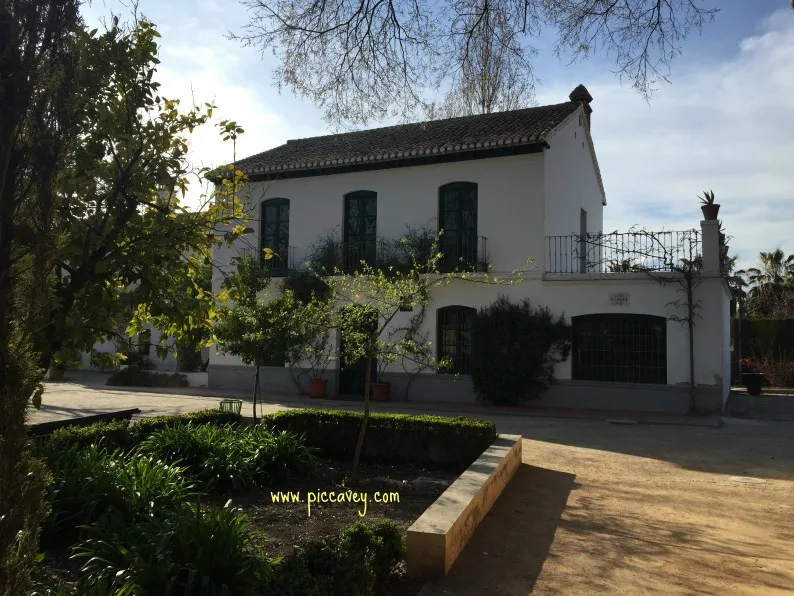 Huerta de San Vicente
The highlight of my research was visiting the Huerta de San Vicente. His father purchased this building in 1925. A summer residence outside the city (now it´s located in the city itself) They lived there until 1936.
Declared a public park in 1995 named after the poet ´Parque Federico Garcia Lorca´ It is on Calle Arabial with Calle Virgen Blanca.
The guided tour is done in Spanish, but just ask and the guide will kindly explain in english too.
The furniture is original and there are some paintings and photos in the house too. In one of these rooms Lorca wrote several of his most important works.
To take the guided tour its 3€ for Adults and 1€ for children
Open Tuesday to Sunday. Closed Mondays
Open Mornings 9:15am – 2:15pm
January, February, March, October, November, December.
Afternoons 4:00pm – 7:00pm
April, May, from June 1st to 14th, September 16th to 30th
Afternoons 5:00pm – 8:00pm
from June 15th to September 15th
Mornings 9:15am – 2:15pm

F.G.Lorca – Notable places
In the city of Granada there are many key places that we can visit to recreate different times in F.G.Lorcas life. Just to name a few the Patio de los Aljibes inside the Alhambra palace or the Rosales family home on Calle Tablas. Manuel de Falla Museum in the Albaicin. Carmen de los Martires and the Hotel Alhambra Palace are locations which were important in Lorca´s life.
Theatre at Hotel Alhambra Palace
The first competition of Cante Jondo was at the Hotel Alhambra Palace. This was the first recognition of Flamenco as an art form. This festival of Cante Jondo inspired his Romancero Gitano (The Gypsy Ballads) which is one of Lorca´s most recognised poetry collections.
In 1929 the theatre inside the hotel was the venue where Lorca premiered his Mariana Pineda play. Salvador Dali was a close friend of Lorca´s. Dali designed the scenery for that play in the late 1920´s.
(
Restaurante Chikito
The restaurant was originally called Café Alameda or Gran Café Granada. From 1915-1929 this café where Lorca and his literary friends would meet to recite poetry and socialize.
Known as El Rinconcillo. This cultural movement of local intellectuals in the 1920s. Supported by international figures such as H.G Wells or Rudyard Kipling.
Now this is a typical Granada restaurant called Chikito. Inside there is a life size sculpute of Lorca, sitting in a corner of the dining room. Also notice an original white column in the centre of the room, kept from the original Café (date 1909)
Private Tour of Lorca´s Granada
You can also book a private guided tour in Spanish or English language in Granada city.
This tour revisits the university building where he studied and the house where he was arrested.
Lead by experienced guides this 2 hour route gives you an insight into the Poet´s early life and final days in Granada.
or choose
La Casa de Bernarda
The House of Bernada Alba, written in 1936 was probably his best play. Set in a small town called Valderrubio where Lorca would spent his summers. The summer house owned by the family until 1926 is now the Museo Garcia Lorca de Valderrubio.
Opening times are Tuesday to Saturday from 10am to 2pm.
More information: Museo Lorca Valderrubio
Casa de Bernanda de Alba in Valderrubio is now open for visits.
(opening times not yet confirmed for 2019)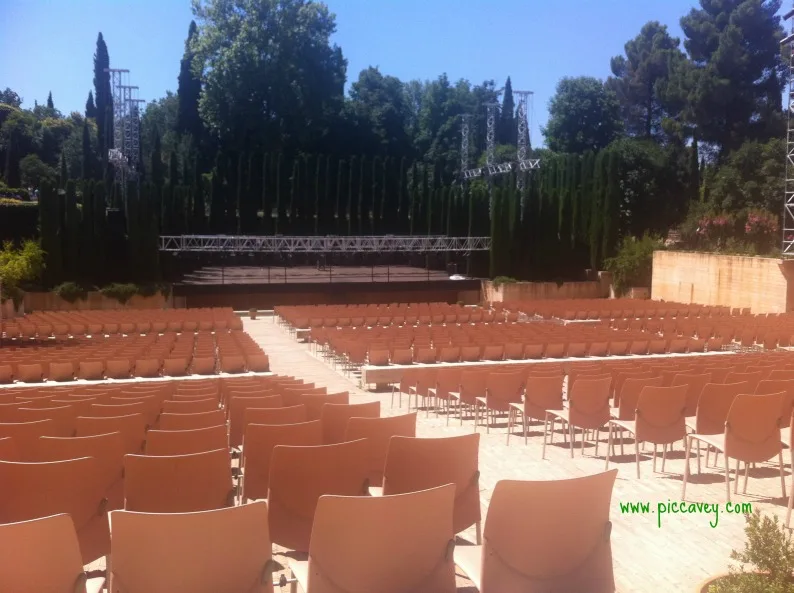 Lorca & Flamenco
To keep alive the spirit of Lorca each year the Andalucian Ballet perform in the Generalife theatre. Remembering the Cante Jondo competition in 1922 which Lorca created, the most notable event in the genre. Flamenco and poetry performances take place on summer nights in July and August.
Each year the show changes but it is always themed around Lorca´s work.
For more details and tickets: Lorca y Granada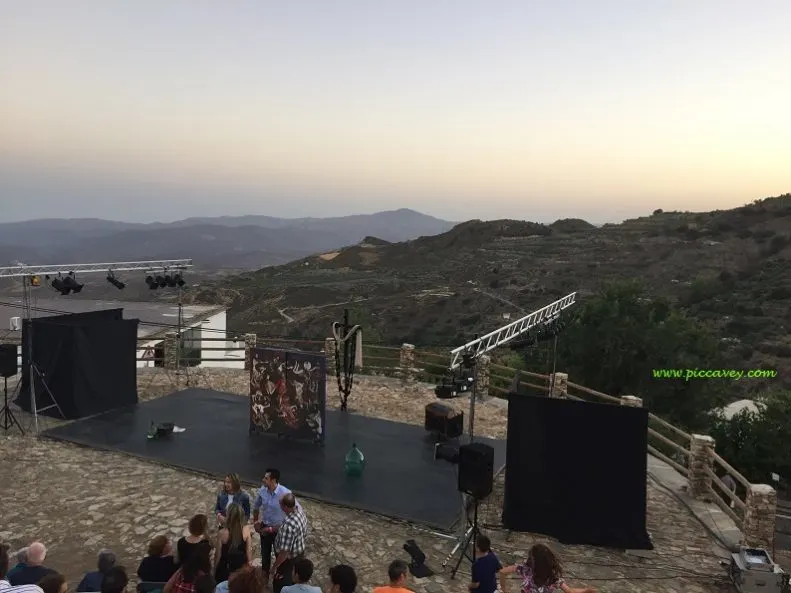 Me Vuelves Lorca
In Laroles, a small village in the Alpujarras, the outdoor theatre has a summer festival with some Lorca plays.
With a summer programme on Weekends throughout July and August each year the plays and performances change.
Find out more at: Me Vuelves Lorca
Cortijo del Fraile
The Cortijo del Fraile in Nijar Almeria inspired the 1933 play Blood Wedding. Bodas de Sangre. This play was the first one to achieve major theatrical sucess.
Pictured here is the farmhouse and actual site where the true events took place.
Built by dominican monks, it became privately owned in 1836.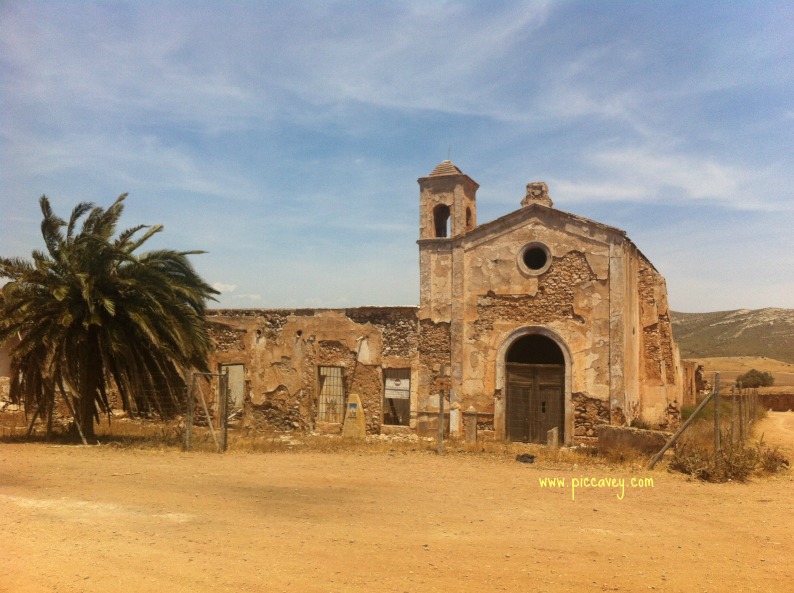 Blood Wedding
The story is along these lines:
A young woman lived with her father here in the 1920´s. Her father promised her hand in marriage to an agricultual labourer, Casimiro. However she was already in love with her cousin, Francisco. They decided to run off together one summer night in July 1928. Francisco came on horseback to take her away. After eloping they were found by Casimiro´s family. They waited for them at a crossroads with guns. Francisco was shot and died. The bride was badly injured but survived.
To visit the Cortijo del Fraile in the Cabo de Gata area, close to the town of Los Albaricoques and continue along the road 5 kms.
Blood wedding is still one of the most popular Lorca plays and is often in Spanish theatres today.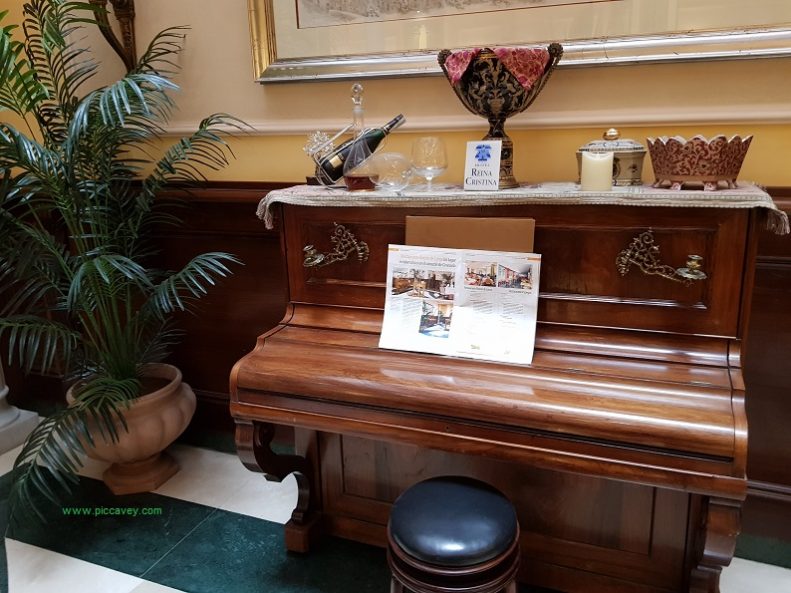 The Death of Federico Garcia Lorca
Lorca was killed on 18th August 1936. Just outside Viznar, a town to the north of Granada. There is a commemorative plaque on the site of his execution. The circumstances around his death (the exact date and time) are not quite clear. There are many articles and books about the series of events leading up to his death.
Details of events during the civil war are sketchy. It is difficult to know exactly how things transpired.
The search for Lorca´s body is ongoing. Excavations over recent years have not discovered his final resting place.
This photo above of the Piano is inside the Hotel Reina Cristina this was previously the home of a family called Rosales. Good friends of F.G Lorca. He was at the house for sometime until they arrested him. Locals say that the sounds from this piano was a giveaway to his location. (the exact piano is still there, shown above)
The Legacy of Lorca will live on through his illustrations, poetry and plays.
Please Note: This post contains affiliate links, which means that if you click through and make a purchase, I will receive a small commission. All thoughts, feelings and opinions shared on this blog and in this post are my own.