On a hot August day I´d planned a girls spa and shopping outing. As it was going to be a hot one in Granada, I decided to head over to Malaga. The city of Malaga is on the coast so the temperature is often lower than Granada in Summertime.
We headed off on the ALSA bus from Granada that morning for our day out.
Culture at Picasso Museum
After the 90 minute bus ride, we arrived to Malaga and headed straight to the Picasso Museum. I already visited the Picasso Museum in Barcelona many years ago. As I am not a big Art fan, my expectations were not high. When we got inside the entrance hall I realised that this Museum was a very popular one. The building was worth visiting itself, it is an historic site. The basement has Roman and Phoenician ruins which you can see after your visit the Picasso paintings.
I do like to wander around a gallery every now and again. However I did find the presentation of women in Picasso´s work quite challenging. He certainly doesn´t paint ´pretty´. I think that Cubism is not really for beginner art buffs. Saying that there were several pieces along the walls that I found breathtaking.
As usual my favourite part of the visit was the museum shop.
My verdict: Worth a visit if you enjoy art or historic buildings. If you know anything about Cubism or Picasso you will love it.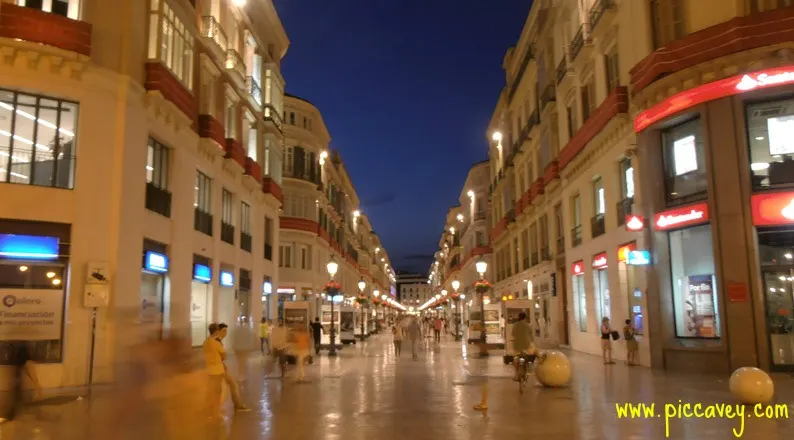 Shopping on Calle Larios
After the visit we got chance to head to a few shops around the Calle Larios and Plaza de la Constitucion. Other stop off points are Bimba and Lola (they have more stock rotation than the Granada stores) and a few shoe shops.
My verdict: I love shopping anywhere. Malaga has a good selection of brands and stores.
Food at El Pimpi
We stopped off for lunch at El Pimpi. Yes it may be touristy, but as my friend had never been to Malaga before I couldn´t resist heading there for lunch. The Malaga Fair was going to kick off in a few days time, so the decorations were already up inside the restaurant. Bar El Pimpi is huge. It feels cosy inside as the rooms are small, and there are lots of them. Full of black wine barrels with famous signatures on, El Pimpi is what it is. Great fun and an institution in Malaga.
My verdict: Everyone needs to go at least once. (I´ve been at least 8 times by now and still love it)
Hammam Al Andalus Malaga
At 4pm we had our appointment at Hammam Al Andalus. This is close to the Museum Carmen Thyssen. (address: Plaza de los Mártires, 5) I had already visited Hammam in Granada last year so I pretty much expected a similar experience.
However I was completely surprised when I went inside.
The building at the Malaga Hammam is vast. 1300 square metres of space. On that August day there were only 3 other clients, me and my friend. So we could have whole pools and rooms to ourselves. It really felt like I was Arabian royalty. The photo above was pretty much how my experience was.
After trying most of the pools and the hot stone too, it was time for my massage. At the very beginning of the session I found a selection of essential oils in one of the corners of the Hammam. They had small glass containers where you could smell the oils and read about their properties. I chose Rose oil as I thought I was probably the most typical one of the Arab time. Others were red amber, which smelt exotic, Fruity Pomegranate, sweet smelling Jasmine or Relaxing lavender.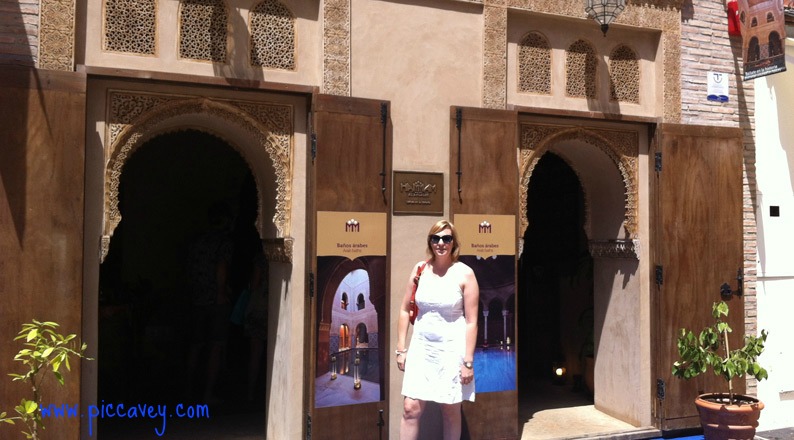 The walls of the Hammam were decorated lavishly in a similar style to the Alhambra palace, with domed ceiling and endless archways and columns, it was really an unforgettable experience.
In Summertime they offer a joint ticket which is the bath and massge with a boat ride included. The Boat trip leaves at sunset in a traditional sail boat around the port. As we were staying in Granada our timetable didn´t work out. The last bus from Malaga left before the boat got back. I have an excuse to go back that way another time.
My verdict: Indulgent, relaxing, fabulous. Need to get back sometime to do the Cava Sunset Boat trip.
Ice cream at Casa Mira
So as our lovely day came to an end we popped over to Casa Mira on Calle Larios. This is a Turron and Ice Cream shop, open since 1890. I had a delicious strawberry ice cream even though the best seller their is Turron (spanish nougat) flavour.
My verdict: Yummy ice cream on the beautiful Calle Larios. A perfect end to a perfect day.
Enjoy your own day out in Malaga too