Spanish Churros
On the 7th Series of the Great British Bake Off (Series 7 Ep.4) the showstopper challenge was Spanish Churros. I noticed quite a few blips when they talked about Churros throughout the programme. The trend for churros in the UK even hit the supermarkets. One offered Churros with a savoury red pepper sauce this season. Not exactly authentically Spanish.
So lets take a look at Churros in more detail. Where does the tradition come from and how are they really eaten in Spain.
Churros for Breakfast
In Spain Churros are typical for Sunday breakfast or on festival days. It´s also popular to have them after a long night out at 6am before you totter home. Often people pop out on Sunday mornings to get a lot of Churros to take home to share with the family. You see them wrapped up in a white paper bundle.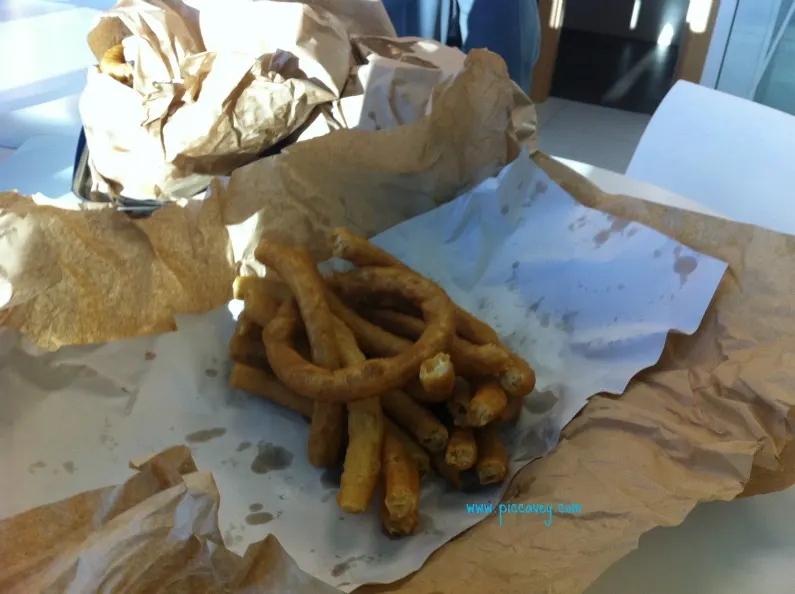 Churros for Dessert ?
Spanish Churros are also eaten in the afternooon for a snack (particularly on rainy or cold days). In Southern Spain thats around 6pm or so. (lunchtime is usually around 3.00pm and dinner 9.00pm or 9.30pm)
Churros are not eaten for dessert as they are fried and can feel a little heavy. It´s a breakfast item or an afternoon snack in Spain.
The Origin of Churros
A history of Churros in Spain
Originally created by Spanish shepherds, they made this batter mix and used an open fire to heat the oil. As they were away from the village bakery this substituted baked goods when they were out on the hills. The name of Churros comes from the Churra sheep. The fried shapes are similar to the horns of the Churra sheep breed.
Buñuelos, which are oval shaped doughnut like treats are thought to be older than churros and are still made across Spain today. Locally in Granada province they are traditionally served with Sugar Cane Syrup/Molasses known as Miel de Caña. Of course sugar cane was available locally much earlier than chocolate was.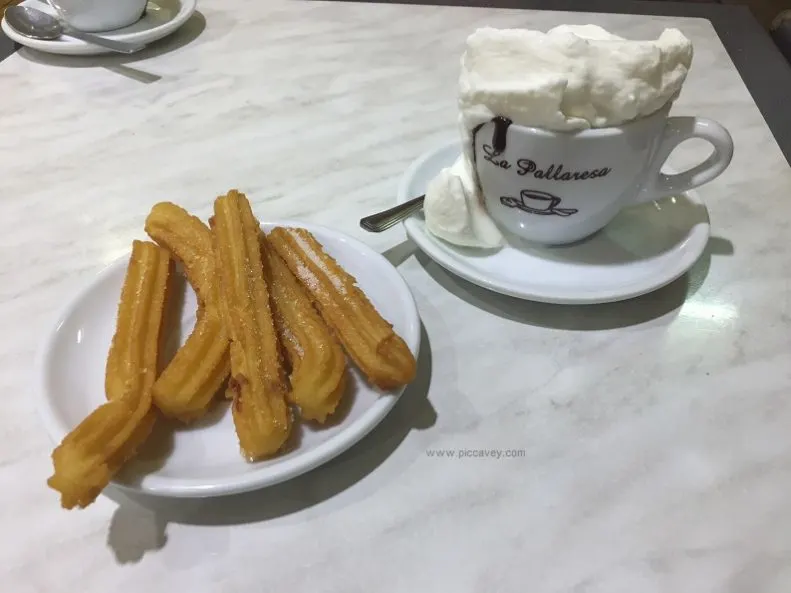 Churros con Chocolate
There are some other references to the origin of this food being from China or Portugal. However most sources point to the Shepherds origin. I imagine that the history has been lost in time and it´s maybe a combination of the two. Churros is the plural version of the word and Churro singular.
You can taste a churro or eat some Churros. You can´t taste a Churros even if Paul Hollywood does ; )
Different Kinds of Churros
Churros are made in a large round pan with oil. As they mentioned they drop the mix straight into the pan and each one comes out different. Sometimes they even make a wheel. A large spiral of churro mix.
The typical style is not filled or shaped in Spain. It´s just fried dough. Sometimes dusted with sugar on the outside. They serve it will thick dark chocolate or sometimes with café con leche.
Are churros vegan?
This depends on the way that they are made. Technically yes if the oil is plant based (olive or sunflower) as the flour mix does not contain animal products. However you need to check as some churros are made in different oils or fats depending on the bar making them.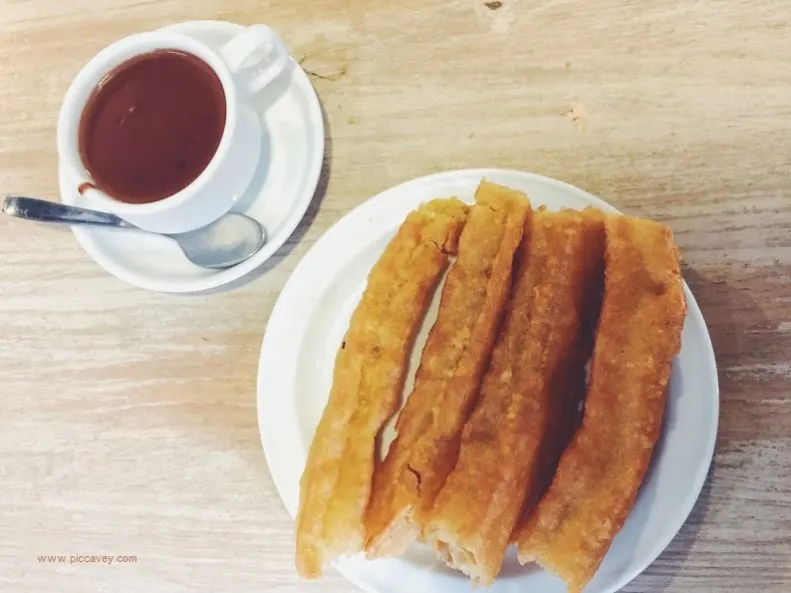 Porras
To complicate matters some places in Spain call Churros by another name, Porras. It that depends on the region. In Andalucía Churros are slightly smoother and don´t have the ridged edges.
In Madrid to get Churros you need to ask for Porras which confuses me. Every. Single. Time.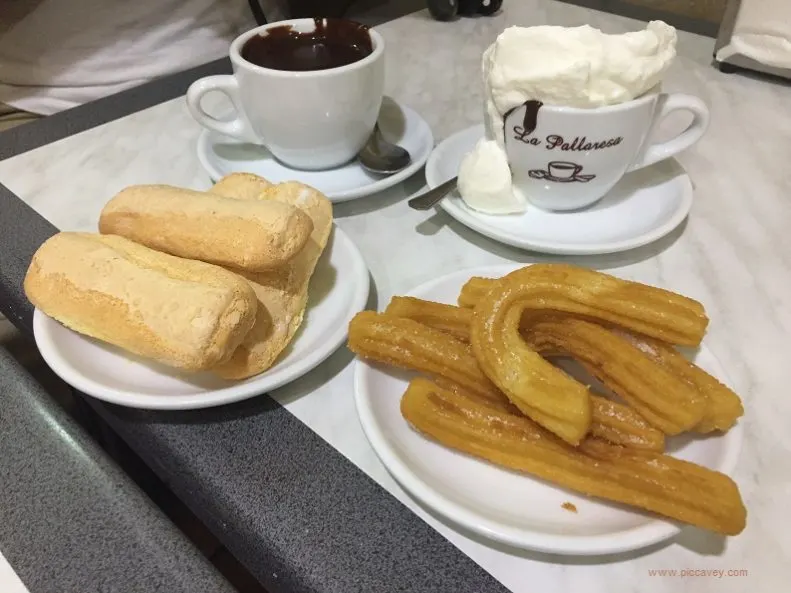 What are Porras?
These are ´sticks´ a little chunkier and sometimes filled with yellow or pink coloured cream or chocolate. You see this often a fairgrounds in Spain, next to the Candy floss. The remind me slightly of Italian Cannoli.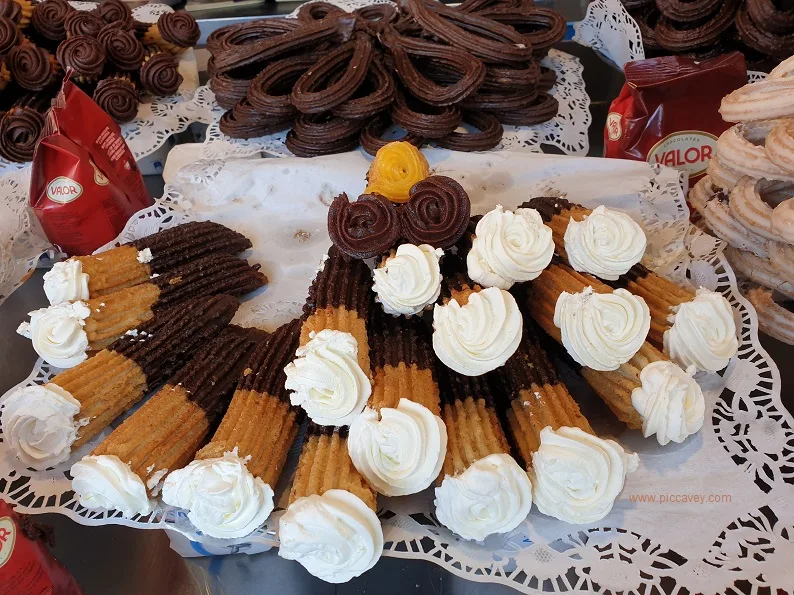 Lazos
These are slimmer shaped. They link at the top in a teardrop shape and seem a little drier to me than the churros. You can also find them in the frozen section of Spanish supermarkets too. They are crispier and less spongey.
The photo below is of lazos in a paper cone.
Churros Recipe
So on the showstopper of last night Bake off the Winning Churros were the Tropical flavoured ones. Actually they are Lazos (bows) rather than Churros.
Here´s the recipe: BBC Food-Tropical Churros
Churros in Spain
And of course here´s the recipe for Proper Churros, Spanish Style BBC Good Food – Churros in case you were left actually wanting the proper ones.
Where to buy Spanish Churros
Some of the places I´ve enjoyed Churros over the years in Spain.
Churros in Madrid and beyond
Madrid – The most iconic place is Chocolatería San Ginés, its been trading since 1894. You can even take the Guided tour of this emblematic place in the capital. Address: Pasadizo de San Ginés, 5, 28013 Madrid
Barcelona – Granja M Viader, Next to La Boqueria Market
Barcelona – Granja La Pallaresa on Calle Petrixol
Granada – Café Futbol on Plaza Marina Pineda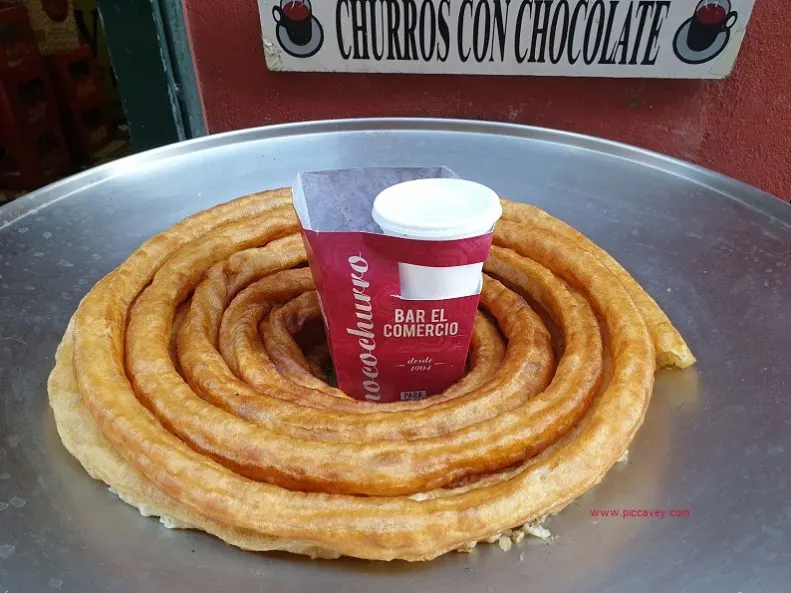 Marbella – Churrería Ramon on the corner of Plaza de los Naranjos in the Old Town. Probably the best I have ever had.
Seville – Bar El Comercio – Calle Lineros. Trading since 1904 its the most well known place to eat in or take away in Sevilla.
Malaga – Casa Aranda on Calle Herrería del Rey, close to Atarazanas Market has been trading since 1932.
El Puerto de Santa Maria – Los Churros de Charo at the Mercado de la Concepción Open from 8am to midday daily.
Jaen – Montana on Calle Cerón, 2, Jaén
Gijon – Café Dindurra or Café Central
El Campello / La Villajoyosa Alicante – Chocolateria Valor
Expect to pay around 4-5 euros for a hot chocolate and Churros for one.
Please Note: This post contains affiliate links, which means that if you click through and make a purchase, I will receive a small commission.
All thoughts, feelings and opinions shared on this blog and in this post are my own.