Street Food in Spain
Street Food in Spain is not so common as eating well is an important part of Spanish life. In this part of the world great pride is taken in selecting local produce. Local also stick to seasonal dishes. Eating on the street or grabbing something quick is not so common in Spain as it is in some other European countries.
Andalusia tends to do outdoor food when it´s the Feria or on special fiesta days.
These are some of the more typical street food dishes you can try in Southern Spain
Jacket Potato – Papas Asadas
Probably one of my favourite Street Food options. Spot the old fashioned Victorian style ovens on street corners. These appear when there is a procession or large crowd expected. Usually next to the oven is a stall where they prepare the food. Fluffy potatoes served with cheese and butter.
Roast Chestnuts – Castañas
These stalls begin to pop up on street corners and squares in Autumn. The smell of the seasonal hot chestnuts lingers in the air. Street vendors have an improvised fire inside a large tin drum. The chestnuts are roasted in an old frying pan and served in paper cones. As well as being a natural snack, it warms your hands on cold days as you walk around the city.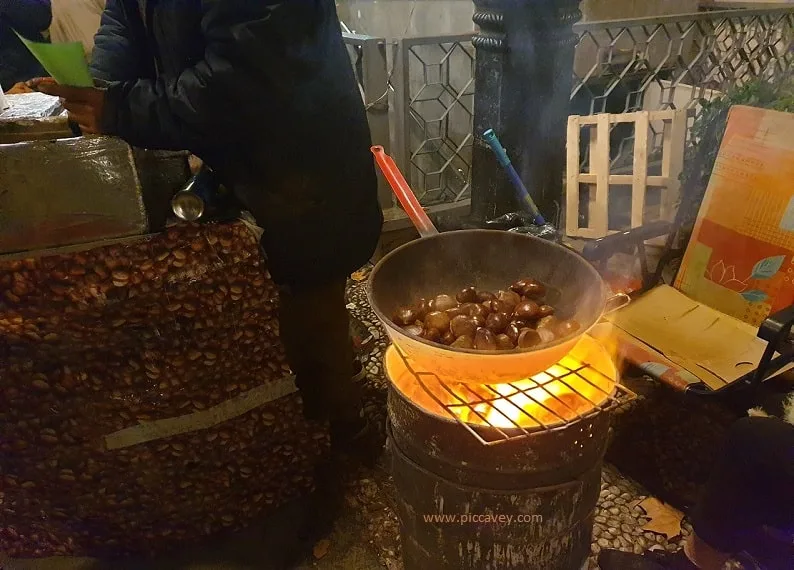 Sunflower Seeds – Pipas
These are sold on street stalls and in Kiosks too in large bags. The black and white stripey husks can often be spotted on steps and next to park benches. Children and teens love these snacks and are really popular in Spain.
Sandwiches – Bocadillo
If you have to get lunch on the run in Spain the best bet is a Bocadillo. Usually made on crusty baguette bread. The most popular options are Spanish Ham and Manchego cheese. Grated Tomato and Olive oil moistens the bread intead of butter or margarine spread. Some bars have a selection of hot and cold fillings. Most places will happily prepare them for takeaway.
Slush puppies – Granizado
Usually Lemon flavour, this refreshing drink made with ice is called granizado de limon in Spanish. Sometimes you will find coffee or orange varieties too. It´s a good way to enjoy your coffee on hot days with a Granizado de Café.
Chocolate Cake – Cuña
Cuña in Spanish translates to wedge. This triangle shape sponge cake is always popular. Especially with hungry school children on their way home from school. As well as these chocolate cuñas there are plenty of other sweet pastry varities too. Croissants, Cañas and Palmeras are popular in Andalusia.
Churros with Chocolate
Whenever there is a fiesta (mostly Spring or Summer months) main villages and towns have a band on and dancing in the main square. To end the festivities in the early hours, hot chocolate and churros is brought out for all the revellers. Known in Spanish as ´ La Chocolatada´ you can also improvise you own by buying Churros in food trucks along the street or in small kiosks.
Higos Chumbos – Prickly Pears
In the hot summer months street vendors sell prickly pears already peeled and chilled. These brightly coloured fruits are full of antioxidants and fibre. If you get them really cold it´s like a fruity ice lolly.
Prickly pear cactus are covered in fine spiky needles, this makes it quite a task to pick them and prepare them. getting them ready peeled save you from tackling those sharp spines.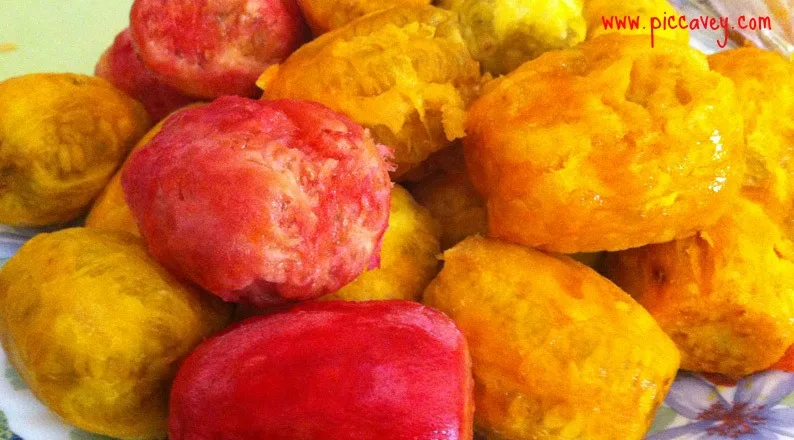 Ice Cream – Helados
The obvious street food choice in Spain is Ice cream of course. In Malaga check out Casa Mira and in Granada Los Italianos. Check out the house speciality. In the Casa Mira on Calle Larios in Malaga it´s Turron (Spanish nougat flavour) and in Granada at Los Italianos on Gran Via there speciality is La Cassata. The Orange flavour ice cream is also very popular as it tastes so natural. Los Italianos is open from Mid March until Mid October.