Barcelona is one of those fabulous places in the world that boasts a mild climate year round.
From March to May, it´s a great place to visit as the temperatures are warmer but it´s not as busy as summer months.
I am often asked about Things to do in Barcelona as I lived there for 8 years and know the city well. Here are some ideas from my recent visit that work well especially in Springtime.
Things to do in Barcelona
Casa Batllo
One of my favourite sights in Barcelona is the façade and rooftop of Casa Batllo. Located on Paseo de Gracia this Gaudi building is stunning both inside and out. Built in 1877 for a local textile merchant and buinessman, it has 6th floors.
More information: Casa Batllo
The visit takes around an hour. They are open everyday throughout the year from 9am to 9pm.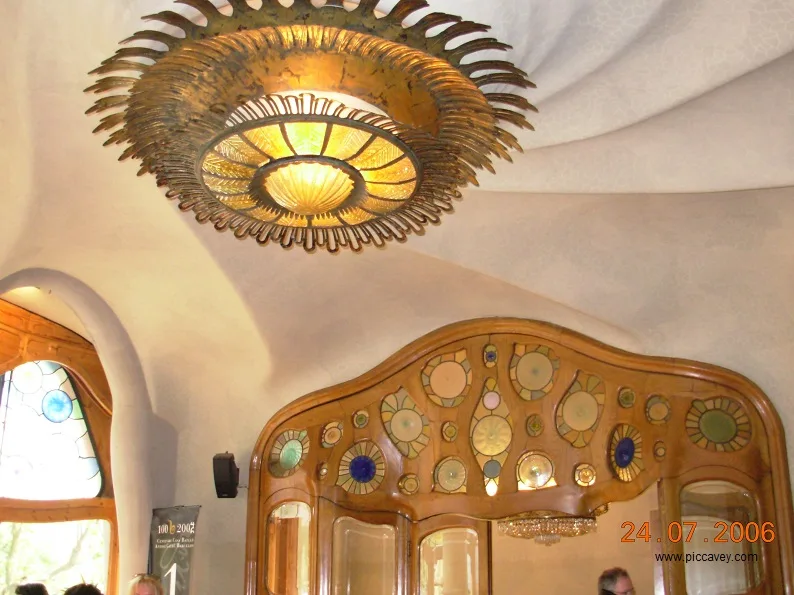 Literary route in Gothic Quarter
Two bestselling novels set in Barcelona are The Shadow of the Wind and The Cathedral of the Sea. Both books recreate the city of Barcelona in years past. If you read these books, the descriptions of some locations around the city will be familiar to you.
The narrow alleys around El Gotico and the magnificent Santa Maria del Mar, close to the sea will take you back into the story and even back in time. Many retrace their reading by walking through specific streets in Barcelona when they visit the city. There are even some dedicated tours for this now.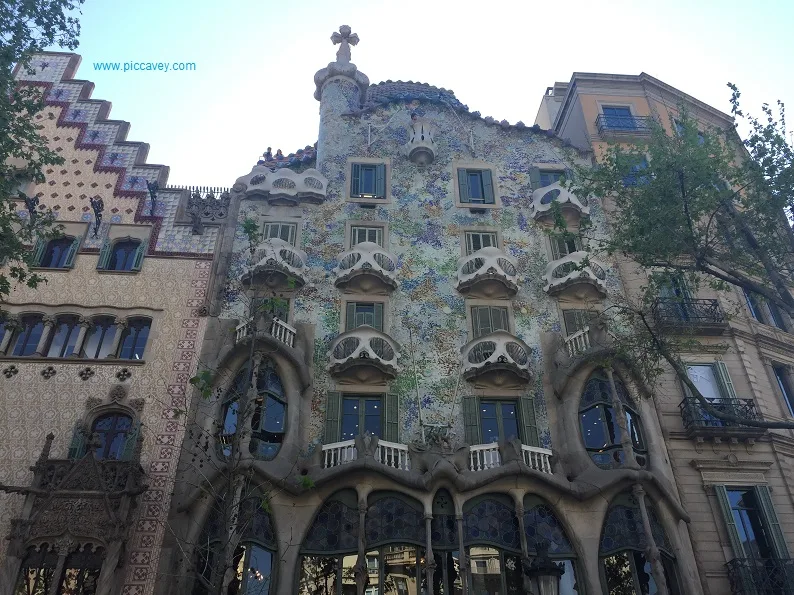 Maritime Museum
This impressive museum at the foot of the Ramblas has a historic exhibits and even a large ship inside the building. This galleon ´Real de D. Juan de Austria´ always impresses visitors. Some of the maritime stories are dramatic and thrilling. Drassanes was originally used as the arsenal for the ships of the Aragon kingdom. Built in the 13th century its purpose changed over the centuries.
Originally a Roman graveyard, it then became a shipyard. At one time there were even plans were to build a royal palace at this site. Then in 17th and 18th centuries it was used as a military barracks. Later in 1935 the building was gifted to the city and converted into the Maritime Museum.
For visitors nowadays there is also a comfy café opposite the museum entrance. A quiet place to stop off after your visit to Drassanes. If you are spending a few days in Barcelona as there is so much to see. It´s worth looking into getting more value with a Barcelona City Pass you can save more by buying ahead of your arrival.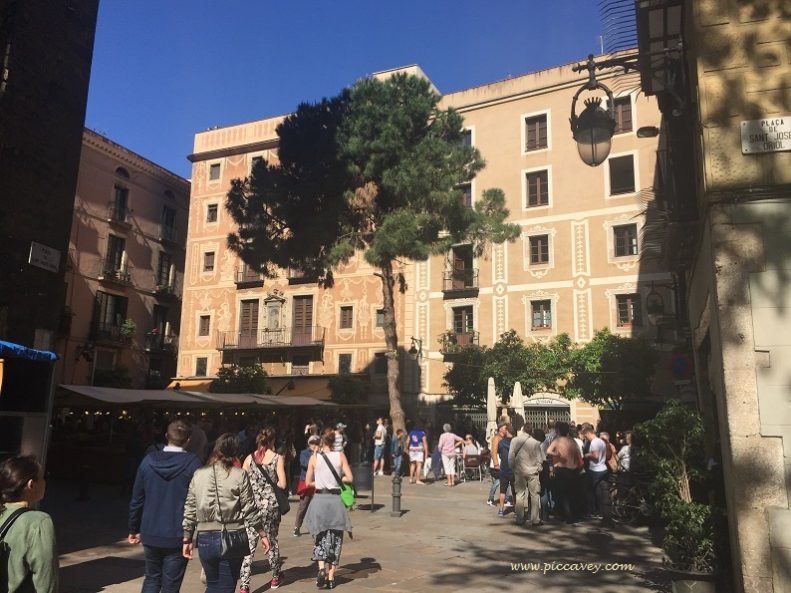 Barcelona in spring
Another great travel resource for time pushed travellers is this luggage storage in Barcelona leave your suitcase and belongings securely at this locker. Then you can maxime every hour that you have in the Catalan capital.
Feria de Abril
La Feria del Abril de Cataluña is held in the last week of April. This year it will be from 30th April until 7th May. Flamenco and fairground rides are set up in the Forum area of the city. Not quite as authentic as the Andalusian fairs down south but lots of fun and colour all the same.
They usually have around 50 casetas set up on the ferial. Perhaps not the most obvious of Things to do in Barcelona but it´s lots of fun all the same.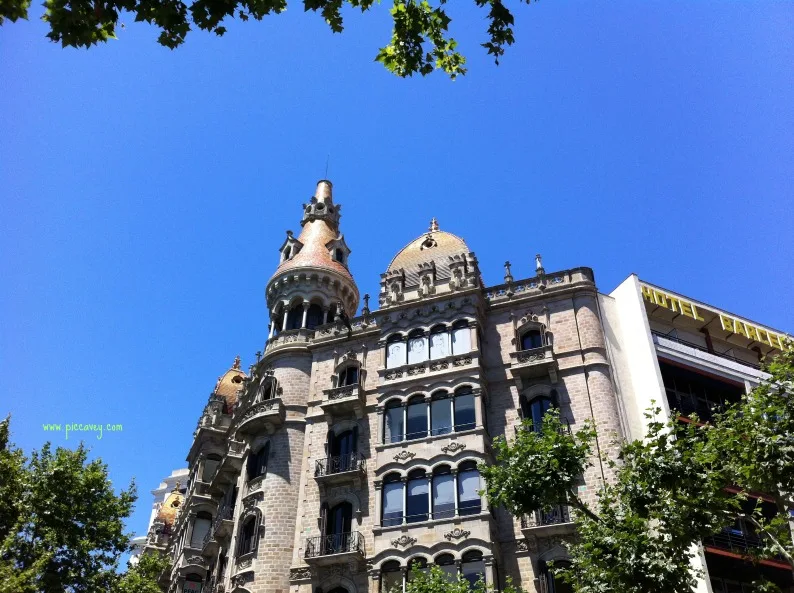 Sant Jordi
The 23rd of April is Sant Jordi. The festival of Saint George in Barcelona is all about books and roses. This festival is the same date as International Book day. The day in history when Shakespeare and Miguel de Cervantes died. It is also the day of the Patron Saint of Cataluña.
The legend of Saint George recounts a princess kidnapped by a dragon. A gallant knight, named Jordi rescued her fighting the dragon. When he plunged his sword into the dragons heart a rose emerged. There are similarities between San Jordi and Valentines. Boyfriends, girlfriends, husbands and wives gift roses and books to each other. The tradition is popular and in some offices, companies leave roses and book tokens on their employees' desks on the 23rd April.
This festival which covers the Paseo de Gracia, Rambla Cataluña and Las Ramblas with Rose stalls and book sellers. There are often special offers on books with some stores offering 10% discounts. Other traditional activities for San Jordi are Human Towers or Castellers in the Plaza de San Jaume. They also open the Catalan Parliament building to the public. Find exact information at www.bcn.cat (section on activities in Barcelona city)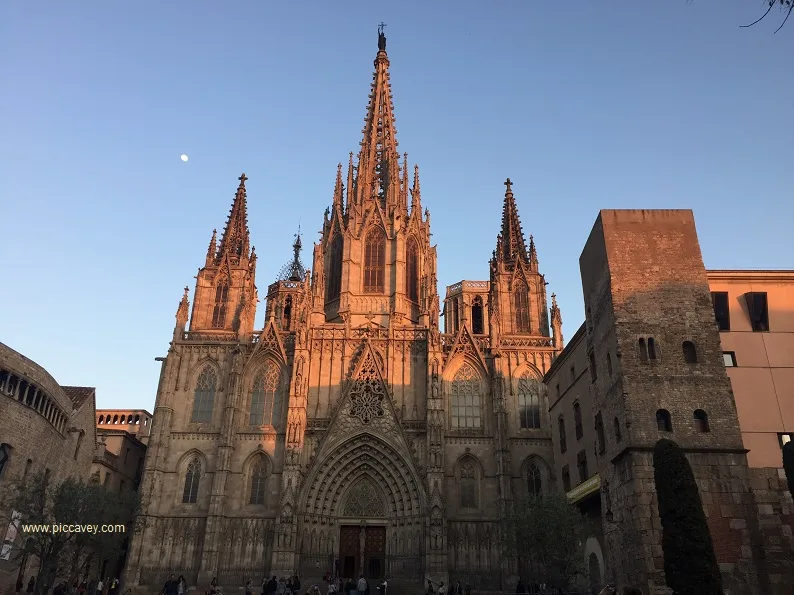 Romantic City Break in Barcelona
Barcelona Beachfront
Barcelona is not just hustle and bustle. Although it is a large cosmopolitan city, it has many beaches and open spaces to discover. Dinner by the sea is a real treat for any visitor. Restaurants such as Agua or Bestiari in Port Olympic are popular places on the seafront. Dine on local food while watching the waves break onto the sand on the coastline.
Bike rental is a great option to explore the different beaches of Barcelona. It´s an easy ride with no steps or slopes for kilometres along the seafront. You could even a trip out on one of the boats from Port Vell (at the end of the Ramblas.)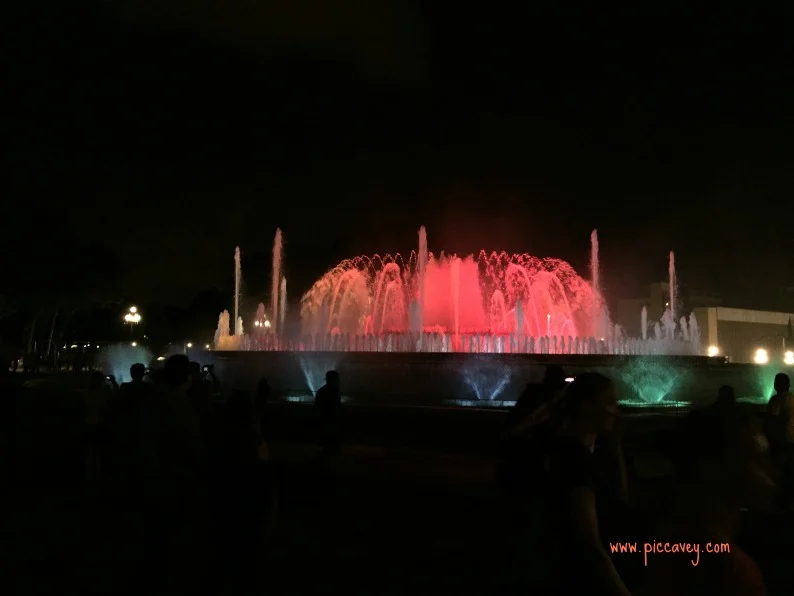 Magic Fountain
The Font Magic is a water and light show outside the Palau Nacional. (Close to Plaza España) It is free and worth the jaunt across the city on the metro. This is a memorable experience for any visitor to Barcelona. It lasts about 25 minutes and is on each weekend. Great especially if you visit Barcelona with your family
Fridays and Saturdays at 7pm, 7.30pm and 8pm November to March
Fridays and Saturdays at 9pm, 9.30pm and 10pm April to October
Thursdays and Sundays only in July & August at 9pm, 9.30pm and 10pm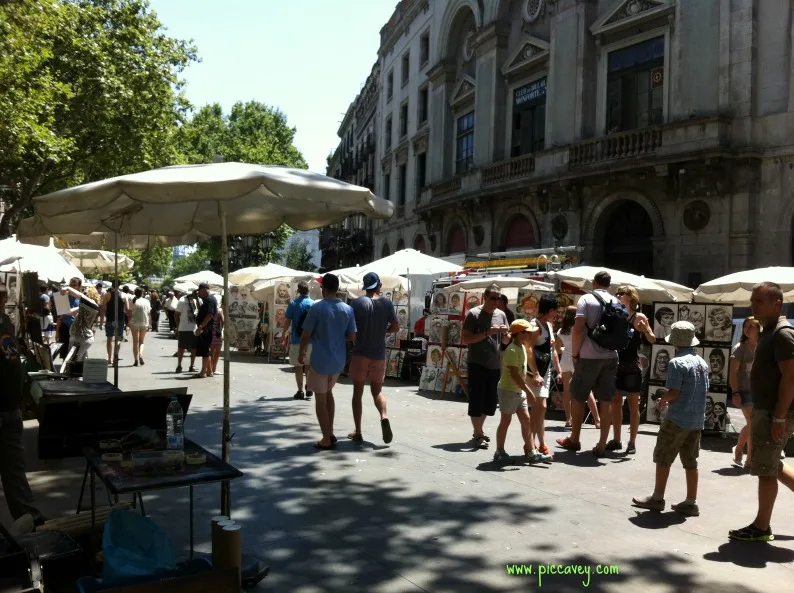 Las Ramblas, Barcelona
No trip to Barcelona is complete without a stroll down the Ramblas. At the top of the Ramblas leaving Plaza Cataluña behind. Walking towards the port. The first things you´ll notice are newspaper kiosks and the famous Fountain of Caputxins. At this Iron fountain Barcelona F.C fans celebrate their victories. You´ll see some stalls selling small pets and birds and maybe a few human statues and street artists.
Don´t miss the Casa de las Paraguas (1883) This is about halfway down on the left. You´ll notice an intricate stone dragon on the corner. This stunning building used to be an umbrella shop years ago.
Further, down the Ramblas, notice the flower stalls and the grand opera house, El Liceu. The Ramblas have different names on each section. Rambla dels Caputxins, Ramblas dels Flors etc.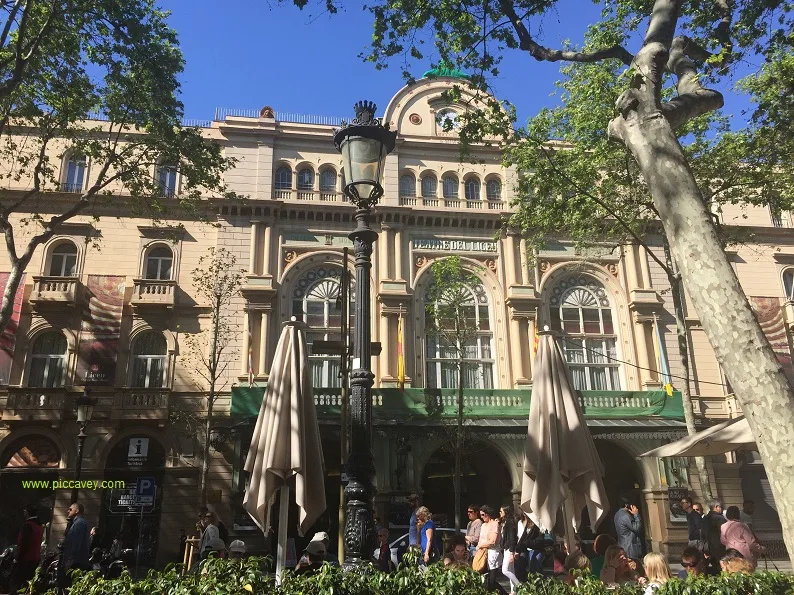 Boqueria Market
On the left is the Iron structure of the entrance of the Boqueria Market. One of my favourite places to wander round. Go early in the morning. As early as you possibly can, to avoid crowds. The seafood and fish stalls are the ones that I especially like to look around. The variety, of food and bright colours in the stall presentation is jaw dropping. Look out for little cafés and bars on the edge of the market
On the lower section, there are often artists and painters ready to do a quick portrait of passers-by. Further on is the Wax Museum and Bosc de les fades, a themed bar designed like an enchanted forest. At the end of the Ramblas you will come to the Columbus statue and the Maremagnum shopping centre.
DId you know that Barcelona was the Capital of Spain in 415? (Visigoth period) It was called Barcino
Palau de la Musica Catalana
This dramatic building just off Via Laietana is a UNESCO World Heritage Site. Well worth visiting to see the intricate architecture and details inside. They have daily guided tours. Don´t miss the glass-domed ceiling and the stunning entrance hall.
If you get tickets to one of the concerts on here then even better. The artistic setting along with the musical performance make this venue difficult to beat. The acoustics are incredible.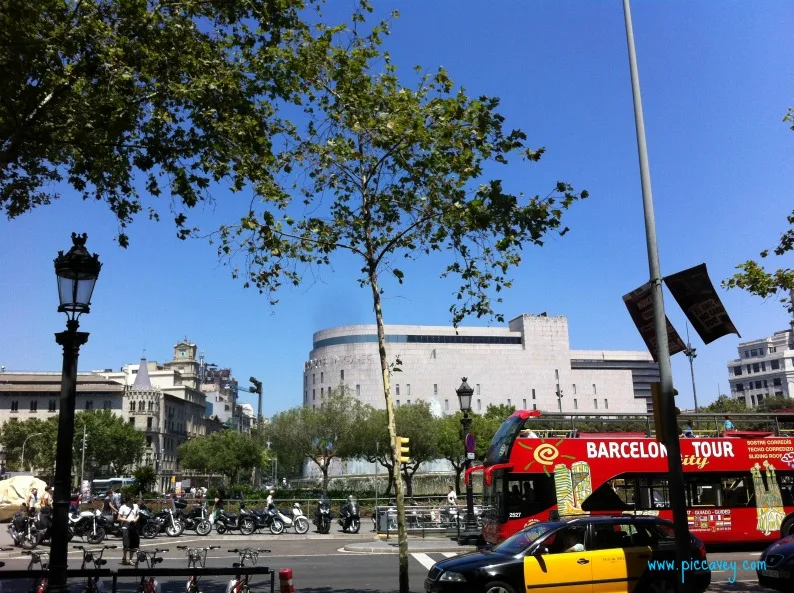 Barcelona for Families
Laberinto de Horta
The Horta labyrinth is in the northern area of the city. You can get there by Metro L5. This large public park offers a respite from the urban streets of Barcelona. This 18th century garden has a large maze, Italian style pavilion and even a romantic garden complete with waterfall. As there plenty of space for them run around, play hide and seek etc. (No pets or bicycles allowed in the park)
This has been used a as film location for Perfume: The Story of a Murderer
Open daily from 10am to 7pm. It costs 2.50 euros but it´s free on Sundays.
Barcelona Aquarium
I visited Barcelona Aquarium many times while I lived in the city. Located close to Maremagnum this is a great day out. Watching all the fish swimming around is such a soothing thing to enjoy whatever age you are.
Of course families with younger children will appreciate this kid friendly activity too.
Maremagnum
The modern lines of the bridge in the port and the boats on the edge of the city makes a great spot for photos. The water and sky meet with few buildings interrupting the perspective which is a fabulous scene for photographers.
From this Marina in the Maremagnum and Port Vell area you can also take Boat Rides. Another good idea for families. This gentle boat ride along the harbour is perfect for Springtime and Summer days in Barcelona.
Here are some other ideas: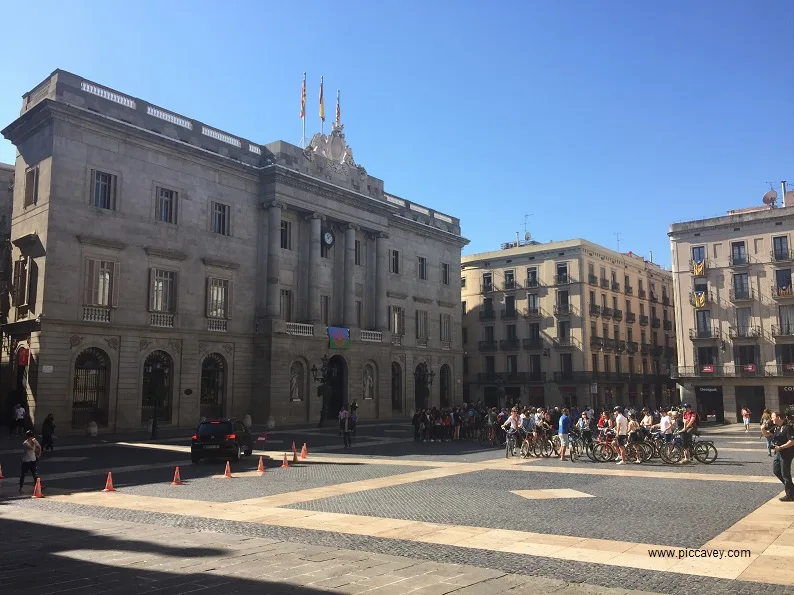 Rent a Bike in Barcelona
Barcelona is an ideal city for cycling. With the long promenades along the beach, head over Barceloneta. You can ride all the way to Port Olympic enjoying a views of the coastline as you cycle along.
It´s easy to arrange bike rentals in Barcelona allowing you to enjoy other interesting routes such as the Gothic Quarter or around the moderniste buildings of Sagrada Familia and Hospital de Sant Pau.
Sagrada Familia
This build of this impressive Gaudi building began in 1883. It is still incomplete. The completion date it´s currently estimated around 2026 (just 10 years left) Children will be in awe of the dimensions and the fairy-tale like architecture will get their imagination going. The beautiful colours inside from the stained glass windows are also eye catching.
This neighbourhood has many businesses with street cafés and shops around the temple for before or after your visit.
How to get there: Metro L5 or L2 or Buses 44, 43 and 34
Tickets need to be booked ahead of time to avoid dissapointment or huge queues that snake around the block.
You can pre book skip the line passes too, which is recommended if you do not have much time in Barcelona.
Another lesser known Gaudi building in Barcelona is Casa Vincens, recently opened to the public.

Barcelona for Foodies
Catalan style food
Taste delicious local recipes at El Mussol. This restaurant began in 1994 and since then has opened more locations around the city. Typical dishes are baked potatoes with garlic mayonnaise and Butifarra sausage. Catalan Cuisine is perhaps not so easy to find when you dine out in Barcelona.
Dessert are Catalan crème brulee or carquiñoli biscuits, served with Moscatel wine.
Semproniana is also another firm favourite of mine. Located on Carrer del Rosselló 28 they always have something to surprise you when you dine there. Book ahead especially on weekends.
Eating out in Barcelona City
Places where I eat out in Barcelona
Melia Sky – Ground Floor restaurant – Menu del Dia. The hotel has a Michelin star restaurant on one of the higher floor with the Hermanos Torres in residence there. Dos Cielos is perfect for a special occasion or food avid foodies. I was meeting up for a casual lunch with a friend and enjoyed the ground floor restaurant and the menu of the day. One of the dishes was the delicious quiche (shwon above) Good value and a newly decorated dining space in the hotel lobby. It would even be a good place for solo travellers as there are places to eat on the bar.
Club Suizo at Alfonso XII, 95 close to Plaza Molina. A Swiss Restaurant….. Yes, never been to one before but I met up here with a friend for lunch and loved the food. Lots of veggies and choices on the Menu del dia. If you are Swiss it´s worth seeking out this home cooking and if you are not, its a change from the norm. Located very close to Plaza Molina FCC station.
Hollyburg on Avenida Gaudi 2 close to Sagrada Familia. Delicious hamburgers at Hollyburg. Good meat and delicious buns. I have a thing for burger places with good bread. Not the same when shop bought buns are used. My burger Audrey Hepburn had goats cheese and , roast apple and caramelised onion. Artisan burgers with good quality ingredients…. What´s not to like
Abirradero Craft beer place on Carrer Vila i Vila, 77 was a great find. Close to El Molino we headed there for post show drinks and food. I chose Tofu burger (shown above) and a delicious Craft beer. They also do guided tours of their production process. Something I´ll be doing on a future Barcelona city visit. All the craft beers here are listed on the wall by type and strength. While they didnt have Alcohol free beers available they did have some delicious soft drinks made with ginger and fruit juices.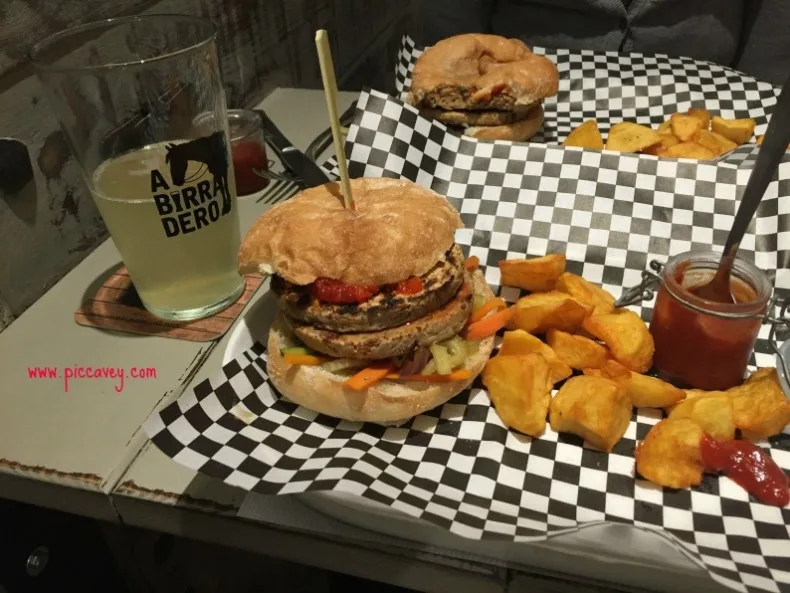 Cake Shops
On the Ramblas is the historic Confectioners Escribá. The shop is really worth looking at; it´s art deco style façade is beautiful. The window display, sweets and cakes don´t disappoint once you get inside.
Sils Cakes American Pastry. On Torrent d´Olla 62 in the Gracia district this cute little shop has some amazing creations. The highlight being their cheesecake. We got 3 varieties to go. My favourite was Piña Colada. A light fluffy mix of merengue and pineapple. Chocolate lovers would adore the oreo version. You can take away or get custom orders made too.
Chok is just off the ramblas and have delicious chocolate creations, donuts and biscuits. Find them on Carrer del Carme
Churros in Barcelona
Another place I like to visit for an afternoon treat is the Granja La Pallaresa on Calle Petrixol 2. The speciality is Chocolate and Churros. Open since 1947, this café does a thick hot chocolate topped with cream. Known as a Suizo, this comes with side of churros for under 3 euros.
Chók Barcelona is a cute little shop just off the Ramblas, here you can find delicious colourful donuts and other sweet treats. Find them at Carrer del Carme 3 or at Carrer de les Ramelleres, 26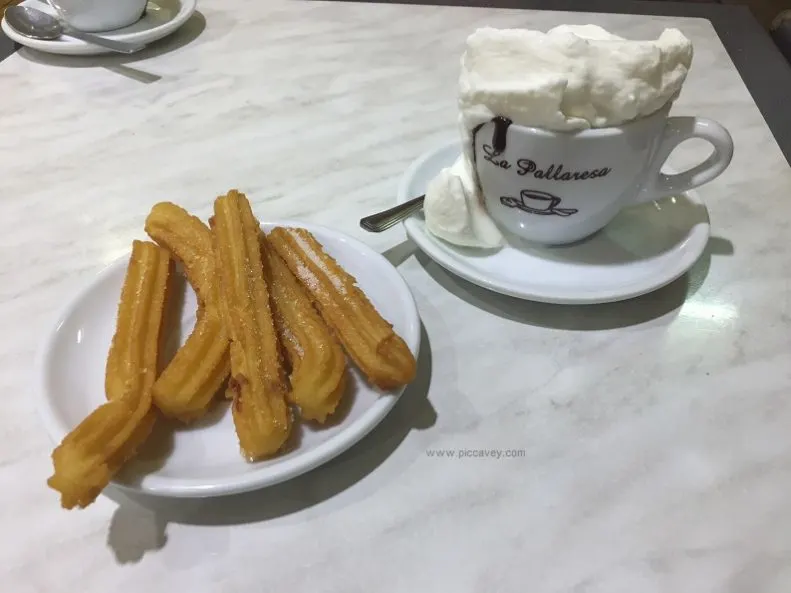 Plaza Reial
Just off the Plaza Reial you´ll find La Fonda. This busy restaurant has a great lunchtime menu (weekdays) for under 10 euros. 3 starters to choose from, 3 mains, and 3 desserts. Drink included. Get there between 1pm-1.30pm to beat the rush.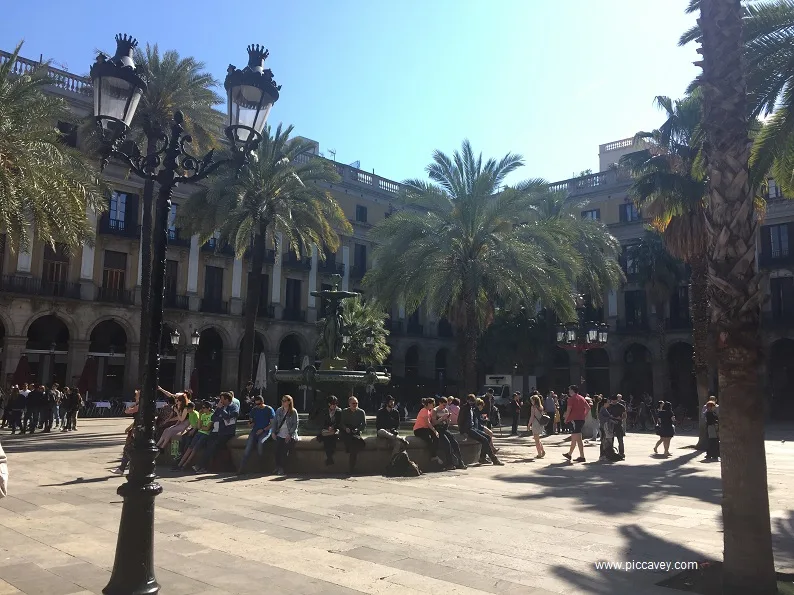 Photos of Barcelona
Carrer del Bisbe
Just up from the Plaza San Jaume and behind the Cathedral, the Carrer del Bisbe is an iconic place to get a stunning photo. The bridge crosses from the Catalan parliament building above the street. Built in 1929, it has a mysterious skull on the stone walkway. This skull has a dagger through it which you´ll see if you look up as you walk underneath this architectural feature.
Moderniste Architecture
As well as Casa Batllo other notable architecture in Barcelona is worth visiting too.
The colourful benches and stunning cityscapes from Parc Guell are a must for photographers.
Palau Guell also has some great photo opportunities from it´s sculptured roof terrace. The coloured mosaic chimneys and Barcelona Rooftops views give a great perspective.
Sagrada familia has some fabulous colours inside from the staind glass windows and its impressive façade is also a great photo opportunity too.
Hospital de Sant Pau is close to Sagrada Familia and quite stunning inside and out.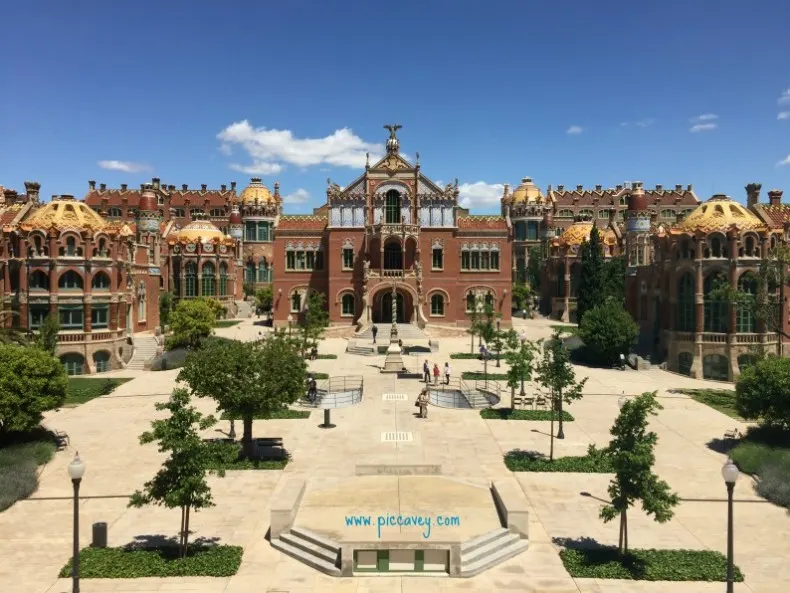 Montjuic Castle
Open from 10am to 6pm daily. This impressive fortress has some great views over the city and coastline. A 17th century castle with a dramatic past of Napoleonic wars and maritime battles. Book your tickets online – Museum of Catalonia
Best option is to get there by car (parking available at the castle grounds) although if you are brave you can also take the Montjuic Cable Car
Other options are by bus 150 which takes you up the hill or you can get the cable car, which links, with the metro stop Parallel.
These are just some things to do in Barcelona but my list changes over the seasons.
What are your ideas for Things to do in Barcelona?
This post contains affiliate links, which means that if you click through and make a purchase, I will receive a small commission. All thoughts, feelings and opinions shared on this blog and in this post are my own.