Recently one of my lovely readers contacted me with a request. She wanted to know about the fountains in Granada and was curious about their history .
There are lots of fountains, pools and water features dotted around the city.
It was going to be difficult for me to even decide which ones to write about.
I managed to choose a few of them, to fulfil this special request from the other side of the Atlantic.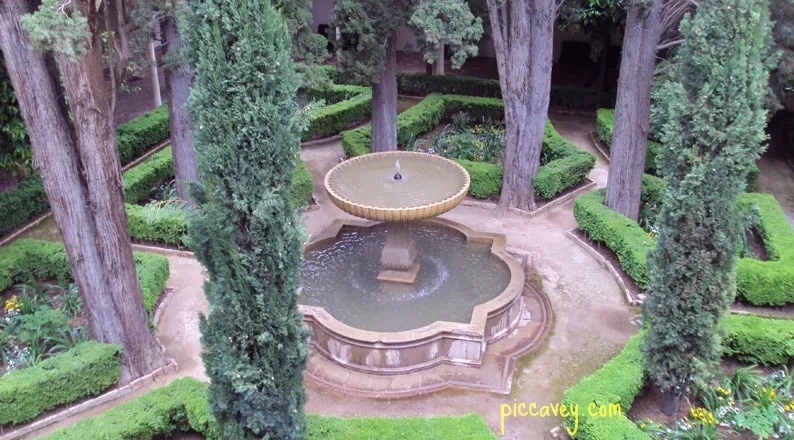 Here is a summary of some of the places I selected:
Bib Rambla Square
This dramatic fountain of Neptune dates back to 1553. Found in plaza Bib Rambla, right below Granada´s Cathedral. This is one square you will pass through many times when staying in Granada. It is also one of the most recognised fountains in Granada
This small pool fountain is in the garden of Carmen de la Victoria. In Autumn 2013 I watched the sunset over Granada from this enchanting garden.
Here is an article I wrote recently if you would like to read more on the Carmens in Granada
The Granada Mosque
The Mezquita Mayor de Granada is up in the Albaicín area, at the Mirador San Nicolas. The grounds of the mosque hold one of the newest fountains in Granada.
Pilar del Toro
This 16th century fountain is right next to the Santa Ana church in Plaza Nueva.
Although it didn´t start off there…. it was moved from another location in Granada.
(The details were extracted from an article I wrote last year about Plaza Nueva )
The Wolf Fountain
I had been to the Alhambra many, many times before I came across this fountain shown at the top of this article.
The statue is a monument to the Poet Angel Ganivet. It is in the woods of the Alhambra.
It caused quite an impression on me when I saw it for the first time.
Please Note:
This post contains affiliate links, which means that if you click through and make a purchase, I will receive a small commission. All thoughts, feelings and opinions shared on this blog and in this post are my own.