Since the beginning of 2017 this new Marquis hotel has been the talk of the town in Granada. Not only is it extremely well located, they also have a Casual dining area, summer terrace, live music on weekends and a modern spa and beauty area.
I went along to investigate this new place. Here´s my report.
Hotel Marquis Issabel's
Located at the junction of Gran Via and Plaza Nueva. Right beside the Isabel La Catolica statue, this new hotel couldn´t be in a better location. The C3 bus which takes you to the Alhambra passes by their door. The main shopping streets in Granada are on the doorstep. At a short walk across Gran Via and you find yourself amongst narrow streets of the Albaicin too. It genuinely is in the centre of the city.
This four star hotel replaces a large bank, this building is now part hotel and part residential has been refurbished carefully and stylishly. I am thrilled that the Marquis Hotel opened here, on a site which for a while was an eyesore on one of the city´s most emblematic streets of the city. Gran Via de Colon.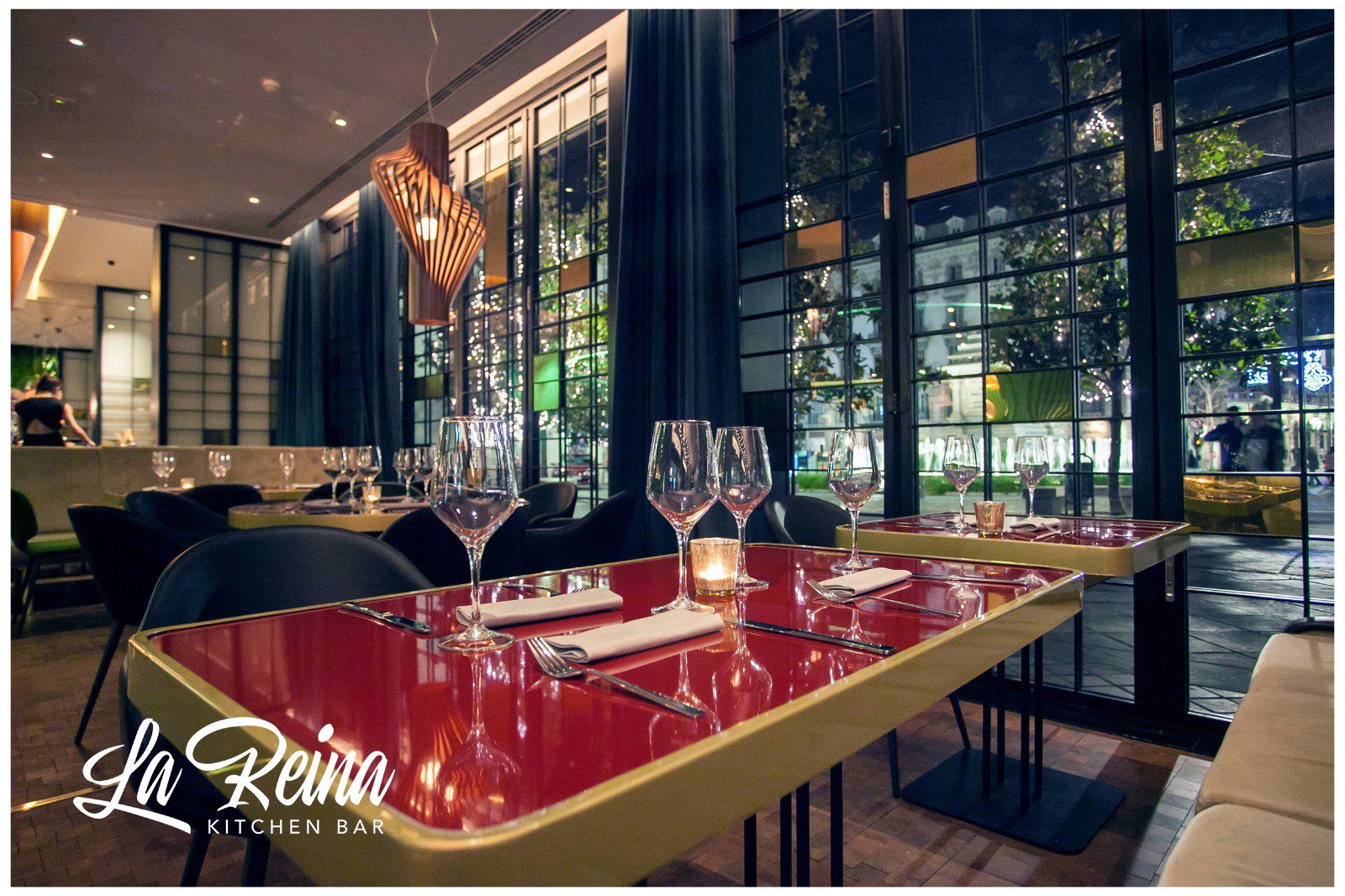 La Reina Kitchen Bar
The hotel doesn´t have a traditional reception, the welcome to guests to the hotel or the restaurant is at the front door. The young energetic staff have good english and make you welcome whether you stop by for coffee or stay for a few days.
La Reina Kitchen Bar has lots of interesting cuisine. Sushi, plenty of options forvegetarian or vegan diners and plenty of sharing dishes. The dessert choice is a little bleak with just four options. The best dessert IMHO is the apple cake served with ice cream.
On weekends (Thursday to Saturday) live music and DJ´s play in the Reina Kitchen Bar, creating a weekend atmosphere but manage not to overpower conversations. I can share this information as I have visited several times since February and have always enjoyed my experience there.
Seen below, one of my favourite starters: Semi dried tomato with Burrata
Kintsugi Spa
In the basement the Spa and Beauty area of the hotel has been carefully designed. A great addition for those hotter days in Granada to cool down after a days sightseeing. There are also manicure/pedicure services and a range of other beauty treatments.
Portago Suites & Marquis Urban
Marquis Hotel have three properties in Granada, Marquis Issabelas, Urban Suites and Portago Suites In February I had family come to stay in Granada. They chose to stay 2 nights at the Portago Suites on Calle San Matias. These serviced apartments are a good option for those looking to use Self Catering during some of their holiday. A good value option for those who enjoy having a kitchen to hand while travelling.
Located in the vibrant Realejo quarter of Granada, this area has lots of tapas bars and great places to eat. It is also on the edge of the shopping area too.
There is no reception here, it is run remotely.
Although this didnt actually cause any problems. The Urban Suites is a short walk away and they offered left luggage service too.
Isabel La Catolica Statue
This statue outside the hotel of Isabel la Catolica and Christopher Columbus is a meeting point in Granada. On the sqaure at the beginning of Gran Vía its oversees Granada main street. Built in 1892, it was commissioned to celebrate the discovery of America.
The sculpture shows the moment when Christopher Columbus agrees to set off to discover America. The 35 names around the base of the statue are the supporters of Columbus´ Project, interestingly there is one woman Beatriz de Bobadilla.
Initially located in Plaza del Humilladero, next to the Genil River. When it was unveiled it wasn´t well received by the citizens of Granada. The Valencian sculptor Mariano Benlliure received more criticism than compliments.
Much later in 1962 it was moved to its current location and is now one of the most popular spots to take a photo in the city.
Please Note:
This post contains affiliate links, which means that if you click through and make a purchase, I will receive a small commission. All thoughts, feelings and opinions shared on this blog and in this post are my own.