This post with Granada Foodie tips has been written partly because it was requested on Twitter by @AnExpatInSpain after a recent visit to the city and obviously because I love food!
Granada Foodie Tips
Here are seven scrumptious tips of typical dishes to taste when visiting the magical city of the Pomegranate!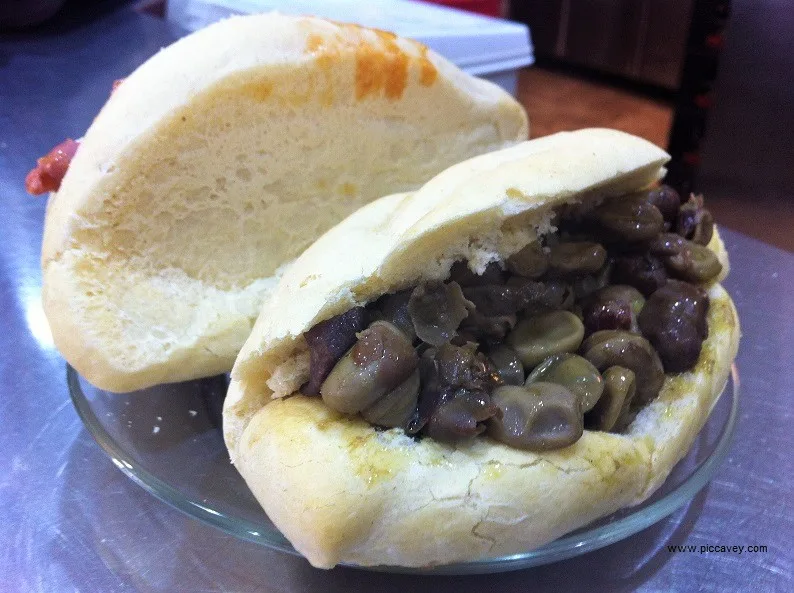 Habas con Jamon
Broad Beans with eggs and ham.
The locally produced baby broad beans are picked when tender, fried in local olive oil and topped with bite sized pieces of Spanish ham from the Alpujarra, often a fried egg too. Just off Bib Rambla (pictured above) in a tiny side street, San Sebastian, the Bar Aliatar also prides itself in serving a baguette stuffed with broad beans. Bocadillo de Habas They have been in business since 1957 and it´s one of my favourite places in the city.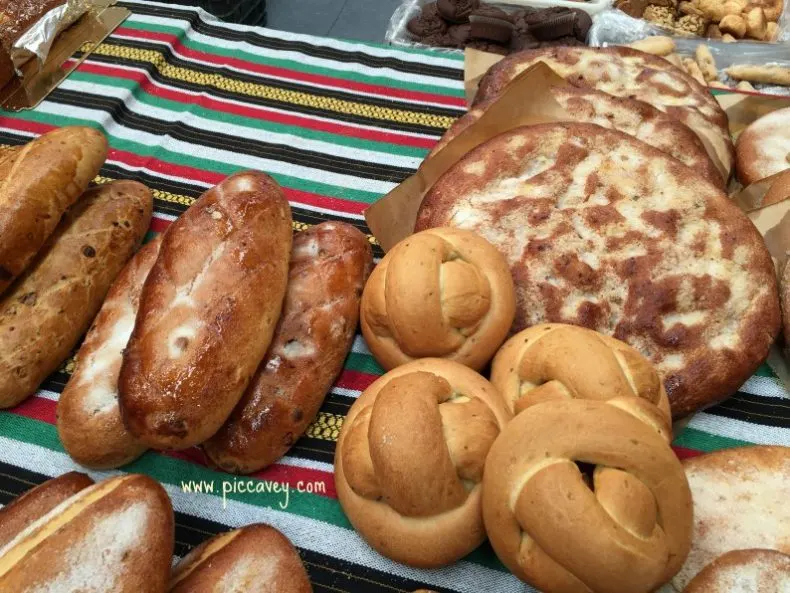 Rustic Bread
My absolute favourite foodie shop in Granada is the La Tahona de los Galindos. They have little cakes, pastries, chunky rustic breads, white loaves, poppy seed rolls and a whole assortment of cheese straws, biscuits and sponge cakes. Their shop is at the end of San Anton (with Alhamar) in Granada but their ovens are in the Alpujurran village of Orgiva where they also have a shop/café on the main road. The lady who founded this business wanted to share the family recipes with the region. Must also mention Bread from Alfacar is also well known for it´s tradition and natural ingredients.
Pionono Cakes
Piononos, these little golden cakes are bursting with flavour, a combination of sugar and cinnamon mixed to perfection. The piononos of Santa Fe, a village next to Granada´s airport were named after the Pope Pius IX which is Pio Nono in Italian.
Sold in cake shops throughout Granada, one of the main ones is called Casa La Isla which is close to El Corte Ingles on Carrera de la Virgen, they also have a shop near the Palacio Deportes too. At La Isla, they serve cakes, coffee and ice cream too.
Los Italianos
In Granada the undisputed Champion of Ice Cream is Los italianos on Gran Via, here from the month of March there are queues and general hustle and bustle around the entrance. The speciality is Cassata pictured below or Coffee cake, tarta helada. But all the ice creams are delicious. Pistachio or Orange are also very popular.
They have been trading since 1936 and have fine tuned their products for the most demanding customer. Even Michelle Obama and her daughter have tasted their ice creams on their private visit to Granada. Still want more info on the Los Italianos?
Churros
Need some Spanish comfort food, then ask for Chocolate con churros for breakfast or for an afternoon treat. The chocolate is really thick and not too sweet. Local favourite is Café Futbol on Mariana Pineda square, boasting tables outside next to the fountain and Free WiFi although many places on Bib Rambla square also serve them. I tend to enjoy them on a rainy day or on a wintry afternoon.
They are filling and don´t really work on a scorching hot day.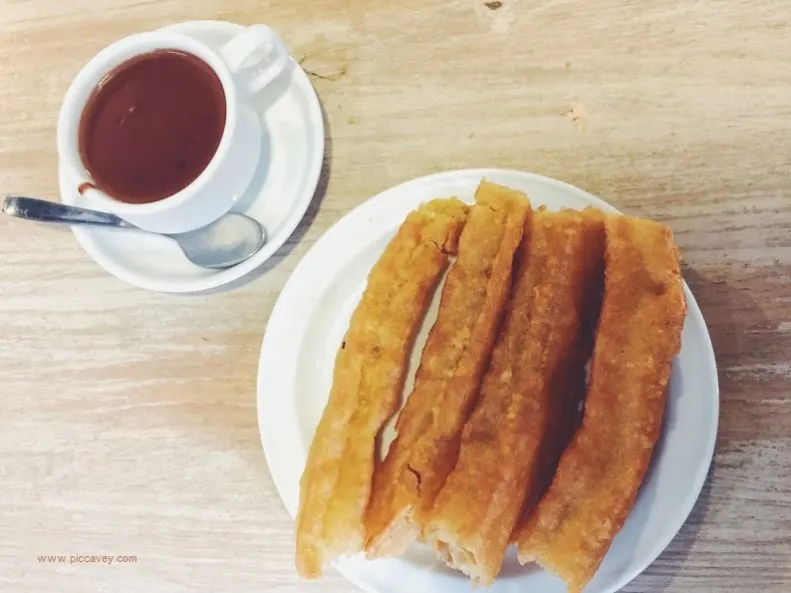 Plato Alpujarreño
In Granada itself and more typically in the Alpujarra Villages such as Pampaneira, Trevelez, and Orgiva the most typical dish is Patatas a lo pobre or plato alpujarreño.This dish Poor potatoes consists of potatoes cut into slices and fried in olive with juicy green peppers. The Alpujarran dish includes these potatoes served with fried egg, black pudding, pork chop and longaniza sausage. Like a Granada style fry up! (picture below)
7. A final tip to my fellow travellers. There are a few local delicacies to avoid unless you are a relation of Bear Grylls. The Tortilla de Sacromonte appears on many menus in restaurants around the city (often without a translation in english!) and is a traditional dish. The translation is Sacromonte Omelette, still not helpful. It is an omlette made of sheeps brains and sheeps testicles mixed in with ham and potatoes.
Another controversial tapa is served in some bars, Pajarillos or Pajaritos which are fried tiny birds served in a ceramic dish. Que Aproveche!
Still want more Granada Foodie insight?
Read my post about Foodie Fair in the Alpujarra every April or check our my Granada food tour