Must See Malaga
Malaga is a city that I return to often. Having recently planned a family holiday in Malaga city I´ve complied the Must See Malaga spots.
I could see that there were many new places to explore and discover.
Getting to Malaga
From Spanish cities, there are high speed rail links from Madrid and Seville with the AVE train network.
With an International Airport, flying into Malaga from Europe is easy.
From the USA and further afield their are good connections too.
Direct flights from Malaga AGP on long haul routes are becoming more common.
What to do in Malaga
As well as great shopping, good tapas and city beaches.
Malaga also has plenty of cultural and historic sites to visit too.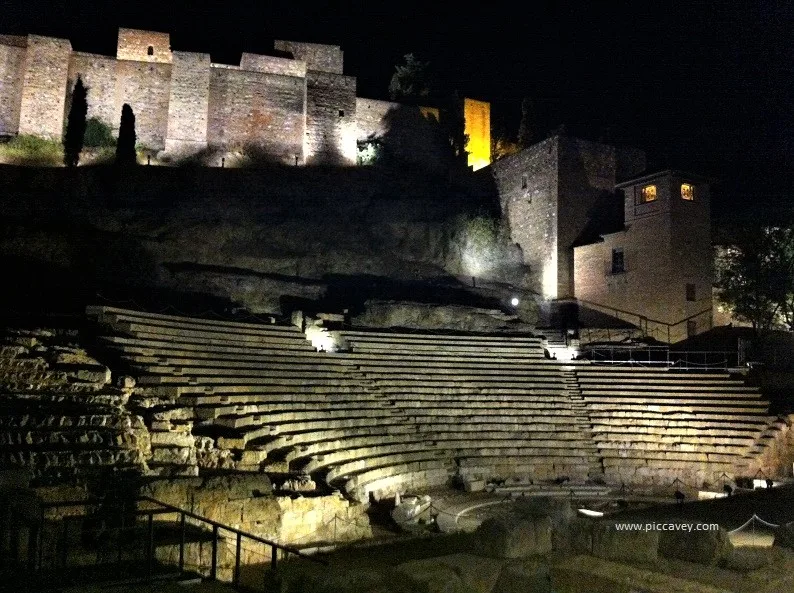 Roman Theatre
Visiting the Alcazaba and Roman Theatre is a good choice for history and architecture lovers. Enjoy the views over the coastline and port from the Gibralfaro Castle perched directly above Malaga.
To get up there, its pretty steep so you are best to take a taxi or use the Malaga Sightseeing Bus that has a stop there. You can also take the lift up to the Alcazaba and work downwards after your visit. The Alcazaba fortress does not actually connect with the Gibralfaro (also it appears to when you look at them).
The Roman theatre was built at the time of Emperor Augustus and was only discovered in 1951. The Centre of Interpretation is free to visit.
It´s also a nice nightime view. Check out La Casa de la Aduana for a bar with a good view.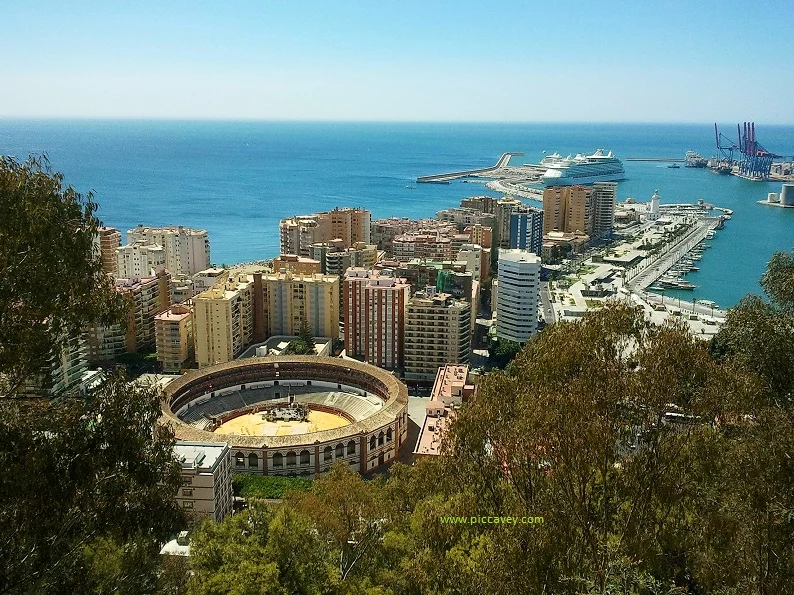 The Harbour
Muelle Uno is a wonderful place to wander in the evening. Watch the boats, have an ice cream or have dinner at one of the restaurants there. Opened in 2011 this is a great addition to the city of Malaga. While I was there I ate at three different places in Muelle Uno. Toro which serves Spanish food. They pride themselves on using plenty of Andalusian produce. The fish I ate as a second course, Sea bass was delicious. The service was excellent.
We also tried the greek restaurant Saloniki one evening. Another day we had the menu del día at Lounge bar Plaza. This was great value for money. Delicious food in a lovely setting for 12 euros per person. (midweek lunchtimes only)
Malaga City Centre
Packed with tapas bars and plenty of gourmet options for foodies. Over the last few years the number of restaurants has tripled from 200 to almost 600. So plenty to choose from. I went to Cerveceria los gatos in Plaza Uncibay.
This noisy tapas bar prides itself on good meat and hearty raciones. We ate Plato de Feria (a mixed plate piled high with egg, chips, steak and chillis) and Lacon a la gallega smothered in red cayenne pepper.
All delicious, inexpensive and served with solera. They also serve local crisps Paco José made locally are yummy.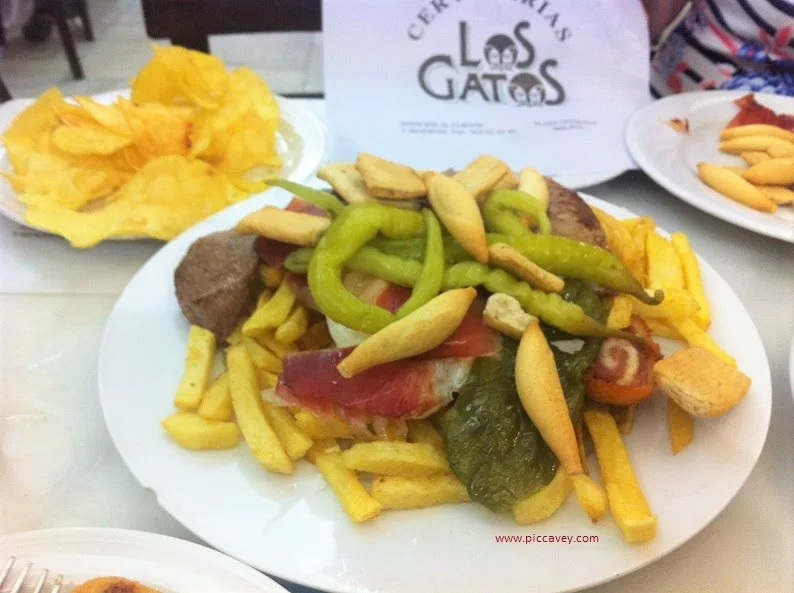 Tapas in Malaga
While in Malaga I also had dinner in the smart restaurant Reserva 12 in Calle Bolsa. (Cathedral area) Elegant dining at a good price. I must not miss out the Refectorium opposite Malaga Cathedral. They offered great tapas in a modern setting. The service was attentive and slick.
For next time I have El Patio de Beatas and Mesón Cervantes left on the list.
El Pimpi on the Calle Granada (close to Roman Theatre) is a typical restaurant with lots of fried fish and tapas. It is busy at all times but a must see place in Malaga. The walls are covered with photos of famous and notable personalities that have visited over the years.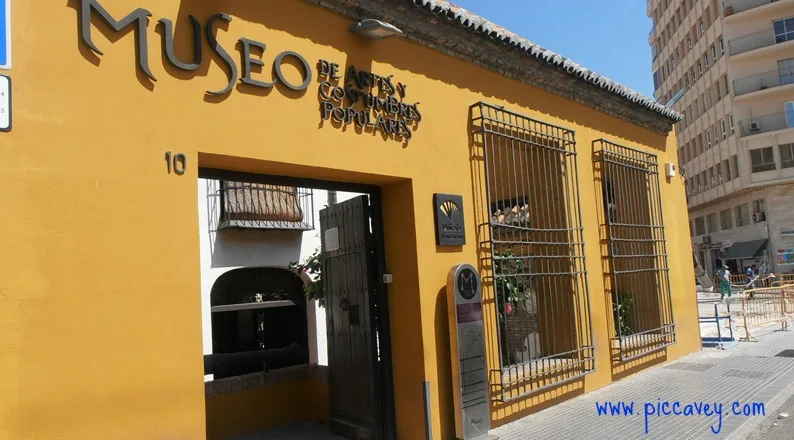 Malaga Museums
Another place that I´m sure could do with more visitors is the Museum of Art & Popular customs. This small building next to the river is not far from Plaza Constitucion. They have 16 rooms with different aspects of spanish life. My favourite room were the 18th century dresses and theatre accesories from the grand Liceum of Malaga.
Malaga Glass Museum
Malaga Glass Museum or in Spanish ´El Museo de Cristal y Vidrio´
This museum is tricky to find but well worth seeking out. (Look for Calle Ollerias) The collection is far more than just glass. This private house has beautiful Antique furniture and exquisite period paintings.
A remarkable glass collection gathered by three private collectors. They united their pieces together in this perfect setting.
They have loving restored stained glass windows from several countries. Collected from churches and escaping destruction. Many decorative glass items from designers across the world are on display and explained to the visitor.
The visit is a guided tour, available in several languages. (French, English, Spanish, Japanese..) The guides really know their stuff and often digress into historical anecdotes, providing an entertaining visit. If you love antiques, furniture, interior design you must visit this place.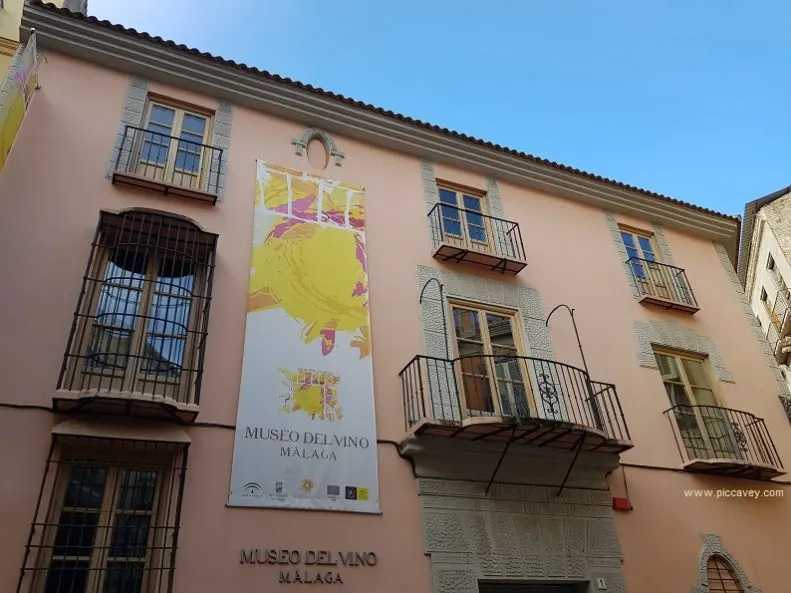 Malaga Wine Museum
This is a great morning activity for foodies and wine enthusiasts. Read more about this from my recent visit Malaga Wine Museum
If you prefer a more modern museum why not head to the fantastic Car Museum and see cars from different centuries.
The Hop on Hop off Bus – Malaga has a stop there making it handy to get to.
Andalusian charm
In Malaga there is no doubt that you are in the centre of Andalusia. You will see horses and carriages circling the city. On most street corners almond sellers will offer you a taster. But my highlight are the biznaga sellers. These men dress in typical clothes. White shirt, black trousers and red cummerband. They carry the jasmine scented biznagas through the streets leaving the delicate scent on the air as they pass.
Take one home with you for 3 euros.
Ice Cream at Casa Mira
For traditional Malaga Ice cream stop off at Casa Mira on Calle Larios. They have been in business since 1890. The most popular flavour is Almond Turron. If you prefer to sit and watch the world go by head to Lepanto on Calle Larios.
They also serve ice cream, cakes and coffee.
Malaga Cathedral – Must See Malaga
As soon as you enter Malaga you will notice the Catedral. With one tower finished and the other half built, it stands out from the skyline. We were lucky to see the Corpus Christi celebrations.
The long procession leaves the Cathedral and winds along the main streets. Each street had an altar set up for the passing of the procession. Traditions are still important here. Easter in Malaga is also a big tradition with the processions throughout Holy Week.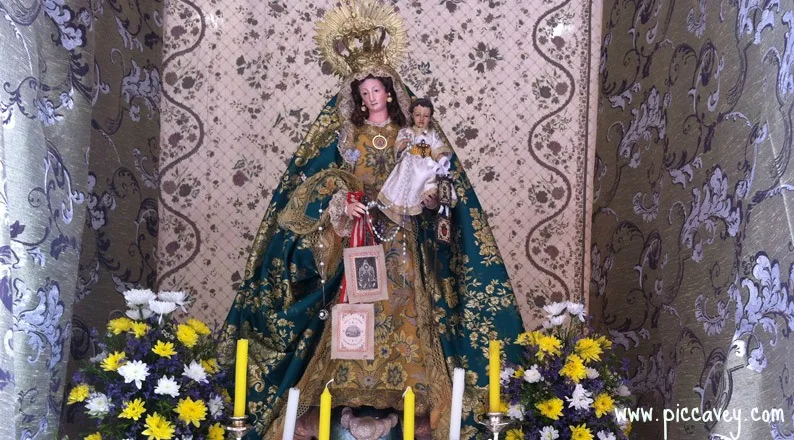 Cine Albeñiz
While I was in Malaga I went to Cine Albeñiz. This little picture house shows films in different languages. The night I went they had films in french, english and spanish. It was a treat to see a film in english.
It was a joy to stumbleupon across this independent cinema showing good films.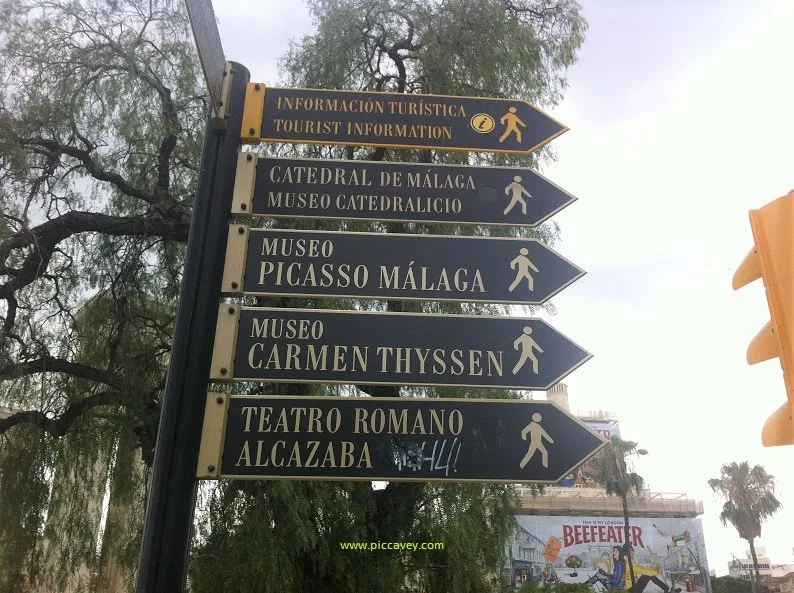 Picasso Museum
Malaga is the birthplace of Pablo Picasso. Visit the Picasso Birthplace in Plaza del la Merced. You can also visit the Picasso Museum close to the Roman Theatre.
Book Picasso Museum Tickets online ahead of time
Modern art enthusists will love the CAC Malaga which is close to the river
Day trips
With such great transport connections in Malaga you have lots of choice.
Take a day trip to Granada, to the Costa del Sol, Cordoba or Ronda.
Or you could enjoy a beach day in Benalmadena, Fuengirola or Torremolinos.
With short and medium distance bus services and an excellent train network from Malaga you will be spoilt for choice.
Caminito del Rey
For hikers and outdoor enthusiasts, why not venture along the Caminito del Rey?
Book a guided walk through this dramatic gorge to ensure that there is availability. Passes are limited due to the narrow corridor through the rock, to ensure safety for the hikers.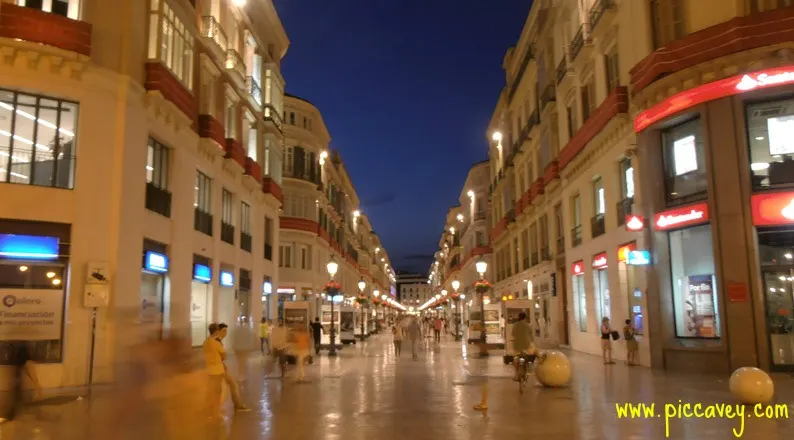 Malaga Shopping Area
Shopping in Malaga is one of my pastimes. Wander along the Calle Larios or visit the large Corte Ingles just past the end of the Alameda.
For more ecclectic and unique shops walk around the Thyssen area. Also check out the upcoming Soho area.
On the Cercanias train you can also head over to Plaza Mayor, a large outdoor shopping mall.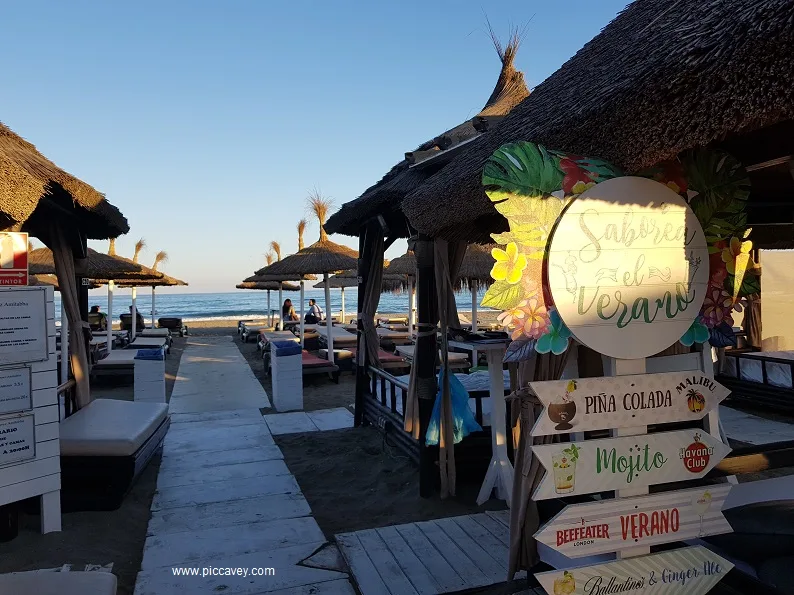 If none of these suggestions have convinced you, remember that Malaga has several beaches. Pedregalejo and Malagueta beaches are popular with locals. Some great restaurants and bars are along those stretches of coast.
At Pedragalejo beach try La Galerna for fresh salads and healthy food.
Or the well known La Moraga by Dani Garcia at La Malagueta.
Is there something you would add to the Must see Malaga guide?
This post Must See Malaga contains affiliate links, which means that if you click through and make a purchase, I will receive a small commission. All thoughts, feelings and opinions shared on this blog and in this post are my own.